Cottage at Seadrift

Tel: 01470562429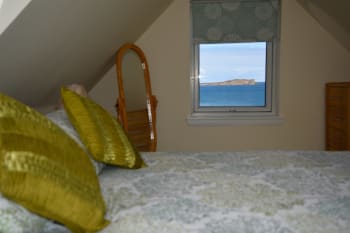 Cottage at Seadrift is a small cottage for one or two people. It has everything you would need for a holiday. The best thing about this cottage is the view - it is just stunning. Sit and relax and watch the tides, clouds and weather. There is a sofa and armchair, table with 2 chairs downstairs,upstairs a king size bed with usual bedroom furniture . The bathroom is downstairs and has an overhead shower. Towels and linens are provided. There is a microwave, washing machine, electric oven and gas hob. The cottage is ideally situated for the walking in the locality. Staffin also had two seasonal restaurants. Columba 1400 and the Kilmartin River Cafe. There are two shops locally and a small Post Office.
Availability
There are no rooms available at Cottage at Seadrift
for these dates.
Please try other dates or select a
different property
.
cottages

Max:
Facilities
Café / Restaurant (nearby)
Shop (nearby)
Wi-Fi
Policies
Check In: Between 16:00 and 20:00
Check Out: Between 8:00 and 10:00
Wi-fi: Wireless internet is available and is free of charge.
Smoking: There is no smoking permitted anywhere within the property.
Parking: Parking for all guests is available on site and is free of charge.


Children: All guests must be 18 or over, no children are allowed.
Pets: Pets are allowed and can stay free of charge.
Groups: Groups are accepted up to a maximum of 2 people. No stag and hen groups.
Average
5.0
out of 5
15 reviews
100% recommend
Reviews
16th August 2022:

Would Recommend: Yes
11th August 2022:

Perfect
Would Recommend: Yes
30th July 2022:

Highly recommended! We had a lovely stay at the cottage! We had everything we needed. The view from the cottage is absolutely stunning.
Tips:
All the main actractions are very close to Staffin, but at the same time, the cottage is in a very quiet place! Bring your binoculars to spot dolphins from the living room window. In Portree we suggest the Merchant bar.
Would Recommend: Yes
28th June 2022:

Lovely cottage. We enjoyed the view and the peaceful surrounding very much.
Tips:
Have a fish and chips at "the hungry gull" and do the quiarang hike.
Would Recommend: Yes
25th June 2022:

Stunning location. Amazing views. Warm, cozy, well equipped cottage with the comfiest bed ever. Well situated for exploring.
Tips:
For any bits and prices use the shop in staffin. There is a large coop in portree.for local food go to columba 1400 but booking advised as it'd quite popular.
Would Recommend: Yes
21st June 2022:

We truly enjoyed our stay and only wish it could have been longer! The cottage was picturesque, cozy, and had the most amazing views of Staffin and the bay. Our host Liz was kind and responsive.
Tips:
Great location, a short drive to many of the best Skye hikes. Do stock up on any groceries you may want ahead of time (ie in Portree). Staffin has a small grocery store but be sure to check hours in advance.
Would Recommend: Yes
20th June 2022:

Would Recommend: Yes
15th May 2022:

The cottage feels like 'home' straight away. It has got all you need, is cosy, clean and has got the most breath taking view/ location.
Tips:
There is enough to do/see in and around Staffin. If you like to avoid the 'honeypot' locations, then discover some of the less known local walks. Find out from the locals! If you want to walk the Storr or Quiraing, then try to do it early or later. The days are long in the summer! Visit the local shop, get a take away from the village hall and have a coffee or meal at Columba 1400. And - don't miss the Staffin Dinosaur Museum. Finally, take the time to enjoy the cottage, especially the view from the sofa!
Would Recommend: Yes
16th October 2021:

This place is absolutely gorgeous with a brilliant view from the sitting room window. The facilities are great and it's in a great location for so many of Skye's magical attractions.
Would Recommend: Yes
5th October 2021:

We loved our stay at Seadrift cottage. It really is the perfect base to enjoy Skye and Liz has gone above and beyond to make sure everything is just perfect. The view is to die for and very warm and cosy to come home to. Great for dogs as it is next to the beach. Highly recommend.
Tips:
Home made curry from Sonya at the villafrstore along the road was lovely.
Would Recommend: Yes
28th September 2021:

A really lovely cottage for our 2 night stay enabling us to tour around the beautiful Isle of Skye. The cottage has everything you need - a real home from home.
Would Recommend: Yes
19th September 2021:

An idyllic little cottage in peaceful & picturesque surroundings. perfectly located for exploring northern parts of the island. All home comforts were provided, the house was warm & cosy with a fully equipped kitchen, comfy bed, good wifi & use of a washing machine. Liz was friendly, helpful & respectful of our privacy. Perfect!
Tips:
Walk from the cottage to Staffin Bay & look out for otters by the river before searching for the dinosaur footprints. A boat trip from Portree to see the eagles was a real highlight for us.
Would Recommend: Yes
27th August 2021:

Seadrift is a stunning location with an amazing view! Liz was helpful and understanding during and following the booking process. We had a fabulous stay enhanced by the glorious weather!
Tips:
Seadrift is quite remote which for us enhanced the experience; although it is close to many outstanding views/attractions.
Would Recommend: Yes
1st August 2021:

Thank you for a wonderful stay! We loved the big window and views. I especially enjoyed the loft bedroom and sleeping under a window. The bed was very comfortable and the house had everything we needed. The internet was a little slow but probably very good given the location.
Tips:
We loved the Fairy Pools, Quiraing hike and swimming in the sea opposite the cottage.
Would Recommend: Yes
28th June 2021:

Would Recommend: Yes
.