Dalriada Guest House
Dalriada Guest House Achachork
Tel: 07766303218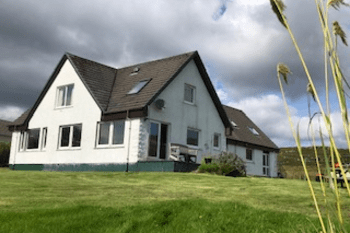 Dalriada guest house is situated about a mile and a half outside Portree, in the small township of Achachork. On a clear day you can admire the Cuillin hills from the breakfast room. Dalriada has a choice of twin or double rooms which are all ensuite. A continental breakfast is served to guests each morning.
Availability
There are no rooms available at Dalriada Guest House
for these dates.
Please try other dates or select a
different property
.
rooms
Facilities
Breakfast Room
Internet Access
Policies
Check In: Between 16:00 and 21:30
Check Out: Between 8:00 and 10:00
Wi-fi: Wireless internet is available and is free of charge.
Smoking: There is no smoking permitted anywhere within the property.
Parking: Parking for all guests is available on site and is free of charge.


Children: All guests must be 18 or over, no children are allowed.
Pets: Pets are not allowed.
Groups: All groups are accepted.
Average
4.9
out of 5
20 reviews
100% recommend
Reviews
17th March 2020:

Incredibly nice, new and clean Guest House. Spacious rooms recently renovated, advantageous position close to Portree, and lovely breakfast room
Tips:
Perfectly placed in the middle of Isle of Skye, no island's attraction is too far from here! Sally and Robin are great hosts, makes you feel at home!
Would Recommend: Yes
3rd November 2019:

Très bon séjour grâce à l'accueil, aux bons conseils, et aux services (petit déjeuners très copieux, chambres très propre et confortable) proposés par les hôtes du Dalriada.
Would Recommend: Yes
26th October 2019:

We really enjoyed our stay at Dalriada Guest House. The house was clean, the breakfast was delicious and Sally and Robin were very friendly. We would totally like to come back someday.
Would Recommend: Yes
24th October 2019:

Hello Sally, many thanks for the warm welcome to your house! Best regards M+J
Would Recommend: Yes
21st October 2019:

Would Recommend: Yes
17th October 2019:

As my trip was photography based, I was setting off before sunrise and so before breakfast. I was kindly offered a takeaway breakfast and each time it had an kind note on the bag. I can't recommend the place or the people highly enough.
Would Recommend: Yes
17th October 2019:

Lovely house, great welcome, excellent breakfast, very comfortable bedroom. Would highly recommend
Tips:
If travelling during peak times ensure you book somewhere to eat in the evening.
Would Recommend: Yes
14th October 2019:

Superb, friendly and extremely helpful owners
Tips:
Elgol, Nieste Lighthouse after Duvegan Castle
Would Recommend: Yes
13th October 2019:

Perfect hospitality.Sally and Robin are very kind persons.they helped us with everything about isle of skye attractions. The place was warm and the guest house was in a perfect location with perfect view.
Would Recommend: Yes
12th October 2019:

This was a wonderful stay! The room was comfortable and had everything we needed, shower was good, everything is very clean. The hosts are ABSOLUTELY AMAZING- very warm people, had a little chat with each guest, gave us tips about next travel destinations; unlike other B&B hosts, they were very understanding and flexible about the time of the arrival. The location is absolutely gorgeous- the view is fantastic, and you could enjoy it from the couch next to a fire place. It's also close to the sightseeing spots. Very recommended!
Would Recommend: Yes
11th October 2019:

The location allows you to access the city of Portree and the tourist sites quickly and easily, but not the best, but the view, the silence, the interaction with other guests and the kindness and attention of the hosts.
Tips:
Nearest places are The Storr, Quiraing and Fairy pools, but with a little more travel time you can visit all the sights including the castles.
Would Recommend: Yes
9th October 2019:

Very friendly and welcoming hosts.
Would Recommend: Yes
9th October 2019:

A great place to stay. I was travelling on my own & felt very welcomed and at ease at Dalriada. The hosts were so friendly & gave great tips on where to visit on the island. I would definitely go back & would highly recommend this guest house to others
Tips:
The guest house is situated about 5 minutes drive from Portree where all the pubs & restaurants are located. Great location for Old Man of Storr & other beauty spots along the coast.
Would Recommend: Yes
2nd October 2019:

Would Recommend: Yes
28th September 2019:

Everything was perfect with Dalriada Guest House. Great location to visit Skye Island and an amazing breakfast!thank you
Tips:
Rent a car and go discover this beautiful and uncontaminated island!
Would Recommend: Yes
27th September 2019:

Had an amazing first Time Staying in Skye . Accommodation was clean and well serviced , Robin and Sally are very friendly and great hosts . I would definitely stay here again if I'm Up in Skye :)
Would Recommend: Yes
23rd September 2019:

They were helpful in every matter. Recommend them to other travellers. Room was clean and gave us good service.
Would Recommend: Yes
11th September 2019:

This is a gem of a guest house, Sally the owner provided us with a warm friendly welcome on arrival. Rooms are spacious and comfortable and the beds and pillows are super comfy. Breakfast had plenty of fresh choice and we were encouraged to help ourselves to more!!! One of our party travels to Skye often with work and plans to stay here each time he is there....that speaks volumes.....All in all it is worthy of a 5 star review and is highly recommended...
Tips:
Portree is a lovely town and gets very busy with tourists.
Would Recommend: Yes
10th September 2019:

Dalriada was a lovely place to stay. We were able to walk conveniently into Portree for an evening meal and a draught of Skye Black or a glass of Talisker. Sally was always to hand to offer help with anything we needed, such as help to get kit dry again for the next day's walking.
Would Recommend: Yes
5th September 2019:

Sally is a warm, friendly host. Our room was very clean and the ensuite was large and clean. Breakfast was very good and generous. I would stay here again!
Would Recommend: Yes
.