Croft 4 - Self- Catering Accommodation
4 Scullamus Moss Breakish
Tel: 01471 822103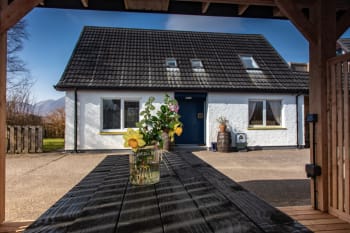 Croft4 cottages, Two cosy semi detached cottages, perfectly placed for exploring the Isle of Skye. On entering each cottage, you will find a warm comfortable, open plan living room with sofa and a dining area at the other end, opposite an open plan Kitchen. Each cottage has a separate downstairs cloak room toilet with full cosy bathroom upstairs, washing machine and cottage 1 also has a tumble dryer. The Sitooterie an outdoor covered seating area for guests to use. Both cottages sleep up to 4 guest and have 2 bedrooms in each. Tourist information for the local area are located on the Digital Host link sent to all guests prior to arrival. Croft4 cottages are set on private grounds, with views to the Red Cullins, from upstairs, yet only a mile from Broadford town centre which has a number of local facilities, from restaurants, cafes, bars and a supermarket and petrol station.
Availability
There are no rooms available at Croft 4 - Self- Catering Accommodation
for these dates.
Please try other dates or select a
different property
.
cottages
Facilities
Secure cycle storage
Free parking
Bar (nearby)
BBQ Facilities
Bicycle Rental
Café / Restaurant (nearby)
Cycling
Fishing
Garden For Residents' Use
Hiking
Luggage Storage
Shop (nearby)
Wi-Fi
Golf Course (nearby)
Policies
Check In: Between 16:00 and 20:30
Check Out: Between 6:30 and 10:00
Wi-fi: Wireless internet is available and is free of charge.
Smoking: There is no smoking permitted anywhere within the property.
Parking: Parking for all guests is available on site and is free of charge.


Children: Children of all ages are welcome.
Pets: Pets are not allowed.
Groups: No stag and hen groups.
Average
4.9
out of 5
68 reviews
100% recommend
Reviews
3rd June 2022:

Thank you
Tips:
Excellent location.
Would Recommend: Yes
21st May 2022:

Would Recommend: Yes
21st April 2022:

Very cosy and clean. Plenty of space inside and outside for 4 people and a large car (SUV). All facilities, including heating, in perfect working order, and easy to use also for foreigners. The host provides basic supplies (sugar, coffee, tea, fresh milk, toiletries, soap and tablets for washing machine and dishwasher).
Tips:
Very convenient for Sleat Peninsula, Elgol, Minginish Peninsula; only 40 minutes drive to Portree. Small Co-op in Broadford (2 minutes drive) Elgol and Sleat Peninsula, especially its northern coast are very beautiful and absolutely not crowded. We spent some peaceful hours on the beach at Ord and Taskavaig, very recommended for view and peace. The drive to Aird of Sleat offers some breathtaking views; at the end of the road there is an old church with a shop selling beautiful prints and watercolours. Closes at 5. Fairy Pools: skippable. Fairy Glen: remote and silent, definitely worth the visit. Kylerhea Wildlife Hide: recommended; the drive takes in a lot of views; the walk among the woods to the hide is very pleasant. Bring binoculars. The best windows for observing the beach (where the otters make their apeearance) are on the left; face masks required inside the hide.
Would Recommend: Yes
8th April 2022:

Spotless, well appointed accommodation. It had everything we needed for our stay. A website link was provided in advance with info about the cottage and local area.Would definitely recommend.
Tips:
In our short stay we managed to enjoy the Fairy Pools, Portree, dinosaur footprints at Corran Beach, and Ashaig Beach. All worth a visit.
Would Recommend: Yes
30th October 2021:

House was very homely and very, very clean. Beds were comfy. Free parking and their was even some free local whisky for us on arrival.
Tips:
Great location and some shops nearby. Co-op and some takeaways if you don't fancy cooking.
Would Recommend: Yes
25th October 2021:

Just perfect!
Would Recommend: Yes
19th October 2021:

Lovely accommodation with everything you could possibly need as well as lovely decor, super comfy beds and complimentary whiskey.
Would Recommend: Yes
17th October 2021:

Beautiful cottage perfect space we'll equipped for discovering beautiful Skye
Tips:
Cullins are spectacular, Quairang is a must if you like a good walk, whole island is stunning
Would Recommend: Yes
13th October 2021:

Gorgeous cottage stay- super comfortable and dog friendly too.
Would Recommend: Yes
5th October 2021:

Excellent apartment.clean comfortable and excellent host and dog friendly too.
Tips:
Book it!
Would Recommend: Yes
24th September 2021:

Property was advertised with a washer dryer which required as we are on a 3 week plus trip. There was no dryer which was an inconvenience. Everything else about the property was good.
Tips:
The walk up to the Fairy Pools was amazing.
Would Recommend: Yes
20th September 2021:

Really the perfect location for exploring the Isle of Skye. Everything you could need is in the cottage including a table dryer which saved us after a very wet trip to see the fairy pools. Very clean and comfortable beds. Would definitely come back
Would Recommend: Yes
13th September 2021:

We stayed in Cottage 2 at Croft4 (three people & a dog) in September 2021 and we had a lovely stay. Josephine was very helpful and kindly moved our booking a number of times due to covid restrictions. The Cottage was spacious and very clean, and the location was handy for supplies and places to grab coffee. We wouldn't hesitate to book again.
Would Recommend: Yes
28th August 2021:

The apartment has all the necessities that we need, from the kitchen utensils to bathroom amenities . The place is very clean and spotless. Host is very quick to respond to our queries and accommodating. She even made the effort to meet us before we left. Location is quiet and a short drive to get to the shops.
Would Recommend: Yes
14th August 2021:

Would Recommend: Yes
10th August 2021:

A beautifully stylish cottage, very tastefully decorated with everything that we needed. The hosts were fabulous, even offering us fresh fish caught that day. Thank you for our stay.
Tips:
We found The Claymore pub restaurant very nice and within walking distance. We also enjoyed a great pizza at Cafe Sia in Broadford. If you want to go on a boat trip, book early as we missed out on this. Hike the Quirang it's awesome!
Would Recommend: Yes
15th July 2021:

Lovely hosts, friendly and helpful, and reliably professional. The cottage is well equipped with every basic requirement and more -- including welcoming bouquet of flowers on the kitchen table, and a mini decanter of Talisker whisky (famous single malt whisky made on Skye) with tasting glasses. Really welcoming, cosy and contemporary cottage!
Tips:
The cottage is in a thriving village area called Broadford, which has lots of excellent restaurants, pubs and cafes, as well as a huge Co-op supermarket and petrol station that's handy for self-catering and drivers. Broadford is on the coast facing Rasaay and Scalpay, so the views are beautiful. This is an area that's handy for accessing the Cuillin mountain range and Sleat peninsula.
Would Recommend: Yes
Owner Response:
Thank you so much for taking the time to review your stay at Croft4. WE are so pleased that you all enjoyed your stay , the cottage and the local area. We hope you may return to stay with us again some time in the future, thank you for your kind words but most of all what we want is for guests to have wonderful stay ! Kind Regards, Josephine Croft4
4th July 2021:

Very happy with everything in the Croft. Perhaps the barbecue/outside sitting area could have been better! I would also have liked to have known that people could bring their pets but having said that, there was nothing in the Croft to suggest that animals had been there, it was spotless. Maybe I just missed this information. Many thanks Josephine.
Tips:
See as much of the Island as possible, the scenery is just fabulous and we found all drivers very polite on the roads, especially 'single track roads'.
Would Recommend: Yes
Owner Response:
Thank you for taking the time to review your stay, we are so pleased to hear that you all enjoyed your stay and the cottage ! We have outdoor plans for a new covered modern seating area and this had to be put on hold due to COVID and the knock on effect, but it is the plans for 2022. We agree that an upgraded seating and outdoor space would really add to guests stay. WE hope you may come back and stay with us and visit Skye again in the future. Kind Regards, Josephine - Croft4
26th May 2021:

The apartment feels like a home away from home. All the things you need are on hand and you get all the comfort you need. It is also dog-friendly which was a must for us. Everything is within an hour, hour Fifteen from the apartment. If you don't mind driving a bit and enjoying the scenery I would highly recommend croft 4.
Tips:
The croft 4 platform (hostfully) is really helpful to get to know the isle.
Would Recommend: Yes
24th May 2021:

Croft 4 is a spotlessly clean property. We really enjoyed our stay. Beds were very comfortable. The only very small negative point we could make is that the cutlery provided could have been a bit more extensive.
Tips:
We had a lovely meal at the Red Skye restaurant, and the Co-op in Broadford provides a wide range of supplies for self catering.
Would Recommend: Yes
Owner Response:
Thank you so much for taking the time to review your stay at Croft4. We are so glad that you all had a lovely time and hope you may return again some time in the future. Thank you for the constructive comment regarding the cutlery, I will look at this going forward. Kind Regards, Josephine - Croft4
31st October 2020:

Would Recommend: Yes
31st October 2020:

Would Recommend: Yes
20th October 2020:

Would Recommend: Yes
16th October 2020:

Very nice place to stay, quiet, very comfortable, well equipped and very clean.
Would Recommend: Yes
14th October 2020:

easy to deal with and very helpful
Tips:
we did mini bus tour which helped see all sights in one day. We liked Red Skye restaurant.
Would Recommend: Yes
12th October 2020:

It was our first time on Skye and we were lucky enough to have made an excellent choice with Croft 4. It was impeccably clean, very modern, with everything you needed for self catering, right down to washing machine tablets, shampoo/ conditioner etc. Lots of nice touches, like flowers on the table, milk/coffee/tea etc for a cuppa and a whisky dram. Covid meant no brochures or books but that wasn't a problem and we saw Josephine (host) at a distance to point us in the right direction. Location is ideal as it's just a mile from Broadford village and very easy to get around the whole island.
Tips:
You can buy everything you need in Broadford, the Top Shop is good and there's a big Co-op. Nice little craft places too. We ate out at the Claymore and the Red Skye restaurants so we could walk to them (approx 1 mile) and could both enjoy a drink. Excellent food and atmosphere. Claymore's langoustines were superb. We did an Isle of Skye wildlife tour, excellent way to see wildlife and find our way round the island a bit, and on the final day our quest to see sea eagles close up was granted with Dan at Stardust Boat Trips - incredible viewing of these fantastic birds. Definitely need a car to get around though. Make a visit to Asahaig beach at low tide, it is beautiful and a drive to Elgol is worthwhile. Best day for stunning scenery though was drive right up round the north of the island, past Staffin, back down round Uig - breathtaking scenery and very diverse and different from the south of the island. We'll be back to explore some more.
Would Recommend: Yes
18th September 2020:

This place wa ideal for the two of us, just right in terms of space for a 2 night stop off on skye. It had everything you needed. In terms of covid precautions I felt very comfortable being at the most vulnerable in society. I came prepared to clean clean and clean but we could tell it was already done to a very high standard. Well done and thank you
Would Recommend: Yes
14th September 2020:

I could wax lyrical about Croft4! We stayed 4 places on a recent holiday around Scotland and Croft4 was our absolute favourite. Superb COVID measures in place and the apartment was spotless on arrival. Excellent kitchen facilities, lovely bathroom and comfortable sofa. Beautiful bed linen and fluffy towels. There was even a face cloth which is something I love. Really lovely toiletries too. Milk in the fridge for our first cuppa on arrival and Talisker before bed. Great fresh coffee in the morning. What's not to like. Josephine very prompt and efficient when contacting. I cannot recommend Croft4 highly enough.
Tips:
Fabulous food at The Hebridean Inn. Brilliant walk - The Old Man of Storr
Would Recommend: Yes
5th September 2020:

Beautiful cottage with attention paid to every detail. The beds were super comfy, plenty of fluffy towels for the bathrooms and everything you need for self catering in the kitchen. We loved our stay on Skye made extra special by coming back each evening to our little bit of luxury in the cottage to cosy up out of the weather. We especially loved watching the storms roll across the sea from the bedroom skylights.
Tips:
A trip across the island to the fairy pools is a must. Only a few minutes drive away is the Claymore Restaurant where we had a lovely meal. There is a Co-op for food shopping five minutes drive from the accommodation.
Would Recommend: Yes
27th July 2020:

Lovely young friendly & professional hosts on hand if you need them. The cottage was in a great location close to the bridge and the shops so you can pop out for last minute supplies, it was super clean and clearly had a fresh coat of paint, a brand new bathroom and all the that you needed for a home from home. I particularly loved the fresh ground coffee for the cafetière but the highlight for me was the fluffiest bath towels I've ever experienced, and we've stayed in a lot of hotels!
Would Recommend: Yes
2nd January 2020:

Would Recommend: Yes
2nd October 2019:

The cottage is much improved after the recent renovations. We enjoyed a very comfortable stay. Every thing was very clean.
Tips:
The local restaurants are good. The Spanish restaurant, The Harbour, is excellent. We also like The Claymore and Cafe Sia. The craft and pottery shops around the Island are all worth a visit. The scenery is magnificent.
Would Recommend: Yes
2nd October 2019:

Appartement propre et agréable Emplacement très pratique pour visiter skye
Would Recommend: Yes
14th September 2019:

A lovely stay with everything we required, thank you.
Would Recommend: Yes
12th September 2019:

Would Recommend: Yes
6th September 2019:

Very comfortable accommodation
Would Recommend: Yes
Owner Response:
Dear Guests, Thank you for taking the time to review your stay at the cottage, we are very pleased to see that you enjoyed your stay ! We hope you will come back again and stay with us soon. Kind Regards - Josephine
25th August 2019:

Host was simply elegant and very warm welcoming and made the stay extremely comfortable. Would recommend to stay here for everyone who decides to go to isle of Skye. It's a good location and scenes are breathtaking.
Tips:
Lots of restaurants in 10-15 min driving distance. Must do are the Three Chimneys however must advise atleast a week of advance reservation. Sia Cafe is also very good as is a Kyle Chinese Take Away. Kinloch Lodge has a renowned restaurant by Claire MacDonald.
Would Recommend: Yes
18th August 2019:

clean tidy & warm plus dog friendly cottage
Tips:
short drive to shops and not to far to the Cuillins hills
Would Recommend: Yes
15th August 2019:

Would Recommend: Yes
9th July 2019:

Would Recommend: Yes
8th July 2019:

Great space with beautiful views. Would stay again.
Would Recommend: Yes
26th June 2019:

Would Recommend: Yes
22nd June 2019:

Wonderful place, very Kind Host, a real feast for the eyes a real plesure to spendere time in ... we enjoyed spend time there a Lot.
Tips:
Simply enjoy the moment
Would Recommend: Yes
10th June 2019:

Would Recommend: Yes
5th June 2019:

Very clean and everything you need is there, really feel like home.
Would Recommend: Yes
26th May 2019:

Would Recommend: Yes
24th May 2019:

Lovely surroundings and the cottage was well maintained and beautifully decorated. Nice touches like a flask of local whisky and milk in the 'fridge, tea bags and coffee in stock. We got supplies in the Co-op up the road for our stay. When we arrived we found that the beds were made up as a double and two singles for us four female friends, but when asked, there was no problem changing the bed for us to two more singles. Lovely friendly host!
Tips:
We went to Red Skye restaurant as recommended by our host and had a very good meal. The next day we went to the Claymore Restaurant in the other direction and had another good fish meal. We also saw Armadale Castle, the Old Man of Stor, Dunvegan Castle and the coral beach, and stopped for coffee at Portree. Had we more time we would have visited more places and were delighted in those we saw.
Would Recommend: Yes
30th April 2019:

A lovely place to stay in Skye which is fairly close to the Skye Bridge and the Ferry. The cottage was cosy, clean and very comfortable and the host was lovely and very welcoming.
Tips:
Walkable to Broadford village and close to a couple of beaches with amazing views. Stunning views all round.
Would Recommend: Yes
13th April 2019:

Would Recommend: Yes
7th April 2019:

Excellent location and easy to find. Fantastic reception and facility was 1st class.
Tips:
Since we had limited time, we utilized the info present in the unit. Fantastic place and good introductory info supplied by and explained by our hostess. We were fortunate to have a 2hr trip on the boat in porter. Well worth the visit and you are close to "the odd man of store" so you can cover both in the one day. Lovely restaurant in the centre of Porter next to the central parking next to the police station.
Would Recommend: Yes
2nd March 2019:

Gorgeous location. Friendly warm welcoming, couldn't do enough for us to make sure we had everything we needed. Cottage warm, cosy and private. Not one complaint!
Would Recommend: Yes
Owner Response:
Dear Williams, Thank you so much for taking the time to review your stay, We really appreciate your feedback. So pleased that you enjoyed your stay, hopefully you will return to the Highlands and The Isle of Skye. Kind Regards, Tigh Holm Cottages.
14th February 2019:

Perfectly positioned for all the best that Skye has to offer, comfortable and welcoming, whatever the weather.
Tips:
Cafe Sia is excellent, and the Broadford Hotel is good for pub grub and a pint. The scenery on Skye lives up to its reputation - was especially good when we were there as there was snow on the mountain tops, and the fact that it had just been raining heavily for a few days meant that there were waterfalls everywhere and the rivers ran strong - wonderful!
Would Recommend: Yes
28th October 2018:

Would Recommend: Yes
20th October 2018:

Lovely, spacious and well appointed cottages in very convenient location close to both Skye Bridge and the ferryboat to Mallaig. Friendly and helpful host, we especially appreciated the information on local attractions and activities. Would recommend to anyone visiting Skye.
Would Recommend: Yes
16th October 2018:

Would Recommend: Yes
8th October 2018:

Would Recommend: Yes
5th October 2018:

Would Recommend: Yes
30th September 2018:

A very enjoyable experience from start to finish. Josephine you have it bang on. You showed an interest in us and our day without being overbearing and the cottage was lovely. Very clean, cosy and well equipped. Could not recommend the cottage and yourself as a host enough. Thanks very much!
Would Recommend: Yes
27th September 2018:

Difficult to comment as we know you are about to do a full refurb.... Despite the weather we really enjoyed staying at Tigh Holm. Welcome and personal attention excellent and good local knowledge, especially considering how long you have actually had the property.. We feel very guilty that the bathroom seemed to disintegrate around us. Suggestions would be that plates, glasses, cutlery etc were OK for 2 of us but would not really be enough for 4 people. Decent size dessert spoons would be good... the ones provided were huge! Some thought to people with mobility problems... as discussed when we were there. Look forward to seeing the improvements next year if you will have us back.
Would Recommend: Yes
18th September 2018:

Absolutely brilliant and welcomey.
Tips:
It is a really good idea to rent a car, so that you don not depend on busses, and get to see a lot more of the Isle.
Would Recommend: Yes
15th September 2018:

Josephine is a real good and friendly host. If anything is not available she will do anything to be helpfull.
Tips:
First, the island is beautiful and the host can tell a lot about hikes in the neighbourhood. Red Sky restaurant is recommandable.
Would Recommend: Yes
12th September 2018:

Thoroughly enjoyed our stay, we were very comfortable throughout and wouldn't hesitate in recommending it to anyone.
Would Recommend: Yes
8th September 2018:

Nice cottage, excellent location. For us a shower with a grip rail for our elderly mother would have made 5 star across the board.
Would Recommend: Yes
1st September 2018:

The cottage was a very nice place to stay and explore the Isle of Skye.
Tips:
Josephine provided an excellent little book about walks on Skye with very nice walks off the beaten track (our favourite was the tidal island of Oronsay).
Would Recommend: Yes
30th July 2018:

This is a simple but very pleasant cottage in a great location - easy to get to, near good shops and many restaurants and pubs. Cottage has all you need, and is well kept. The new owner is charming and sincere and full of enthusiasm and brilliant ideas for redecorating and improving things - so I am sure the cottage and its little garden will become ever more charming over the next few months and especially for next season.
Tips:
Recommend nearby in Broadford wonderful garden and walk alongside the shore out to the jetty - then a glass of Drambuie from the Broadford Inn (legend tells it is the original home of Drambuie). Fabulous walks everywhere but also recommend simple one a few miles west and alongside the shore of Loch Slapin to the deserted villages of Suisnish and Boreaig.
Would Recommend: Yes
12th June 2018:

Good self-catering accommodation. We were 2 which was fine, might be a little cramped with 4 adults
Tips:
Skye is busy in June. Book early to avoid disappointment
Would Recommend: Yes
Owner Response:
Dear Guests, thank you for reviewing your stay, we are so pleased that you enjoyed your stay, we hope you will come back and visit us again soon, Kind Regards - Josephine
23rd April 2018:

Would Recommend: Yes
8th April 2018:

Great house to stay, fab location. The house has all the facilities you'd need. It's quiet and has fab views of the mountains to the west.
Tips:
You're spoilt for scenery! Lots of restaurants locally and a co op in Broadford and Kyle of Lochalsh.
Would Recommend: Yes
.