Billy's Bothy
Creag House
Tel: 07964059881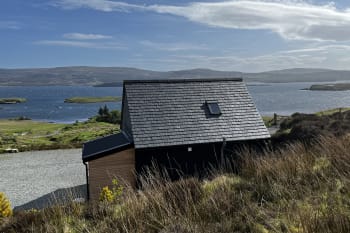 Billy's Bothy is really warm and cosy and full of character. It's a place where you relax on the comfy sofa, put your feet up in front of the wood burner and take in the view which is stunning. It has a gorgeous king size iron and brass bed, a luxurious bathroom with slipper bath and walk in drenching shower. A kitchen area is equipped with all you would need for your stay, including an oven, fridge, microwave and nespresso machine for the coffee lovers. There's also a warm porch with plenty of room for wet coats and wellies. Outside there is a private patio area with seating to spend a while taking in the peace and quiet and glorious location.
Availability
There are no rooms available at Billy's Bothy
for these dates.
Please try other dates or select a
different property
.
cottages
Max:
Warm, cosy and full of character with a stunning view. more >
Warm, cosy and full of character with a stunning view.Room Facilities:
Welcome Breakfast Hamper
Bath Tub
Coastal Location
Coffee Maker
Complimentary Toiletries
Crockery & Utensils Supplied
Ensuite Bath/Shower Room In Unit
Fridge/Freezer
Hairdryer
Kitchen
LCD/Plasma Television
Linen & Towels Supplied
Microwave
Multi Fuel Wood Burning Stove
Patio
Private Car Space
Rainfall Shower
Sea/Loch View
Tea/Coffee
Facilities
BBQ Facilities
Garden For Residents' Use
Wi-Fi
Policies
Check In: Between 16:30 and 21:00
Check Out: Between 7:00 and 10:30
Wi-fi: Wireless internet is available and is free of charge.
Smoking: There is no smoking permitted anywhere within the property.
Parking: Parking for all guests is available on site and is free of charge.


Children: All guests must be 18 or over, no children are allowed.
Pets: Pets are not allowed.
Groups: Groups are accepted up to a maximum of 2 people. No stag and hen groups.
Average
5.0
out of 5
80 reviews
100% recommend
Reviews
3rd December 2022:

Billy's Bothy is very special. Jane has created the most gorgeous accommodation - she has thought of every little detail and everything is luxurious and perfect! The location, view over the sea loch, amenities and decor cannot be beaten. The welcome hamper was incredible - delicious freshly laid eggs from the resident hens, croissants and bread from the local bakery, milk and orange juice, home-preserved jam and marmalade - just stunning. Jane has also locally sourced lovely bathroom amenities including myrtle and heather soap - divine!
Tips:
Extend your stay - it is wild, rugged and beautiful. Definitely include dinner one night at The Three Chimneys, an outstanding dining experience, however, a night by the cosy wood burner at Billy's is also wonderful. We stayed for 6 nights and wished we could have stayed longer. So many wonderful hikes to do, the beauty of Skye is breathtaking.
Would Recommend: Yes
Owner Response:
Thank you so much for your lovely review, I'm delighted that you enjoyed Billy's Bothy as much as I enjoyed putting it all together and despite the rather unkind weather you discovered just how wonderful Skye is!
26th September 2022:

The location and setting are perfect. Really enjoyed the amazing views over the loch and the Bothy is well equipped with a great kitchen area and bathroom. This is the place to come to get away from it all and reset the mind and body.
Tips:
Quite a few super restaurants to visit in Skye including the Three Chimneys which is only a 10-minute walk from the Bothy. Edinbane Lodge is also very worth a visit as well as The Dunvegan and Stien Inn. Take a walk down to Colbost Jetty and then a walk along the coastline and look out for wildlife. Orbost beach is also very scenic and on our visit we had the place to ourselves.
Would Recommend: Yes
13th September 2022:

Beautiful inside and out. Amazing views from the Bothy and so peaceful. Everything you could want inside too, all to an excellent standard.
Would Recommend: Yes
8th September 2022:

One of the most spectacular places we have ever been! The cottage was very beautiful and cozy and the view was amazing. Jane was very helpful and nice. We will definitely come back :-)
Would Recommend: Yes
5th September 2022:

Would Recommend: Yes
28th August 2022:

We had a lovely stay in the bothy. A really cosy place. Jane is a great host and she had put together a great hamper for lovely breakfasts. Besides all that, the view was amazing!
Tips:
The neist point lighthouse is a beautiful place, aspecially during sunset. Diner at Chikadasha is quite an experience (but don't expect to drink a pint there). And we saw some seals on the island in front of the bothy, keep an eye on them!
Would Recommend: Yes
31st July 2022:

Very nice little gem
Would Recommend: Yes
28th July 2022:

Would Recommend: Yes
6th July 2022:

Wonderful stay in a superb location - beautiful views, luxuriously equipped Bothy, comfortable bed, friendly and welcoming hosts, nothing too much trouble.
Tips:
Plenty to do, see and walk to near the Bothy without it being too busy - as it can be on the other side nearer Portree. Dunvegan has a wonderful village stores for supplies, papers, etc. Choice of places to eat within a reasonable distance (Stein Inn, Dunvegan, Old Schoolhouse) and definitely worth booking the Three Chimneys if you can for a very special meal at a restaurant you can walk to within 10 mins.
Would Recommend: Yes
4th July 2022:

Billy's Bothy is an absolute gem in Skye. The views from the Bothy were the best for any lodging we had in our 3 weeks in the highlands. The home is clean, well stocked, comfortable. Jane was very kind, attentive and provided great local advice. We will definitely be staying longer at Billy's next time we are in Skye.
Tips:
3 Chimneys restaurant is a 10 min walk. Highly recommend a dinner there. The Bothy is also in easy proximity to some of Skye's best hikes (Quiraing, Storr, Fairy pools). Definitely have a tea on the bench while watching the water go by.
Would Recommend: Yes
27th June 2022:

We had a warm welcome by Jane, the landlady. The bothy was very charming and cosy. The fridge was filled with breakfast items for the days we spent there, with fresh eggs from own yard. Comfy bed. Nice big bathroom. Own parking spot beside the bothy. Very beautiful view over the loch from your own little veranda. Very quiet.
Tips:
The house is called Creag House (not Billy's Bothy), which is marked on the signpost besides the road. Restaurants nearby: The Three Chimneys (you have to reserve well in advance) at about half a mile from the bothy. A little further away towards Neish point (which is beautiful): Chidakasha Skye restaurant known as The Red Roof by locals, vegatarian, very nice restaurant.
Would Recommend: Yes
22nd June 2022:

A luxurious bothy with a fabulous view. Jane was very welcoming and the breakfast hamper was delicious.
Tips:
It really is an easy walk to the Three Chimneys!
Would Recommend: Yes
16th June 2022:

Fantastic................
Would Recommend: Yes
12th May 2022:

Jane was a fabulous host for Billy's Bothy which is a brand new build and very tastefully furnished. Beautifully decorated and every detail had been considered. We had a stunning view,ever changing with the weather and only wished we had stayed longer. The fridge was stocked with delicious breakfast delights and eggs from her own hens.. can't think of anything better. We will definitely go back.
Tips:
There is an extensive selection of things to do suggested in the Bothy.. we ate at The Three Chimneys which was fantastic although a little expensive! There are many alternatives. We visited Neist lighthouse and also Skye Weavers which was a delight as we had a detailed talk on how the fabrics are made and also had a little go on the pedal powered looms!
Would Recommend: Yes
Owner Response:
Thank you for your kind review, I'm so pleased you enjoyed your stay and we look forward to welcoming you back one day!
9th May 2022:

Amazing place. Stunning views. Lovely and warm. Very comfortable bed and spotless throughout. The food provided was lovely and fresh and more than enough for the duration of our stay. Finally, it was really appreciated that we were able to use and enjoy products and produce which was local to Skye and the highlands. As a result we ended up visiting those places to purchase some of our own.
Tips:
Our Host provided us with an excellent recommendation list which I would say matched our own recommendations.
Would Recommend: Yes
Owner Response:
Thank you very much for your lovely review, and I'm so pleased that you enjoyed your stay.
6th May 2022:

Love Scotland, love Skye, love the Bothy. Amazing hosts. Amazing views
Tips:
Convenient to Neist and Dunvegan. All of Skye is easily visited in day trips.
Would Recommend: Yes
Owner Response:
Thank you so much for your review - I'm really pleased you enjoyed your stay at Billy's Bothy, the view is indeed amazing!
29th September 2021:

The house is in a stunning location with breathtaking views. The accommodation is lovely - a huge room with an incredibly comfortable bed and an en-suite with the most amazing rainforest shower. Furthermore, guests have their own lounge with TV and a real fire. The breakfast is outstanding - there is a wonderful array of choices and some real attention to detail. However, the most important aspect is that Jane and Neil are exceptional hosts who will go out of their way to make sure you have a wonderful stay.
Tips:
We ate at The Three Chimneys (££££) and the Old School in Dunvegan - both were excellent. Jane and Neil can recommend some lovely places for walks and have plenty of maps in the lounge.
Would Recommend: Yes
10th September 2021:

Mattress not great for us but no one mattress will suit everyone! Bathroom door didn't fully close from the inside so blows open if the window is open. Food and service were amazing and what a lovely spot to spend a few days.
Tips:
So many things to do on Skye, look in the guide books and pick the things that you want to do!
Would Recommend: Yes
9th August 2021:

Fabulous service! Hosts couldn't have done more to make us feel welcome. Delicious tea and cake in the afternoon. Our room was spacious and luxurious. It was the most wonderful B&B experience, and the view while eating breakfast is stunning!
Tips:
Lovely dinner at the Three Chimneys (just up the road) and short drives to a great variety of local walks, - we particularly liked Ramasaig. Worth buying one of the local walking guides, although Creag House also have them for reference. Enjoyed Dunvegan Castle too.
Would Recommend: Yes
1st August 2021:

Would Recommend: Yes
12th June 2021:

We had a fantastic stay in Skye - just one afternoon of rain. The B&B was a great place to stay. Jane and Neil looked after us very well. Lovely and friendly, great location and views and fantastic breakfasts. Our room No 2 was so comfortable and a lot bigger than I expected. It was great to have a fantastic shower after a week of weedy dribbles on the mainland
Tips:
We were apprehensive about going to 3 Chimneys for my birthday but it really exceeded our expectations; great food and service and only a short walk away. It is expensive - but worth it for a treat. I would definitely go back. The walk around Ramasaig is fantastic - especially in beautiful sunshine. We did not see anyone else the whole way - but had great view of eagles. It can be tricky to find places open at lunchtime / late afternoon - so make sure you have some emergency rations
Would Recommend: Yes
5th October 2020:

Wonderful B&B. From the minute we drove up the welcome was fantastic & the tea & cake even better. It was lovely to be able to have use of a lounge just for guests & being able to borrow the books & maps was a nice touch. The room was lovely - spacious and well equipped especially liked the Nespresso coffee machine. The room & bathroom were spotless. The soaps, shampoos & shower gel were lovely & produced locally which was nice. The breakfast was excellent. Jane & Neil were perfect hosts. Love to return.
Would Recommend: Yes
10th September 2020:

Jane and Neil are excellent hosts. Rooms and breakfast are the best ever. Gorgeous views.
Tips:
eat at three chimneys for a special meal.
Would Recommend: Yes
21st March 2020:

We had a lovely two night stay at Creag House in March 2020. When we arrived we were greeted warmly by Jane who showed us our room and the other facilities. The house is in a perfect location with beautiful views of the loch. Breakfast each morning was delicious with eggs from their own chickens who we could see scratching around in the garden. Everything was lovely with lots of little touches that truly made the stay perfect.
Would Recommend: Yes
17th February 2020:

Neil and Jane were great hosts. Location and facilities were lovely. Breakfast was amazing. Highly recommend.
Would Recommend: Yes
17th October 2019:

Would Recommend: Yes
25th September 2019:

We really enjoyed our stay at Creag House! Jane and Neil were exceptionally friendly and welcoming. They exceeded our expectations in assuring we had a wonderful stay. We really appreciated the dinner recommendation and local walking suggestions! The views from our room were stunning and the living room was a great added touch. Jane cooked the most delicious breakfast! I especially loved the Stornaway black pudding! We would definitely book here again upon our return. Creag House holds a mood and style that suits the beautiful Isle of Skye!
Tips:
We ate at Three Chimneys and Edinbane Lodge. Both were excellent. We felt that Edinbane Lodge was better value for our money and the food was on par with Three Chimneys. The seal boat tour at Dunvegan Castle is highly recommended! It was amazing to see so many of these lovely creatures lying in the sun! We enjoyed a walk at Coral Beach. I think you could walk anywhere in that area and see a gorgeous view.
Would Recommend: Yes
13th September 2019:

Best breakfasts in Scotland. Would love to go back and stay a week.
Would Recommend: Yes
12th August 2019:

Everything was excellent, room, bathroom, endowment like towels, and other bathroom accessories, tea, coffee machine. Room has an wonderful view over the bay and with a good camera objective and monocle we just see 3 seals on a little island close from land. Breakfast at high standards and quality every day as other customers mentioned. Jane is very attentive at your needs, not to mentioned the cookies or cake which were great. Thanks, you made for us a perfect stay.
Tips:
Well, people said the Colbost has a weak point being at the edge of the island. Its not true. We took advantage of the position for having in the evening 2 marvellous trips taking a perfect sunset at Neist Point and an evening to Coral Beach which is also close enough (no more than 10 miles by car). Is just perfect for starting Trotternish tour - or the middle of island with its hidden gem, Talisker Bay or for visiting Dunvegan Castle in a rainy time. More, the landscape and the atmosphere is closest of island spirit but I recognize I did not like crowds as I see for example at Fairy Pools. Fine meal at Old School with no reservation, but no time for 3 Chimney Resturant which is so close.
Would Recommend: Yes
6th August 2019:

We spent 16 days traveling to every corner of Scotland and our time on Isle of Skye was the highlight of our trip! Jane made our stay at Creag House a lasting memory. She's absolutely wonderful and her breakfasts were outstanding!!
Tips:
Be sure to book reservations at Three Chimneys Restaurant, one-half mile down the road, well in advance. This was easily the best meal we had on our trip and possibly the best meal we've ever eaten. Seriously.
Would Recommend: Yes
29th July 2019:

We had a warm welcome to a lovely B&B with excellent hosts, delicious breakfast and a stunning view.
Would Recommend: Yes
27th July 2019:

Fantastic setting with great view. Jane and Neil couldn't do enough for us, they were a joy to be with. Accommodation was exceptional, private sitting room for guests was so relaxing. Breakfast was superb. We would definitely return and recommend to others.
Would Recommend: Yes
13th July 2019:

We had a wonderful time with Jane and Neil. They and their home are joyful and welcoming. A wonderful location for exploring Skye. Thanks!
Would Recommend: Yes
8th July 2019:

An exceptional place in every way. Breakfast was lovely with lots of choices for home cooked meal, delicious baking in your room, spacious bedroom plus guest's own sitting room, and many more added touches
Tips:
Many attractions to see and beautiful coastal walks
Would Recommend: Yes
27th June 2019:

What an incredible stay! Beautiful house, beautiful Island, attentive owners, perfect B&B
Would Recommend: Yes
26th June 2019:

Very welcoming, friendly and helpful hosts. Very comfortable and spacious bedroom, lovely guest lounge with wonderful views. Delicious Scottish breakfast and afternoon tea. Would love to go back.
Tips:
Very close to the well known Three Chimneys restaurant, well worth a visit.
Would Recommend: Yes
24th June 2019:

Jane and Neil's home is just gorgeous, and we felt extremely welcomed throughout our stay. We had a really super stay, and would love to go back.
Tips:
We thoroughly enjoyed walking to the coral beach; loved the remoteness of Waternish Point with fabulous views of the Western Isles; the Old Man of Storr offered stunning views of the mainland and islands. We ate at The 3 Chimneys, a short walk from Creag House, and the food was just so special and amazing. Plus we ate at Scorrybreac at Portree, where food was also very high quality.
Would Recommend: Yes
23rd June 2019:

Warm welcome , wonderful hospitality, great choice of breakfast
Would Recommend: Yes
22nd June 2019:

Would Recommend: Yes
21st June 2019:

Would Recommend: Yes
11th June 2019:

Loved the stay and hope to come again. Great attention to detail and made to feel at home.
Tips:
Would recommend this b&b to anyone looking for accommodation in the area. Convenient for The Three Chimneys but also convenient for Dunvegan and the local shops and cafes there. Lots of walks in the area and beautiful views.
Would Recommend: Yes
9th June 2019:

We had such a very nice stay in your house that thinking of Skye means "thinking of Creag House" frist.
Would Recommend: Yes
6th June 2019:

Fabulous hosts, fabulous accommodation, fabulous food. Could not recommend Creag House enough!
Would Recommend: Yes
22nd May 2019:

Loved are 2 days with you. The fresh eggs from your lovely hens and the little touch of some fruit in The bedroom. Hope you have some bees soon. look out for British Beekeeping association for local links
Tips:
Close to three chimneys. If wet Talisker tour is a good option for adults.
Would Recommend: Yes
19th May 2019:

True sense of hospitality. Many thanks again !
Would Recommend: Yes
19th May 2019:

Jane and Neil were the best hosts. The accommodations were well above expectations. The room was spacious and having an en suite bathroom was great. It was clean and beautifully decorated. The breakfasts were scrumptious. They also were very helpful in helping us to learn all about the island and where the sights were that wee were wanting to see.
Tips:
Lots of places to see on Isle of Skye. Dunvegan Castle was great and close to the B&B, as well as Neiste Pointe Lighthouse. We also visited the Fairy Pools and the Man of Story. We also drove to Portree one day and looked around. There are several restaurants close by but reservations are required in most of them. There a a few that do not require reservations and are very good also.
Would Recommend: Yes
10th May 2019:

great place to stay, stunning location and friendly helpful owners. We will be back!
Tips:
3 chimneys is just a short walk away for fine dinning, you will need to book! Jann's in Dunvegan for fantastic baking and homemade chocolates. Lots of walking around so you can earn the indulgences.
Would Recommend: Yes
1st May 2019:

Would Recommend: Yes
26th April 2019:

Jane and Niall were lovely hosts. They recommended where to have dinner and attended to our every need- including delicious afternoon tea! The home-cooked breakfast is simply the best we have ever had, with a stunning view to top it off. The room was lovely, comfortable and modern. The views from our window were unbeatable. The shower was modern with several modes. Every detail was carefully thought of- from coasters for your tea by the bed to bath robes.
Tips:
Neist Point if it's not foggy/cloudy, wildlife cruises from Uig, Claigan Coral Beaches, a seafood or fish meal with local products, a bit of an off ride to areas off your GPS, Portree.
Would Recommend: Yes
22nd April 2019:

A very warm welcome awaits at Creag House. Very comfortable, large en-suite room with glorious views across the loch. A large guest sitting room with big TV and delicious home-made cake! Fantastic breakfast and welcoming hosts. We felt completely at home here. Highly recommended.
Tips:
This is a remote part of Skye with few tourist facilities. Make sure you know where you are going to eat on the first night - the (very good) Old School restaurant in Dunvegan is the only eating place within 20 minutes' drive, apart from fine dining at The Three Chimneys.
Would Recommend: Yes
27th March 2019:

a perfect 3night stay with perfect hosts; thank you for looking after us, serving the perfect breakfast plus the most delicious dinner; location is stunning as are the facilities and the warmth shown to us by Jane & Neil made our time at Creag House unforgettable, thank you
Would Recommend: Yes
18th February 2019:

What a lovely spot - we enjoyed our stay enormously from warm welcome to lying snug listening to February bluster outside the window. Highly recommended.
Tips:
The Bog Myrtle cafe down the road is a great little find - good tea, good cakes (great lunch options, including veggie) and secondhand books - bonus!
Would Recommend: Yes
6th November 2018:

We had a really wonderful stay at Creag House. They have thought of everything. The house is immaculate yet relaxing. To be welcomed with a lovely wood burning stove lit for us and coffee with chocolate cake was very spoiling. Breakfasts were delicious and we also enjoyed watching the ever changing view.
Tips:
it Is only a short walk to the three chimneys restraunt where we enjoyed a wonderful meal. Jane kindly cooked dinner for us on the second night- a delicious chicken pie. We enjoyed a atmospheric walk to Neist Point lighthouse.
Would Recommend: Yes
27th October 2018:

Amazing, personal, respectful, and the service is splendid
Would Recommend: Yes
8th October 2018:

Jane and Niel looked after us as though we were their own. Our breakfasts were carefully prepared and they catered for our every need. Their establishment is homely and extremely well kept, it is surely a 5 star accomodation! We look forward to many more stays with both. Thanks for a great time away!
Tips:
Bring wellington boots, and 2 waterproof jackets as Skye's weather changes 4 times in any given day!
Would Recommend: Yes
7th October 2018:

Could not ask for a better B&B or hosts.
Tips:
Jane and Neil would be happy to reserve seating for you in the local restaurants/pubs. They also have plenty of literature on local walks, points of interest etc
Would Recommend: Yes
3rd October 2018:

Would Recommend: Yes
1st October 2018:

Beautiful home, gracious hosts and lovely view over Loch Dunvegan what more can you ask!? Breakfasts were delicious with an amazing array of choices Cosy, comfortable lounge for evenings. 5 star recommendation
Tips:
Close to Dunvegan castle and exploring Northern Skye, views are fantastic. Be prepared for twisting narrow roads with laybys every 100ft!Restaurants around but not too close they are very busy so suggest booking in advance
Would Recommend: Yes
23rd September 2018:

We really enjoyed our stay at your place and to us it was almost bit like staying at a friends place. The house, our room, the view and not to forget the fantastic breakfast (best start for a day) - what else does one need for a perfect holiday? (okay, nice weather would have been fine ;-) If ever we should come to Skye again, definitely to Creag House. hank you for spoiling us and hope to see you again.
Tips:
The restaurant "the old school" is a good place for a nice dinner. Good food, nice service and reasonable price. For a bit a special and more luxury dinner I recommend "the three chimmneys". Excellent food, very good service and just that little something extra.
Would Recommend: Yes
14th September 2018:

We loved our stay at the Creag House. The view is gorgeous! We appreciated Jane and Neil being so welcoming and making sure the accommodations were clean and very comfortable.
Tips:
Every place we visited and hike we did was absolutely wonderful!
Would Recommend: Yes
11th September 2018:

Jane and Neil were excellent hosts. Facilities were first rate. Great place to stay to explore the Isle of Skye.
Tips:
Make sure that you book for dinner at restaurants in the area prior to arrival as there are not a lot in the area. Restaurant that we ate at the food was great.
Would Recommend: Yes
10th September 2018:

Our stay with Jane and Neil was absolutely lovely. Their house is on a quiet part of Loch Dunvegan with an amazing view of the Loch. It was so quiet and peaceful out there, we were a bit reluctant to go out and explore the rest of Skye as planned since we felt like we could stare out the window for hours! When we first arrived, we were warmly greeted and offered tea and coffee and some cakes in their guests' sitting room that has a lovely view. The room was clean and inviting, and the bed quite comfortable. If you're a light sleeper, just know that since Creag house has two rooms for guests, you might hear guests in the other room. It didn't bother us at all though. Jane cooked us a lovely breakfast both days that we were there. It was a great way to start each day! Highly recommend this place to other travelers. Thank you Jane and Neil!
Tips:
Creag House is a five minute walk to the Three Chimneys restaurant (which if you go, try their house made gin - it's amazing!) It's also a relatively short drive to Neist point light house, which we visited at sunset on the day we arrived.
Would Recommend: Yes
28th August 2015:

Beautifully appointed home with incredible views. Who needs television when you can watch seals in the loch. Host and family were warm and gracious. Served a delicious lemon cake and shared the recipe! We not only would like to return to this B&B we wish we lived there:)
Would Recommend: Yes
23rd August 2015:

Newbuildt house , so beautiful with every service you can ask for. So nice hostesses, the breakfast royal class. Hope you will reopen soon!
Tips:
Very close to "Three Chimnis"' , near to "the Red Roof gallery with very taseful organic food. Close to "Neist Point. Near Talisker destillery. On the beautiful Island Skye
Would Recommend: Yes
7th August 2015:

Jane & Neil were the prefect hosts and the house is beautiful with a stunning view!!
Tips:
Three chimneys restaurant but overly expensive. Neist lighthouse is amust see on a mildly stormy day.
Would Recommend: Yes
2nd August 2015:

Would Recommend: Yes
29th July 2015:

Would Recommend: Yes
28th July 2015:

Loved it here. Stayed 2 nights and it was a great introduction to Skye. Stayed in the king size bedroom which was beautifully furnished and the bed was extremely comfortable. Great ensuite bathroom with very good shower and lovely little touches like the coffee machine in the bedroom. The house itself is lovely - one of those places that just feels 'right' and guests have sole use of a sitting room downstairs, which, like the dining room, has a view over the Loch that is mesmerising. Breakfasts were excellent too, as was the cake and tea that greeted us on arrival. The owners are warm and welcoming and it really does feel like you've recharged your batteries staying here. Says something that although we did sample 'The Three Chimneys', it is the B&B that made the visit for us.
Tips:
Plenty to see around the property in both directions.
Would Recommend: Yes
21st July 2015:

Simply the best B&B we have ever experianced, everything was perfect, the friendly atmosphere, wonderful setting and views, excellent facilities and 5 star food. Thanks for the experiance we really enjoyed our stay.
Would Recommend: Yes
18th July 2015:

We had a wonderful time in Skye. Jane and Neil were great and it was a great getaway!
Would Recommend: Yes
9th July 2015:

Absolutely wonderful. Your home has such a lovely aura about it that it instantly made us feel welcome. I'm really glad that I couldn't get accomodation elsewhere and fortuitously booked your home. I really do hope that you continue to keep it open for a short while every year so I have a reason to return to Colbost!
Tips:
Take a bit of food supply with you because if you don't really feel like eating out for a meal, the nearest convenience store is quite a trip and there is no local takeaway! If you don't want to drive far for dinner, make sure you book a table at the three chimneys. I saw people being turned away and being told the next nearest restaurant was a 20 min drive away. Visit the galleries, coral beach, niest point, and enjoy the living room!
Would Recommend: Yes
7th July 2015:

What a beautiful home with stunning views over the loch to Dunvegan Castle. A warm welcome from Jane with tea and cake on arrival. Lovely room with very comfortable bed and great ensuite. Loved every minute of our stay at Creag House. Thank you for allowing us the privilege of sharing your fantastic home for a couple of days.
Tips:
Edinbane Inn a must for food. Skye Silver outlet nearby for lovely jewellery. Watch the seals playing from your bedroom window at Creag.
Would Recommend: Yes
30th June 2015:

Would Recommend: Yes
29th June 2015:

This was a fabulous find. Within an easy stroll to The Three Chimneys. Very comfortable, excellent food and a warm and friendly welcome. Not to mention the view!
Tips:
Save up for a meal at The Three Chimneys.
Would Recommend: Yes
27th June 2015:

Tips:
The Three Chimneys Restaurant (Michelin starred) Coral beach near Dunvegan Castle Neist Point
Would Recommend: Yes
21st June 2015:

You have a very beautiful home and despite the weather we were very disappointed when it was time to leave!
Would Recommend: Yes
19th June 2015:

Excel·lent eleccio. Una casa preciosa, unes vistes espectaculars, tot molt net i la mestressa molt agradable i simpatica. Totalment recomanable.
Would Recommend: Yes
12th June 2015:

Creag House sets the bar at a whole new level. A view to die for, homely comfortable surroundings, relaxed and make yourself at home type of place..... so much more than just a B&B for so much less than you would have thought possible. We particularly liked the tea and homemade cake on arrival, the view of the seals and wildlife from the large bay window, the very comfortable bed, the very nice biscuits with your tea in the morning....the list is endless....just go there! Honestly there aren't word to describe how much we enjoyed our stay and would like to return.
Tips:
The Edinbane Inn was really excellent....not expensive...the staff were very friendly....highly recommended although about a 20 min drive from Creag House. Obviously the Three Candles is about half a mile from Creag House and therefore the closest restaurant but we had been put off by reports we had read online.
Would Recommend: Yes
27th May 2015:

Quite simply...a gem. Would say it is the best B&B I have ever stayed at. Faultless.
Tips:
Bring your own Whiskey....
Would Recommend: Yes
14th May 2015:

Our experience of Creag House was that it was really warm and welcoming. We loved the homeliness. The breakfast in the morning was amazing with a view to die for!
Tips:
The three Chimneys restaurant is only a 5 minute brisk walk where some of the best food (if not the best) in the UK is served. There are lots of arts and crafts galleries to explore. Skyescape studio was a short drive away and had some breathtaking landscape photography. There are also a number of beautiful walks, The Old Man of Stor, The Quiraing and The Fairy Pools are some of the best we tried.
Would Recommend: Yes
.