Coorie View Cottage
Half of 1 Ferindonald
Tel: 07478340213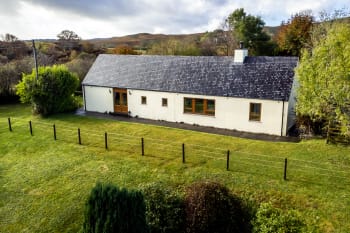 Coorie view has three bedrooms with a king, double and two single beds, that can accomodate six people and 1 infant
Availability
There are no rooms available at Coorie View Cottage
for these dates.
Please try other dates or select a
different property
.
cottages
Max:
3 Bedroom house with a king, double and 2 single beds. Sleeps up to 6 people. more >
3 Bedroom house with a king, double and 2 single beds. Sleeps up to 6 people.Room Facilities:
Bath/Shower
Cable Television Channels
Cooker
Digital Television Channels
Dining Area
Dishwasher
Freezer
Fridge
Fridge/Freezer
Hairdryer
Kitchen
Linen & Towels Supplied
Living Room
Log Fire
Microwave
Multi Fuel Wood Burning Stove
Patio
Private Car Space
Rainfall Shower
Satellite Television Channels
Sea/Loch View
Shower Room
Tea/Coffee
Telephone
Tumble Dryer
Washing Machine
Television
Facilities
Laundry
Sound system
Cycling
Fishing
Shop (nearby)
Terrace
Wi-Fi
Policies
Check In: Between 16:00 and 23:45
Check Out: Between 6:00 and 10:00
Wi-fi: Wireless internet is available and is free of charge.
Smoking: There is no smoking permitted anywhere within the property.
Parking: Parking for all guests is available on site and is free of charge.


Children: Children of all ages are welcome.
Pets: Pets are allowed at a charge of £15.00 per stay.
Groups: All groups are accepted.
Average
5.0
out of 5
17 reviews
100% recommend
Reviews
16th September 2023:

A fantastic place to stay for your holiday. Along with a friendly owner, the accommodation is finished to a high standard and everything is provided to make your stay comfortable. We cannot praise Corrie View enough. We will definitely be stopping again.
Would Recommend: Yes
11th September 2023:

We enjoyed a 3-night stay at Coorie View. It was exactly as described in the Booking info. It was the perfect home away from home and a great place to launch from for day trip on Isle of Skye!
Tips:
There are several nice restaurants including Eilean Iarmain within a 10 minute drive. Armadale Castle and the ferry port to Mallaig are also close by.
Would Recommend: Yes
23rd July 2023:

Excellent service, friendly and accommodating. Cannot fault it to be honest. Beautiful and clean accommodation. Ideal for the ferry as well.
Tips:
Boat trip from Elgol to loch course is a must. Broadland hotel does good food.
Would Recommend: Yes
13th July 2023:

Would Recommend: Yes
14th June 2023:

Beautiful cottage in South Skye. We came with the ferry from Mallaig to Armadale, it's only a 5min drive from the ferry terminal. Stunning views, great interior, fantastic host. Could not have asked for more! Highly recommend!
Tips:
The Inn @ Ardvasar for lunch and dinner. Food is amazing, great hospitality!
Would Recommend: Yes
6th June 2023:

One of the best properties we have stayed in. Proprietor is incredibly helpful and thoughtful. This is the second time of staying at this property and intend to visit again next year.
Tips:
So much to do on Skye, check out YouTube videos for further information or ask property owners they gave us so many excellent tips.
Would Recommend: Yes
10th May 2023:

Lovely property, well appointed and comfortable. Great views. Would definitely come back.i
Tips:
The local inn has the most amazing food and great staff, you have to eat there!!!!
Would Recommend: Yes
21st April 2023:

We had an excellent stay Coorie View Cottage. The cottage is stunning and finished to a high standard and was absolutely spotless on our arrival. The cottage is stocked with everything you would need for a self catering stay with loads of added bonuses, we particularly enjoyed the Sonos sound system! Add in the amazing views and I can't recommend Coorie View Cottage enough, we will definitely be back in the future!
Would Recommend: Yes
16th April 2023:

Host was excellent. Good communication for travelling and check in. House was beautiful and had a lovely 'homely feel'. Very clean and comfy with extra towels, toilet rolls, etc available. Will definitely be back.
Tips:
Duisdale House Hotel restaurant along the road has amazing dining. Point of Sleat has a lovely walk to the lighthouse and secluded, sandy beach. Perfect for a picnic!
Would Recommend: Yes
24th February 2023:

Kilmore is a small hamlet.We staed in a big house.The house is spacious,warm and comfortable.The kitchen is equipped with all household appliances.It works perfectly!Full of cooking utensils and appliances.The rooms are spacious,tidy and bright.Comfortable beds.The fireplace warms you up and puts you in a romantic mood👌 Convenient access to the yard and even a garage for 🚗
Tips:
Places to visit:Fairy Pools,Sligachan Old Bridge,Eas a'Bhradain,Old Man Of Storr Cafe Sia&Siaway in Broadford town
Would Recommend: Yes
30th January 2023:

stunning property, immaculately clean, comfortable beds , well equipped and the most amazing views and sunrise ! also has lovely garden . we will definitely return one day . fantastic communication with the host
Tips:
bar and hotel along the road had great food short walk up the hill to the transmitter for lovely view
Would Recommend: Yes
21st November 2022:

Lovely cottage with stunning views. Fully equipped with everything you need. Spotlessly clean and very comfortable.
Would Recommend: Yes
20th October 2022:

Would Recommend: Yes
11th October 2022:

Rory is super accommodating,being able to be in immediate contact should you have any queries.
Tips:
Although we didn't venture far on our stay, we have been to the area many times . The beach at the end of Sleat is stunning.A walk to Leitir Fura , Isle Ornsay lighthouse ,Armadale castle and gardens ,Ord to name a few but there are many gems to be found . It is a perfectly peaceful base to explore the whole Island . Absolutely loved it !
Would Recommend: Yes
9th October 2022:

One of the most comfortable, well equipped, and welcoming places I have ever stayed in. Weather was a little damp so the very efficient heating system, warm drying cupboard and log burner were much appreciated. Kitchen is a pleasure to use and we lacked nothing. Many thanks!
Would Recommend: Yes
3rd October 2022:

What an amazing location. First of all, the host was extremely friendly and was happy to have us at his house. As for the house, it was absolutely amazing. It was extremely clean and well appointed. We felt as though we had won the lottery for the two days we were there. It was just an overall amazing experience that was capped off with an amazing host. It was one of the best parts of our eleven day trip. Thank you.
Would Recommend: Yes
12th September 2022:

Very responsive host who is very helpful and accommodating. Nothing is too much trouble. Accommodation is excellent with everything that we needed.
Tips:
A bit remote from shops/facilities etc so remember to bring supplies with you.
Would Recommend: Yes
.