Taigh Duitseach
Viewfield Road
Tel: 07801542992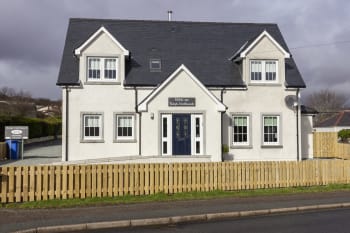 Taigh Duitseach ( The Dutch House ) is a new purpose built Bed and Breakfast establishment on the main road leading into Portree. We are a ten minute walk from the town centre where all the bars and restaurants are situated. We have ample free parking. All of our rooms are en-suite, have tea and coffee making facilities, a 32" smart TV and free Superfast Broadband. All rooms and public areas have hardwired smoke detectors and have central heating.
Availability
There are no rooms available at Taigh Duitseach
for these dates.
Please try other dates or select a
different property
.
rooms
Facilities
Early Breakfast By Arrangement
Internet Access
Policies
Check In: Between 15:00 and 18:00
Check Out: Between 7:30 and 10:00
Wi-fi: Wireless internet is available and is free of charge.
Smoking: There is no smoking permitted anywhere within the property.
Parking: Parking for all guests is available on site and is free of charge.


Children: Children aged 8 or over are welcome.
Pets: Pets are not allowed.
Groups: All groups are accepted.
Average
4.9
out of 5
45 reviews
100% recommend
Reviews
3rd May 2021:

Made to feel very welcome and the Covid factors were very well managed.
Would Recommend: Yes
28th October 2020:

Would Recommend: Yes
19th October 2020:

Well recommend to everyone. Very clean ad modern rooms. Service excellent. And price is very good
Would Recommend: Yes
11th October 2020:

Really lovely B+B. Comfortable and spotlessly clean. Very generous continental breakfast
Would Recommend: Yes
8th October 2020:

The B&B was modern, very clean and good facilities
Tips:
Great food at isles inn and lower deck restaurant
Would Recommend: Yes
6th October 2020:

Great location, very friendly staff and facilities are excellent. Love the under floor heating! Breakfast was lovely as well, it was continental and very generous.
Tips:
We had a lovely meal at Cuchillin which is a seafood restaurant. The seafood platter was delicious! We did a boat tour with Stardust and saw sea eagles and seals, so would definitely recommend this.
Would Recommend: Yes
2nd October 2020:

Pauline was lovely & welcoming.Our room was deluxe, bath robes & slippers were lovely touch. We are vegan and they were very kind to cater for us, little basket left outside room full of goodies. Parking is great at back of building.Stunning views,small walk into town which is lovely.
Tips:
So many places to visit Neist lighthouse Fairy Glen Fairy pools Coral beach Old man of Storr You do need a car, otherwise you won't get around all the places.
Would Recommend: Yes
29th September 2020:

Would Recommend: Yes
29th September 2020:

Everything was great!
Tips:
It was hard to find availability at local restaurants (in time of Covid-19). If possible, try booking a few days in advance.
Would Recommend: Yes
25th September 2020:

Would Recommend: Yes
23rd September 2020:

Really enjoyed our stay, rooms were very clean and looked brand new. Great location just a few mins walk to Portree and Pauline very friendly. The breakfast in the basket in the morning was nice too - will recommend in future. Thank you, Pamela
Would Recommend: Yes
19th September 2020:

Would Recommend: Yes
17th September 2020:

Lovely house, friendly and helpful staff, good location.
Would Recommend: Yes
11th September 2020:

This was an excellent B&B, the room was clean with a high standard of furniture. The bathroom was very clean and well appointed plenty of hot water soap and shower gel all supplied. The breakfast tray delivered to our room was well stocked and ample for the day ahead. This was well suited to travel around the whole island to see the sites.
Tips:
These are a number of excellent restaurants within walking distance in Portree that are worth a visit during your stay.
Would Recommend: Yes
6th September 2020:

Very clean. Easy walk into town. Host was great, friendly and well thought out and filling breakfast.
Tips:
Local mobile pizza van in car park behind the school - would recommend.
Would Recommend: Yes
3rd September 2020:

Great location, handy for Portree. Place was spotless. Despite CoVid restrictions when breakfast could not be served. We were provided with a lovely selection in our room. Couldn't have been better. Thank you
Tips:
10 minute pleasant walk into Portree.
Would Recommend: Yes
3rd September 2020:

Great welcome from hosts. Very clean & comfortable accommodation in a great location.
Would Recommend: Yes
3rd September 2020:

What can I say. What a beautiful place to stay. The house was very modern and absolutely spotless. The breakfast was second to none and Pauline kindly packaged it for our trip home. Nothing was a problem. What lovely hosts too, Jim and Pauline were such lovely people. The only downside for us is that we didn't stay longer. We will definitely be back but for a longer time.
Tips:
A trip to the fairy pools is a definite. Jim kindly recommended the Portree hotel for a meal and it was amazing but I would highly recommend booking a table in advance due to current circumstances
Would Recommend: Yes
2nd September 2020:

This looks like a new build property and is in great condition. In a convenient location within a short walk of the harbour and town square. Very friendly welcome. Great first nights sleep but second night was disturbed by noisy neighbours in adjacent room. Running a shower at 2am?? Breakfast was a generous continental style served to your front door. Very enjoyable.
Tips:
Great base for touring the island but Portree itself was looking a bit neglected, particularly the harbour area. That was disappointing. Had a great meal in the Tongadale Hotel. Fish and chips by the harbour were also good.
Would Recommend: Yes
29th August 2020:

Would Recommend: Yes
24th August 2020:

We were really pleased with the accommodation and if we return to Skye would be very happy to book the same accommodation.
Tips:
The town centre is no more than a 10 minute walk from the accommodation. We didn't book any restaurants in advance and realised we should have. I imagine with some restaurants closed due to Covid-19, this has put those that are open under more pressure. The Isles Inn came to our rescue both nights and the staff were lovely and food good value. The town has 2 banks, a small co-op, chemist and everything you would need to buy while on holiday. Portree is a great base for exploring a very beautiful island.
Would Recommend: Yes
24th August 2020:

Would Recommend: Yes
23rd August 2020:

Would Recommend: Yes
15th August 2020:

Gentle and polite staff!! Beautiful room cleaned and confortable!!!
Would Recommend: Yes
3rd August 2020:

Cold-style breakfast isn't everyone's cup of tea. It's be nice if there is an option for Scottish full breakfast.
Would Recommend: Yes
2nd August 2020:

Even though the Covid 19 meant that breakfast was taken in the room the facilities were good and thoroughly enjoyed our stay
Would Recommend: Yes
30th July 2020:

We were greeted by a lovely lady who went through everything for out stay. The room was clean as was the place inisde and outside. Wish we hadn't eaten so late at night to have appreciated the breakfast which was left promptly outside our door in the mornings. It had a great mix.
Would Recommend: Yes
26th July 2020:

Great place to stay for a few nights. We had the family room which was extremely comfortable.
Would Recommend: Yes
24th July 2020:

Would Recommend: Yes
19th July 2020:

pleasant couple Jim and Pauline. Thank you for making sure we all stayed healthy at these challenging times. Clean, spotless and quite establishment. Good healthy B/fast. Thank you.
Tips:
Book early. Recommend the Prince of India restaurant.
Would Recommend: Yes
1st April 2020:

We really loved our stay at Taigh Duitseach and would recommend it to everyone!
Would Recommend: Yes
23rd March 2020:

Lovely room, very clean and lovely little details like tooth brush and toothpaste and shower gel etc. Jim was a fantastic host friendly and very helpful and little max was a star. Would highly recommend and will definitely be back
Would Recommend: Yes
19th March 2020:

Had a very enjoyable stay at short notice, owners very friendly and informative of local facilities. Room and facilities absolutely spotless and clean. Heating within room was controllable, this is unusual but appreciated as most places it's fixed at higher temp than required. Breakfast was fresh and tasty and owners accommodated my preferences. Plan to return whenever on the island.
Would Recommend: Yes
18th March 2020:

The room was absolutely spotless and even provided wine glasses for us to use. The people were chatty and very friendly with a good Continental Breakfast as well. We were very impressed and would have liked to stay longer if we were not already staying somewhere else that night.
Would Recommend: Yes
15th March 2020:

A beautiful, new-built property, close to the town centre. Public rooms and bedrooms were very modern and tastefully decorated. The room was spacious and attention was paid to every need. There were spare toiletries provided, coffe, tea, a coffe machine and biscuits were available in the bedroom. The owner, Pauline, was extremely friendly and helpful. The buffet was extensive and Pauline was on hand to meet you every need.
Tips:
A wonderful location on Skye from which to continue your journey round the island or to use as your base for your holiday.
Would Recommend: Yes
14th March 2020:

Would Recommend: Yes
13th March 2020:

Already have recommended to others who are interested in a visit to Skye. Couldn't fault our stay in any way. Might even return soon if international flights keep being cancelled! Tips on what to see and best way to do them was very very helpful. Thanks again.
Would Recommend: Yes
Owner Response:
Hi thanks for taking the time to write a review for us. we are glad you enjoyed yourselves and we would welcome you back again in the future. Jim and Paulline
2nd March 2020:

Would Recommend: Yes
1st March 2020:

Tout est super. L emplacement, la chambre, le pdj. Meeci
Would Recommend: Yes
31st January 2020:

Cuando pones la dirección en google maps, te sale otro hotel. Cama muy cómoda, y el baño limpio con todos los amenities posibles. El trato de la propietaria espectacular.
Would Recommend: Yes
29th January 2020:

I stayed here for one night while travelling for work. I received a very warm welcome, stayed in a lovely room with ensuit (rainforest shower!) and had a great breakfast in the morning. I would definately stay here again.
Would Recommend: Yes
27th January 2020:

Warm and nice welcome. We enjoyed our stay very comfortable. Delicious breakfast. Thanks to Pauline.
Would Recommend: Yes
22nd November 2019:

Очень комфортно , уютно и чисто. В номере есть все необходимое. Очень удобная кровать. Отличное месторасположение. Вежливый и дружелюбный персонал. Потрясающий завтрак, лучший за неделю пребывания в Шотландии. Very comfortable, cozy and clean. The room has everything you need. Very comfortable bed. Great location. Polite and friendly staff. Very tasty and varied breakfast.
Would Recommend: Yes
23rd October 2019:

Would Recommend: Yes
20th October 2019:

Would Recommend: Yes
.