Mable's Cottage
13 Railway Cottages Garsdale
Tel: 01539620847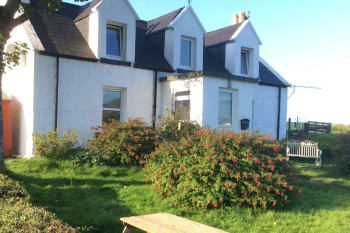 Mable's Cottage is a self catering holiday cottage. A former stone built croft built c.1900 sleeping up to four people in two bedrooms. One king sized, one Super King sized or twin room to suit your requirements. We are 100% pet friendly and supply dog bowls, beds, towels and furniture covers. We have a secure garden all round so your pets are free to wander without fear of escaping. We offer a very comfortable "Home from Home" cottage with everything you will need for a stress free holiday.
Availability
There are no rooms available at Mable's Cottage
for these dates.
Please try other dates or select a
different property
.
cottages

Max:
Room Facilities:
Bath/Shower
Cable Television Channels
Central Heating
Ceramic Hob
Cooker
Crockery & Utensils Supplied
Digital Television Channels
Dining Area
Dishwasher
DVD Player
Freezer
Fridge
Hairdryer
Ironing Facilities
Kitchen
LCD/Plasma Television
Linen & Towels Supplied
Living Room
Log Fire
Microwave
Multi Fuel Wood Burning Stove
Patio
Private Car Space
Radio
Satellite Television Channels
Tea/Coffee
Telephone
Television
Tumble Dryer
Washing Machine
Facilities
Washing Machine
Tumble Dryer
Dishwasher
Microwave
Upright Fridge
Upright Freezer
Solid Fuel Burner
Oil fired Central Heating
Bath & Shower Combined
Garden Furniture
Bar (nearby)
BBQ Facilities
Café / Restaurant (nearby)
Garden For Residents' Use
Hiking
Luggage Storage
Shop (nearby)
Wi-Fi
Policies
Check In: Between 16:00 and 23:45
Check Out: Between 10:00 and 10:00
Wi-fi: Wireless internet is available and is free of charge.
Smoking: There is no smoking permitted anywhere within the property.
Parking: Parking for all guests is available on site and is free of charge.


Children: Children of all ages are welcome.
Pets: Pets are allowed and can stay free of charge.
Groups: Groups are accepted up to a maximum of 4 people. No stag and hen groups.
Average
4.8
out of 5
31 reviews
100% recommend
Reviews
4th January 2023:

Great cottage. Every thing you need.great location. The view from the cottage is amazing. Loved sitting in the kitchen with the family.too sum it up great cottage great location. Defo go back
Would Recommend: Yes
22nd October 2022:

The owner, (Alan and Frances) were so friendly and helpful, to ensure we had a lovely, comfortable holiday.The cottage exceeded our expectations and was very well equipped. Kitchen, Bathroom,bedrooms all cleaned to a high standard. The garden was beautiful! Barney, our cockerpoo dog , was welcome , and he slept so well in the peaceful environment. Wiifi was brilliant . Alan and Frances left a welcome pack /basket , which was a lovely surprise and very generous! We would definately recommend Mabel's cottage and hope to return.
Tips:
Alan recommended The Galley , for our take away meal , portions were generous and food delicious and hot. We would definately go back ! We walked to the fairy glen ( just down the road from the cottage). We recommend Staffin beach around 20 mins drive and Uig pottery, Bakka bar at the ferry port.
Would Recommend: Yes
Owner Response:
Haste ye back
3rd October 2022:

Everything possible had been done to ensure a lovely warm stay. The cottage is delightful and to call it dog friendly is an understatement, our greyhounds loved it. Thanks so much for the best welcome pack we have ever encountered, both for humans and dogs. Can't praise everything enough. Fab.
Tips:
None really, the weather is key. Rankins supermarket in Uig is a great little store, amazingly well stocked. Don't go expecting much sunshine, we had rain every day but one. The landscape and mountains are bleak and beautiful when you can see them!!
Would Recommend: Yes
Owner Response:
Thank you Peter. We are so glad you, and your dogs, enjoyed your stay.
26th September 2022:

An enchanting cottage with all the comforts of home.
Tips:
Relax and enjoy this beautiful home. Everything for your comfort has been thought of.
Would Recommend: Yes
Owner Response:
Thank you Cissy. Glad you enjoyed your stay.
18th August 2022:

Great cottage and location. Very dog friendly and equipped for you and your fury friends
Tips:
Very close to the Fairy Glen and Uig ferry port
Would Recommend: Yes
30th July 2022:

Nice cottage, well kept. Great for the dogs. no major issues.
Tips:
We only realised that you cant really walk to anywhere and so we had to drive to wherever we had to go, even to the pub at night for a pint.
Would Recommend: Yes
4th July 2022:

We expected a wonderful experience staying at Mable's Cottage and we weren't disappointed. The hosts Allan and Frances kept us informed throughout the booking process and gave us all the information we needed before we settled in to the accommodation, which was well equipped, comfortable and cosy and in an ideal location.
Tips:
We had a fabulous holiday staying at Mable's Cottage and Skye was beautiful. Tip? Don't bring a big motorhome like some people do - the roads aren't wide enough.
Would Recommend: Yes
Owner Response:
Thanks Philip, glad you enjoyed your stay. Haste ye back
4th June 2022:

We really appreciated the call on arrival and lovely to speak to Allan who immediately answered a couple of trivial questions makes a difference to talk to owner and wouldn't have hesitated to contact him or Frances if neede to during our stay - not needed though😃
Tips:
Uig Hotel - popped in for lunch and immediately got chatting with regular locals which says a lot and didn't disappoint dog friendly too🐶 Smoke on the Water- sit in or take out amazing!! Uig Pottery Lochbay restaurant- seafood treat - fantastic food/setting BOOKINGS ONLY Walks - so many for so many levels of abilities there are so many useful books in Mables cottage but we use some online guides too walkthehighlands is one
Would Recommend: Yes
31st May 2022:

splendid. had a great time and the house gave us relaxed feeling. had everyhting we needed for getting us dry and rested for a great adventure.
Tips:
store and fuel station 5min drive. 20 min drive to portree.
Would Recommend: Yes
9th May 2022:

The cottage was cosy, homely and had absolutely everything we needed. The views were stunning, the garden was spacious and lovely to sit in and play with the dogs in. It wasn't just dog friendly it was aimed at dogs and their owners and we loved that. We've travelled lots with our dogs all over the UK and Europe - and stayed in everything from motorhomes, chalets, caravans, cottages, converted barns and villas. We have never stayed anywhere more dog orientated and welcoming to furries!
Tips:
The Uig hotel was super accommodating to our dogs when we went for a lovely meal. They prepared burger patties for the dogs' dinner, brought out a big water bowl and seated us in an enclosed area where the dogs could relax and wouldn't be in anybody's way. We also had a nice meal in the Isles Inn in Portree which welcomes our dogs inside and where they had Haggis! We went on a wildlife boat cruise from Portree and again, the dogs were welcomed on board. We also done a day trip to Loch Ness where the dogs had a swim and Ben Nevis, we're the dogs enjoyed a cable car ride to the top! The dogs also loved Staffie Beach we're we explored for dinosaur prints and the Kingsbury Community Woodland were they enjoyed a lovely long off-lead walk. We also took them to the fairy glen.
Would Recommend: Yes
4th April 2022:

Very dog friendly . Cosy cottage with everything you need for the kitchen. Cottage has lovely enclosed garden to enjoy . Bedrooms are a great size . Just need to watch your head if your tall.
Tips:
Numerous beautiful walks at the north end iof Skye as well as fine dinning experiences . Locally hotels are also good and cafe galley excellent choice of seafood at great prices when you sit in. Most popular spots like fairy pools and old man storr have pay and display now which makes parking a lot easier and safer all take cards . One of our favourite easy walks is to go up A855 and just past the the large bend there is a path that takes you to a magnificent view point with amazing views of jig and Lewis and Harris. If you take the car drive up the hill and take 1st right towards quairaing and there is a Small parking spot there
Would Recommend: Yes
24th March 2022:

Very dog friendly nice secure garden and great location, comfortable stay
Tips:
Uig hotel 10 mins walk good beer, friendly and dogs welcome
Would Recommend: Yes
21st March 2022:

This is our second holiday at Mabel's cottage. Fantastic location and super dog friendly. Allan and Francis the owner's are 1st class.
Tips:
Location is excellent for a semi- remote location. Uig Hotel approximately 1 mile away do great food and is super Dog friendly, booking is recommended.
Would Recommend: Yes
11th March 2022:

Great selection of dog accessories Phone call from owner much appreciated Lovely welcome pack for dogs and owners
Tips:
Chargrill Restaurant, Marmalade Hotel, Portree Fairy Glen Sunset at Duntulm Jann's cakes, Dunvegan Breakfast at Red Brick Cafe, Jan's hardware store, Portree
Would Recommend: Yes
Owner Response:
Being self catering with the owners living 400 miles away and no staff on site we are a little confused with a score of 3 for services especially as the "Phone call from owner much appreciated" was mentioned.
6th November 2021:

Not to be helped but the wood burner working would have been the icing on the cake! Do the lights under the kitchen units work? Loved the hamper - super cute!
Would Recommend: Yes
Owner Response:
We can only apologise that the wood burner was out of action. We always act as quickly as possible to rectify any faults at Mable's. With the nearest glass supplier 130 miles away this wasn't easy or quick to rectify. The fault has now been resolved.
11th September 2021:

Shabby chic and quirky with the benefits of modern day technology and white goods to make any stay comfortable.
Tips:
One mile away, towards Uig, is Rankins Convenience Store that is superbly stocked, especially with vegetarian and vegan products. Convenient for the Fairy Glen, a leisurely ten minute walk, and Portree is twenty minutes drive?
Would Recommend: Yes
4th September 2021:

Great location, lovely house, beautiful enclosed garden perfect for dogs. Easy to use heating system Lashings of hot water Well stocked cottage. Owners easy to contact, very helpful. Great walking in area and good for accessing ferry to Harris
Tips:
Uig Hotel 15 mins walk downhill. Good food, lovely staff. Ate there 3 times. Easy to book. Daytrip to Harris , 5 mins drive to ferry. Car needed on Harris for daytrip. Portree 25 mins Quirang and Old man of Storr short drive. Uig village shop well stocked and a large Coop at Portree but did a main shop at Fort William on way up as more choice.
Would Recommend: Yes
27th August 2021:

Beautiful Cottage in stunning location. Everything you could possibly need.
Would Recommend: Yes
30th May 2021:

Super cottage, lovely homely feel. Relaxed as soon as we unlocked the door. Owners have thought of everything for the dog and us humans. Communication throughout was excellent. Really can't rate this highly enough. Already thinking of returning.
Tips:
Great base from which to explore the island and its many attractions. We eat out nearly every evening and never had a meal that wasn't superb. Everyone is so welcoming. Roads are fantastic and it was a pleasure to drive around the island,
Would Recommend: Yes
28th November 2020:

Lovely cottage in a beautiful location, fantastic personal touch to include providing dog bedding/towels.
Would Recommend: Yes
19th November 2020:

A beautifully presented cottage which suited us humans and our dogs perfectly. A well equipped kitchen and all other amenities to make your stay more comfortable. Loved the welcome treats for us and the dogs
Tips:
In a beautiful remote area for total peace and quiet. Garden totally secure for dogs. 15 minute drive from main Portree where there are plenty of lovely places to eat
Would Recommend: Yes
17th November 2020:

Amazing holiday. I have found our perfect holiday place and will be booking Mabel's cottage every year. The cottage is perfect a total home from home and every single thing you can think of is supplied. The log fire was great too. Allan and Frances who own the cottage are amazing people and make sure you have everything you need. Thank you for sharing your cottage with us. Looking forward to our visit in July
Would Recommend: Yes
7th November 2020:

Cosy & comfortable. Cottage is well equipped and has lovely extra little touches.
Tips:
The Galley only a few minutes drive away is ideal for takeaway and Rankins Store was great for our shopping needs
Would Recommend: Yes
29th October 2020:

Would Recommend: Yes
24th October 2020:

Fabulous cottage full of character and with absolutely everything you could possibly need. Super friendly and attentive owners, who respond quickly to any queries. Beds very comfortable, great hot power shower and amazing location and views. Dogs made very welcome with lovely welcome basket, dog beds and blankets.
Would Recommend: Yes
19th October 2020:

Great cottage in excellent location and very dog friendly. Perfect base to both relax and enjoy the many fabulous sights of Skye.
Tips:
Uig Hotel, a 15 minute walk from the cottage, serves fantastic evening meals. Uig pottery a must visit and the cottage is a 5 minute walk from the stunning Fairy Glen.
Would Recommend: Yes
27th September 2020:

A really great booking experience from the start to the finish. Was a nice touch to have a welcome phone call too. The cottage itself was a lot better equipped than we thought it would be. Have rented a few cottages in Scotland and this experience was the best one, felt very personal and that Allan and Frances really cared about our stay, would recommend anyone to book through them, you won't be disappointed.
Tips:
Would hugely recommend taking a short stroll down to the Fairy Glen with a picnic to watch the sunset, so peaceful and a great way to end the day
Would Recommend: Yes
21st September 2020:

Excellent base from which to explore and if necessary take refuge from the when the weather is not so good. Loved the feel and the homeliness of the cottage - couldn't be bettered
Tips:
Probably due to the current situation a lot of cafes, bars and restaurants not open but the Uig hotel is a reliable mainstay if not a little bland. Really the scenery and walking is the thing
Would Recommend: Yes
12th September 2020:

Very welcoming, cosy cottage had everything you could need. Home from home. very very dog friendly, bowls, beds, treats and a ball all left for our dog which he loved. Gardens were beautiful and relaxing Great location for our sightseeing.
Would Recommend: Yes
18th February 2020:

The cottage was very well equipped and decorated to a high standard - much higher than normal for dog-friendly cottages yet it still felt homely. It's located in a lovely part of the island and there's lots of information to pore through and plan your visit.
Tips:
We did some lovely circular walks around the island but didn't really go out to eat as most places were closed in February so can't really give tips.
Would Recommend: Yes
22nd July 2018:

Mable's Cottage can only be described as magical. Beautifully decorated in a Scottish theme and located in the heart of the Fairy Glen. The owners really have thought of everything. From special touches like a welcome basket to well stocked cupboards and shelves of interesting books about the local area. The children loved the board games and outdoor toys and were enchanted by the birds, rabbits and sheep. Even furry friends are made welcome. I can't recommend this cottage highly enough and we certainly hope to return in the future.
Tips:
The highlights for us were the drive to the Quiraing, the fairy glen and pools and The Isle of Skye Museum. Thursday night chips from The Galley in Earlish were a nice treat to end our holiday.
Would Recommend: Yes
.