Skye Lodge
Ardconon Mill Road
Tel: 01470 521538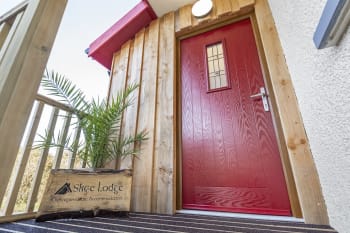 Skye Lodge sits in a quiet spot of Loch Dunvegan on Isle of Skye. There is lots to explore within a short walking or driving distance including five well known restaurants, Dunvegan Castle/Gardens and more. Newly renovated for 2019, opening in June the Lodge is the perfect base for exploring and enjoying the west coast of Skye. We promote 'Skye Time' meaning - don't rush and enjoy the precious time you have! Skye Lodge offers five luxurious bedrooms each with their own bathroom. The ground floor has a spacious open plan lounge with woodburner and dining room. Wet room/drying area. We can offer laundry facilities by arrangement. Ground floor East Suite: Superking/Twin with shower en-suite. West Suite: Superking/Twin with shower en-suite. Upper floor Mackenzie room: Double Bed with private bathroom. South Suite: Spacious super-king/twin with shower en-suite. North Suite: Spacious super-king/twin with shower en-suite.
Facilities
laundry by arrangement
Wifi throughout
Open plan lounge dining room with WoodBurner Stove
Access to Kitchen Facilities
Breakfast Room
Complimentary Shoe Shine
Laundry And Dry Clean (Charge)
Log Fire
Lounge
Complimentary Newspapers
Drying Facilities
Early Breakfast By Arrangement
Evening Meal By Arrangement
Internet Access
Packed Lunch By Arrangement
Policies
Check In: Between 16:00 and 19:00
Check Out: Between 9:00 and 10:00
Wi-fi: Wireless internet is available and is free of charge.
Smoking: There is no smoking permitted anywhere within the property.
Parking: Parking for all guests is available on site and is free of charge.


Children: Children aged 5 or over are welcome.
Pets: Pets are allowed at a charge of £15.00 per day.
Groups: Groups are accepted up to a maximum of 10 people. Stag and hen groups are allowed.
Average
4.9
out of 5
105 reviews
99% recommend
Reviews
10th December 2022:

A lovely warm welcome from Greg and Anne. We were shown to a wonderful room with the most amazing view. The room was really well appointed and spotlessly clean. The bed and pillows were so comfortable and we had the best sleep. Large bathroom, really powerful shower and loads of hot water. There was a lovely seating area downstairs with a wonderful sea view and a logburner you could use at your leisure. A fantastic coffee machine which you could help yourself to at any time during your stay. The one thing that would bring us back time and time again would be the breakfast. We were given a menu the night before and could pick as much or as little as we choose. The fresh fruit salad was freshly prepared and waiting for us on arrival at the table. The cooked Scottish breakfast was awesome! No other words to describe it! The scrambled eggs and mushrooms were the best we've ever had and far surpassed the breakfast we had the following morning at The 3 Chimneys, a Michelin star restaurant. If you are going to Skye you NEED to stay here! Great location for exploring the island and a wonderful place to come home today at the end of the day.
Would Recommend: Yes
Owner Response:
Lorraine., Truly appreciate your feedback and review. As we all truly enjoying our world at Skye Lodge welcoming and hosting guests to Dunvegan and the surrounding it is wonderful to know that our guests (you). Many thanks indeed..
7th October 2022:

Fabulous place. Warm and inviting. All the special touches we so appreciate! And Anne is a terrific cook. Many thanks for a delightful stay.
Would Recommend: Yes
26th August 2022:

Anne and Greg are very welcoming in a very natural way. Our stay was perfect in every way and I would definitely recommend it to others.
Would Recommend: Yes
Owner Response:
Many thanks indeed for leaving a review for Skye Lodge. It is much appreciated and we truly enjoying hosting and welcoming guests to our door. Best wishes
25th August 2022:

Lovely accommodation with a beautiful garden/views. Breakfast was delicious and the hosts were excellent - a real 'home from home' feel to Skye Lodge thanks to their warm welcome and attentive, friendly service.
Would Recommend: Yes
Owner Response:
Kirsty Many thanks for your kind words. We love Skye Lodge and our viewpoint here onto the Loch. Hast ye back.
18th August 2022:

Very nice large rooms with beautiful view on the sea Best breakfast in Scotland Very friendly staff Good advice on places to visit Nice to be able to stay in the livingroom and eat cold meals by ourselves
Would Recommend: Yes
Owner Response:
Florence - many thanks for leaving a review for Skye Lodge. Wonderful to know your staff and visit to Dunvegan all and more. Best wishes and thanks for booking with us here at Skye Lodge
16th July 2022:

Would Recommend: Yes
15th June 2022:

friendly, helpful, overall very good
Tips:
would highly recommend
Would Recommend: Yes
Owner Response:
It was great pleasure to host one of the UK's finest cardiologists Dr Varma, thank you for your kind words. I hope we see you again. We will rustle up a fine Durban curry.
14th June 2022:

Fantastic place to stay. Anne and Greg are excellent hosts and so welcoming and so helpful! The location is beautiful and Anne makes a wonderful breakfast! I cannot recommend Skye Lodge highly enough!
Would Recommend: Yes
Owner Response:
Thank you so much Kate, for everything, so glad we could rescue you from the west coast storm :)
12th June 2022:

Beautiful location on the loch and Dunvegan itself is lovely with some excellent eating places. Skye Lodge is very spacious and spotlessly clean. Extremely welcoming of dogs but what really makes it superb is Ann and Greg. They are very friendly and hospitable, make wonderful breakfasts and cakes in the afternoon. If you are going to Skye, stay here, it was wonderful.
Tips:
Book restaurants ahead of your arrival, Dunvegan is lovely party because it's small
Would Recommend: Yes
Owner Response:
Thank you so much Kay and Pete, it was wonderful to have you here for five full days, and of of Eggburt the awesome Springer Spaniel. I really do hope we see you again soon and thank you for having a go at the vegetarian eggs benedict, we are chuffed it worked out so well
14th October 2021:

Great room and very good hosts Ellie and Douglas, really made us feel at home
Tips:
Perfect location for visiting the lochs and mountains in the north. The Old School House restaurant is very good.
Would Recommend: Yes
13th October 2021:

Very helpful, friendly and attentive. The place was spotless and the welcome very warm. Ellie and Baron great hosts.
Tips:
Ate at The Dunvegan which was good and then at Loch Bay which was amazing .... if you can get in! Plenty of walks and routes to drive around, should the weather come in to it! Loads of good advice given. Thoroughly recommended
Would Recommend: Yes
Owner Response:
So thrilled you enjoyed all Simon. Looking forward to seeing you again at Skye Lodge soon.
8th October 2021:

Taking the trip a year later than planned due to covid. From start to finish Claire and Ellie went above and beyond to make sure we were happy with everything and had everything we needed for our stay. They even arranged an afternoon tea and balloons on arrival in celebration of my mums birthday. Thank you for being so accommodating and for making our trip so special. Ellie's breakfast was also delicious :-)
Would Recommend: Yes
28th September 2021:

Everything was of the highest standard, and a very welcoming host. Looking forward to staying again next year.
Tips:
Coral beach as always ,amazing! Dunvegan castle gardens, beautiful,and the woodland walk from Dunvegan church for the dogs was great. Dined at the Old School restaurant , food and service great.
Would Recommend: Yes
27th September 2021:

Ellie was a excellent host, the breakfast was fantastic and the house was very clean and tidy .
Would Recommend: Yes
21st September 2021:

Location is great. Entire house was absolutely spotless. Kitchen had everything you could possibly need. On-site person to deal with any issues, which we didn't need. House was perfect for 4 couples.
Tips:
Good meal at The Dunvegan.
Would Recommend: Yes
18th September 2021:

Wonderful Lodge in a great location, Ellie looked after us very well and went above and beyond. Room was spotless and of a very high standard, breakfast was great lots of choice.
Tips:
Local restaurants are very busy so book in advance, the Bistro at the garage does lovely meals.
Would Recommend: Yes
17th September 2021:

Way ahead of similar-priced accommodation we used during our trip. Ellie was a most thoughtful and sociable hostess. Her communication skills came to the fore when a cancelled ferry changed our travel arrangements. The welcome she provided for us at our revised arrival time was really special. What else? Breakfasts were really good - thanks again Ellie. And helpful advice on things to see around the island. A mention for Baron for his part in our stay. Friendly, helpful and sociable in line with our hostess.
Tips:
Check the weather forecast and be prepared for anything.
Would Recommend: Yes
15th September 2021:

What we Liked · - Clean and spacious en-suite room with a comfortable King bed- nice lake view - Recently renovated, clean, with a modern shower and bathroom - Delicious breakfast- all fresh produce and sourced locally - Very friendly hotel staff: Thanks to Ellie - The view was lovely (it is located right across from a lake) - Calm and peaceful place -Location: easy and short driving distance to all major attractions in Skye ( North and Mid)
Tips:
we had difficulty finding the place with SatNav - so we will put a wee directions here if you are driving North on the A863, take the first left before the Old School House ( next to the Bakery) - drive down about 75 m, and you will see the sign on the right 'SkyeLodge'- follow the narrow road to the end- Lake about 50 m only and you will find it
Would Recommend: Yes
13th September 2021:

A truly exceptional bed & breakfast in Dunvegan, from the moment you arrive to when you leave, everything is first class. Hosts Ellie & Baron are incredible, so friendly, helpful & nothing is too much trouble. The house is stylish, well designed & to a very high standard. Our room was gorgeous, and that bed! Oh my gosh, it was super sized, super comfy & very relaxing. Loved the highland touches with Skye Weavers soft furnishings & Highland Soap toiletries. Breakfast was of great quality & delicious.
Tips:
Skye Weavers is a must, using old technics & producing incredible textiles. Full of interesting facts & history of the craft, so much fun to have a go too! Orbost & Macleods Maidens walk, a stunning walk which takes you through forest, & heathers, with final views across Loch Baracara. Not for the faint hearted, as this walk has challenges & roughly takes 5 hours, but perceive as the views are breathtaking. Skye Boat Tours a great way of seeing the area & for spotting local wildlife. Wrap up warm as it's pretty chilly & get ready to have the cobwebs blown away!
Would Recommend: Yes
6th September 2021:

I stayed at the Skye Lodge with my husband and our dog for 6 nights and we had such a lovely stay. The accommodation was very clean, finished to a high standard and in a beautiful location with a lovely view across the water. The lodge was dog friendly and we felt so welcomed by Ellie. Ellie was a great host, the breakfasts and afternoon bakes were lovely and she gave us loads of great recommendations on places to visit. Thanks for a great stay!
Tips:
Our favourite meal out was at The Dunvegan but I would definitely recommend booking in advance. We loved visiting the popular sites (Fairy Pools, Fairly Glen, Coral Beach, Dunvegan Castle and the Quiraing) but also loved visiting some quieter places including Oronsay and Orbost which are well worth a visit.
Would Recommend: Yes
5th September 2021:

Fabulous accommodation made even better by the welcome and hospitality from Ellie. She was excellent. From a fabulous breakfast, to a home cooked treat in the afternoon after a day in the fresh air......(varied each day from a scone to a brownie to a shortbread to a flapjack...and lovely), and she gave us some really helpful advice and suggestions for our trips. We stayed in the North Suite - great view across the Loch. Comfortable, clean and spacious. Thanks Ellie, you made our stay really memorable.
Tips:
Recommend The Old School Inn across the road for an evening meal although closed on Weds & Thurs at the moment. Also the Edinbane Inn was very good...about a 10 min car journey... Both have a focus on fish but there are other options, and both are popular, they need to be booked in advance.
Would Recommend: Yes
4th September 2021:

Our stay at Skye Lodge was exceptional. The location was perfect, right next to a few tourists attractions in Dunvegan. Ellie was a lovely host and did a fantastic job while we were at the lodge.
Tips:
ALl the tips we got from ellie. But the food track near the lodge up the hill was great for food. The resturant on the street is of high qulaity food. We went to see fairy glen/fairpools/ talisker distillery/ ruined castly/ stromach(something hill). Would pack inspect repellant or a mask against midges as we got bit lots of times.
Would Recommend: Yes
3rd September 2021:

We had an amazing stay in Skye Lodge for four nights. The location and views were stunning, especially the sunsets. However special mention has to go to Ellie who was exemplary and went above and beyond to look after us and offer tips for visits we wanted to make or places we ended up eating. She made us feel like it was a home away from home. As this was our first visit to the island we would thoroughly recommend others to visit and choose to stay with you.
Tips:
Fairy Glen at Uig is a must visit, even more so than fairy pools. Also definitely worth a trip to coral beach and to take a road trip round the Trotternish Peninsula. We ate at the Dunvegan, the Edinbane Inn, the Three Chimneys and the Harlosh takeaway up at the campsite and would thoroughly recommend all of them.
Would Recommend: Yes
31st August 2021:

Such a lovely stay! We had the best time and Ellie was so great, we loved the wee treats in the evening! Even better that it's so dog friendly, Freddie had a great time!
Tips:
The Dunvegan was really good for dinner and there's a lovely walk, the two churches, not far from the lodge.
Would Recommend: Yes
Owner Response:
Many thanks for booking. Enjoyed all too
28th August 2021:

Fantastic booking and the highlight of our stay in Scotland we loved the place and Ellie was a fantastic host.
Would Recommend: Yes
Owner Response:
Pleasure to host at Skye Lodge. Enjoy your visit too.
31st July 2021:

Beautiful house, modern , Scottish feel, very clean, not sure I could ask for more. Ellie and Baron so welcoming. Ellie is an amazing baker and delighted us with some home baking and a variety of very organised, timely and yummy breakfasts!
Tips:
Definitely go to the old school house for dinner. Dunvegan castle is so near and the grounds are particularly lovely. I love going to visit coral bag, a short 1 mile wal and a beautiful and really different and interesting bay awaits. We even saw a seal enjoying the water.
Would Recommend: Yes
29th July 2021:

Excellent location + facilities - Ellie + Baron were really attentive. Pizza oven briiliant!!
Tips:
Use the pizza oven!!!
Would Recommend: Yes
20th July 2021:

We had a brilliant 5 day stay at the lodge. The room and lodge were great for what we needed and Ellie, our host, made our stay unforgettable with tasty breakfasts and baking. She made sure we always had what we needed and offered good tips for things to do and places to go etc…
Would Recommend: Yes
18th July 2021:

Quality accommodation and location only matched by the quality of our hosts Ellie and Baron! Four Scottish Tourist Board stars, not five, probably because they don't offer facial spa treatments or the owners aren't MacLeods or MacDonalds! A true Lodge, much more than a traditional B and B. You are encouraged to relax, mingle with other guests, BBQ, have a beer (BYO). The location is superb, a short walk to local shops and restaurants, But still quiet, sit on the lawn and watch the sunset over the Loch. A lot of thought has been put into the layout of the Lodge and the quality of fitting is exceptional. But that is all just 'stuff'. What truly makes for a memorable stay is people and attitudes. Our hosts Ellie and Baron really went the extra mile with things said and done, too many to list here. I guess you will just have to come and experience their hospitality for yourself! Thank you both! We will be back!
Tips:
Booking at local restaurants is a must in high season. We ate at the Old School and the Dunvegan deli. Both good quality, but book early sittings as many fish options were not available later into the evening. We had a decent takeaway burger at Mistys but it was a tad expensive. I recommend the mobile food van parked outside the campsite a short walk away. Nice guys and quality fish and chips and modules frites!
Would Recommend: Yes
12th July 2021:

A truly magical place to stay and we cannot recommend the Skye Lodge highly enough. Spectacular views, luxurious, excellent breakfasts... Ellie and Baron went far and beyond - many thanks.
Would Recommend: Yes
Owner Response:
Pleasure to host. Please come again.
2nd July 2021:

The property was immaculate and this is so important at the moment. The staff were extremely friendly and helpful.
Tips:
Restaurant recommendations, the Old School - approx 400 yards, Cuillin Hills Hotel Portree. Visits - Fairy Pools although it is a fair walk, Fairy Glen but it is not wheelchair or push chair friendly
Would Recommend: Yes
1st July 2021:

Our stay in Dunvegan at the Skye Lodge was perfect in every way. The incredible views of Loch Dunvegan were excellent to wake up and come home to. Ellie was incredibly helpful and always had us waking up to delicious breakfasts and baked treats! The coffee/cappuccino machine was also a great bonus. The bedroom was clean and comfortable and the bathroom was very nice as well. We'll definitely look to stay here the next time we visit Skye.
Tips:
Make dinner reservations in advance of your stay if possible. If you are traveling during midge season, bring spray so you can enjoy the many beautiful hikes. Don't forget to read the book about the history of Dunvegan Castle!
Would Recommend: Yes
18th June 2021:

A thoroughly enjoyable stay, with very considerate and efficient hosts. Room was excellent in every way, very comfortable bed, breakfasts were varied and delicious.
Would Recommend: Yes
Owner Response:
Thank you so very much for booking with us. Your feedback is much appreciated. Thank you
31st May 2021:

From our first communication to our last day everything was perfect. The location is perfect, beautiful views and sunsets over the loch, 30 mins drive to most tourist spots and a 5 mins walk from Dunvegan with lovely restaurants and bakery, post office and shop. Also only just over a mile walk to the stunning Dunvegan Castle. The accommodation is first class. We stayed in the South suite with gorgeous views over the water.There is everything you need in the large room. Huge comfortable bed with absolutely gorgeous bedding and loads of towels. The shower is huge with lovely Highland company toiletries and there's a well stocked tea tray. Ellie and Baron were our hosts. What can I say, they're both an absolute credit to the accommodation. Ellie makes a fabulous breakfast and nothing is a bother. She remembered who drank what in the morning and was available for a chat or could also be discreet. Ellie also made us an absolutely wonderful venison stroganoff and had the table set beautifully, complete with candle. We also returned one day to a plate of the most delicious chocolate cookies and flapjacks and shortbread. Thank you so much Both Baron and Ellie were also knowledgeable of the area and recommended places to explore. We'd also like to thank Baron for lighting a fire for us one night after we'd walked miles. This was such a welcome gesture. We celebrated our anniversary on our last day and came down to breakfast to a lovely card and some goodies.The house and location are stunning however the extra touches from Ellie made us want to return. We were booked b and b, however the house has 5 bedrooms and can be booked exclusively which would be fabulous coming with friends. Thanks again for making our stay special.
Tips:
Old School restaurant is 5 mins walk and great seafood. Coral beach is beautiful though was busy, go early as parking a nightmare. Neist lighthouse point is absolutely amazing. We also visited fairy glen, old man of stor, the quirang, Portree and fairy pools. Most of this a 30/45 drive.Three chimneys restaurant is only 5 miles away and absolutely delicious food and wine, Ellie also arranged a taxi there and back
Would Recommend: Yes
20th October 2020:

Skye Lodge was wonderful! A much longed for change of scene for us and it didn't disappoint. Beautifully appointed, really comfy bedrooms and all appliances in the kitchen easy to use (dishwasher and its magic lifting shelf was a hit!). We were really pleased with the location, not only could we admire the view from the house, but there were loads of walks and places to explore on the doorstep too. Our hosts provided a lovely welcome and couldn't have been nicer. Would love to return!
Tips:
Lovely restaurants, bakery and fruit/veg shop within a quick stroll of the property - really couldn't be better placed.
Would Recommend: Yes
24th September 2020:

First class accommodation, Stevie and Cat couldn't of been more helpful, we loved everything about our stay, Lodge was beautiful
Tips:
Highly recommend
Would Recommend: Yes
21st September 2020:

Fabulous place. Good location and our hosts were amazing
Would Recommend: Yes
19th September 2020:

Really kind and helpful hosts.
Would Recommend: Yes
12th September 2020:

We had a great stay at Skye Lodge. The lodge was great with wonderful breakfast and is located perfectly on the north end of Skye. We would love to come stay again!
Would Recommend: Yes
27th August 2020:

Absolutely fantastic stay with you guys! Room was stunning and breakfast was top notch. The hosts couldn't have been more amazing. Will hopefully be back very soon.
Tips:
Old Schoolhouse was cracking - probs worth suggesting to guests they book before they arrive. Coral Beach is a mini paradise. Dunvegan gardens are not worth the price. Head along the road to get a photo of the castle and you'll be sorted
Would Recommend: Yes
23rd August 2020:

We loved our stay in Skye Lodge, the food was great, your place is really lovely and the music at the breakfast was also brilliant. You're such nice and welcoming people!
Would Recommend: Yes
19th August 2020:

Thank you for a lovely stay with you. Cat and Stevie were very friend and helpful. They organised a taxi to take us to the 3 Chimneys restaurant - very efficient. Skye Lodge is in wonderful location and is a lovely modern place.
Tips:
The Old School house serves very good food and is only a short walk away.
Would Recommend: Yes
17th August 2020:

Thank you for the incredible hospitality and for the wonderful stay!
Would Recommend: Yes
16th August 2020:

Would Recommend: Yes
2nd August 2020:

Outstanding location + service - highly recommended
Tips:
We were there as Covid restrictions were beginning to ease, so not much was open. Bakery and Misty Island recommended (especially pizzas + milk shakes). Plenty of walks - of varying grades.
Would Recommend: Yes
16th March 2020:

We loved our stay with Cat and Stevie, who gave us a warm Scottish welcome and made us feel at home straight away. The property itself has retained character while also feeling very modern and fresh. The living space was very welcoming and our experience was enriched by mingling with their other guests. The lodge is located in an idyllic setting with breathtaking views of the loch.
Would Recommend: Yes
29th January 2020:

lovely couple, highly motivated.
Would Recommend: Yes
14th January 2020:

Steve and Kat were amazing, really lovely people, beautiful rooms and bathrooms, fantastic kitchen facilities, the only B&B that I've stayed in Denvegan to offer this (I've stayed in 5).
Tips:
Don't bother looking elsewhere
Would Recommend: Yes
3rd December 2019:

Absolutely perfect! The lodge exceeded our expectations, it was pure class! A high quality home from home with wonderful service. We can't wait to return!!
Would Recommend: Yes
18th November 2019:

A great place to arrive at after a long drive up from the Midlands. Very comfortable and warm room on a cold November night. Decor in the room and finishing touches exceptional. We were made to feel very welcome. Superb traditional Scottish breakfast. Wonderful view of the Loch in the morning sunlight from our bedroom window.
Tips:
Choose a north-facing room for a wonderful view of the Loch.
Would Recommend: Yes
5th November 2019:

Fabulous 2 night stay at Skye Lodge Dunvegan, beautiful room with a view and great hosts Cat & Stevie. Good location to the sites, restaurants, amazing shower, bed and pillows. Already planning our return to book whole property for the whole family for a reunion next year. Thank you Cat & Stevie x
Tips:
Plan your holiday well, all the good restaurants get booked fully quickly so call them well in advance. All the main sites are spectacular and easy to get to by car. Warm coat and good shoes are all you need otherwise
Would Recommend: Yes
2nd November 2019:

Lovely warm welcome from Kat and Stevie. The guest house was immaculate. We would definitely return.
Would Recommend: Yes
27th October 2019:

This place was tucked in, and a little mysterious at first, but we LOVED it. The hosts were wonderfully gracious, helpful and fun! They had great suggestions about what to do and where to go. Everything they said was spot on. The place was sparkling clean and comfortable. I wanted to spend hours in the fantastic shower. The breakfasts were delightful and the service was superb!!!
Tips:
Go to the Michelin restaurant in Stein. Ask your hosts for suggestions and do everything they say.
Would Recommend: Yes
22nd October 2019:

Stevie is a super host! Very welcoming and helpful you can't go wrong with staying here, everything is immaculate and new! Super comfortable beds and linens, amazing shower! This place is a gem! Breakfast was very good highly recommend this B&B!!
Tips:
Old school restaurant definitely a must stop and the oldest bakery in Dunvegan across from the old school is a must in the morning!
Would Recommend: Yes
17th October 2019:

Fantastic location, amazing views from the room (we stayed in the South suite), delicious, fresh, locally sourced breakfast and variety was great. Facilities overall was very good. The accommodation overall was very clean and well kept. The bed was super comfy and the 3 different pillow types were definitely an extra touch. Cat and Stevie were such great hosts, they made us feel right at home from the moment we arrived. We stayed with our 8 week old baby and Stevie was very kind to provide us extra electric heating in case we wanted to during the night and Cat always around to offer a hand with our baby. they were also very supportive and kind to let us use their kitchen to wash our baby feed equipment. Would definitely recommend it to anyone and we cannot wait to go back there again.
Tips:
Try the smoked salmon for breakfast as it was out of this world. We ate at old school restaurant in Dunvegan village and would recommend it too.
Would Recommend: Yes
17th October 2019:

Would Recommend: Yes
7th October 2019:

Superb. Truly comfortable beds, rooms and location. Dunvegan Village is a destination worthy of note.
Tips:
High season: arrive before 6 and book your supper in or out. Skye Lodge provides information blogs with all local info needed. Old School Restaurant fabulous Castle, local walks a must.
Would Recommend: Yes
6th October 2019:

Would Recommend: Yes
6th October 2019:

Notre séjour à Skye Lodge était parfait! Chaleureux accueil, chambre très propre et pratique. L'endroit est calme, nous y avons passé deux nuits et avons pu profiter des succulents petits-déjeuners préparé avec soin par nos hôtes avec des produit de haute qualité.
Would Recommend: Yes
Owner Response:
Thank you for your feedback. Delighted to be your hosts. Truly hope your onward journey an easy one. Regards and thanks for booking with us at Skye Lodge. Claire
5th October 2019:

Would Recommend: Yes
1st October 2019:

A clean and friendly place - beautiful rooms with views of the lock. Bathrooms were clean spacious and very nice! Fresh breakfast every morning and excellent coffee
Tips:
Small village so make dinner reservations early or before you go - highly recommend the old school restaurant!! Make a reservation before you arrive
Would Recommend: Yes
1st October 2019:

Awesome!
Tips:
The only location to stay on Skye is Dunvegan. The only place to stay is Ske Lodge, walking distance to Old School, one of the best restaurants "anywhere"!
Would Recommend: Yes
28th September 2019:

We enjoyed our time at Skye Lodge! the view out our window was very scenic.Our hosts were very thoughtful ,friendly and helpful with any requests we had.The breakfast offerings were generous and very tasty. The lodge was well kept and very clean and decorated stylish. I would highly recommend to any traveler on the Isle of Skye!
Tips:
We enjoyed the lighthouse close by. Dunvegan Castle and gardens. And really enjoyed the island life museum! The old school house Inn was excellent. A reservation is a must.
Would Recommend: Yes
28th September 2019:

Your breakfast was very good, especially smoked salmon with scrambled egg. I want to cook it by myself. Also it was good experience of trying haggis and black-pudding! They were not as bad as I heard (But I feel they are a little bit heavy for breakfast, as Japanese.)
Tips:
Both restaurants you recommended us (Dunvegan Hotel and Old School)were very good.
Would Recommend: Yes
23rd September 2019:

Would Recommend: Yes
22nd September 2019:

Lovely lodge in good quiet location. Room was clean and fairly spacious with the usual tea/coffee tray, although milk would have to be brought up from downstairs. None in room and Demerara only available on request. Breakfast was on the small side and not much choice if you wanted continental given the price per night, I have stayed in less pricey places with better equipped room and choices. (Little niggles) but as it's fairly new it might help improve if a fridge was in room and the website description was updated to remove bathrobes and slippers which aren't provided.
Tips:
Old School is a must if you're in area. Bit more than we'd normally pay but staff, service and food is five star. We were not disappointed.
Would Recommend: No
19th September 2019:

Skye Lodge is a great recently remodeled property with beautiful views of the sea! Sherie & her husband were great hosts! We would definitely recommend this property!
Tips:
Dunvegan Inn, The Old School House, both walking distance
Would Recommend: Yes
7th September 2019:

Excellent service and fabulous breakfast. We had a wonderful stay - thank you very much. Minor issues: Wifi connection is a little weak upstairs; bathroom window could not be opened.
Tips:
The little cafe opposite the supermarket has wonderful cake.
Would Recommend: Yes
5th September 2019:

Would Recommend: Yes
1st September 2019:

Very special thanks to your kindness and hospitality : you made Us feel like at home !!
Would Recommend: Yes
31st August 2019:

Excellent accueil par un jeune couple dans un vel endroit calme au bord du loch. C est tout neuf, moderne, jolie déco, bien connecté , tb pt dejeuner. A recommander chaleureusement !!!
Tips:
Tres bon petit resto avec terrasse sur le loch à....la station-service!!!! Produits locaux, bonne cuisine et bonne biere. Camping tb placé. Excellent point d ancrage à Skye.
Would Recommend: Yes
30th August 2019:

Amazing...perfect centralized place to stay in the isle of skye.
Tips:
Walking distance from a nice restaurant and bar...amzing food there.
Would Recommend: Yes
27th August 2019:

Very nice place very quiet Lovely managers listening their customers
Tips:
In August restaurant in Dunvegan are crowed and this is difficult to have a reservation However it is possible to eat in the lodge
Would Recommend: Yes
23rd August 2019:

Shireen and Stewart went above and beyond to help and make you feel welcome.
Tips:
The recommendation and arrangements by the hosts for dinner reservations at the local restaurant "The Old Schoolhouse" was not only thoughtful, but the best food we had in all of Scotland in two weeks - and we went to some of the highest rated ones, and Michelin starred. Made our stay!
Would Recommend: Yes
22nd August 2019:

What a lovely place! Stuart and Shireen were great hosts and our room with a sunset view over the bay was just beautiful. We loved the location in Dunvegan a short walk to the town. We appreciated the great meal in the morning - and although we didn't eat dinner at the house - the smells from the kitchen were certainly appetising!
Tips:
The Old School Restaurant is a 5 minute walk - great food in an old school house.
Would Recommend: Yes
21st August 2019:

Would Recommend: Yes
20th August 2019:

Lodge is small and friendly. Lovely rooms with good sized bathroom. We liked the communal area with the ability to make drinks etc, however the opportunity to make that first cup of tea of the day in the room would have been nice. The staff were great and the breakfast first class. Some USB charging points would have been useful.
Tips:
The Old School House was the only place we ate, and it was good. Walking distance from Lodge. Don't miss the castle just up the road.
Would Recommend: Yes
18th August 2019:

Friendly!
Tips:
Sunset at Neist Point
Would Recommend: Yes
17th August 2019:

Friendly and ever so helpful people Very modern facilities Wonderful breakfast
Would Recommend: Yes
15th August 2019:

Would Recommend: Yes
12th August 2019:

Couldn't have had any better.:)
Would Recommend: Yes
6th August 2019:

Recently remodeled, the bedrooms and bathrooms were spotlessly clean. Great breakfast and wonderful hosts
Tips:
Make dinner reservations before arrival as the local restaurant selection is limited and they are very busy in high season.
Would Recommend: Yes
4th August 2019:

Signage on Mill Rd, makes it difficult to find.
Would Recommend: Yes
30th July 2019:

Very nice location with water view, easy 5-min walk into small town of Dunvegan. Comfy beds, modern bath (all recently updated). Staff VERY friendly and helpful, great food prepared by them as well. Only negative: our room was quite small for two, had little space for our luggage and no place to sit other than on beds, tho' there's a nice 'common room' which we used for reading, with a sofa there.
Tips:
Three min. walk to restaurant "The Old School" (was a schoolhouse some time ago). Great food, recommend reservations as it's very busy. Five min. drive to Dunvegan Castle, could walk there as well, just a mile or so. Great base from which to explore northern Skye.
Would Recommend: Yes
30th July 2019:

very helpful and professional.
Tips:
Old School Restaurant very good. See Neist Point lighthouse and Dunvegen Castle
Would Recommend: Yes
29th July 2019:

Would Recommend: Yes
29th July 2019:

My partner and I found Skye Lodge to be a wonderful place to stay. The Lodge, renovated and opened in June 2019, was very comfortable, modern, and tasteful. The view from the Lodge toward the water is magnificent. The Lodge managers were particularly helpful, and each day they prepare a made-to-order breakfast according to guest preferences. Altogether, we greatly enjoyed our stay, and we highlight recommend Skye Lodge to other visitors.
Tips:
Finding Skye Lodge can be somewhat challenging. The location is just a short way down Mill Road, but it is easy to miss the road when driving on the main road. Also, the sign for Skye Lodge is small, so one needs to look on the north side of the road just a few hundred yards from the main road. The Old School Restaurant is visible from Skye Lodge, and walking takes just a few minutes.
Would Recommend: Yes
28th July 2019:

Wonderful meeting Stuart and Shireen. They were very accommodating with our late check-in and also helping us with our ferry tickets. Unfortunately, we didn't get to stay for the breakfasts as we had early starts to both mornings. They did get us coffee and a muffin which was lovely. Perfect stay.
Tips:
The lad School restaurant across the street was very good and the sunset view from outside our room was beautiful.
Would Recommend: Yes
27th July 2019:

Would Recommend: Yes
25th July 2019:

Really nice and enthusiastic welcome to your place. I was really pleased with the comfortable, spacious room and the view. The bathroom was first class. I really appreciated the food, too. Having said that, I found the ££ for the evening meal a bit pricey, especially compared to what I paid at the Old School Restaurant.
Tips:
The Old School Restaurant is a must.
Would Recommend: Yes
22nd July 2019:

Lovely location, fantastic rooms and very cleaner. Very welcoming owner. Would highly recommend a stay.
Would Recommend: Yes
20th July 2019:

Beautiful mini hotel perfectly situated in dunvegan.
Tips:
Make reservations at the school house restaurant a day in advance.
Would Recommend: Yes
15th July 2019:

Would Recommend: Yes
14th July 2019:

Stewart and Shireen were wonderful! So nice and made great food and breakfasts. Very helpful.
Tips:
Neist lighthouse
Would Recommend: Yes
13th July 2019:

Everything was perfect.
Would Recommend: Yes
9th July 2019:

We had a wonderful stay at the Skye Lodge. It was exactly what we were looking for, smaller in size but warm cozy and friendly. The bed and pillows were extremely comfortable. Breakfast was super tasty. The view from our room overlooked the inlet and made for a spectacular sunset was the clouds broke. We wish we would have stayed longer. Lastly, Stuart and Shireen were great hosts and lovely to speak with.
Would Recommend: Yes
7th July 2019:

Newly renovated house. Our hosts, Shireen and Stuart, were very friendly and helpful. They clearly make an effort for the well-being of their guests. The lunch packs they offer are delicious.
Would Recommend: Yes
6th July 2019:

The most comfy beds ever, lovely room, great views over the estuary, awesome breakfasts, and you are just the best hosts: the cake you made me for my birthday was both delicious and so generous. So appreciated. Thank you for the atmosphere and fun you engender in the place. All yours. Richard
Tips:
Great restaurants (three Chimneys, the Old School House, Skein); beautiful scenery, Denvegan Castle - perfect location.
Would Recommend: Yes
5th July 2019:

Beautiful property in a great location. Shereen and Stewart were superb hosts and the breakfasts were amazing. The property is beautifully decorated, clean and was just like a home from home for us. It was so nice to come back to the Skye lodge after a day of exploring. Highly recommend to anyone visiting the Isle of Skye.
Tips:
Old School restaurant serves food which is superb. A great recommendation from our hosts.
Would Recommend: Yes
1st July 2019:

Would Recommend: Yes
25th June 2019:

Tips:
Book you dinner at the only restaurant in town before you are due to stay
Would Recommend: Yes
23rd June 2019:

Shireen and Stuart were excellent hosts!
Tips:
Skye Weavers. Dunvegan castle and Gardens Lighthouse Check isle of Skye Pipe Band schedule for free concerts in Portree Square
Would Recommend: Yes
22nd June 2019:

Would Recommend: Yes
20th June 2019:

Would Recommend: Yes
17th June 2019:

Would Recommend: Yes
.