Skye Lodge
Ardconon Mill Road
Tel: 01479 873716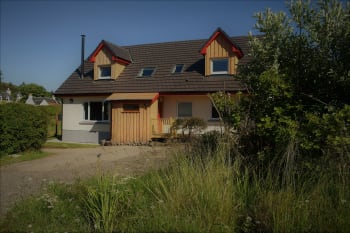 Skye Lodge sits in a quiet spot of Loch Dunvegan on Isle of Skye. There is lots to explore within a short walking or driving distance including five well known restaurants, Dunvegan Castle/Gardens and more. Newly renovated for 2019, opening in June the Lodge is the perfect base for exploring and enjoying the west coast of Skye. We promote 'Skye Time' meaning - don't rush and enjoy the precious time you have! Skye Lodge offers five luxurious bedrooms each with their own bathroom. The ground floor has a spacious open plan lounge with woodburner and dining room. Wet room/drying area. We can offer laundry facilities by arrangement. Ground floor East Suite: Superking/Twin with shower en-suite. West Suite: Superking/Twin with shower en-suite. Upper floor Mackenzie room: Double Bed with private bathroom. South Suite: Spacious super-king/twin with shower en-suite. North Suite: Spacious super-king/twin with shower en-suite.
Availability
There are no rooms available at Skye Lodge
for these dates.
Please try other dates or select a
different property
.
rooms
Facilities
laundry by arrangement
Wifi throughout
Open plan lounge dining room with WoodBurner Stove
Access to Kitchen Facilities
Breakfast Room
Complimentary Shoe Shine
Laundry And Dry Clean (Charge)
Log Fire
Lounge
Complimentary Newspapers
Drying Facilities
Early Breakfast By Arrangement
Evening Meal By Arrangement
Internet Access
Packed Lunch By Arrangement
Policies
Check In: Between 16:30 and 19:00
Check Out: Between 9:00 and 10:00
Wi-fi: Wireless internet is available and is free of charge.
Smoking: There is no smoking permitted anywhere within the property.
Parking: Parking for all guests is available on site and is free of charge.


Children: Children aged 12 or over are welcome.
Pets: Pets are allowed at a charge of £15.00 per day.
Groups: Groups are accepted up to a maximum of 10 people. Stag and hen groups are allowed.
Average
4.9
out of 5
26 reviews
100% recommend
Reviews
15th August 2019:

Would Recommend: Yes
12th August 2019:

Couldn't have had any better.:)
Would Recommend: Yes
6th August 2019:

Recently remodeled, the bedrooms and bathrooms were spotlessly clean. Great breakfast and wonderful hosts
Tips:
Make dinner reservations before arrival as the local restaurant selection is limited and they are very busy in high season.
Would Recommend: Yes
4th August 2019:

Signage on Mill Rd, makes it difficult to find.
Would Recommend: Yes
30th July 2019:

Very nice location with water view, easy 5-min walk into small town of Dunvegan. Comfy beds, modern bath (all recently updated). Staff VERY friendly and helpful, great food prepared by them as well. Only negative: our room was quite small for two, had little space for our luggage and no place to sit other than on beds, tho' there's a nice 'common room' which we used for reading, with a sofa there.
Tips:
Three min. walk to restaurant "The Old School" (was a schoolhouse some time ago). Great food, recommend reservations as it's very busy. Five min. drive to Dunvegan Castle, could walk there as well, just a mile or so. Great base from which to explore northern Skye.
Would Recommend: Yes
30th July 2019:

very helpful and professional.
Tips:
Old School Restaurant very good. See Neist Point lighthouse and Dunvegen Castle
Would Recommend: Yes
29th July 2019:

Would Recommend: Yes
29th July 2019:

My partner and I found Skye Lodge to be a wonderful place to stay. The Lodge, renovated and opened in June 2019, was very comfortable, modern, and tasteful. The view from the Lodge toward the water is magnificent. The Lodge managers were particularly helpful, and each day they prepare a made-to-order breakfast according to guest preferences. Altogether, we greatly enjoyed our stay, and we highlight recommend Skye Lodge to other visitors.
Tips:
Finding Skye Lodge can be somewhat challenging. The location is just a short way down Mill Road, but it is easy to miss the road when driving on the main road. Also, the sign for Skye Lodge is small, so one needs to look on the north side of the road just a few hundred yards from the main road. The Old School Restaurant is visible from Skye Lodge, and walking takes just a few minutes.
Would Recommend: Yes
28th July 2019:

Wonderful meeting Stuart and Shireen. They were very accommodating with our late check-in and also helping us with our ferry tickets. Unfortunately, we didn't get to stay for the breakfasts as we had early starts to both mornings. They did get us coffee and a muffin which was lovely. Perfect stay.
Tips:
The lad School restaurant across the street was very good and the sunset view from outside our room was beautiful.
Would Recommend: Yes
27th July 2019:

Would Recommend: Yes
25th July 2019:

Really nice and enthusiastic welcome to your place. I was really pleased with the comfortable, spacious room and the view. The bathroom was first class. I really appreciated the food, too. Having said that, I found the ££ for the evening meal a bit pricey, especially compared to what I paid at the Old School Restaurant.
Tips:
The Old School Restaurant is a must.
Would Recommend: Yes
22nd July 2019:

Lovely location, fantastic rooms and very cleaner. Very welcoming owner. Would highly recommend a stay.
Would Recommend: Yes
20th July 2019:

Beautiful mini hotel perfectly situated in dunvegan.
Tips:
Make reservations at the school house restaurant a day in advance.
Would Recommend: Yes
15th July 2019:

Would Recommend: Yes
14th July 2019:

Stewart and Shireen were wonderful! So nice and made great food and breakfasts. Very helpful.
Tips:
Neist lighthouse
Would Recommend: Yes
13th July 2019:

Everything was perfect.
Would Recommend: Yes
9th July 2019:

We had a wonderful stay at the Skye Lodge. It was exactly what we were looking for, smaller in size but warm cozy and friendly. The bed and pillows were extremely comfortable. Breakfast was super tasty. The view from our room overlooked the inlet and made for a spectacular sunset was the clouds broke. We wish we would have stayed longer. Lastly, Stuart and Shireen were great hosts and lovely to speak with.
Would Recommend: Yes
7th July 2019:

Newly renovated house. Our hosts, Shireen and Stuart, were very friendly and helpful. They clearly make an effort for the well-being of their guests. The lunch packs they offer are delicious.
Would Recommend: Yes
6th July 2019:

The most comfy beds ever, lovely room, great views over the estuary, awesome breakfasts, and you are just the best hosts: the cake you made me for my birthday was both delicious and so generous. So appreciated. Thank you for the atmosphere and fun you engender in the place. All yours. Richard
Tips:
Great restaurants (three Chimneys, the Old School House, Skein); beautiful scenery, Denvegan Castle - perfect location.
Would Recommend: Yes
5th July 2019:

Beautiful property in a great location. Shereen and Stewart were superb hosts and the breakfasts were amazing. The property is beautifully decorated, clean and was just like a home from home for us. It was so nice to come back to the Skye lodge after a day of exploring. Highly recommend to anyone visiting the Isle of Skye.
Tips:
Old School restaurant serves food which is superb. A great recommendation from our hosts.
Would Recommend: Yes
1st July 2019:

Would Recommend: Yes
25th June 2019:

Tips:
Book you dinner at the only restaurant in town before you are due to stay
Would Recommend: Yes
23rd June 2019:

Shireen and Stuart were excellent hosts!
Tips:
Skye Weavers. Dunvegan castle and Gardens Lighthouse Check isle of Skye Pipe Band schedule for free concerts in Portree Square
Would Recommend: Yes
22nd June 2019:

Would Recommend: Yes
20th June 2019:

Would Recommend: Yes
17th June 2019:

Would Recommend: Yes
.