Shiloh self catering accommodation
4 Upper Breakish
Tel: 01471820104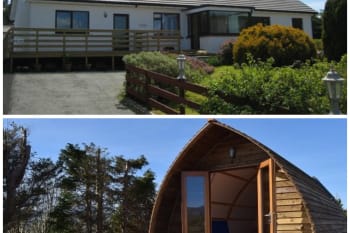 At Shiloh we have a luxury self catering apartment and 2 glamping Wigwams. All our self catering properties sleep a maximum of 2 persons. They are all ideal for romantic get-aways. Lovey sea and mountain views can be enjoyed here. There is a lovely restaurant within walking distance. (Booking advised) More restaurants, bars and shops are also in Broadford, which is only 2 miles away. Also in a Broadford you will a large supermarket and fuel station. At Shiloh we also have 1 twin, 1 double and 1 family room and they are available on a bed & breakfast basis. We look forward to welcoming you to Shiloh and the Isle of Skye.
Facilities
Café / Restaurant (nearby)
Garden For Residents' Use
Wi-Fi
Policies
Check In: Between 15:00 and 22:00
Check Out: Between 10:00 and 10:00
Wi-fi: Wireless internet is available and is free of charge.
Smoking: There is no smoking permitted anywhere within the property.
Parking: Parking for all guests is available on site and is free of charge.


Children: All guests must be 18 or over, no children are allowed.
Pets: Pets are not allowed.
Groups: Groups are accepted up to a maximum of 2 people. No stag and hen groups.
Average
4.9
out of 5
18 reviews
100% recommend
Reviews
2nd November 2020:

Would Recommend: Yes
2nd October 2020:

Superb location for exploring Skye. The apartment was first class and a credit to the owners
Tips:
We did a few walks along with a visit to Portree. We would recommend the red Skye rest as it is in walking distance of the apartment and the Hebridean inn . Both are first class.
Would Recommend: Yes
25th September 2020:

Couldn't be faulted! Lovely place to stay
Would Recommend: Yes
15th September 2020:

Perfect accommodation for a weekend for 2. The Wigwam was much more spacious than we expected and was very cosy with a lovely view across the fields. As a side note, I also really enjoyed the tree stump outside the Wigwam with the boots on its feet - made me smile every time! Will definitely be back again and have already recommended it to all my friends!
Tips:
We chose the location because it was close to the bridge and ferry - and less than an hour's drive from Portree and Fairy Pools. I recommend getting up early to do Fairy Pools / other walks as the single track roads get really busy and parking can be difficult. Petrol and food wasn't as expensive on the island as we thought - think the petrol was cheapest in Broadford, quite a bit cheaper than the station in Lochalsh before the bridge - so don't worry about stocking up before getting to Skye.
Would Recommend: Yes
25th August 2020:

We stayed here for a weekend. Thoroughly enjoyed our stay and will be back again the the future. Precautions had been taken to ensure cleanliness due to covid-19 with plenty of handwash and disinfectant. Communication from the owner was excellent. We felt very welcome. One suggestion I'd make would be for a midge net for the door. The wigwam can heat up but we were afraid to open the window or doors for too long so made good use of the fan provided. Thank you so much for having us!
Tips:
The location is slightly out of the way however and was a bit of a drive to areas such as Portree. This was not a huge issue as we enjoyed the drive as the island is so beautiful. We ate at the red skye restaurant which is withing walking distance. The food there was excellent. The nearest bigger town is broadfoot which has a good chippy in it. We seemed to get ate alive with midges so come prepared for this!
Would Recommend: Yes
23rd July 2020:

Very helpful and information provided was very useful.
Tips:
Download the Explore Skye app!
Would Recommend: Yes
14th March 2020:

The wigwam was in immaculate condition throughout. The owners provided lots of little extras you wouldn't necessarily expect to get in self catering accommodation which was a very nice touch. The location is excellent just a few minutes from The Skye bridge and looks out over miles of unspoiled countryside. It was my 1st time on skye and I was blown away how beautiful it is and will definitely return soon. I Would happily recommend this fantastic wigwam to anyone. Thanks Alan Edinburgh
Would Recommend: Yes
9th October 2019:

The apartment was spotless, very well equipped.The bottle of wine in the fridge was a really nice gesture. Shiloh is a great base to tour the island or go back over to the mainland.
Tips:
Must see Eilean Donan Castle Dunvegan Castle&Gardens Armadale Castle&Gardens Fairy Glen,Fairy Pools Boat trips from Portree Seal trip from Plockton Kilt Rocks&Falls Well stocked Co-op in Broadford and good diesel and petrol prices. £1.29 for diesel.
Would Recommend: Yes
5th October 2019:

Shelia was very friendly and welcoming, we felt comfortable enough to approach her for anything we needed.
Tips:
Only there for the weekend so not much time. The Fairy pools at Glenbrittle were worth the gentle walk involved in getting there. The boat trip to see the Sea Eagles and Seals from Portree Harbour was very enjoyable. The scenery is stunning.
Would Recommend: Yes
1st October 2019:

Would Recommend: Yes
29th September 2019:

Excellent
Would Recommend: Yes
23rd August 2019:

Would Recommend: Yes
14th June 2019:

Shelia was very responsive and helpful, checked us in and was very welcoming. The wigwam is absolutely fantastic, what an experience! Spotless and lovely thoughtful touches such as towels, tea and coffee. Could not wished for a more perfect stay in beautiful Skye we have wanted to visit Skye for many years and staying here made our holiday just even more perfect!. Already planning to return and would love to stay again at Shiloh Wigwam! thank you so much for having us
Tips:
Excellent location, only short journeys to main sights and very peaceful. Beautiful view over the fields towards the mountains. Near to main CO-OP and local points of interest. Would highly recommended choosing to stay here during a holiday in Skye you will certaintly not be disappointed.
Would Recommend: Yes
10th May 2019:

Would Recommend: Yes
29th April 2019:

Lovely house, perfect as a base for a walking holiday in Skye. Well-stocked kitchen, great shower, wifi, washing machine and fantastic views from the upstairs windows. Loads of room for a couple. Would highly recommend. Co-op in Broadford has everything you need.
Tips:
Red Skye was handy for a decent evening meal. They don't take bookings but Sheila called them on our behalf and booked us in. We also discovered Seamus' bar up by the Sligachan Hotel - driving distance away but great food and an excellent whisky selection.
Would Recommend: Yes
8th July 2018:

Everything was excellent. Location very convenient. Apartment very well equipped and furnished and spotless! The best kitted out accommodation we have stayed in. Washing machine and dishwasher were unexpected bonuses. The view from the bedroom out to sea and tbe Cuillans was like an ever changing painting on the wall. Didn'thave a lot of interaction with the hosts but when we did, they were friendly and ameniable allowing us to use their garden hose and tap to wash off outdoor kit. Shiloh will now be our 'go to ' accommodation when we return to Skye. We would definately recommend a stay here although now we've said that, it'll probably be fully booked from now on!
Tips:
The local Co-op supermarket in Broadford is extremely well stocked and convenient with free parking in several places along the seafront. Around 2 miles from Shiloh by car so takes only a few minutes to get there. Also well placed as you pretty much drive past it on your way to and from most places on Skye. We ate at CafeSia where the pizza was good but avoid the chilli oil on the top if you can't stand the heat! Out and about at every turn there is an amazing view with each one surpassing the next. The most beautiful place we have ever been. If you're up for some exertion try a climb up to the old man of Storr but make sure your dressed for it as it's quite uneven under foot with loose earth and big rocks. The view from up there is amazing. Kilt rock is well worth a visit too. We took a boat trip from Elgol to Canna with Aquaxplore/Bella Jane on a fast rib to spot wildlife. We saw masses of sea birds including lovely wee puffins. The sea cliffs on Canna were awash with Skewers, what a site and wow what a noise! We got off on Canna for an hour which wasn't really long enough to explore so it's on our list to take a dedicated trip tbere next time. On the way out and back we also saw porpoises and seals who were quite interested in us on the boat. The road to Elgol was a bit scary to drive down so take it easy but when you get there, the view is awesome. Also recommended is a kayak trip with Sea Kayak Plockton. Although not based on Skye they were hapoy to accommodate a trip from and round Skye. Small groups and very informative with great instruction no matter what level you're at. We had only 4 days on Skye and wish we had stayed longer as there is so much more to see and do. Having grown up in Glasgow I knew it stayed light for longer during the summer however I didn't realise how little night sky there us on Skye. The sun didn't go down until around 11pm and up again around 3am however inbetween it never really got dark, more like dusk. Finally, we had the absolutely best weather, very hot all day and warm overnight. Clearly too hot for the pesky wee midges as there were none. Last words, go to Skye!
Would Recommend: Yes
22nd June 2018:

Would Recommend: Yes
6th June 2018:

Would Recommend: Yes
.