Bluebell Cottage
Quarter of Ten
Tel: 01471820280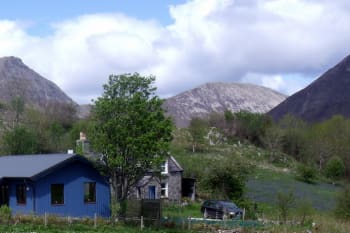 Bluebell Cottage is a modern Scandinavian timber cottage which is a great place to come back to after a day out exploring Skye and the surrounding area. It is close to many great walks, the sea for kayaking and fishing, and mountains to climb. It has one bedroom with king-size bed which splits in 2 for 2 singles or one adult and one child. A spacious open-plan living area has a galley kitchen with electric oven and hob, cosy seating area with large sofa, table and easy chairs, a dining table and 4 chairs. The well-equipped kitchen contains fridge-freezer, dishwasher and washer/dryer. Heating is provided by Econo-heat panel heaters and a feature electric fireplace. It is very warm partly due to triple glazed windows and because it is very well insulated. Easy to heat and hassle-free. 7 miles from Broadford which has supermarket, petrol station, pubs, restaurants, gift shops, and all other amenities of a small town.
Availability
There are no rooms available at Bluebell Cottage
for these dates.
Please try other dates or select a
different property
.
cottages

Max:
Modern Scandinavian timber cottage more >
Modern Scandinavian timber cottageRoom Facilities:
Fire extinguisher/ fire blanket
Storage space
Private garden
Shared car space
All cleaning products
First aid kit.
Ceramic Hob
Coastal Location
Coffee Maker
Complimentary Toiletries
Cooker
Dining Area
Dishwasher
Electric Shaver Point
Fridge/Freezer
Hairdryer
Ironing Facilities
Kitchen
Linen & Towels Supplied
Shower Room
Tea/Coffee
Tumble Dryer
Washing Machine
Facilities
Free Welcome Pack
Free heating.
Bed linen and Towels.
Café / Restaurant (nearby)
Cycling
Fishing
Garden For Residents' Use
Hiking
Luggage Storage
Wi-Fi
Policies
Check In: Between 16:00 and 22:30
Check Out: Between 6:00 and 10:00
Wi-fi: Wireless internet is available and is free of charge.
Smoking: There is no smoking permitted anywhere within the property.
Parking: Parking for all guests is available on site and is free of charge.


Children: Children of all ages are welcome.
Pets: Pets are not allowed.
Groups: No stag and hen groups.
Average
4.9
out of 5
61 reviews
100% recommend
Reviews
10th October 2019:

We loved our stay at Bluebell Cottage. It was so nice to take some time to just relax and watch the birds and stare at the beautiful scenery. The cottage is bright and cheery. The open design makes it feel very spacious.
Tips:
Go for a long walk with the hosts. It is a great way to find out about the history of the area.
Would Recommend: Yes
Owner Response:
Thank you for your comments. We are happy that you enjoyed your stay and it was a pleasure to meet you and show you around our beautiful village.
1st October 2019:

A lovely little cottage but the road in & out can be a bit tricky. Our hostess was lovely & makes beautiful scones & cake thank you
Would Recommend: Yes
Owner Response:
Thank you for your comments. We are glad that you enjoyed your stay and it was a pleasure to meet you , I enjoyed our chats together!
8th September 2019:

We had a wonderful stay ... an incredibly beautiful part of the world and the perfect cottage to spend time in. Jemima and her hubby were very good to us with lovely home grown garlic provided for our roast chicken and even babysitting my son while I packed up for the trip home.
Tips:
You have to do the Bella Jane boat trip to Rum and Canna!
Would Recommend: Yes
Owner Response:
Thank you for your lovely review. We are glad that your stay was a good experience, and it was nice to get to know you and Sam a little bit.
23rd August 2019:

Great location for walking and swimming.
Would Recommend: Yes
27th June 2019:

Another extremely enjoyable stay at Bluebell Cottage. Thank you Jemima and Rupert for your hospitality. I felt completely relaxed and really didn't want to leave! It is a very beautiful place.
Would Recommend: Yes
Owner Response:
Thanks for your review Linda. It was lovely to see you again and see your lovely paintings- I hope you are well and look forward to seeing you again.
12th June 2019:

Would Recommend: Yes
27th May 2019:

Very well set up for self catering. Wonderful location. Would definitely come back
Would Recommend: Yes
12th May 2019:

Beautiful location with fantastic views of the Cuillins. A gorgeous cottage with almost everything you could possibly need for a stay. We only noticed two items in the kitchen we missed which was a frying pan and a drying rack for plates and cutlery we didn't want to put in the dishwasher. Wifi signal could've been stronger but we were totally fine with it. There were plenty of games and books to keep us occupied in the evening.
Tips:
Lots of walking - get the ferry from Elgol to the heart of the Cuillins and walk the coastal route back. There are plenty of routes near the cottage that you don't have to go further afield :)
Would Recommend: Yes
Owner Response:
The frying pans are in the drawer beneath under the oven!
7th May 2019:

Amazing place to stay - Jemmina and Rupert were really helpful and friendly. Bluebell cottage was lovely - very comfortable with everything we needed and such brilliant views! Thank you so much for our stay!
Tips:
Amazing geology and scenery on Skye wherever you look - Café Aribba in Portree was really good - Slighacan Hotel brew some good beer. Views of the Red Cullins from the cottage are excellent and views of Blaven mountain range from the lane really excellent.
Would Recommend: Yes
21st April 2019:

Lovely cosy cottage with superb views over the hills. The cottage is well equipped and comfortable. Towels and shower toiletries provided, all cleaning products were provided for your use. The table being set with fresh scones and jam on arrival was a lovely extra touch. A pleasure to have stayed in bluebell cottage.
Would Recommend: Yes
14th April 2019:

Our stay at bluebell cottage was amazing, the hosts were so accommodating and the cottage was very well equipped. We will definitely be returning for a more relaxing holiday and can't recommend this beautiful place highly enough!
Tips:
If you are vegan like us, the co op in broadford has a fair few good options and basic food items, we were able to eat much better than we expected.
Would Recommend: Yes
5th April 2019:

Highly recommended. All the comforts of home, and more, in a magestic setting with wonderful views (in 3 directions from the livingroom alone). Jemima took great care to equip the cottage with all the amenities including a washer/dryer. The kitchen and the bath are first-rate. We enjoyed awe-inspiring hikes in the hills and along the lochs. We wanted to stay much longer than our four nights there. Thank you!
Would Recommend: Yes
1st November 2018:

Would Recommend: Yes
23rd October 2018:

Beautiful place. Friendly and accommodating hosts. Superb views and able to get to walking paths easily. Clean and with everything needed for a comfortable stay.
Would Recommend: Yes
Owner Response:
It is mentioned on the website that there is no TV.
7th October 2018:

We greatly enjoyed our stay in Bluebell Cottage and appreciated the welcome and help we received from our hosts. The accommodation is attractive and warm with great views to the facing hills. We watched the birds on the feeder,saw a twite rummaging in the moss on the wall and saw 13 transiting geese in the field.
Tips:
We mostly ate in, shopping in the local co-op. The location is great, with a dramatic landscape and views at the end of the road beyond the turnoff to the cottage, and we covered most of the Island's principal roads. We were mostly focused on photographing the dramatic scenery, enhanced by rainbows and Jacobs ladders, but also enjoyed a trip off Skye via the world's last operational turntable ferry at Glenelg.
Would Recommend: Yes
7th October 2018:

Would Recommend: Yes
22nd July 2018:

Would Recommend: Yes
29th June 2018:

A lovely cottage in an idyllic situation with orchids and a multitude of other flowers growing in the hedgerows of the lane to the cottage. Beautifully clean with welcoming and very friendly owners who love this part of Skye. The cottage is very well appointed with everything you need and we had a lovely time enjoying this area. Lots of info about local walks etc and somewhere we will return to one day. Thanks especially to Jemima for the delicious scones and jam and to Rupert for the knock on the door one evening to say 'Come quickly, golden eagles flying overhead'.
Tips:
The 'AquaXplore boat trip from Elgol to Soay, Canna and Rum is excellent
Would Recommend: Yes
5th June 2018:

We were surprised there was no TV/DVD player as if the weather was poor we would have liked the option to watch something. Perhaps this should be mentioned so people are aware.
Would Recommend: Yes
Owner Response:
Thank you for your comments. However, the Facilities section of the booking form doesn't mention a television. nor does the Details section on the website. I will make a point of mentioning this on the website.
30th May 2018:

Would Recommend: Yes
30th April 2018:

Would Recommend: Yes
20th March 2018:

The only problem we had was there was no wi-fi. We appreciate that this was a technical issue that the owner had no control over.
Would Recommend: Yes
29th October 2017:

Wonderful location and very helpful service in making arrangements. Warm and cosy place with spectacular views and friendly neighbours. One thought: A microwave would have proved helpful (and the WiFi signal was not especially good)
Tips:
The local walks (in the Cuillin especially) are amazing. We saw seals in the Loch and deer in the hills along with many varieties of birds and plants. However, the ground can be boggy and it is often wet
Would Recommend: Yes
Owner Response:
There is not much space for a microwave in the kitchen,.
22nd October 2017:

A great little hideaway cottage in a central location for exploring. A no fuss booking system and good communication. With friendly neighbours just in case of any unforeseen circumstances.
Tips:
A great location for exploring whether it be walking, mountaineering, mountain biking, photography, sea kayaking or anything else; it is all within walking distance from the front door or between a 5 to 60 minute drive to any point on the island. Be prepared for 4 seasons in one day which is not a problem, just bring the right clothes. Only went to the fish and chip shop in Broadford as I brought all my provisions for the week. I do believe that 'the Oyster Shed' a farm shop and takeaway is the place to go for seafood lovers.
Would Recommend: Yes
19th October 2017:

Beautiful location. Cottage is well built and comfortable. Due to the remote location some facilties are not available such as mobile phone. It does have wi fi albeit slow but we enjoyed what was available, the scenery, walks, good cafes and restaurants. If the weather was bad the cottage was provided with books and games. We were sorry to leave and would not hesitate to go back.
Tips:
The Blue Shed café was very good with lots of info about wild life. Our favourite was the tiny shop and café at Elgol, a great welcome and tasty soup.Lots of locally made souvenirs. Also worthy of mention, Café sia at Broadford and the little café at Armadale Ferry terminal. We were a bit disappointed in Fairy Pools. We came across a stream with stepping stones which were under water. Being over 70 I decided not to attempt it. Most people coped so if you are agile it would be fine but there were younger people than us who decided not to cross. Loads of walking for all abilities. The local community are looking for funds to improve this attraction.
Would Recommend: Yes
10th October 2017:

Very Happy Stay Thank you
Would Recommend: Yes
8th October 2017:

Would Recommend: Yes
12th September 2017:

Lovely cottage, beautiful location, near enough to the Cuillins to get to them easily but also out of the way of the busier spots.
Tips:
5 minutes drive through Torrin towards Elgol takes you to Kilmarie, the start of a lovely walk to the isolated bay of Camasunary, and on to Loch Coruisk - takes 5-6 hours but it's worth it! There's another great circular walk south of Torrin to the deserted villages of Suisnish and Boreraig. The Blue Cafe in Torrin is very friendly. And, further afield, the Oyster Shed in Carbost has great fresh seafood, and a trip on the Raasay ferry from Sconser is worth it - Raasay is a really beautiful island and well worth a few hours exploring. The walk from Arnish to Fladday, following the coastal path, is stunning.
Would Recommend: Yes
29th August 2017:

Absolutely loved this cottage! Beautiful, simple space with a very well appointed kitchen. Amazing views!!
Would Recommend: Yes
16th July 2017:

Loved staying at Bluebell Cottage. Very comfortable and so peaceful. Really appreciated the homemade scones and rhubarb jam on arrival! I will definately be back.
Would Recommend: Yes
Owner Response:
Thank you for the nice review, we are always pleased that people enjoy their stay, and it was also nice to get to know you a bit. Best regards Jemima.
3rd July 2017:

Fijn en gezellig huisje met complete keukenuitrusting in een heerlijk rustige omgeving.
Tips:
Gezellig en compleet ingericht huisje. Prachtige omgeving geschikt voor wandelingen. Ongeveer 7 miles van Broadford waar een goede supermarkt is en voldoende eetgelegenheden.
Would Recommend: Yes
Owner Response:
I am glad you enjoyed your stay, although I don't understand Dutch, and I would like to thank you for leaving the cottage so clean and nice! Best wishes Jemima.
18th June 2017:

Would Recommend: Yes
29th May 2017:

Would Recommend: Yes
1st May 2017:

Would Recommend: Yes
8th February 2017:

Lovely space with everything we needed. Great location for hiking from with lovely views from the cottage. Not too far from the shops and amenities in Broadford. It's very cosy and we were plenty warm enough, a perfect place for quiet and relaxing evenings. Loved the decor and the artwork on the walls and the shower was good.
Tips:
We mostly made use of the self catering facilities but we visited the chip shop in Broadford a couple of times and it was very nice. The loch just down the road from the cottage has lovely views and would be a lovely picnic or swimming spot in the summer!
Would Recommend: Yes
16th October 2016:

Scenic, warm and comfortable. Friendly welcome.
Would Recommend: Yes
27th September 2016:

Would Recommend: Yes
13th September 2016:

We had a brilliant stay at the Blue Bell cottage. The cottage itself is very clean and we were treated to home made scones and jam by Jemima. Waking up to the amazing views of the cullin mountains has been a wonderful experience for us. A 5 minute walk down the road takes you to a lake (cannot remember the name.) The scenary anywhere in the isle of skye is stunning.There are plenty of walking trails in the area. The cottage itself is very well furnished and although there is no mobile phone reception, the wifi / broadband seemed to work okay. There were plenty of utensils and all the cleaning detergents were provided. All in all we enjoyed the stay at the cottage.
Tips:
Weather is a bit temperamental and you cannot rely on the forecasts. We visited the Eilean Donan castle. The western coastal trail was fabulous and we would definitley recommend a visit to cafe Bealach on the western coastal trail. We also travelled upto Dunnetts Head; a 4 hour drive from Torrin. The walks upto the fairy pools and the Old man of storr were great.
Would Recommend: Yes
26th July 2016:

Wonderful stay, breathtaking scenery. We loved the cottage, clean, cozy and beautiful setting. Thanks for a memorable week on Skye, Donna and Armando
Would Recommend: Yes
10th July 2016:

Fantastic cottage with homely feeling, very clean and with all mods and cons you need. Beautiful views from window, peaceful and quiet location, just a walking distance from stunning Blaven. Delicious welcoming scones from the owner.
Tips:
Blue Shed Cafe is just 5 min walk from cottage, they serve hot lunches, coffee, cakes, snacks during day. Other shops and restaurants are just 10 min drive in Broadford.
Would Recommend: Yes
26th June 2016:

Tips:
Just enjoy the quiet and the fantastic scenery.
Would Recommend: Yes
12th June 2016:

Well equipped cottage in a lovely location.
Tips:
Lovely bay within a ten minute walk of the cottage.
Would Recommend: Yes
5th May 2016:

Bluebell Cottage was exactly what we were looking for - a cosy cottage with good facilities and great views. All of this and more meant we had a wonderful trip. We loved the fact there was no TV, and (when we weren't enjoying the outdoors) spent our time reading, talking, listening to music, cooking etc etc. A real break away from it all.
Tips:
We went to Skye with the idea of climbing a multi-pitch route on the Black Cuillin and swimming in the Fairy Pools. We did neither, and we're so pleased! The mountains were covered in snow (In late April!), so no rock climbing for us. And the owners of the Blue Shed Cafe told us about some other pools that are less well known but just as good as those that attract the tourists having been featured in wild swimming books. We ended up doing a snowy ridge walk on the Red Cuillin and seeing two golden eagles within a few metres of us! We walked to an abandoned village in a blizzard. And we dipped a toe in the 'locals' pools! Our advice... go prepared to do whatever Skye will allow you to do and embrace it. It's a spectacular adventure playground, so just do what suits you and enjoy!
Would Recommend: Yes
28th April 2016:

Very approachable, friendly and helpful. Nice touch with the welcome scones and homemade conserve.
Tips:
Blue shed cafe does excellent coffee and cakes. Camasunary walk, boraig walk, fairy pools walk and talisker bay walk very good. Not too difficult. Cafe sia good simple inexpensive food for dinner.
Would Recommend: Yes
10th April 2016:

Cosy and warm well equipped cottage. Extra touches included scones on arrival and fresh flowers.
Tips:
The Blue Shed Café and the village shop at Elgol serve good tea and cakes.
Would Recommend: Yes
1st April 2016:

Great - thank you very much! Would thoroughly recommend it!
Tips:
The red Skye restaurant was wonderful!
Would Recommend: Yes
29th February 2016:

Would Recommend: Yes
9th December 2015:

brilliant wee cottage, kept us lovely and warm while storm raged outside, would have given location a 5 had there been a pub within walking distance
Tips:
perfectly positioned for blaven, or have a day trip to elgol for coastal walk with fantastic views of cuillins,
Would Recommend: Yes
7th November 2015:

A thoroughly enjoyable stay- Would warmly recommend to others. Many thanks
Would Recommend: Yes
2nd November 2015:

Lovely place. Absolutely no criticisms at all. Warm and cosy and comfortable. Beautiful views. So peaceful. Well placed to visit many of good places to visit. The Dutch couple who were house sitting were brilliant, helpful and friendly.
Tips:
Must do. Visit to Loch Coruisk from Elgol. Definitely stay longer than the shorter 1.5 stay time or walk out if you are fit enough. Visit Talisker distillery, and the pub just up the road (can't remember the name), Talisker bay, the coral beaches above Dunvegan, the chippy at Broadford, and go on as many walks up the hills as possible.
Would Recommend: Yes
12th October 2015:

Would Recommend: Yes
6th September 2015:

Exellent
Tips:
Quiet, good access to bottom of Skye
Would Recommend: Yes
25th August 2015:

very friendly and helpful
Tips:
Sabhol Mor Gaelic college. Have live music.
Would Recommend: Yes
Owner Response:
Thank you for the nice comments in the visitors' book and for leaving the cottage so clean and tidy.
25th August 2015:

The cottage is beautifully located and designed. It is clean and comfortable. It was easy to make ourselves at home there for two weeks. Cooking there was a pleasure with good facilities and utensils. We enjoyed the peace and quiet, the comfy sofa, the great shower. A memorable holiday.
Tips:
The coop in Broadford has an excellent range of produce at surprisingly reasonable prices.
Would Recommend: Yes
Owner Response:
It was lovely to meet you and thanks for leaving the cottage so nice and clean.
19th July 2015:

The cottage is gorgeous, very clean and well equipped. Very, very cozy. We had some difficulty in leaving the cottage to go outdoors due to its confort and magical views from the wide windows. The mountains, the colored flowers and the bunnies!!! So cool! The isle is fantastic, amazing views and spectacular scenarium. We really enjoyed it! Hope to be back one day. The owners are very friendly and helpful.
Tips:
There is a supermarket about 15 minutes by car from the cottage in Broadford. We used to buy our food there and prepare at the cottage, which is fully equiped. We couldnt find interesting places to eat nearby, most of them were pub like places. The internet works perfectly in the cottage, no telephone signal. The road to the cottage is one way with passing places, I recommend to drive slow and pay attention, specially if you are not used to drive in the left side of the road. (We are Brazilians). Everything worked perfectly! We wish we could have a place like this to go every weekend. Its so relaxing...
Would Recommend: Yes
28th June 2015:

Condition of the road leading to the cottage was of concern. Could not get reception on radio provided.
Would Recommend: Yes
22nd June 2015:

Very friendly hosts. Cannot fault the cottage at all, it had all the equipment any good cook needs and more The welcome pack of fresh milk, homemade jam & scones were very welcome along with the coffee and selection of tea in a quaint casket waiting on our arrival Will definitely recommend this cottdge to our family and friends. A good place to stay while exploring the island
Tips:
Bella Jane boat trip to see cuillin mountain & seals was not to be missed. Excellent
Would Recommend: Yes
27th May 2015:

As we recorded in the visitors book - Location idyllic -and accommodation superb. A helpful and friendly welcome on arrival.
Would Recommend: Yes
8th May 2015:

Excellent hosts. Very helpful and friendly but also tactfully non-intrusive! Liked the cottage decor, including Rupert's paintings. Fantastic views from the large windows. Perfect for the inevitable rainy days on Skye. Cottage very well-equipped and comfortable. Excellent shower : strong water pressure and big enough for the most substantial user! Excellent wi-fi connection. Cottage is very quiet but does not feel too isolated as is part of a hamlet and only 7 miles from Broadford.
Tips:
Great location for exploring the Elgol peninsula especially. The walk from Elgol to Camasunary is spectacular. Also we very much enjoyed the walk which passes through the clearance settlements of Boreraig and Suisnish. (There are some v useful guides to local walks in the cottage.) We didn't go out at night during our 2 week stay as post days of vigorous walking and scrambling it was great to hole up in Bluebell Cottage. Excellent cooking facilities so a pleasure to eat at 'home' looking out at the Red Cuillins.
Would Recommend: Yes
22nd April 2015:

Really enjoyed the stay. The driveway could do with some of the potholes filling in, but the accommodation itself was ideal for us; cosy, quiet, great views.
Tips:
Art Cafe at Elishader was very good. Old Man of Storr at sunrise was excellent.
Would Recommend: Yes
5th April 2015:

Loved it, wish we could stay for longer!
Tips:
Talisker Bay and Loch Coruisk are a must see
Would Recommend: Yes
.