Kinloch Ainort
Kinloch Ainort Sconser
Tel: 07787565071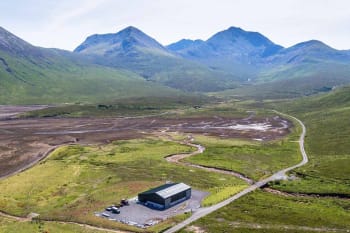 Located near Sconser in the centre of Skye, Kinloch Ainort is the perfect spot to stay while exploring our island. Enjoy stunning views of the famous Red and Black Cuillin hills from the peaceful shores of Loch Ainort. Each apartment has been designed to make you as comfortable as possible and contains everything you will need to make your stay memorable. Whether you choose our luxury super king or twin beds, a good night's sleep is guaranteed. All of our spacious apartment kitchens and en suites are fully furnished. Enjoy your own private outdoor dining area overlooking our working croft. WiFi, underfloor heating and a smart TV are provided. Each apartment sleeps 2.
Facilities
WIFI
Sea Views
Widescreen TVs
Smart TV
Laundry Room
Coffee/Hot Chocolate Machine
Microwave
Kettle
Oven
Underfloor heating
Disabled Parking
Drying Facilities
Internet Access
Policies
Check In: Between 16:00 and 23:00
Check Out: Between 6:00 and 10:00
Wi-fi: Wireless internet is available and is free of charge.
Smoking: There is no smoking permitted anywhere within the property.
Parking: Parking for all guests is available on site and is free of charge.


Children: Children aged 3 or over are welcome.
Pets: Pets are not allowed.
Groups: All groups are accepted.
Average
5.0
out of 5
13 reviews
100% recommend
Reviews
26th June 2022:

Really nice location and very clean and good equipped apartment. I don't know if there is still any room for that, but there could have been a bit more shelf space for our taste. Apart from that everything was great and we really loved our stay there.
Would Recommend: Yes
17th June 2022:

Would Recommend: Yes
17th June 2022:

The apartment was cozy with comfortable bedding and all the essential kitchen items one would need. We met a young lady who was cleaning the apartments. She was very kind and sweet and helpful. Having laundry facilities on site was great too. My wife and I loved it here and miss the sheep that dotted the area already!
Would Recommend: Yes
31st May 2022:

Excellent accommodation in an amazing location, with breathtaking views! Would highly recommend.
Would Recommend: Yes
29th May 2022:

Highly recommendable. Better yet: this is a Don't Miss when visiting the area. The apartments are very modern and clean. The bathroom is fitted with high quality accessories and heating from the floor.
Tips:
There is no indication/confirmation of this location from the street. Just a small road that says Dead End. Google Maps provided the right indications. Also: closest grocery/restaurant is Broadford (15 km). The closest village is Sconser, but no grocery/gas station.
Would Recommend: Yes
21st May 2022:

We absolutely loved the apartment. Finished and furnished to a high standard and well supplied for self-catering. Great location for exploring Skye, feels remote but very close to the main road and great views of the local hills. Minor point - would benefit from a corkscrew, a bigger door mat and/or something to put muddy wet boots in or on. Kenny met us on arrival and made sure we were happy with everything. Would definitely recommend to others.
Tips:
We only had two full days and did day trips to the Quiraing (great walk and scramble around the rocks) and Elgol (boggy and exposed cliff path to Camasunary with great views of the Black Cuillin and Rum). Stock up and fuel up at the Co-op in Broadford.
Would Recommend: Yes
19th May 2022:

Would Recommend: Yes
13th May 2022:

great accommodation will stay again
Would Recommend: Yes
9th May 2022:

Property is a high standard with get amenities
Would Recommend: Yes
8th May 2022:

Perfect spot in the middle of nowhere to feel the island. Kenny is a perfect host. Love the place.
Would Recommend: Yes
6th May 2022:

We loved our stay here. Everything is so thoughtful, looks really good, clean and comfortable. The views are fabulous, location excellent base and if you are there at the right time you get to see lots of lambs! Good for birdwatching too. Kenny couldn't be more friendly, helpful and responsive so all your needs will be met
Would Recommend: Yes
5th May 2022:

It really added to our experience staying on a Family run Croft next to newborn lambs with a view of the beautiful morning light on the mountains and water. In addition to wonderful amenities it was great to have a good internet connection.
Would Recommend: Yes
27th April 2022:

Beautiful place with gorgeous view and surrounded by mountains. Appartment had everything we needed and was new and kitchen was well equipped.
Tips:
Appartment is a good starting point to explore the isle of skye by car. We can recommend Old Man of Storr hike, Neist Point Lighthouse, Talisker Bay, Portree for lunch coffee or dinner.
Would Recommend: Yes
.