Kinloch Ainort
Kinloch Ainort Sconser
Tel: 07787565071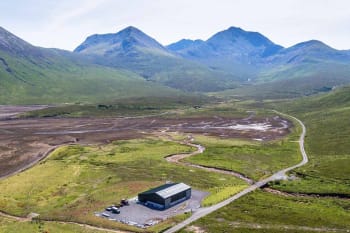 Located near Sconser in the centre of Skye, Kinloch Ainort is the perfect spot to stay while exploring our island. Enjoy stunning views of the famous Red and Black Cuillin hills from the peaceful shores of Loch Ainort. Each apartment has been designed to make you as comfortable as possible and contains everything you will need to make your stay memorable. Whether you choose our luxury super king or twin beds, a good night's sleep is guaranteed. All of our spacious apartment kitchens and en suites are fully furnished. Enjoy your own private outdoor dining area overlooking our working croft. WiFi, underfloor heating and a smart TV are provided. Each apartment sleeps 2.
Facilities
WIFI
Sea Views
Widescreen TVs
Smart TV
Laundry Room
Coffee/Hot Chocolate Machine
Microwave
Kettle
Oven
Underfloor heating
Disabled Parking
Drying Facilities
Internet Access
Policies
Check In: Between 16:00 and 23:00
Check Out: Between 6:00 and 10:00
Wi-fi: Wireless internet is available and is free of charge.
Smoking: There is no smoking permitted anywhere within the property.
Parking: Parking for all guests is available on site and is free of charge.


Children: Children aged 3 or over are welcome.
Pets: Pets are not allowed.
Groups: All groups are accepted.
Average
4.9
out of 5
36 reviews
100% recommend
Reviews
25th January 2023:

The apartment was great, the location was beautiful. Everything we needed for a quiet getaway on Skye.
Tips:
There's no cell reception but the wifi works perfectly. Also it can get very windy and loud, but the apartment is perfectly safe.
Would Recommend: Yes
6th January 2023:

Lovely accommodation, great location, good hosts. Would recommend.
Would Recommend: Yes
2nd January 2023:

Booked a stay at Kinloch Airnort apartments for 2 nights seeing through the new year. We drove all the way from Birmingham, England, and we were blown away from the moment of arrival. I can honestly say it has been one of the best experiences of my life. The apartment and location are absolutely perfect, Kenny was helpful and replied quickly with any infomation needed. I cannot recommend it enough. Explore locally for some beautiful views and scenery which is perfect for amateur and professional photographers. The apartment itself is well equipped with all you would need to cook and clean, the bathroom facilities are clean and work perfectly, and after a day of exploring to be able to head back to a warm room and comfortable bed are the small things that really put this place above the rest. But words only do so much, you HAVE to check it out for yourself !!!!! Thank you Kenny and Kinloch apartments - T. Campbell
Tips:
Explore the local area for viewing points as well as exploring for yourself, its a simple and easy drive even to the north of the Isle, less than a hour drive to fairy pools. So much to say but it will not do it justice you just HAVE to stay here.
Would Recommend: Yes
10th December 2022:

Would Recommend: Yes
30th November 2022:

Would Recommend: Yes
8th November 2022:

Excellent execution
Tips:
Do shopping groceries in advance at the Co operative store 12 km from the apartments. You can use Google navigator and the name of the apartment to get exactly where you want to go
Would Recommend: Yes
3rd November 2022:

Enjoyed the room and facilities. Room was well equipped with everything we needed. Satellite TV reception was spotty.
Would Recommend: Yes
3rd October 2022:

Stunning location, clean and tidy apartment and comfy beds!
Would Recommend: Yes
3rd October 2022:

Would Recommend: Yes
28th September 2022:

Would Recommend: Yes
24th September 2022:

Goed geoutilleerde plek, met stijl en hoge kwaliteit ingericht. De ligging is erg mooi, aan het lichting het dal. Kenny is behulpzaam, vriendelijk en toegankelijk. Aanrader!
Tips:
Good place to stay, bed is top!! Nice views from the house
Would Recommend: Yes
20th September 2022:

Would Recommend: Yes
18th September 2022:

Gorgeous views and well-appointed accommodations await you at Kinloch Ainort! We loved all the space, and full kitchen, especially after coming from tiny hotels.
Would Recommend: Yes
17th September 2022:

Would Recommend: Yes
8th September 2022:

Immaculately clean, everything we needed and really comfortable bed. The location is amazing, so peaceful and quite. We would not hesitate in rebooking again in the future.
Tips:
We found this to be the perfect central location for exploring Skye and highly recommended the accommodation.
Would Recommend: Yes
19th August 2022:

Beautiful location. Great room, bath and other facilities. Super clean. As we had some extraordinary weather, it would have been nice with some kind of "deck" chairs to sit in. But all in all a very positive experience.
Tips:
We highly recommend Kinloch Ainort. It is a very high standard that you find here. The location gives you great opportunities to visit the whole of Isle of Skye.
Would Recommend: Yes
6th August 2022:

Absolute oasis in the desert, We stayed in a lot of different places this holiday having completed the NC 500 and then finishing up with three days in Skye. The building was great, Kenny was very helpful and informative, the facilities were well thought out and well supplied- would love to stay there again.
Tips:
Do it
Would Recommend: Yes
20th July 2022:

Fantastic location, stunning views, beautiful apartments and such a warm, friendly booking experience. Thank you for a fantastic stay, will definitely be back to Kinloch Ainort
Would Recommend: Yes
20th July 2022:

Just fabulous! Perfect location, accomodation it very comfortable well equipped and maintained to a very high standard. Great communication from owner.
Tips:
Perfect location for exploring the southern part of Skye. Can recommend a visit to The Coffee Bothy in Broadford. The drive to Armadale is lovely. Easy access to north of the Cullins from this location too drive north to Portree and return south taking the road on the west of the isle.
Would Recommend: Yes
17th July 2022:

What a magnificent place! The rooms look out on Loch Ainort, ringed by spectacular mountains and companioned by affable sheep. I don't think the pictures we saw online do it nearly enough justice. Not sure I've ever stayed at a place so quiet. Never heard a whisper from the other guests or the road. The apartment is brand new, modern and fully appointed. The kitchen was a big help as were the laundry facilities, which come with washers, dryers and soap. I recall being worried that the location was a bit remote. But its nearness to Broadford (and restaurants/shops/markets) helped us as did its proximity to a variety of walks and hikes. We stayed three days and could have stayed another week. Highly recommend.
Would Recommend: Yes
9th July 2022:

Fantastic, modern, extremely clean, well appointed.
Would Recommend: Yes
8th July 2022:

Situación excepcional, con un apartamento muy confortable.
Would Recommend: Yes
3rd July 2022:

Situated right on the Loch the view from the room is stunning. Interior is thoughtfully designed, very modern with fixtures and fittings all coordinated. The accessible bathroom shows careful planning by owners, thank you.
Tips:
Walk along the disused road (Moll). beside the Loch. It's like your own private Scottish paradise.
Would Recommend: Yes
26th June 2022:

Really nice location and very clean and good equipped apartment. I don't know if there is still any room for that, but there could have been a bit more shelf space for our taste. Apart from that everything was great and we really loved our stay there.
Would Recommend: Yes
17th June 2022:

Would Recommend: Yes
17th June 2022:

The apartment was cozy with comfortable bedding and all the essential kitchen items one would need. We met a young lady who was cleaning the apartments. She was very kind and sweet and helpful. Having laundry facilities on site was great too. My wife and I loved it here and miss the sheep that dotted the area already!
Would Recommend: Yes
31st May 2022:

Excellent accommodation in an amazing location, with breathtaking views! Would highly recommend.
Would Recommend: Yes
29th May 2022:

Highly recommendable. Better yet: this is a Don't Miss when visiting the area. The apartments are very modern and clean. The bathroom is fitted with high quality accessories and heating from the floor.
Tips:
There is no indication/confirmation of this location from the street. Just a small road that says Dead End. Google Maps provided the right indications. Also: closest grocery/restaurant is Broadford (15 km). The closest village is Sconser, but no grocery/gas station.
Would Recommend: Yes
21st May 2022:

We absolutely loved the apartment. Finished and furnished to a high standard and well supplied for self-catering. Great location for exploring Skye, feels remote but very close to the main road and great views of the local hills. Minor point - would benefit from a corkscrew, a bigger door mat and/or something to put muddy wet boots in or on. Kenny met us on arrival and made sure we were happy with everything. Would definitely recommend to others.
Tips:
We only had two full days and did day trips to the Quiraing (great walk and scramble around the rocks) and Elgol (boggy and exposed cliff path to Camasunary with great views of the Black Cuillin and Rum). Stock up and fuel up at the Co-op in Broadford.
Would Recommend: Yes
19th May 2022:

Would Recommend: Yes
13th May 2022:

great accommodation will stay again
Would Recommend: Yes
9th May 2022:

Property is a high standard with get amenities
Would Recommend: Yes
8th May 2022:

Perfect spot in the middle of nowhere to feel the island. Kenny is a perfect host. Love the place.
Would Recommend: Yes
6th May 2022:

We loved our stay here. Everything is so thoughtful, looks really good, clean and comfortable. The views are fabulous, location excellent base and if you are there at the right time you get to see lots of lambs! Good for birdwatching too. Kenny couldn't be more friendly, helpful and responsive so all your needs will be met
Would Recommend: Yes
5th May 2022:

It really added to our experience staying on a Family run Croft next to newborn lambs with a view of the beautiful morning light on the mountains and water. In addition to wonderful amenities it was great to have a good internet connection.
Would Recommend: Yes
27th April 2022:

Beautiful place with gorgeous view and surrounded by mountains. Appartment had everything we needed and was new and kitchen was well equipped.
Tips:
Appartment is a good starting point to explore the isle of skye by car. We can recommend Old Man of Storr hike, Neist Point Lighthouse, Talisker Bay, Portree for lunch coffee or dinner.
Would Recommend: Yes
.