Kingsburgh Boathouse
3 Kingsburgh
Tel: 07815803281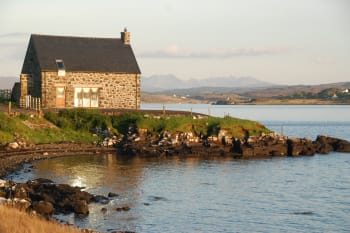 Romantic, secluded loch-side one-bedroom cottage, with space for baby cot. Lots of sea-birds and sometimes dolphins or porpoises, otters or the hare. Off the beaten track, but just 15 minutes from Portree, Skye's capital. Online booking is possible for weekly stays commencing on a Saturday; if a different start day or shorter stay is wanted, please e-mail or call and we'll try to assist.
Availability
There are no rooms available at Kingsburgh Boathouse
for these dates.
Please try other dates or select a
different property
.
cottages
Facilities
Disabled Access
Fishing
Garden For Residents' Use
Hiking
Terrace
Wi-Fi
Policies
Check In: Between 15:30 and 23:30
Check Out: Between 9:00 and 9:30
Wi-fi: Wireless internet is available and is free of charge.
Smoking: There is no smoking permitted anywhere within the property.
Parking: Parking for all guests is available on site and is free of charge.


Children: All guests must be 18 or over, no children are allowed.
Pets: Pets are not allowed.
Groups: Groups are accepted up to a maximum of 2 people. No stag and hen groups.
Average
5.0
out of 5
22 reviews
100% recommend
Reviews
15th October 2022:

A gem of a cottage with lovely touches of luxury in an absolutely stunning location. We were delighted to glimpse an otter and two sea eagles flew over on our last day. Absolutely perfect, thank you.
Tips:
We had a wonderful meal at the Ferry Inn at Uig and loved our two hour wildlife trip in a boat from Portree.
Would Recommend: Yes
10th October 2022:

The Boathouse is perched on a loch with beautiful views in all directions. The inside is very comfortable, with views from all windows so beautiful you think it's a painting instead of a window. The upstairs suite is so inviting, including a soaking tub with a window that looks out on the loch. The sunsets are endless and ever changing. The owners are nearby if you have questions or need anything. It was a spectacular setting and a memorable week for us!
Tips:
Restaurants are a bit of a drive, and you must make dinner reservations well in advance. The nicest restaurant was booked for the month. We ended up cooking all dinners at the cottage. There is a Co-Op grocery store in Portree, make sure you go to the larger one (we didn't discover it until the end of the trip). Skye is full of beautiful sights, you can't go wrong just driving around! We also went to Raasay Distillery which was a short ferry ride and a lovely tour. We tried to go to the Highland Games, but they were sold out-first time in 145 years! So if you are planning, order tickets online! We were disappointed that we couldn't get in, but the next day was the Portree Agricultural Show, and it was fantastic! Skye is a beautiful place, full of friendly people!
Would Recommend: Yes
25th September 2022:

Tips:
Trip to St Kilda with "Go to St Kilda" from Stein was an excellent day out.
Would Recommend: Yes
26th June 2022:

Would Recommend: Yes
20th June 2022:

Would Recommend: Yes
22nd May 2022:

Christina was always so helpful and responsive. The bed was very comfortable and the house was spacious. Little touches like maps and binoculars were wonderful!
Would Recommend: Yes
8th May 2022:

Would Recommend: Yes
8th January 2022:

Would Recommend: Yes
17th October 2021:

Would Recommend: Yes
26th September 2021:

Would Recommend: Yes
6th September 2021:

Another fantastic week at the Boathouse, thanks Christina. The Boathouse is the most peaceful place and is beautifully equipped. I wouldn't hesitate to recommend it.
Tips:
Great fishing off the rocks at the foot of the garden
Would Recommend: Yes
22nd August 2021:

Would Recommend: Yes
12th August 2021:

Informative, friendly owners who respond speedily with a warm manner - despite not meeting face to face due to COVID. House is lovely and very comfortable - decor relaxing and layout very good.
Would Recommend: Yes
27th July 2021:

We had such a lovely friendly welcome from the whole family and the communication prior and during our stay was perfect. Great advice and recommendations too. The house was incredible with everything we needed for our stay and every aspect gave the most wonderful views that quite literally changed as you watched it - from wildlife visiting the shore to indescribable sunsets over the loch looking out to Lewis. A wonderful retreat not to be missed.
Tips:
Explore, Rest, Repeat
Would Recommend: Yes
17th July 2021:

The boathouse is a great base to explore Skye. Or just lookout of the the many windows at the views. We saw an Otter everyday and a seal and many many birds. On a clear day we could see the Cullins on one side and the outter Hebridies on the other with the most amazing sunset.
Tips:
We tried to fit in to much and spent a lot of time driving around Skye. I suggest do less and experience more. Saying that we went on guided wildlife tour and saw lots of Skye while spotting golden eagles sea eagles, red deer and a seals. No sign of an Otter until we came home!!
Would Recommend: Yes
24th September 2020:

A great location in well equipped accommodation. Had everything that we would have expected to make our stay perfect! Will definitely book again!
Tips:
Fairy Pools very busy and avoided, but the coral beach was great. Edinbane Inn hospitable and good food. Three Chimmneys a great treat. South Skye Kayaks brilliant and great day, as was the Seaflower trip to Rona - the best langoustines we have tasted for lunch!
Would Recommend: Yes
11th August 2020:

James and Christina were very helpful both before and during our stay. We had an incredible stay largely because the Boathouse is such a fantastic holiday destination.
Tips:
We had a lovely meal at the Edinbane inn one evening, and would recommend it to future guests. We would also urge future guests to make the most of the location on the water: bring wetsuits, kayaks, paddle boards etc. We did and it made it all the more fun! We would also recommend the Seafari Experience Jurassic Coast boat trip which leaves from Portree harbour. It was great to see the local wildlife and also an amazing way of exploring the coast of Skye.
Would Recommend: Yes
19th March 2020:

An outstandingly, private and beautiful location!
Tips:
Just a 10 minute drive to Portree and even less to Uig, but remote enough that if you don't want to see a soul, you won't.
Would Recommend: Yes
16th February 2020:

Kingsburgh Boathouse is a wonderful space to stay. Perched on the edge of a loch with spectacular views to the Cuillins in the south-west and north up Loch Snizort and the open sea, it sits in a perfect location. The accommodation is beautifully appointed with big windows to the views and all the amenities that you'd expect of a five star self-catering cottage. It's a perfect place to escape from the world in comfort and enjoy the peace.
Would Recommend: Yes
29th December 2019:

Lovely house with lots of privacy. Wood burner makes the place very cosy even when the weather is bad.
Tips:
Great for watching the wildlife in comfort.
Would Recommend: Yes
13th June 2019:

This was the holiday house of a lifetime. A beautiful conversion of an old building, comprehensively and tastefully equipped, with uninterrupted views across the loch, to the Cuillin Mountains, and North to the sea and the Outer Hebrides. Only 15m drive to Portree and all mod cons including vast range of restaurants etc. For those who like sunsets, sheep, scenery and sumptuous solitude it wouldn't be possible to do better.
Tips:
SCORRYBREAC CIRCUIT is an excellent 3k circular walk from Portree. It feels twice as long as it is, has varied terrain, and is possibly worth doing in both directions. RELISH is a first rate sandwich shop in Wentworth St, Portree.
Would Recommend: Yes
Owner Response:
Thank you so much for your kind comments - and many congratulations again on your wedding in Skye!
25th May 2019:

The location and cottage were stunning. We had great weather so amazing sunsets and bird watching. The boathouse itself was spotless and had all the amenities we needed for our stay on Skye. Carol was so pleasant to work with and followed up to any of our questions.
Tips:
If you plan to eat out, recommend booking restaurants at least a day in advance, if not more for busier times. Portree can get very busy and restaurants tend to book fast. There is a coop grocer about 10 minutes south of the boathouse which was very convenient for groceries or items we had forgotten. The Three Chimneys restaurant was amazing and if you can book the kitchen table, it is a fabulous experience. There are so many places to see on Skye and viewing the common tourist places is a must especially if it is your first time. There are other stunning places away from the crowds as well. The boathouse has some maps which make planning the days easier, especially when you have to service on the road. Most important, be patient and just enjoy it. May is the drier of the months so we lucked out with weather, but weather can change suddenly so be prepared.
Would Recommend: Yes
Owner Response:
I'm so glad you had a fine experience visiting Skye - and it is worthwhile seeking out the quieter spots. I hope you'll return one day.
.