Ceòl a' Chuain Longhouse
23 Camuscross
Tel: 01428 681646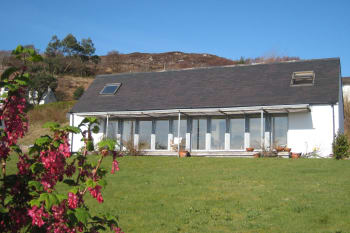 Availability
There are no rooms available at Ceòl a' Chuain Longhouse
for these dates.
Please try other dates or select a
different property
.
cottages

Max:
The house has three bedrooms: a double at each end of the ground floor and a... more >
The house has three bedrooms: a double at each end of the ground floor and a twin on the first floor, although guests should note this is up a steep flight of stairs so is not suitable for the very young and those with mobility issues.

All beds have Egyptian cotton sheets and duvets with extra-comfortable mattresses and the double beds are larger-than-average continental queen size beds (160cms).Room Facilities:
Bath/Shower
Central Heating
Coastal Location
Cooker
Crockery & Utensils Supplied
Dining Area
Dishwasher
Electric Shaver Point
Ensuite Bath/Shower Room In Unit
Fridge/Freezer
Hairdryer
Ironing Facilities
Kitchen
Linen & Towels Supplied
Living Room
Microwave
Multi Fuel Wood Burning Stove
Private Car Space
Radio
Sea/Loch View
Tea/Coffee
Telephone
Television
Tumble Dryer
Washing Machine
Bath Tub
Facilities
Access to beach
Bar (nearby)
BBQ Facilities
Café / Restaurant (nearby)
Cycling
Fishing
Garden For Residents' Use
Golf Course (nearby)
Hiking
Horse Riding
Shop (nearby)
Terrace
Wi-Fi
Policies
Check In: Between 16:00 and 22:00
Check Out: Between 10:00 and 10:00
Wi-fi: Wireless internet is available and is free of charge.
Smoking: There is no smoking permitted anywhere within the property.
Parking: Parking for all guests is available on site and is free of charge.


Children: Children aged 5 or over are welcome.
Pets: Pets are not allowed.
Groups: Groups are accepted up to a maximum of 6 people. No stag and hen groups.
Average
5.0
out of 5
21 reviews
100% recommend
Reviews
27th June 2022:

Would Recommend: Yes
26th April 2022:

superb holiday house with amazing views. Great facilities including very comfy beds. The location is first class with lovely see views and a 10 minute walk to a local pub with great seafood and lots of character.
Tips:
local seafood at the Hotel Eilean Iarmain pub down the road (walkable)
Would Recommend: Yes
25th September 2021:

Would Recommend: Yes
17th October 2020:

Fantastic house in perfect location
Tips:
Armadale castle Cycle to Ord Dunscaith ruins Fairy pools ( busy with tourists though!) Point of Sleat Local pub is excellent as is Gasta in Broadford
Would Recommend: Yes
11th October 2020:

Would Recommend: Yes
29th September 2020:

Tips:
Sia chippy in Broadford - excellent choice. Local Hotel is superb and within walking distance. We went to Duisdale Hotel which was more upmarket and more expensive. Clan Donald worth a visit and a wee jaunt to Armadale Hill.
Would Recommend: Yes
26th September 2020:

We were very comfortable in the house. We found it very well equipped and appreciated the wood for the stove. Thank you. ( We couldn't find a wee brush for the hearth.So couldn't sweep up properly. Sorry.)
Tips:
We were so lucky with the weather, and enjoyed the stunning views and sitting out on the decking. Local pub and cafe great to visit too.
Would Recommend: Yes
4th September 2020:

The cottage is wonderful architecturally, with a double height living space, wood burning stove, and large windows taking in the magnificent view. Although the gallery space is accessed by a stair which is almost a ladder, it has a keyboard- what a bonus! It was a joy to be there.
Tips:
Being situated in the south of Skye, it's easy to access the house when you arrive That does mean a longer trip to the sights of Skye each day. We found it best to alternate these longer days with trips to closer attractions such as Armadale Castle. But whtever you do, it's always a pleasure to return to the Longhouse/
Would Recommend: Yes
3rd September 2020:

It was really hard to say goodbye to Ceol a Chuain. It is in such an exceptional location with the views constantly changing every day. The house was immaculately clean and very well equipped with lovely Egyptian cotton bed linen. It made the perfect base from which to explore Skye and we really can't wait to return!
Tips:
Really recommend visiting Elgol and taking boat with Misty Isle Boat trips to Loch Coruisk. From there we climbed Sgurr na Stri for outstanding views over the island and beyond, then down onto the stunning Camasunary beach.
Would Recommend: Yes
2nd August 2020:

Thank you for a superb stay. The house was lovely - perfect for our family. The two loft spaces provided secret spots for the teens to read or play cards with their younger brothers. The view each day was magnificent - and different each day (each house?!) The kitchen was well appointed and the instructiosn clear and friendly!
Tips:
If the weather looks warm and sunny for Sleat, head to Aird and take the x1 h (2 hour rround trip) walk to the Camas Daraich beach. It is strenuous - we wore trainers but brought water - but the beach at the end is a treasure and a prize! White sand, crystal green and blue water, tide pools. There is a pub close to the entracne which is a lovely place for a reward for the effort! Also Coruisk House for dinner - they have opened post lockdown but are maintaining very strict guidelines. It is about 40 minutes drive to the breathtaking point at Elgol. The 4 course set menu was superb, excellent wine list and wonderful hosts/owners. And the squat crab and crab legs at Claymore in brodford - not gourmet but nice for a quick meal out! And bring a wet suit for swimming in the bay!
Would Recommend: Yes
Owner Response:
Many thanks for your kind review. So glad you liked the house and enjoyed your stay.
14th February 2020:

Would Recommend: Yes
10th November 2019:

Fabulous house with the most stunning views. Just PERFECT
Tips:
Skye is a wonderful Island with plenty of walks, cafes, restaurants etc Isleornsay is particularly beautiful and there is a lovely pub/restaurant nearby. Also small distillery and gorgeous little shop next door. 10 minutes along the road and you can have the most wonderful lunch or dinner at Kinloch Lodge. But loads of places to drive around to on the Island, you'll never be bored
Would Recommend: Yes
23rd August 2019:

Lovely house on the shoreline. A family holiday which was enjoyed by all. Great pub/restaurant close by too. Will return.
Would Recommend: Yes
15th August 2019:

The cottage is beautiful, with the open sea view. Owners are very kind and helpful. I would highly recommend for a family retreat.
Would Recommend: Yes
11th August 2019:

A beautiful house in a beautiful location. We loved the stunning views and the tranquility. The beds are so comfortable and the house has everything you need. Thank you to Jenny and Peter for allowing us to stay in your wonderful home!
Tips:
We ate at the local (5 minute drive) pub a few times as the location does not get any better than this! The people are all so friendly. We loved Sleat Point and the boat trips running from Elgol, particularly the boat trip to Rum, Canna and Soay.
Would Recommend: Yes
5th June 2019:

Perfect location. View from the cottage was amazing. The cottage had everything, although the stairs to the upstairs bedroom were a little precarious, for the young/fit only. My wife and I were married from Ceol a chuain longhouse and it will always hold a special place in our hearts. Owners very thoughtful. Left a bottle of champagne for us to toast our upcoming wedding. Thoroughly recommended. We will definitely visit again
Would Recommend: Yes
12th September 2018:

We absolutely loved it, the island and the house were gorgeous. There are a couple of suggestions I would make: - a rug in front of the fire would be lovely - I'm one of theose poeple that loves to sprawl on the floor and it would be a bit comfier with a rug and perhaps a few more cushions. - perhaps a few more bigger dishes for the oven - there only seemed to be a lasagne dish and some baking metal type dishes. we hope to return next year!
Tips:
We ate 3 times at Am Praban and all food choices bar one were excellent and they are very welcoming.
Would Recommend: Yes
Owner Response:
Glad you enjoyed your stay and thanks for your comments. Sorry about the oven dishes - maybe you didn't realise the large white dishes are also oven proof? Hope to have you stay with us again soon. Best wishes, jenny
29th August 2018:

A colleague and I stayed at this accomodation duriung our stay at Skye. We were in awe at the beautiful views and the house itself. We had brilliant communication between with the host and we were delighted when we were left eggs from the cleaner. They were delicious. Would highly recommend.
Would Recommend: Yes
16th August 2018:

Would Recommend: Yes
18th June 2018:

Delightful building, beautiful views.
Would Recommend: Yes
Owner Response:
So glad you enjoyed your stay and thanks for your enthusiastic review.
3rd June 2018:

Easy to use website
Tips:
Amazing location!
Would Recommend: Yes
Owner Response:
So glad you enjoyed your stay and many thanks for your very positive review.
.