Skyewalker Hostel
The Old School
Tel: 01478640250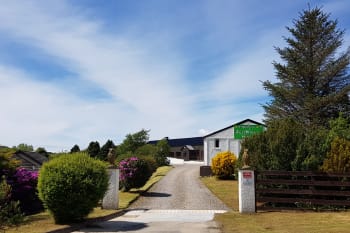 A warm welcome and true Scottish hospitality awaits you at this family run, award winning hostel. Skyewalker Hostel makes an ideal base from which to explore the Cuillin mountain range, swim in the Fairy Pools (not for the faint hearted!), take a tour of Talisker whisky distillery, spot a sea eagle or a shooting star and see for yourself the spectacular, wild landscapes that make the Isle of Skye a world class destination. We have been voted by our visitors as Hostelworld's 'Best in Scotland' for 2020, 2019,2018, 2015, as well as 2014 and 2012.
Availability
There are no rooms available at Skyewalker Hostel
for these dates.
Please try other dates or select a
different property
.
units
Facilities
Self Catering Kitchen
Solar Dome
Beer Garden
Breakfast Room
Drying Facilities
Garden For Residents' Use
Internet Access
Payphones
Safe At Reception
Policies
Check In: Between 15:00 and 21:00
Check Out: Between 11:00 and 11:00
Wi-fi: Wireless internet is available and is free of charge.
Smoking: There is no smoking permitted anywhere within the property.
Parking: Parking for all guests is available on site and is free of charge.


Children: All guests must be 18 or over, no children are allowed.
Pets: Pets are not allowed.
Groups: Groups are accepted up to a maximum of 4 people. No stag and hen groups.
Average
4.9
out of 5
25 reviews
100% recommend
Reviews
23rd June 2022:

Fantastic hostel, very clean and staff super friendly and helpful with alot of knowledge about the island and suggestions to go. Love the quotes around the place and wide selection of games to play in evenings.
Tips:
Would recommend having a car to get here, there are no taxis and little buses
Would Recommend: Yes
22nd June 2022:

Fantastic accommodation and such a friendly welcome. So glad we found this gem of a place.
Would Recommend: Yes
16th June 2022:

We felt very comfortable in the relaxed atmosphere. The friendly staff, a nice, warm and clean room, inviting kitchen and dining areas, great showers and bathroom, and sitting in the SkyDome is unique. We really enjoyed our stay, it was really special. Also liked the nearby pub. Good decision to choose this hostel.
Would Recommend: Yes
13th June 2022:

Would Recommend: Yes
3rd June 2022:

I'm not sure I knew what to expect on arrival, but what I found was an accommodation that is run with one hell of a lot of heart by its family owners, staff. Under the veneer of this light-hearted, "fun" gem of a place is one hell of a lot of professionalism. For myself, I appreciated the quiet it provided and the separation between private and public. (Also, thanks Tim for the extra touches, courtesies) Brilliant job.
Tips:
It's worth the effort to find it, visit it. Don't walk, run. --Kevin from Canada
Would Recommend: Yes
2nd June 2022:

Really friendly staff, well organised hostel, kitchen well equipped made cooking easy, staff acting as guides to Skye as well as cleanning the the place as bright as a new pin. Recommend Hostel to anyone.
Tips:
Local eateries get booked up quickly so recommend using the well equipped kitchen
Would Recommend: Yes
22nd May 2022:

The Skyewalker Hostel & it's helpful dedicated staff made my 1st ever hostel experience a great one. The facility is spacious, comfortable, & welcoming. The shared amenities (kitchen & bathrooms/showers) are immaculately clean & the staff is sociable & helpful. I would love to return & will recommend Skyewalker to anyone looking for lodging when visiting Skye.
Tips:
Skyewalker is a bus ride from Portree so just be sure to get familiar with the bus schedule if you don't have your own car. The area around the hostel is great to explore if you feel like staying put. The staff is full of recommendations on local dining spots & sites to see.
Would Recommend: Yes
21st May 2022:

Family run business that totally understand what travellers need. Hostels are not our normal go to for accommodation, but your place did not disappoint. We loved everything about it, the little touches made it so cosy and comfortable we couldn't fault it.
Tips:
If you want to stay in hostel on Skye this has to be the place. You can get there by bus a real plus on Skye! The staff are really welcoming and friendly. They have thought of everything and all the little touches just make it even more special 😍. The Skydome is a really special touch , not to be missed and can only imagine how great it would be on a night with no clouds. If you choose to stay in another hostel on the Island you would be doing yourself a disservice!
Would Recommend: Yes
20th May 2022:

Ha estat perfecte. L'habitació de 4 àmplia i còmoda. Personal amable i servicial. Us recomanem !
Tips:
No dubteu. Net, amabilitat i decoració "skyewalker" original ;) , banys netíssims.
Would Recommend: Yes
16th May 2022:

Amazing hostel, attention to detail and very clean. The staff was really nice and kindly. Too bad it was only one night
Would Recommend: Yes
12th May 2022:

Fantastic welcome, all the staff are really helpful and friendly. Had lots of good chats. Stayed in one of the Jedi huts, all I can say is wow, especially impressed there was a guitar, and it was tuned. Everywhere was spotless, massive kitchen fully equipped, free tea, coffee, sugar etc, 2 large fridges, lots of drawers for your food, the highlight of the facilities was the impressed with the shower, fantastic power and hot,the best shower I have had in a long time!! A very modern hostel with everything you need, the music being played was spot on too. When can I come back? !!!
Tips:
Food is good at the Taigh Ailean Hotel up the road, I had Eriskay King Scallops followed by Loch Etive Trout with creamy leeks and new potatoes, delicious!! Again very friendly and welcoming staff, good selection of beer and whisky! Check out if any live music evebts on at Minginish Hall, like the bar only 10 mins up the road. The 608 bus from Portree was ideal for getting me there as doing my holiday on foot without a car , but just take your time!! Wish I could have stayed longer!!
Would Recommend: Yes
11th May 2022:

The hostel was spotlessly clean with a lovely relaxed vibe, and the staff were really welcoming and friendly. We'll definitely stay again when we come back to Skye!
Would Recommend: Yes
10th May 2022:

Best budget hostel on Skye and the perfect location to access the Cuillin. Staff are extremely friendly and informative and our stay was comfortable, peaceful and very enjoyable. I shall be back!
Tips:
Only 20mins drive from Glenbrittle and access to the Cuillin, less than half an hour to the Sligachan hotel. Nearby (3 miles) is the Talkisker Distillery (currently closed for tours but open for tastings) and the Old Inn- great for music. Closer still and a better choice of delicious food is the Taigh Ailean, a short five minute walk away with local ales and a good choice of whisky with very friendly service. Talisker Bay is beautiful- though difficult to park - but it's only a couple hours walk away. I certainly recommend the Raasay distillery (and a lovely boat trip), Elgol and the Spar Cave, The Fairy Glen (getting a bit too popular these days) and the North of the Island. The Cuillin is the top pick for me. Stunning scrambling/climbing and unsurpassed views.
Would Recommend: Yes
9th May 2022:

Great value for money, lovely staff, has everything you would need and want in a hostel. Comfy and clean room. Will definitely be back!
Would Recommend: Yes
8th May 2022:

Absolutely wonderful! Love this place. Brian, Lisa, Georgia and their staff showed us the usual warm and friendly hospitality. It's just like visiting family. The place is spotless and so tastefully decorated with loads of amusing and interesting things covering the walls.
Tips:
Taigh Ailean the local pub for meal or drink or takeaway, but book ahead in plenty of time for a meal as it's very popular. The Cuillin! Kilt Rock and then The Quirang, The Old Man of Storr, Coral Beach, Fairy Pools if you want to join the crowds of tourists (we never did) but plenty of other nice waterfalls, especially just up from Glenbrittle Youth Hostel. Brian ad Lisa will recommend loads of other stuff.
Would Recommend: Yes
7th May 2022:

Amazing place, run by fantastic people. Absolutely recommend this Hostel.
Would Recommend: Yes
5th May 2022:

Would Recommend: Yes
5th May 2022:

We really much enjoyed the vibe at the hostel. Friendly staff, nice people, beautiful environment, good bed. It was just a perfect stay!
Would Recommend: Yes
27th April 2022:

It is such a charming and very well decorated place. The hosts are very kind. The dome is really nice. We had an amazing time there.
Tips:
You should stop at a shop and buy snacks. Enjoy the hostel :)
Would Recommend: Yes
Owner Response:
Thank you for taking the time to review us! We are all delighted that you enjoyed your stay with us! Enjoy the rest of your travels and we hope to see you another time!
26th April 2022:

Would Recommend: Yes
24th April 2022:

Would Recommend: Yes
19th April 2022:

Super location, decoration between weird and amazing. We had a great time and felt welcome. Very good place!
Would Recommend: Yes
Owner Response:
Haha! Somewhere between weird and amazing is exactly where we were aiming for! Thank you for taking the time to review us and we're glad to hear you had a great time and felt welcome!!
19th April 2022:

Nous avons loué les petites cabanes extérieures, très confortables, très propres et très originales. Les communs sont bien équipés, spacieux et bien conçus. C'est la meilleure auberge de jeunesse dans laquelle nous sommes allés. Le personnel est très agréable, nous conseille sur ce que l'on peut visiter sur l'île et nous indique de bons restaurants.
Would Recommend: Yes
Owner Response:
Thank you so much for your lovely review! We are very happy that you enjoyed your stay with us. Merci beaucoup!
19th April 2022:

Good and clean place. Owners are super helpful.we really enjoyd our stay!
Would Recommend: Yes
18th April 2022:

This is a wonderful hostel. The staff are genuinely friendly. Their local knowledge and willingness to help is wonderful. Hope to be back soon. Thank you. 😁 🌼
Tips:
Just ask the staff, they have great ideas. 😊
Would Recommend: Yes
Owner Response:
Thanks so much for taking the time to review us! Your review is our first in two years after being closed due to the pandemic. We all hoped we could still remember how to run a hostel so your kind words have helped immensely with the "new start nerves"! We're very happy to hear you enjoyed your stay with us! Haste ye back! x
.