Angels' Share
Kemble Gardens Teangue Sleat
Tel: 07932972994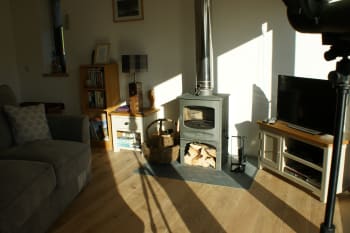 Angels' Share is a modern contemporary holiday cottage situated in Teangue, Sleat which is known as the Garden of Skye. A short trip from the Skye Road Bridge or from the Ferry port at Armadale will bring you to the cottage through some amazing scenery amid the tranquillity and beauty of this area. Angels' Share has been architecturally designed by the owners and a local architect to provide a relaxing, warm and unique experience on the Isle of Skye. The cottage complements the surrounding area and offers an immersive experience of the nearby natural environment. Every effort has been made to ensure that guests leave feeling relaxed, looked after and wishing to find out more about Skye. The owners live nearby and are happy to help, offer guidance but more importantly not disturb your time and leave you in peace to enjoy the tranquillity and comfort that Angels' Share provides in abundance.
Availability
There are no rooms available at Angels' Share
for these dates.
Please try other dates or select a
different property
.
cottages
Max:
Contemporary architect designed more >
Contemporary architect designedRoom Facilities:
Ceramic Hob
Cooker
Crockery & Utensils Supplied
Digital Television Channels
Dishwasher
DVD Player
Electric Shaver Point
Freezer
Fridge
Fridge/Freezer
Games Console
Hairdryer
Ironing Facilities
Kitchen
LCD/Plasma Television
Linen & Towels Supplied
Living Room
Log Fire
Microwave
Multi Fuel Wood Burning Stove
Private Car Space
Radio
Satellite Television Channels
Sea/Loch View
Shower Room
Tea/Coffee
Television
Tumble Dryer
Underfloor Heating
Washing Machine
Facilities
Wi-Fi
Café / Restaurant (nearby)
Shop (nearby)
Policies
Check In: Between 16:00 and 20:00
Check Out: Between 10:30 and 11:00
Wi-fi: Wireless internet is available and is free of charge.
Smoking: There is no smoking permitted anywhere within the property.
Parking: Parking for all guests is available on site and is free of charge.


Children: Children of all ages are welcome.
Pets: Pets are allowed and can stay free of charge.
Groups: All groups are accepted.
Average
5.0
out of 5
12 reviews
100% recommend
Reviews
16th June 2021:

The Angels share is an absolute gem of a place to stay in a great location. The decor is tasteful (we loved how you have Scottish touches throughout without being tacky). The cottage is well equipment and had everything we needed. The welcome basket is a particularly nice touch. We had absolutely nothing to complain about during our stay and can't wait to return!
Tips:
Buy midge repellent, skye midges are fierce 😂 The Red Skye restaurant is worth a visit. The local Co-op in Broadford has a decent selection of food to stock up the fridge
Would Recommend: Yes
Owner Response:
Leeanne Thank you for your kind review. We are happy you enjoyed your stay in Angels' Share. We do our best to ensure the best experience. Can only agree Midgies can be fierce but luckily they are not about all the time. We would happy to have you back anytime.
11th June 2021:

Angels share was an absolute fantastic holiday for us .Mhari and John were so welcoming .They have thought of every detail in there lodge and the log fuel fire was a bonus for us as we loved it .we would recommend this lodge to anyone who wants to see Skye .It is 10 miles from Broadford where there is all amenities you would need ..A huge thank you to you both ...
Tips:
Fairy pools is a must Plockton is just over Skye bridge its beautiful too Skye itself is stunning and is a must see for everyone in our option.
Would Recommend: Yes
Owner Response:
Thank you we really appreciate your review and comments. We strive to make a visit to Angels' Share and the Isle of Skye a memorable occasion for all.
5th October 2020:

excellent holiday home - couldn't fault it!
Tips:
Kinloch lodge does a lovely Sunday Lunch with a nice walk afterwards within Kinloch Forest to see an abandoned village
Would Recommend: Yes
Owner Response:
We are so glad that Angels' Share met all your expectations and you had a great time here. We work hard to ensure guests have an enjoyable time. Hope to see you again sometime.
16th September 2020:

John and Mhairi were excellent mine hosts. Wonderful Highland hospitality to welcome us to beautiful Skye. From the very thoughtful welcome pack on our arrival, to the offer of giving us any information about Skye itself should we need it. Their eye for detail in their beautiful holiday accommodation was a credit to them. Everything you would need for a comfortable stay was thought of. The location of Angels Share is convenient for the Skye Bridge, and also,more so for the Armadale ferry. Thanks to you both for your hospitality. Jane and Douglas, Glasgow.
Tips:
All I would say is that no matter where you travel in Skye, one place is just as beautiful and dramatic as the next!
Would Recommend: Yes
Owner Response:
We are really happy you enjoyed your stay at angels' Share. We work hard to ensure that our guests will enjoy the experience and will return to Angels' Share and Skye again. Thank you for your kind words we would be happy to host you again anytime.
1st September 2020:

Fantastic location, brilliant hospitality and loads of really thoughtful touches to the cabin. Very dog friendly and a really nice cosy place to spend a few days!
Tips:
Lovely short walk to the ruined castle behind the Distillery - only 5 mins walk from the property!
Would Recommend: Yes
Owner Response:
Thank you very much for your kind review. We do our best to make Angels' Share and visits to Skye a memorable occasion. We also love the walk to the castle and along the beach as well.
15th August 2020:

Great location, super clean, friendly but not intrusive hosts.
Would Recommend: Yes
24th March 2020:

Always at hand and very informative about the island as to where the best places to go and see.
Tips:
Great central place to get to the ferry from Armadale to Mallaig.lots of nice walks In the area
Would Recommend: Yes
Owner Response:
Thank you for you review we appreciate it. We try hard to provide an enjoyable experience
16th March 2020:

Angels Share was everything we wanted it to be and more ! Unbelievable place with absolutely everything you could ever need right down to egg cups, espresso maker, tupperware, special towel for our dog Lil, you name it, John and Mhairi have thought of, and provided it. Lovely, genuine, amazing couple who have created a real home away from home which we were lucky enough to experience - book it while you can !
Tips:
Speak to John while you are staying - he is a wealth of local knowledge. Make sure you visit Armadale for Maggie Zefera pottery - stunning products.
Would Recommend: Yes
Owner Response:
We really appreciate your glowing review and we are really happy you enjoyed your stay with us. As you say we try to anticipate guests requirements and the little things that make a stay with us special. Hope to see you back in future.
7th March 2020:

Great location, beautiful accomodation with everything you need.
Would Recommend: Yes
4th March 2020:

The owners were friendly and helpful. The small touches they made were really appreciated, such as the welcome pack and card, the reusable face wipes, binoculars, telescope, games etc. What a lovely place to say, thank you
Tips:
Fairy pools Brothers point Neist point Coral beach Kilt rock Let falls
Would Recommend: Yes
Owner Response:
Thank you for the review. We try hard to make stays at Angels' Share a very good experience.
3rd March 2020:

Immaculate and stunningly presented
Tips:
Perfect place for exploring the area.
Would Recommend: Yes
Owner Response:
Thank you so much for this review of Angels' Share. We are glad you enjoyed your stay and look forward to seeing you on a future visit to the beautiful Isle of Skye. We work hard to make stays at Angels' Share an unforgettable experience to add the beauty of Skye.
25th January 2020:

The perfect and friendliest hosts we could ever hope to meet. We really were made to feel that we could go to them at any point if we needed any suggestions. They made us feel so very at home and we cannot thank them enough.
Tips:
John and mhairi were excellent hosts who recommended places for us to visit whilst staying in Skye. They have a plethora of books on walking tours of the Isle and it was perfect, we thoroughly enjoyed visiting The Fairy Pools! The Bar am Praban was our only meal out as we enjoyed cooking whilst we stayed but it was beyond perfect, the atmosphere was amazing and the food was unbelievably delicious.
Would Recommend: Yes
Owner Response:
Thank you for your review and we are happy that you had a great time at the cottage and on the Isle of Skye. We work hard to ensure that guests have a great experience.
.