Redwood House
Greshornish
Tel: 01470582203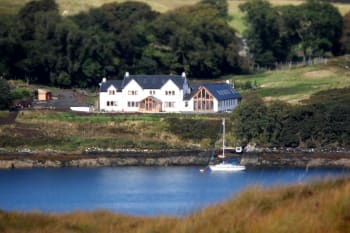 Located in the Greshornish peninsula in the North West of the Isle of Skye, we are ideally situated for exploring the Isle of Skye, being only 25 minutes from Portree on the East, 15 minutes from Dunvegan on the West and 40 minutes from Uig on the North. The approach to Redwood House is via a 2 mile single track road, skirting the shoreline, with sheep and lambs roaming freely. Look carefully and you may see a Buzzards or other bird of prey in this remote part of Scotland. Once here, its time to start to relax and enjoy the breathtaking loch side views which may include the occasional otter, seal or heron.
Availability
There are no rooms available at Redwood House
for these dates.
Please try other dates or select a
different property
.
rooms
Facilities
Courtyard
Disabled Access
Garden For Residents' Use
Internet Access
Policies
Check In: Between 16:00 and 22:00
Check Out: Between 8:00 and 10:30
Wi-fi: Wireless internet is available and is free of charge.
Smoking: There is no smoking permitted anywhere within the property.
Parking: Parking for all guests is available on site and is free of charge.


Children: Children aged 14 or over are welcome.
Pets: Pets are not allowed.
Groups: Groups are accepted up to a maximum of 8 people. No stag and hen groups.
Average
4.7
out of 5
22 reviews
100% recommend
Reviews
19th October 2021:

Would Recommend: Yes
30th September 2021:

A more varied dinner menu and toast as an alternative to croissants would have been appreciated. We realise it's difficult to cater for all tastes at this time.
Tips:
The Old Schoolhouse in Dunvegan is excellent
Would Recommend: Yes
30th September 2021:

Would Recommend: Yes
26th September 2021:

Lovely, spacious and clean rooms - bit far off the beaten path, but in a lovely location Loch side. Covid issues did affect what staff were able to do, but they were as helpful and obliging as possible. Continental breakfast had lots of choice and evening meal available on some nights - we had steak, which was excellent.
Tips:
Good location for visiting lots of attractions, including Dunvegan Castle and gardens, Neist Point Lighthouse (lots of quite steep steps, so be prepared!). We did a guided wildlife tour organised through www.skyewildlife.com, which was excellent (despite the rain!). We saw otters, dolphins, golden eagle, sea eagle, seals and a lot more of the island that we would probably have missed otherwise. Well worth the money. We saw the fairy pools and drove through the Cuillin mountains in the south. Be aware a lot of eating places were either booked up or closed, so check in advance.
Would Recommend: Yes
21st September 2021:

Lovely accommodation and great staff
Tips:
The Old School House at Dunvegan is a nice place to eat as is the Edibane Inn. We enjoyed walking The Quadrant..but get there early so you have no issues with parking
Would Recommend: Yes
21st September 2021:

Redwood House is in a beautiful rural setting with views over the loch. The room was comfortable and spotlessly clean. Would definitely return and recommend to other people.
Tips:
Lots to see and do around the area for all interests. The limited evening menu was good and a more extensive menu would be welcome to avoid having to go out to eat, although there are good eating establishments near by. Would recommend the Edinbane Inn, which was the only one we tried during out two night stay.
Would Recommend: Yes
20th September 2021:

Superb quiet location, clean spacious accommodation. Friendly informal atmosphere.
Would Recommend: Yes
14th September 2021:

The cottage was super convenient for everything I wanted. The team worked tirelessly to make guests comfortable, dinner menu was more than adequate and breakfast hard to fault. I'd love to return, and hope it won't be long until you're back to full strength. Thanks! A few small maintenance jobs but understand the backlog (it's the same in the apratment block where I live!)
Tips:
On a map, it looks remote,but just 15 minutes out of Portree the best of the island isn't far away... Coral Beach, Dunvegan Castle, Uig ferry port and the north. There's also a slipway into the loch, making access for kayaks and SUPs a breeze. Cottages are super value, with cooking facilities and baths... joy after a day's hiking or driving.
Would Recommend: Yes
13th September 2021:

Stunning location Friendly and helpful staff
Tips:
Edinbane pottery, Dunvegan castle & Gardens Isle of Raasay distillery and numerous art, crafts across Skye.
Would Recommend: Yes
6th September 2021:

Would have liked a hot breakfast but quite understand why they are doing continental breakfast.Room very spacious and really good view of the lock.
Tips:
Restaurant only open on certain days but worth booking a meal there.
Would Recommend: Yes
6th September 2021:

Beautiful hotel in a fantastic setting. Rooms were immaculate. Food options currently limited due to staffing shortages.
Would Recommend: Yes
1st September 2021:

Enjoy my stay in this remote location.views were amazing.very quiet and relaxing
Tips:
At this busy time of year you need to try book trips and restraunts before you come
Would Recommend: Yes
28th August 2021:

Beautiful location. Very friendly, helpful and informative.
Tips:
The Dunvegan, Edinbane Inn and Greshornish House are very good for dinners. Things worth doing include walking to The Old Man of Stor, Neist Point Lighthouse and Portree town. Great walking at Sligachan, close to the Cuillin Mountains.
Would Recommend: Yes
13th August 2021:

Very nice location and home. Hosts are friendly and breakfast was delicious. Would recommend to anyone looking to stay in the Oban area.
Would Recommend: Yes
10th August 2021:

Would Recommend: Yes
9th August 2021:

Staying at Redwoord Lodge was the highlight of our time in Scotland. We stayed in one of appartments. We absolutely loved it! From the beautiful luxurious bedroom to the lovely decor to the quiet feel of the place to the wonderful restaurant, it was all perfect! A top place to stay and we will hope to return. Thank you for a fantastic stay
Tips:
Old Man of Storr and the Fairy waterfalls are must visits! Stunning scenery and it's possible to swim in the waterfalls. Bracing but so worth it! Portree has some nice places to eat. The hotel next door has a lovely restaurant too but book in advance. We popped over but they were fully booked.
Would Recommend: Yes
6th August 2021:

We received a warm welcome to a comfortable hotel, even from the 2 resident cats! The rooms were clean and comfortable, some with views over the loch. The breakfast in a bag is a substantial offering that could see you through the day. We were unable to sample the Tapas menu for the evening meal having already booked at local restaurants. But the bar provided us with a good selection of wines and local Skye ales.
Tips:
A car is required as most local experiences are at least 20 mins away. There are good restaurants nearby in Dunvegan including the Old School or the Misty for a carry out pizza. Other attractions include The Old man of Storr, Quiraing and further afield, the fairy Pools and numerous Munros to climb in the Cuillins further south.
Would Recommend: Yes
4th August 2021:

Peace and quiet
Tips:
Amazing views
Would Recommend: Yes
20th July 2021:

The only reason I rated facilities at 4 was that the dining room hadn't opened yet but hopefully that will change soon.
Would Recommend: Yes
2nd July 2021:

It felt like home from home.Chris was exceptional host. Even enjoyed the sheep on the drive in, which added to the experience. A very convenient location for exploring the highlands and we hope to return soon. And would certainly recommend to anyone.
Would Recommend: Yes
28th June 2021:

Brilliant stay, such a beautiful location and welcoming host. 10/10!
Would Recommend: Yes
26th May 2019:

Lovely location. Friendly staff. Nice big room
Tips:
Spend time at Redwood-lovely setting
Would Recommend: Yes
.