An Cala Beag (The Little Haven)
8 Hallin Park
Tel: 07730280804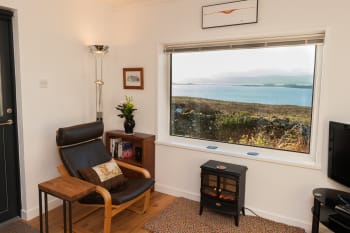 'An Cala Beag' (The Little Haven) is a newly converted self-catering apartment for two adults, is in a stunning location tucked away off the road, on the beautiful Waternish Peninsula, Isle of Skye. From the large picture window you will look out at amazing views across the islands of Clett, Mingay & Isay and the sea to the Outer Hebrides. The apartment has an open plan lounge, kitchen and dining area. There is a separate bedroom with an en-suite shower room. The lounge area has two comfy leather chairs, a flame effect electric fire, flat screen TV with FreeSat, DVD player & free Wifi. Books, films, magazines, maps, games are at hand if you tire of the ever changing 'picture' outside. The kitchen is well equipped with plenty of cupboard space, full size oven with ceramic hob, microwave, fridge with small freezer compartment and bread maker. Please note there is no washing machine in the apartment but we would be happy to wash anything for you. There is a porch & parking adjacent to the property.
Availability
There are no rooms available at An Cala Beag (The Little Haven)
for these dates.
Please try other dates or select a
different property
.
units
Max:
En suite
Room Facilities:
ALL Rooms Non-Smoking
Cooker
Dining Area
Ensuite Bath/Shower Room In Unit
Fridge
Kitchen
Sea/Loch View
Policies
Check In: Between 17:00 and 21:00
Check Out: Between 7:00 and 10:00
Wi-fi: Wireless internet is available and is free of charge.
Smoking: There is no smoking permitted anywhere within the property.
Parking: Parking for all guests is available on site and is free of charge.


Children: All guests must be 18 or over, no children are allowed.
Pets: Pets are not allowed.
Groups: Groups are accepted up to a maximum of 2 people. No stag and hen groups.
Average
5.0
out of 5
23 reviews
100% recommend
Reviews
12th September 2022:

Very friendly and helpful hosts who were always available to offer advice if required. The welcome gifts of home made fresh bread, shortbread and jam were very tasty and well appreciated. The loan of binoculars was another bonus for us and we enjoyed watching the deer from the picture window. The views from An Cala Beag are fantastic and the annex itself is so comfortable and clean. If we visit Skye again we would not hesitate to book another stay.
Tips:
If you like seafood lochbay is within walking distance and is well worth a visit. Coffee and cake at the Yurt was a pleasant experience. Many of the better known attractions on Skye such as Fairy Pools are very busy, we got more enjoyment from the local walks recommended by Michael and Hilary. The boat trip with Stardust from Portree was a nice break from walking and we enjoyed seeing dolphins and the Sea Eagle.
Would Recommend: Yes
Owner Response:
Hi David and Karen It was a real pleasure to welcome you, so glad you had a lovely stay, come back soon
27th August 2022:

Best place on Skye!
Tips:
Spellbinding view over the Hebrides
Would Recommend: Yes
Owner Response:
Lovely to meet you, so glad you enjoyed our little haven
12th July 2022:

Thank you for a great stay. We thoroughly enjoyed ourself when spending time at An Cala Beag.
Would Recommend: Yes
Owner Response:
Hi Christen and Marianne It was a real pleasure to meet and host you, so glad you enjoyed your time here.
14th June 2022:

An Cala Beag proved to be exactly what it said on the tin - a "little haven". Tucked away in one of the quieter corners of Skye (we planned our trips to other parts of the island carefully to avoid too much driving), the views out to the Outer Hebrides were stunning, and such a sense of peace - outside on the terrace in the hot weather and in the cosy lounge with its picture window on the more blustery days! Hilary and Michael gave us a lovely welcome (including home-made bread and jam), and some good tips for where to walk etc. They are wonderful hosts whenever a question needs to be asked, and always on hand, but at the same time the annexe property never felt anything less than entirely private. Really well kitted out - great sized bedroom, and the kitchen had everything we needed and more. Everything so clean when we arrived, and a real sense of love and care about the place. Couldn't recommend An Cala Beag more highly.
Tips:
Do visit the Cuckoo Tree art gallery along the road at Waternish. Really striking prints. For eating out - we would really recommend Chidakasha - an intimate, very welcoming vegetarian restaurant in Glendale (much of what we ate was grown on the surrounding land); and for a more formal - but equally welcoming - meal, we also went to Edinbane Lodge, which was also stunningly good for vegetarians (though our neighbours said the venison was amazing too!).
Would Recommend: Yes
Owner Response:
Helen and Laurence, it was an absolute delight to host you, thank you for your very kind words and helpful tips for future guests. Come back soon. Hilary and Michael
4th June 2022:

Friendly and helpful.
Would Recommend: Yes
Owner Response:
Lovely to meet you
26th March 2022:

Really woderful stay!
Tips:
If you want to dine locally make sure to book in advance!
Would Recommend: Yes
Owner Response:
Hi Aurelia, really lovely to meet you, glad you enjoyed your stay, good tip for future guests
29th October 2021:

What a beautiful little spot, it really is a haven after a busy day of sightseeing. The views are priceless, the welcome from Hilary and Michael was so warm and friendly and we instantly felt right at home. The house is really well equipped, has everything you need for your stay. The bed is so comfy and cosy, just what you need after a busy day. Absolutely stunning, we loved it!
Tips:
The beauty of this house is it's location so suggest you pack a few essentials for dinner on the first night. There are pubs and restaurants within a short drive but we were happy to stay in and cook in the evening. So much to see and do on Skye, where to start… we loved the scenery and the wildlife. We booked an organised wildlife tour (land-based so no disturbance to wildlife) which was amazing and well worth it. And of course, the hospitality and friendliness of everyone we met was amazing.
Would Recommend: Yes
Owner Response:
Hi Lynne and Austin It was really lovely to meet you both and we are delighted that you enjoyed your stay so much, thanks for the comments and tips for future guests, come back soon. Hilary and Michael
2nd October 2021:

A wonderful place to stay. We chose this place because of the spectacular views and also because it offered much more space and privacy than the many glamping cabins on offer. It was immaculately clean and the bed was so comfortable we had great nights sleep. We also appreciated how communicative our hosts were. It makes the whole booking process so reassuring. We travelled around a lot of Skye and felt that this was up there as one of the most picturesque locations.
Tips:
Highlights were Coral Beach, Dunvegan Castle, padddleboarding on the Loch under The Old Man of Storr. We were happy driving around the island mesmerised by the spectacular views, ever-changing weather and endless rainbows. On a practical level, many local shops and restaurants were closed on Monday and Tuesdays which was a small inconvenience.
Would Recommend: Yes
Owner Response:
Hi Gabrielle and Tim So glad you enjoyed your stay and you certainly made the most of your time on Skye, lovely that you appreciated our little haven Hilary and Michael
15th July 2021:

Hilary & Michael are really lovely and will make you feel very welcome. The wee extra touches of home made bread & jam etc were a sweet touch. The apartment is excellent quality and very comfortable. We felt very relaxed and cosy there. Admin was simple & straightforward too. It was a pleasure to stay there.
Tips:
The whole of Skye - just enjoy the space and peace & quiet. If you're fit enough, walk up to The Old Man of Storr - you won't be disappointed.
Would Recommend: Yes
Owner Response:
Hi Gordon and Martin, It was lovely to meet you and we are delighted that you enjoyed your stay. Come back soon.
17th June 2021:

First class accommodation in a beautiful setting, amazing views from large picture window in lounge. The bedroom is a really good size with plenty of storage and an extremely comfy bed. Great shower in en-suite. Kitchen is very well equipped. Lovely little seating area outside.
Tips:
Would recommend Edinbane Inn which is only 30 minutes drive away. Lots of great walking the coastal walks have beautiful views.
Would Recommend: Yes
Owner Response:
Hi Jane and Paul, it was a real pleasure to host you, we are delighted that you loved our accommodation. come back soon
11th May 2021:

An Cala Beag feels like a little heaven given its perfect location on Waternish Island, which clearly seems to be a silent spot on a busy island. We have traveled around on Sky and it was nowhere as empty and silent as in the Little Heaven. Having such a great view on the Bay is a lgreat at any time during the day. The accommodation is throughout of very high standard and one feels very quickly at home.
Tips:
Luckily after several attempts we made it to Stein in time for a beer and also made a reservation for dinner the next night. The location is stunning and another reason for Waternish to be the perfect location on Sky. The food was of very good quality and is reasonably priced. The staff is friendly - what more do you want from a local Gastro Pub? We had no chance to also test the 5 star restaurant next to the pub as it only opens up this week? Next time.....
Would Recommend: Yes
Owner Response:
Hi Thomas and Ursula It was lovely to meet you and we are so glad you enjoyed your stay and our peaceful location. Come back soon Hilary and Michael
3rd January 2020:

Lovely location and hosts. The cottage had everything we needed and was very cosy. Bed is really comfy and the shower is also great. Would defiantly stay here again, thank you!
Tips:
Stein inn is fantastic for good food at reasonable price.
Would Recommend: Yes
19th July 2019:

Would Recommend: Yes
1st July 2019:

We chose An Cala Beag for a 4 night stay from 22nd-26th June 2019, primarily because we were planning a boat trip to St Kilda which leaves from Stein just a couple of miles along the road. We could not have picked a more stunning location and we were mesmerised by the view over the nearby small islands and then over to the outer Hebrides in the distance. The apartment feels like home as soon as you enter and has everything a couple or single person could ever need and is furnished in a contemporary , tasteful yet cosy style. Hilary and Mike are warm and welcoming and you feel you are in very safe hands as they do not intrude in any way but are there to assist and easy to contact should any problems arise. We also received great hospitality from Hilary and Mike both when we arrived and once they discovered our trip had been planned as a special celebration. The stay at An Cala Beag could not have been more perfect and we have already highly recommended it to several people. We just can't wait to return ourselves.!
Tips:
We celebrated my birthday with lunch at The Lochbay Seafood Restaurant which was excellent. The Stein Inn is also a must to try. We decided to stay relatively local during our stay and we were treated to a spectacular sunset on the evening of our arrival...the area is renowned for this. If the weather is good , it is a joy to just to sit in the garden at An Cala where you have your own private outdoor seats and small table. A trip to the famous clan massacre Trumpan just a few miles along the road is a must and there are several stunning walks you can access in the area, and also several ancient Duns and brochs to explore,one of which, Dunhallin, is within walking distance of the apartment. A trip to the fabulous Skyeskins is highly recommended and the ( free) demonstration of the tanner's processes was so interesting..but beware.. you will not be able to resist coming home with something 'sheepy' from the shop.!! Skyeskins also has a big yurt outside which serves wonderful tea, coffee and cakes..not to be missed!! The Waternish area feels very peaceful and remote and yet Dunvegan and indeed the rest of all Skye's attractions....far too many to mention, can all be accessed within a relatively short time. Visitors will not be disappointed with a stay in this beautiful less discovered part of Skye.
Would Recommend: Yes
2nd May 2019:

Lovely friendly hosts but not intrusive. Great advice about local activities. Good guidebooks provided in the apartment. Clean, well appointed apartment. Very kind homemade welcome gifts.
Would Recommend: Yes
21st July 2018:

Fantastic accommodation, amazing location, stunning views, friendly & thoughtful hosts!
Tips:
Dunvagen Castle, Skyeskyns, The Inn at Stein
Would Recommend: Yes
13th July 2018:

Would Recommend: Yes
12th June 2018:

This location really is "A little haven" !
Would Recommend: Yes
Owner Response:
Hi Pierre, thrilled that you had such a lovely time.
2nd June 2018:

We wanted somewhere off the beaten track and we got it but we didn't really expect anything like An Cala Beag; superb facilities, spotlessly clean and the warmest of warm welcomes from Hilary and Michael. It really did feel like home for the 3 days we stayed there. Great walks, stunning scenery and local legends on the doorstep (visit Trumpan church to find out more!) We'd love to go back but it won't be soon - it's probably booked up for years now!
Would Recommend: Yes
Owner Response:
Hi Bob, many thanks it was lovely to meet you, you certainly packed a lot into your stay. Hilary and Michael
1st June 2018:

What a great place! We recommend it to everyone!
Would Recommend: Yes
Owner Response:
Hi Jenny, glad you liked our little haven. Hilary and Michael
23rd May 2018:

We were very happy to get the chance to stay at An Cala Bear for some nights. The setting is mind blowing! And the hosts are really nice! Thanks a lot!
Would Recommend: Yes
Owner Response:
Hi Gaëtan and Maurine, Many thanks for your kind words, glad you appreciated the setting. Hilary and Michael
7th October 2017:

We absolutely loved this place - home from home in beautiful surroundings and peace and quiet! Very thoughtful, helpful hosts. Absolutely recommend and if we return to Skye in future, we wouldnt consider anywhere else.
Tips:
We found this a good base for exploring the places we wanted to visit in the north of the island - we didnt really see much of the south. The Stein Inn is not far away for meals, but otherwise it's a good idea to stock up on groceries at Dunvegan or Portree, or stop somewhere for food on the way out/back from each day's adventures. Hilary & Michael recommended the bakery in Dunvegan for breakfast which was incredible - great food at unbelievable value. We bought some delicious cakes for later in the day too and considered calling in again on the way back for more!
Would Recommend: Yes
26th June 2017:

We had a lovely stay at An Cala Beag. Very comfortable, nicely decorated would highly recommend.
Would Recommend: Yes
.