The Old Inn

Tel: 01478 640205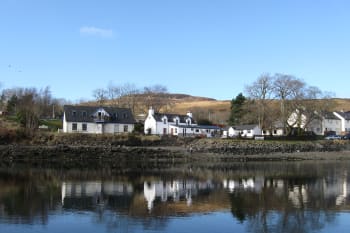 The Old Inn & Waterfront Bunkhouse is set on the shores of Loch Harport on the Isle of Skye. We offer 6 bed and breakfast rooms and a 24 bedded bunkhouse. Perfect for hillwalkers, travellers passing through, or holiday makers looking for somewhere from which to explore Skye. The award winning Old Inn pub provides the ideal place to unwind, listen to Highland music and sample our fine food and drinks. Available all day everyday. We have the Talisker whisky distillery and Isle of Skye Boat Hire on our doorstep and command spectacular views of the Cuillin hills.
Availability
There are no rooms available at The Old Inn
for these dates.
Please try other dates or select a
different property
.
units
Facilities
Bar Available
Beer Garden
Breakfast Room
Café / Restaurant (on site)
Drying Facilities
Laundry And Dry Clean (Charge)
Packed Lunch By Arrangement
Restaurant
Policies
Check In: Between 17:00 and 23:45
Check Out: Between 6:00 and 10:00
Wi-fi: There is no wireless internet available.
Smoking: There is no smoking permitted anywhere within the property.
Parking: Parking for all guests is available on site and is free of charge.


Children: Children of all ages are welcome.
Pets: Pets are allowed at a charge of £10.00 per day.
Groups: All groups are accepted.
Average
4.8
out of 5
15 reviews
100% recommend
Reviews
25th June 2021:

Would Recommend: Yes
24th June 2021:

Very friendly and efficient staff who were helpful and accommodating.
Tips:
The food at The Carbost Inn was so delicious on the first we decided to eat here for the rest of our stay. Great decision.
Would Recommend: Yes
23rd June 2021:

It's a home from home. So friendly, so comfortable with views to die for.
Tips:
Food at the inn is fabulous thanks to Hazel and the team. Lots of things to see and do but it's for the traveller to find out!
Would Recommend: Yes
23rd June 2021:

Very nice spot, with a gorgeous view and a cute wee pub, with very friendly staff! Off the beaten track which is nice and still close enough to get to spots!
Tips:
Great spot to get away, it is quite isolated and off the grid, the wifi is only in the pub but makes it kind of nice to be disconnected. Close by to the fairy pools (about 30 min drive) and Portree is only about 40 min away or so. The pub attached is great, and the distillery is right next door!
Would Recommend: Yes
22nd June 2021:

Tips:
Nice Scottish style living
Would Recommend: Yes
21st June 2021:

Great place to stay, staff were brilliant, good food and great ale. On the day we departed we had to leave before breakfast and they made us a very nice packed lunch to take with us.
Would Recommend: Yes
21st June 2021:

Wonderful, welcoming place to stay and top notch food
Would Recommend: Yes
19th June 2021:

Lovely characterful inn with beautiful location & friendly staff
Would Recommend: Yes
19th June 2021:

Setting is absolutely beautiful. Accommodation is perfect, clean and tidy. Plenty of tea, coffee etc and also plenty of toiletries also provided. Cannot fault this place. Staff are friendly and helpful. Food and drink excellent. Breakfast is the best I have had and I've stayed in many places.
Tips:
Beautiful location for a tranquil stay. The old inn is just lovely and welcoming. Plenty of outside seating too to enjoy the views. Also parking available.
Would Recommend: Yes
18th June 2021:

Would Recommend: Yes
18th June 2021:

Would Recommend: Yes
18th June 2021:

All staff friendly and welcome
Tips:
There is a kitchen where u can cook yourself!! Pub has same menu daily!! Although they do offer specials 😊
Would Recommend: Yes
13th June 2021:

Excellent food and attentive service. Very warm and genuinely friendly atmosphere
Tips:
Obviously very convenient for the Black Cuillins. Would also recommend day trip to Rassay. Ferry fairly frequent and really cheap at c £4 return for foot passengers, lovely walks, roads with virtually no cars, an interesting history and a new distillery
Would Recommend: Yes
2nd January 2020:

Would Recommend: Yes
27th December 2019:

One of my favorite places in the world! Any chance I have to come back here I always make the trip. Love the Old Inn and Carbost.
Would Recommend: Yes
.