Cabin by the Sea
Heron Cottage, Luib
Tel: 01471822840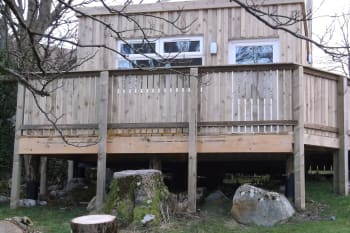 The Cabin by the Sea is a rustic, rural retreat designed for two people, set in around half an acre of mature grounds and with a large area of decking. Approximately twenty metres from the beach, it is a fully self-contained cabin with en-suite bathroom and kitchen facilities. TV, Wi-Fi, and private tarmacked parking, offering unrivalled sea and mountain views across Loch Ainort to the Red Cuillin. The Cabin by the Sea is perfect for kayakers, climbers, fishermen, photographers, bird and wildlife watchers or those who simply want to relax and get away from it all. Otters, Dolphins, Seals, Sea Eagles, Golden Eagles, Buzzards, Herons, Ducks and Divers are a common sight from your armchair or decking and there are also resident populations of Red Deer, Stoats, Weasels and Pine Martens.
Facilities
Café / Restaurant (nearby)
Fishing
Garden For Residents' Use
Golf Course (nearby)
Hiking
Luggage Storage
Shop (nearby)
Terrace
Wi-Fi
Policies
Check In: Between 14:00 and 23:45
Check Out: Between 8:30 and 9:30
Wi-fi: Wireless internet is available and is free of charge.
Smoking: There is no smoking permitted anywhere within the property.
Parking: Parking for all guests is available on site and is free of charge.


Children: Children of all ages are welcome.
Pets: Pets are allowed at a charge of £20.00 per stay.
Groups: Groups are accepted up to a maximum of 2 people. Stag and hen groups are allowed.
Average
4.8
out of 5
14 reviews
100% recommend
Reviews
13th September 2021:

Cabin by the sea is set in a beautiful location. Great views. The host Ann was there to meet us. She was very friendly and gave us lots of good information about the area. She walked us to the cabin and ensured we were settled in.The cabin itself is no frills accommodation but has everything you need for a stay. Facilities were basic but met our needs. The only (small) issues were the kettle that took forever to boil, dodgy WI-FI and a slight smell of stale cigarette smoke. Non of which was enough to spoil our stay.
Tips:
Seamus' bar in the Sligachan Hotel (10 min drive) serves excellent food in fantastic,relaxed surroundings. When we were in, there was a live folk band playing in the background. Perfect. We did a boat trip with Seafari Experience in Portree which was excellent. We saw Sea eagles, Seals and Porpoises. The highlight though was seeing a pod of Dolphins! We also visited the Fairy Pools which were stunning. Even managed to fit in the local half Marathon. We will be back!
Would Recommend: Yes
14th June 2021:

The cottage is in a beautiful location. It is very clean cosy and comfortable . Ann is a very pleasant lady and very helpful.
Would Recommend: Yes
17th May 2021:

I have recently enjoyed a few days away with my husband at 'The Cabin by the Sea'. The scenery was wonderful, TV was not required!!!! If you are lucky enough to enjoy good weather, the decking area would be lovely for sitting out. The cabin itself is very cosy. Well laid out with everything you need for a few days. Spotless clean with lovely bed and bedding. Good cooking facilities but I understand there is not enough space for an oven. Maybe a combi microwave oven might have been beneficial. The underfloor heating is very good so we were very cosy. I would say the only thing missing was perhaps a bit more storage space as we only had the two bedside cabinets to keep our clothes in. Apart from that I would highly recommend this beautiful spot. The owner, Ann was very friendly and welcoming to both us and our wee dog. Would return.
Tips:
Be aware of the Fairy Pools challenging, although it seems that they are going to build bridges above the burns. Note that the nearest shop is 7 miles away in Broadford, although the Co-Op is very well stock
Would Recommend: Yes
18th November 2020:

Would Recommend: Yes
20th October 2020:

Would Recommend: Yes
15th October 2020:

Incredible hospitality!
Tips:
Fish and chips at Donald John's
Would Recommend: Yes
23rd September 2020:

The Cabin by the sea is a wonderful place to stay and in a beautiful location. The cabin is clean and well stocked, there was only a few niggles that may want to be looked at the WiFi was poor and intermittent, the tv had no aerial so only smart tv but due to WiFi this was also intermittent. Saying that this was only to be used in the evenings as the days were spent exploring. The fuse board isn't powerful enough when cooking and kept tripping out. Those things aside I would not hesitate to return and loved our time on Skye.
Tips:
The location is perfect for exploring as there is so much to see and do.
Would Recommend: Yes
13th September 2020:

Lack of drying facilities for wet walking gear, but everything else was excellent.
Tips:
Excellent base for exploring the whole island. Walks straight from the door and kayaks can be launched from the garden.
Would Recommend: Yes
6th September 2020:

Lovely little cabin very compact perfect for 2. A minor thing although the trees were lovely they spoiled the view to the shore line. You could see the loch from each side but not straight on. Otherwise a quite spot to end the day. Ann met us on our arrival and showed us the facilities. We new we could call her if we needed her.
Tips:
Harbour Restaurant worthwhile and dont miss the oyster shed above the Talisker distillery
Would Recommend: Yes
16th August 2020:

Lovely location and couple, had a great week staying here
Would Recommend: Yes
14th July 2020:

Lovely little cabin with everything you need a short drive nearby. It's right on the water and is a lovely view!
Would Recommend: Yes
20th October 2019:

Fantastic wee cabin with stunning views over the Loch and the mountains. Sitting at the breakfast bar every morning watching the changing light play over the mountains and seeing the variety of birds in the trees in the garden makes this cosy wee cabin worth every penny.
Tips:
We didn't eat out much but the chippy in Broadford sells the best fish and chips EVER!!! Best advice I could give would be travel all over this fantastic island visit the towns and villages see the sights and enjoy all that the Isle of Skye has to offer - you won't be disappointed
Would Recommend: Yes
2nd October 2019:

It was absolutely perfect! Nice and cosy place to stay. Wonderful surroundings. Thank you very much.
Would Recommend: Yes
19th June 2019:

We were so thrilled with our stay at "Cabin by the sea", location was stunning and the cleanliness was impeccable. Yes it is compact but this is a big part of it's charm in our opinion. We even used the washing facilities that David and Ann have in the main house. We will definitely be trying to book for the canin in future.
Tips:
There is so much to do and see on the Isle of Skye whether you are interested in the hill climbing activities or just after a quiet relaxing break away from the hustle and bustle of everyday life and modern technology. The Cabin by the Sea is in an ideal place to call basecamp for your stay on the island.
Would Recommend: Yes
.