Dunshee Bed and Breakfast and self-catering
Dushee, 2 Roskhill, Dunvegan
Tel: 01470521772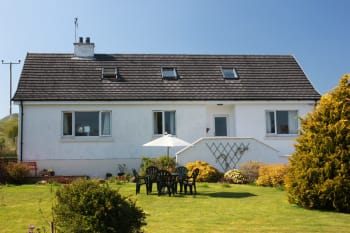 Dunshee bed and breakfast provides two types of accommodation; Dunshee self catering apartment with breakfast. The apartment provides everything guests need to cater for themselves. There is a bedroom, private shower room, spacious lounge/ dining area and a small kitchen. The kitchen has a cooker, microwave, toaster,fridge, kettle, washing machine etc. The King suite is situated on the first floor, with breakfast.The King suite has a large bedroom with en suite. There is a lounge/ dining area for guests with kettle and fridge. The apartment and the King suite have free WiFi and Flat screen TVs. There is a large selection of DVDs to watch. The property is set in a mature garden full of flowering shrubs and trees. There are several areas to sit and enjoy the outdoors. Dunvegan village is only 5 minutes drive for restaurants, garage, bakery, post office and general store.
Facilities
private lounge with TV and WiFi
garden furniture and patios
Dunshee apartment has a fridge, cooker, microwave, washing machine, kettle and toaster
King suite has a fridge and kettle
Early Breakfast By Arrangement
Garden For Residents' Use
Internet Access
Lounge
Policies
Check In: Between 16:00 and 18:00
Check Out: Between 8:00 and 10:00
Wi-fi: Wireless internet is available and is free of charge.
Smoking: There is no smoking permitted anywhere within the property.
Parking: Parking for all guests is available on site and is free of charge.


Children: All guests must be 18 or over, no children are allowed.
Pets: Pets are not allowed.
Groups: Groups are accepted up to a maximum of 2 people. No stag and hen groups.
Average
5.0
out of 5
15 reviews
100% recommend
Reviews
9th September 2019:

Great BNB with excellent hosts and good facilities. Would highly recommend.
Tips:
Good base to explore the Isle of Skye particularly if you like a quiet out of town location.
Would Recommend: Yes
31st August 2019:

Would Recommend: Yes
28th August 2019:

Wonderful host who cooked a beautiful breakfast for us.
Would Recommend: Yes
18th August 2019:

We had a lovely stay at Dunshee B&B. Everything was just perfect. The king suite was very big, confortable and the bathroom fully equipped. The breakfast was delicious (try the porridge). Our host was really friendly and make us feel at home. We regretted not to be able to spend another night.
Would Recommend: Yes
29th July 2019:

super nice location with wonderful owners. They are verry helpful in all questions and prepared a wonderful Breakfast
Would Recommend: Yes
14th July 2019:

Would Recommend: Yes
24th June 2019:

Would Recommend: Yes
21st June 2019:

The facilities and hosts were amazing, had a great stay! Definitely recommend!
Would Recommend: Yes
17th June 2019:

Would Recommend: Yes
28th May 2019:

Susanne was very friendly and helpful. We felt very welcome and the appartment was clean and nice. The homemade breakfast was delicious. Great place!!!! Thank you again. Annika und Cécile from Switzerland.
Would Recommend: Yes
17th May 2019:

Would Recommend: Yes
15th May 2019:

Lovely place.
Would Recommend: Yes
13th May 2019:

If there was a 10+ option we would definitely use it here. The hosts were warm and inviting and went out of their way to be helpful including making restaurant reservations. They offered recommendations of things to see and do down to where to get the best pictures of the Dunvegan Castle. The breakfast choices were delectable.
Tips:
The castle and grounds were well worth seeing. Every road leads to beautiful scenery. Trust Sue and Warren to lead you in the right direction.
Would Recommend: Yes
2nd May 2019:

Amazing Mrs Wood!!
Would Recommend: Yes
18th April 2019:

Our room was really cozy. All the details were carefully taken into account. We would highly recommend it to other travellers who would like to enjoy of Skye Islands. The breakfast was excellent!
Tips:
The hotel is very good located to go to see the Neist point, which is reallh worth it, and the Dunvegan castle.
Would Recommend: Yes
.