Speuran Mòra Studio
8 Teangue
Tel: 01471833707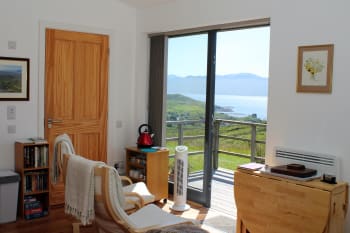 Availability
There are no rooms available at Speuran Mòra Studio
for these dates.
Please try other dates or select a
different property
.
cottages

Max:
Facilities
Disabled Access
Garden For Residents' Use
Hiking
Safe for valuables
Shop (nearby)
Wi-Fi
Policies
Check In: Between 15:30 and 22:30
Check Out: Between 10:00 and 10:30
Wi-fi: Wireless internet is available and is free of charge.
Smoking: There is no smoking permitted anywhere within the property.
Parking: Parking for all guests is available on site and is free of charge.


Children: Children of all ages are welcome.
Pets: Pets are not allowed.
Groups: All groups are accepted.
Average
4.9
out of 5
86 reviews
99% recommend
Reviews
9th November 2022:

very clean and cosy place great location very friendly and helpful hosts
Tips:
steep drive up - makes you feel it is an adventure
Would Recommend: Yes
23rd July 2022:

I am a regular at Speuran Mora. One always receives such a friendly welcome from Keith and Lynette. The studio has been set up with great care and attention to detail. Everything one could wish for is there. I will be back
Would Recommend: Yes
13th July 2022:

Speuran mora is a breautifully located, clean and well equipped studio apartment. It also has the bonus of a private verandah with fantastic views. Keith and Lyn are very helpful and friendly hosts.
Tips:
Torabhaig distillery and cafe. Walk to the point of Sleat
Would Recommend: Yes
6th June 2022:

Would Recommend: Yes
17th May 2022:

Beautifully located, with really nice facilities. Very friendly owners who leave you be, but help where they can.
Would Recommend: Yes
7th May 2022:

An amazingly beautiful place to stay. Every convenience has been thought of, the view is stunning, and we wouldn't hesitate to book again. A lovely place to retreat to for peace and quiet.
Tips:
Cafe Sia offers a great choice of food, including vegan. We would recommend Stardust boat trips out of Portree and the coral beach. Every turn in the road offers stunning views. We found it truly beautiful. We travelled back on the Skye ferry from Kylerhea to Glenelg. What a great experience. We would highly recommend this accommodation.
Would Recommend: Yes
30th March 2022:

This was a fabulous stay. The accommodation is clean and very well equipped and the hosts are really friendly and kind. I would definitely recommend a stay here to other guests.
Tips:
Must go to the Fairy Pools and the Old Man of Storr.
Would Recommend: Yes
6th October 2021:

Lovely, comfortable accommodation with fabulous view.
Tips:
Armadale castle, point of sleet walk (sturdy waterproof footwear required), Many other walks around Skye. Great fish and chips in Broadford, Good bar meals within 5 mile drive at Bar am Praban and Inn @Aird a Bhasair
Would Recommend: Yes
3rd August 2021:

Speuran Mora is idyllic, with fantastic views, and a really nice cosy place to come back to in the evening.
Tips:
For a fantastic dining experience in an intimate setting, try Scorrybreac, which is in Portree. Expect good, honest food showcasing everything Skye's got, including vegetables from the community garden, venison shot by the next door neighbour, and monkfish straight out of the harbour outside the restaurant door.
Would Recommend: Yes
4th July 2021:

Would Recommend: Yes
11th October 2020:

Perfect location, facilities and views! Lovely (socially distanced) talking with you both too! Thanks for the food starter kit and local suggestions too!
Tips:
Loads to do! Distillery and a ruined castle in walking distance - a bit of a slower walk back up hill but worth it! Dunscaith Castle a short drive away, another ruin with more great views. Pizzas at Sia in Broadford are fantastic. Food in the Hebridean Inn great too. Shops next to coop Broadford worth a visit! Further afield, Neist Point, Waternish, Quiraing, Talisker Distillery, Elgol....and much more!
Would Recommend: Yes
24th August 2020:

Would Recommend: Yes
27th July 2020:

The location and studio style accommodation is magical. And as always the hosting was warm and friendly. Thank you.
Would Recommend: Yes
2nd November 2019:

Would Recommend: Yes
15th October 2019:

Friendly and welcoming. We had a really good time. The location is good to explore Skye. The studio has got everything you need and has an amazing view.
Tips:
Plenty to see in the Sleat Peninsula. We visited Armadale Castle and garden, walked from Armadale pier to see some seals and also drove to Tokavaig to see the ruins of Dunscaith Castle. The supermarket in Broadford at 15min drive is really convenient. We also had a nice dinner at Toravaig house hotel (2min drive) and Hotel Eilean Iarmain (10min). The Sleat Peninsula is well connected to the rest of Skye and allows to visit the rest of the island easily.
Would Recommend: Yes
30th September 2019:

Would Recommend: Yes
19th September 2019:

Very welcoming. It was nice to have some 'basics' in when we arrived- tea coffee milk etc.,. The view was stunning from the studio and even in bad weather was able to look at it in bed!!!! It was lovely and warm in the studio too. Watching the birds was an added bonus. We were left to ourselves and though the owners lived alongside they did not bother us at all although they were very friendly open people who we could have chatted to all day!!!!!
Tips:
An Crub the local community hub is well worth a visit for breakfast and for tea and cake. There is a post office and shop on site too. Again very friendly staff and good food! Isle of ornsay is beautiful which we discovered on our last day with whiskey tasting, gallery and pub overlooking the water. We loved Dunvegan castle a bit of a trek but worth it. Lovely grounds. The Skye island life museum in the north of the island is a must to visit. Croft's, and island life explained in great exhibits. Talisker distillery is a must. Though at busy times booking a tour is advisable.
Would Recommend: Yes
2nd September 2019:

Would Recommend: Yes
21st August 2019:

The owners are very friendly and responsive. We loved watching the birds that visited the feeder they kept filled.
Tips:
While the studio might be a little further from some of the main sights than other lodgings, the Sleat Peninsula was away from most of the tourist crowds. The north side has some incredible views to the Cuillins and a ruined castle to visit.
Would Recommend: Yes
20th August 2019:

It was a nice stay. The Studio have a fantastic view You don`t need a TV. We come back next year.
Would Recommend: Yes
13th August 2019:

This was definitely the most beautiful and most comfortable place we were staying during our trip through Scotland. The views are stunning, the bed is very comfortable, everything is very clean and Keith and Lynn are really nice hosts. You won't be sorry if you go to this place! We recommend it highly!
Tips:
When you go to Elgol, you can do a great boattrip. We even saw a group of dolphins, right next to our boat!
Would Recommend: Yes
7th August 2019:

Beautiful gem on the island of Skye. The owners have made everything to make you feel immediately at home. Very nice and comfortable studio and what a view! I want to return for sure and will recommand it to everybody!
Tips:
Walk as much as possible to enjoy the air, the views, the island feeling. The owners have little books with walks.
Would Recommend: Yes
21st July 2019:

Tips:
The location is perfect to relax with a wunderfull view (even better than expected) over the sea and mountains. The studio is fully staffed. We loved to stay there.
Would Recommend: Yes
19th July 2019:

Lovely stay & wonderful location. Thank you very much, we had a great time!
Tips:
Nearby: Bar Am Praban. Nice ambiance & good food.
Would Recommend: Yes
28th May 2019:

Keith and Lynn are great hosts! We will stay there again if we go back. Place was as advertised and well equipped. Highly recommend.
Tips:
Elgol, Portree, climb Quiraing, McDermott gallery
Would Recommend: Yes
14th May 2019:

We have felt very welcome by Lynette and Keith. Very friendly and open people that gave us our own space so we could enjoy a quiet and relaxing time. We had the feeling that we could ask at any time, but did not need to as everything was well thought through - even managed to turn on the tv without difficulties when it was showing the message with the prepared instructions. ;)
Tips:
We really liked the Cafe at Torabhaig Distillery in the morning - scones are great and the ladies have been really friendly. We also took the ferry from Elgol to Loch Coruisk which was a treat!
Would Recommend: Yes
4th May 2019:

Lovely wee studio with everything you need plus extras :)
Tips:
Owners are very helpful and friendly and can give details of local places to eat and visit.
Would Recommend: Yes
29th April 2019:

Excellent hosts with good advice and knowledge about places to visit in Skye. Really appreciated the fruit, oatcakes, tea,coffee, milk etc. on arrival. Studio very well equipped with everything needed for a stay in this studio.
Tips:
Didnt eat out a lot as we were enjoying the walks and the beautiful scenery which was out of this world. Recommend walking boots and sticks for some of the hill walks.
Would Recommend: Yes
20th April 2019:

Very welcoming and friendly. Keith and Lynn make the time on Skye a real joy.
Tips:
The boat trips from Elgol are especially good.
Would Recommend: Yes
12th April 2019:

Lovely couple who were on hand when needed (once) but never intrusive. Even though you're attached to their gorgeous house it felt private. Astonishing view and we were blessed with four days of virtually wall-to-wall sunshine, not a sniff of the wet stuff. Very well equipped and comfortable place at a very reasonable price.
Tips:
Don't forget your camera, all over the island you'll see a photo begging to be taken every hundred yards! I've always loved the majesty of the West Highlands but Skye is another step up. We self catered mostly because I like a drink with my meal on holiday and Scotland effectively has zero tolerance on drink driving (don't disagree with the policy) so can't recommend places to eat; we food shopped at the huge Co-op supermarket in Broadford. I thought prices would be higher than at home but was surprised by the fact that was little difference, even for petrol.
Would Recommend: Yes
26th March 2019:

Would Recommend: Yes
13th November 2018:

Lovely wee studio comfortably equipped and with views to die for. Keith and Lyn are wonderfully friendly, helpful hosts and nothing is too much trouble. Highly recommended!
Would Recommend: Yes
10th November 2018:

Lynn and Keith were lovely hosts. They were friendly and welcoming. They had given us a lot of information about the local area to ensure we got the most out of our visit. Keith even printed off a map of all petrol stations on the Isle as they a few and far between, which was greatly appreciated and a lovely touch. The apartment was brilliant. So well thought out. There was everything you needed there. Everything seemed to be thought off. Beautiful views to be had. It was a comfortable apartment. Plenty of room for 2 people. Couldn't fault a single thing.
Tips:
In the closest town Broadford there is a local Co-op that you can get food supplies for the apartment. There's also a nice pizza place called cafe Sia (recommended by Keith on our first night, as we wanted to go out and eat, good food!) there's also a chippy in this town too. We stopped off at Eileen Donan castle on our way there as you pass it on the way. We visited the old man of storr and the fairy pools, just make sure you have suitable footwear as it is a bit of a hike to both.
Would Recommend: Yes
5th November 2018:

Lyn and Keith are a lovely couple and provided everything you could want in a studio for self-catering. The view each morning was stunning - we could see it lying in bed. Highly recoommend this as a place to stay
Tips:
Claymore restaurant - excellent. If you want to climb Blaven DON'T follow the circular route round the mountain which is where the online guide told us to go! Walk in Armnadale woods was beautiful even on a wet day.
Would Recommend: Yes
5th November 2018:

What a lovely studio to stay in and discover Skye. From the moment you arrive and see the ruin of Knock Castle from your room you know you are on to a good thing. Keith and Lynn were fabulous hosts, even clearing snow from road for us ! Highly recommend staying here, a great find.
Tips:
We ate a couple of times at the nearby Bar Am Praban at Isleornsay, good food and ales.We visited the fabulous Oyster Shed at Carbost, we enjoyed the drive and scenery on the way to Elgol, there is so much to see and do across the island.
Would Recommend: No
3rd October 2018:

The studio is an ideal location for visiting the rest of the island. It is beautifully appointed with everything that you could need for stay there. The hosts are wonderful, although you will hardly see them, it is very private. It is located at the top of a steep incline and yo will need to drive to most locations. The nearest town, Broadford, is about 15 minutes away and Portree about 35 minutes away.
Tips:
Cafe Sia in Broadford was our favourite eatery
Would Recommend: Yes
4th September 2018:

A friendly welcome and everything one would wish for.
Would Recommend: Yes
2nd September 2018:

Everything was as we would have wished for. No issues.
Would Recommend: Yes
28th August 2018:

Keith & Lyn are a very nice couple, very attentionate and ready to help you to make your stay successful and enjoyable. We highly recommend their accommodation.
Tips:
Although their accommodation is slightly outside the main track, the view is absolutly stunning. Nice restaurants with very good food can be found in most of small villages. The Isle offer wonderful sceneries‭ and historic places to visit.
Would Recommend: Yes
9th August 2018:

Peaceful location with stunning views. Friendly welcoming hosts. Very comfortable and thoughtfully equipped studio. Clean and bright.
Tips:
Numerous picturesque walks of varying length and level of difficulty close by. Torabhaig distillery visit recommended. Lenz ceramics pottery very close by and welcoming. Bursill gallery also very welcoming and interesting. Restaurants nearby and excellent: Red Skye Restaurant, Tapas at The Stables, Clan Donald Centre. Excellent take away fish and chips in Broadford.
Would Recommend: Yes
3rd August 2018:

Brilliant location, stunning scenery -a very relaxing holiday.
Tips:
Aqua explorer boat trips. Cafesia and the waterfront chip shop, good food and reasonably priced.
Would Recommend: Yes
30th July 2018:

Would Recommend: Yes
15th July 2018:

Would Recommend: Yes
25th May 2018:

A beautiful compact apartment with a splendid vista and,in our view,on the best part of the island. Very good value and with all amenities one would need. Keith and lynette are very kind and helpful hosts. Thoroughly recommended.
Tips:
The Pathfinder Guide for Skye has excellent walks.
Would Recommend: Yes
10th December 2017:

In such a lovely area, so nice and cosy in the cool weather we always go to Skye late Nov. or early Dec. Kieth and Lynnette such nice people and make sure your safe and comfortable.
Tips:
Great food in the bar Praban at Eileen Inman Hotel just five minutes away. Restraunt Sia at Broadford really worth a visit to wonderful pizza, the very best gluten free one ever! Fish and chips good to in Broadford sitting in as well! Lovely little gift shop next door do go in.
Would Recommend: Yes
19th November 2017:

Charming hosts. Lovely spot. Leave yourself enough time to unplug… Skye is a different world.
Tips:
If you're planning on using the Mallaig-Armadale ferry, make sure to check the timetable. It's a reasonably infrequent service.
Would Recommend: Yes
6th November 2017:

clean and cosy place. We very much enjoyed our stay here!
Tips:
Down in the south of Skye but still not too far from activities in other areas of Skye (it's not that big of an Island :) )
Would Recommend: Yes
22nd September 2017:

Very friendly and welcoming by Keith and Lynette which helped to make our stay even better. Nice touch with tea,coffee,biscuit,cheese and fruit on arrival. Excellent view from Studio which we loved. Would have no hesitation in returning and to recommend to anyone thinking of visiting the area.
Tips:
Enjoy the scenery and peace and tranquility of Skye.
Would Recommend: Yes
19th September 2017:

It is a very good studio and can be used by 2 Persons. The equipment is excellent and the location is great. There is a beautifull view over the landscape to the sea.
Tips:
A walk to the old man of storr, near Portree
Would Recommend: Yes
9th September 2017:

What a find, we were delighted with the accommodation in all respects. The view from the studio is amazing and different every day. you both made us very welcome and were most accommodating with any queries we had. The herd of deer in the garden on our final morning was the icing on the cake. we will be back, Thank you for a wonderful stay.
Tips:
Deli Gasta was excellent for lunch, very tasty and reasonably priced.
Would Recommend: Yes
30th August 2017:

Would Recommend: Yes
29th August 2017:

Tips:
Watch the seals at Kylerhea.. Good Food at Hotel Eilean Iarmain, Praban Bar, Islornsay.. ( try Isle of Harris Gin Tonic!)
Would Recommend: Yes
5th August 2017:

It's a lovely place with a beautiful views and a lovely persons.....
Would Recommend: Yes
14th July 2017:

Would Recommend: Yes
9th July 2017:

It was a great place in order to explore the Isle of Skye.
Tips:
There is a little book in the studio with hiking tours. It's very helpful!
Would Recommend: Yes
22nd June 2017:

Lovely place, very friendly, has everything you need.
Would Recommend: Yes
18th June 2017:

Really well planned studio, marvellous view, owners are lovely, very friendly. Excellent place to stay, will be telling all our friends!
Tips:
Walk from diurnish station is delightful, round tiny beaches and looking out over the loch and tiny islands. The wild flowers are beautiful, so many different varieties. The meals at plockton inn and cafe sia in broadford are lovely. Disappointed with the meal at Armadale castle, too many customers and not enough staff, and my baked potato was lovely till I came to the bit at the bottom that was still frozen! I did not say anything to the staff as they were so busy they were running!
Would Recommend: Yes
7th May 2017:

A fabulous location with stunning views. The studio provided everything we could want and was very clean.
Would Recommend: Yes
22nd April 2017:

Would Recommend: Yes
7th April 2017:

Really accommodating and great wee place, with everything you need! Great to come back and relax there after a long day exploring.
Would Recommend: Yes
18th March 2017:

Keith and Lynette are great hosts and the studio is perfect. This was our second stay and so relaxing. Te view of sound of sleat from the studio is stunning and we woke up to red deer one morning. The studio has everything and is warm and cosy perfect for relaxing. Thankyou
Tips:
We loved the boat trip from Elgol to see seals and walk round loch coriusk.
Would Recommend: Yes
1st March 2017:

An ideal studio apartment for 1 or 2 persons. It is compact, modern and very clean with a marvelous view. The kitchen area is small but adequate although there is no thermal oven, only a microwave. The bathroom has a good size shower. The two armchairs are remarkably comfortable. WiFi was good and reliable as was mobile reception. The owners, living in the rest of the house, are friendly and helpful.
Would Recommend: Yes
8th January 2017:

Perfect accommodation and equipment, very clean, very cosy, very good beds, comfortable bathroom, and very calm. Wonderful view along the coast with sun rise. The Studio has everything that you want for cooking, and some very interesting books and informations. Keith and Lyn can give you many advices and are very friendly and helpful. We enjoyed it very much. Speuran Mora Studio is the perfect stay not only for a few days but for a longer time to relax.
Would Recommend: Yes
10th December 2016:

This is our 2nd stay and we hope to return again next year! It's a peaceful hideaway with a great view - so light even on darkest days. Really appreciate fresh, clean, well equipped eco facilities that make being tucked indoors good too. Having Sky with sports channels, good DVDs, and excellent wireless connectivity is a treat.
Tips:
This part of Skye has an unusual sophistication of community: Advasar has galleries and craft shops (near ferry landing); Eilean Iarmain (own whisky, gallery, wool shop, snug pub with own landed shellfish); lots of places for upmarket dining enroute back toward Broadford; and walking routes from Teangue towards west coast.
Would Recommend: Yes
28th September 2016:

Would Recommend: Yes
25th September 2016:

We were really impressed with the studio. Great layout and had everything we needed. Really thoughtful touches leaving the fruit and oatcakes etc. Felt very welcome.
Tips:
The 40 walks in Skye book was invaluable and we did several of the walks.
Would Recommend: Yes
21st September 2016:

It was a beautiful studio apartment - well designed, fantastic facilities (you've thought of everything!) and gorgeous views. A truly stunning place.
Tips:
We really enjoyed our boat trip from Elgol. Worth a visit even in not so great weather!
Would Recommend: Yes
18th September 2016:

No comments at all.
Tips:
If you want to out for diner, try the Kinloch Lodge...
Would Recommend: Yes
9th September 2016:

Amazing location and brilliant hosts. The views will stay with us forever. Absolutely stunning and we will be back. Thank you.
Would Recommend: Yes
8th September 2016:

Would Recommend: Yes
12th July 2016:

Very nice accommodation. Small but perfect for two, well equipped and very clean. Keith and Lyn are very friendly. Milk,cheese,crackers and fruit in the studio when we arrived. We appreciated it very much.
Tips:
Try to see all of Skye. Fantastic!
Would Recommend: Yes
16th June 2016:

Location is superb. Hosts friendly and helpful but not obtrusive. Very clean and well equipped cottage.
Would Recommend: Yes
9th June 2016:

Lovely place to visit the Island. Quiet and well equiped.
Would Recommend: Yes
28th May 2016:

Beautiful place to stay, with amazing views! Perfectly maintained and comfortable accommodation, not far from local shops, cafes and very friendly and helpful owners (Keith and Lyn).
Tips:
We found the beaches of Taskavaig and surrounding areas beautiful and highly recommend RSPB Kyle Rhea to see Sea Eagles. The fairy pools is also well worth a visit.
Would Recommend: Yes
28th May 2016:

Beautiful little appartement with spectacular view
Tips:
Just relax ;)
Would Recommend: Yes
3rd April 2016:

We enjoyed a wonderful stay - the weather was very kind to us for mid-March. The studio is warm and comfortable and Ken and Lynette very good hosts. The sunrises over Knoydart were fantastic to watch! Highly recommended.
Would Recommend: Yes
9th December 2015:

This is a lovely studio just right for the two of us and Kieth and Lynnet are so nice and very welcoming
Would Recommend: Yes
2nd December 2015:

An AMAZING place to stay with wonderful hosts - cannot recommend highly enough. The studio was cosy and well equipped and I had the most peaceful 5 days here. I will be back.
Tips:
I travelled across the whole of Skye whilst staying here - highlights for me were Elgol and the Quairaing - both not to be missed. Utterly beautiful.
Would Recommend: Yes
31st October 2015:

Our hosts Keith and Lyn were most helpful in providing helpful information and responding to particular needs prior to our stay. They were both most warmly welcoming and sensitive to our privacy on our arrival and throughout our stay. We feel comfortable to return for future stays partly because of their kindness and attention. The eco studio was most comfortable: great to spend time in and to return to after a full day out. We felt so at one with the amazing outdoors with our full height windows and private deck. We enjoyed cooking lovely meals in the compact kitchen too.
Tips:
The Sleat part of Skye will suit those who enjoy both dramatic beauty of landscape and views as well as some gentility of community. Armadale with its Skye Farm Shop, Ragamuffin, Leather shop and ferry is a pleasant place, and Broadford is a useful nearest town. We especially enjoyed Eilean Iarmain: great langostines, whisky tasting, wool shop, and setting. A drive to the wilder north and west was interesting too. Back across the mainland Plockton was an interesting place, where we had a pleasant drink and lunch (Plockton Shores Restaurant and Plockton Hotel bar).
Would Recommend: Yes
26th October 2015:

We enjoyed staying for several nights in the compact and well appointed Studio with a glorious view. We were able to move things around to create more space for our enjoyment. Our helpful hosts were delightful and we would have enjoyed the opportunity to chat with them for longer.
Tips:
We cooked for ourselves in the kitchenette each evening, so can't comment on the local restaurants. We used the Studio as a base for exploring both by car and on foot. The hosts provided an excellent walking book which we used as a guide.
Would Recommend: Yes
20th October 2015:

This is wonderful studio in an absolutely beautiful area. Keith and Lyn were extremely welcoming even when we arrived early. We thoroughly enjoyed our stay!
Tips:
Plockton Inn for great food, drinks and traditional music. A walk out to the lighthouse at Camas Cross is a truly special experience (careful with the tide times).
Would Recommend: Yes
4th October 2015:

Keith & Lynette are a really friendly couple who make you feel at home. Although compact, the studio is perfect for a couple and is spotless, comfortable and well appointed with some of the best views you'll find anywhere.
Tips:
Plenty of restaurants and sights close to the property. Skye is a place you need to be prepared to get out and travel in the car, on foot or on a bike. Cafesia is a great cafe/bistro in Broadford and try Janns bakery/cafe in Dunvegan which does great meals, cakes and home made chocolates. The Aros centre in Portree has a great theatre/cinema.
Would Recommend: Yes
26th September 2015:

We had a great time at Speuran Mora Studio. It supplied everything we wanted and some! Perfect to discover the Isle of Skye. Views to die for, just sit back and relax.
Tips:
We went all over the island, enjoyed the view and delicious seafood on the way ( Creelers and The Oyster Shed!) the whiskytour was fully booked unfortunately, need to book in advance.. Overall just enjoy!
Would Recommend: Yes
23rd August 2015:

Very friendly and informative couple.
Tips:
Recommend using Misty Isle Boat Trip from Elgol for trip to Loch Coruisk and views of the Cuillin. Chip shop in Broadford very good, food cooked fresh to order.
Would Recommend: Yes
2nd July 2015:

A lovely place. Felt very comfortable and really enjoyed it.
Tips:
Drive/cycle and see as much of Skye as possible. The Old Inn pub in Carbost had really good food/drink and atmosphere/setting. The Fairy Pools was a good walk, though a little busy. The drive down to Elgol.
Would Recommend: Yes
27th June 2015:

A very nice place to be, with lovely hosts! We were the 3 rd guests, so everything is new. The shower is really big and you will find anything for your comfort, even SKY - TV if you like. And the view from the patio: Sensational!!!
Would Recommend: Yes
.