The Tide B&B

Tel: 01470521245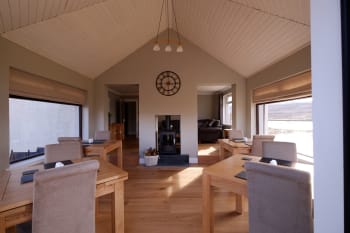 When you are ready to get away from it all, The Tide has everything you will want to relax and unwind. Located at the head of Loch Dunvegan, close to the famous Three Chimneys Restaurant and Dunvegan Castle & Gardens, The Tide Bed & Breakfast is the ideal holiday accommodation from which to explore the beautiful Isle of Skye.
Facilities
Early Breakfast By Arrangement
Breakfast Room
Conservatory
Garden For Residents' Use
Internet Access
Log Fire
Lounge
Policies
Check In: Between 16:00 and 19:00
Check Out: Between 8:00 and 10:30
Wi-fi: Wireless internet is available and is free of charge.
Smoking: There is no smoking permitted anywhere within the property.
Parking: Parking for all guests is available on site and is free of charge.


Children: Children of all ages are welcome.
Pets: Pets are not allowed.
Groups: All groups are accepted.
Average
5.0
out of 5
62 reviews
100% recommend
Reviews
9th October 2020:

We had such a comfortable and enjoyable stay at The Tide for our anniversary break. The location on the edge of Dunvegan loch is stunning and it was breath-taking to wake up to the view each morning. The rooms are very comfortable and the breakfast choices and quality was excellent. Angie was very helpful in recommending places to visit and eat. We would definitely stay there again.
Tips:
The world famous Three Chimneys restaurant is only 4 miles away and is a must if you have the budget. The 2 Churches walk in Dunvegan is walkable from The Tide and is very scenic. Nearby is Neist Point and the coral beach.
Would Recommend: Yes
4th October 2020:

The Tide is a first class bed and breakfast ,offering modern bedrooms with lovely bathrooms/ shower rooms. Good breakfasts with an extensive choice all cooked to order. Served overlooking a scenic backdrop of hills and loch views. Would have no hesitation in returning,really felt at home and we're made very welcome.
Tips:
Evening meals .. can recommend The Old School House Restaurant in the village and The Mystic Takeaway also in the village offers a good range of choices. Also The Edinbane Inn which is around 7 miles from Dunvegan village can also be recommended. Langoustines were delicious! Also in the village is a good local and well stocked general grocery store,which also stocks wines and spirits.
Would Recommend: Yes
30th September 2020:

Thank you Angie for such personal service. A very welcoming stay. Your breakfast was superb , our first introduction to haggis! Could not fault the accommodation, surpassed our expectations. Thank you x
Tips:
A great place to stay and great base for exploring the islands. Recommend Edinbane Inn for evening meal. The walk to coral beach, fairy glen, and seal spotting in Dunvegan bay were some of our highlights. Enjoy the sunsets.Staying here is a no brainier.
Would Recommend: Yes
30th September 2020:

First time visit to Isle of Skye for us and it did not disappoint ....We were in need of a break and this place was just perfect for us. Angie is a great host, friendly and knowledgable of the area.....Breakfasts were excellent and kept us going all day. Our room was spotless and warm. WiFi was really good too. Angie had all current safety precautions in place and we felt extremely safe there. Thanks for everything ... Ewan & Donna
Tips:
The old school ( which is within waking distance ) and edenbane inn were absolutely excellent for eating out
Would Recommend: Yes
26th September 2020:

Our second time here and it didn't disappoint. Such a great B&B in a great location. I just can't fault it and breakfast is to die for.
Tips:
The old school restaurant is excellent.
Would Recommend: Yes
25th September 2020:

Excellent service and recommendations.loveky clean room with views over the water.
Tips:
Watch out over the water at breakfast for otters playing. The school house and Edibsne inn do great food. We also recommend the oyster shed bear talisker distillery if you like seafood!
Would Recommend: Yes
20th September 2020:

Angie the host is helpful, friendly and wonderful! The room is spacious and clean with a great view of the loch.
Would Recommend: Yes
16th September 2020:

Fabulous spot, rooms and such a warm and engaging welcome. Gorgeous breakfast and nothing is too much trouble. The rooms are spacious and lovely and the beds are super comfy. The views are stunning. Fabulous stay Highly recommended!!
Tips:
Neist point and a boat trip to see the sea eagles from Portree is a must! The oyster shed is fabulous if you like amazing seafood And if your active the old man Storr walk will reward you with incredible views!!
Would Recommend: Yes
12th September 2020:

We absolutely recommend The Tides from the warmth of the welcome, the stunning location and spotless rooms. In the difficult times of COVID they have great policies in place to keep guests safe, yet as relaxed and comfortable as possible despite the extra work it clearly creates for them. The rooms are delightful, we had room 2 with stunning views of the Loch and with heavy rain and gusty winds there's a window seat to hunker down and watch the weather doing its thing. Great breakfast with plenty of choices to set you up for getting out and about on the island or the long drive home in our case.
Would Recommend: Yes
11th September 2020:

Would Recommend: Yes
9th September 2020:

Was made to feel so welcome and nothing was too much trouble. Room was lovely perfect views, breakfast was beautiful and Angie was knowledgeable about places to visit. Would definitely return to 'The Tide' b&b
Tips:
Visited The Old School restaurant nearby two evenings and had a lovely meal each time. A beautiful isle to explore whether for scenery or hiking.
Would Recommend: Yes
8th September 2020:

In a word. FLAWLESS. Despite the huge challenges around COVID-19 - we were continually made to feel welcome, safe and valued guests. The food was incredible and the view and area breathtaking. Can't wait to return.
Would Recommend: Yes
7th September 2020:

Fantastic location. Great views and facilities. Room superb. Breakfast and service excellent. Could not be better
Tips:
Great restaurants nearby. Some restrictions due to Covid. So should book early
Would Recommend: Yes
2nd September 2020:

Amazing location in picturesque Dunvegan overlooking the loch. Having breakfast with the view of the loch and the McLeod tables was stunning. The B&B breakfast was delicious and set us up for a strenuous days walk. The host Angie was amazing, attentive, caring and helpful, always ensuring we got the most out of our time on Skye.
Tips:
Amazing location in Dunvegan overlooking the loch. The McLeod tables are a hidden gem of a walk. The three chimneys is an indulgent foodie feast.
Would Recommend: Yes
28th August 2020:

Amazing hospitality from Angie our host. Breakfast was on another level, produce was the best of everything sausages, bacon, poached eggs etc. wee boy kept on having pancakes:-> In particular the views are stunning as soon as you set foot outside it is breathtaking, sunset views better than any other place we saw. Angie helped us loads with our wee one who had allergies and even phoned the restaurant on our behalf, so nice of her, and she really goes above and beyond. Thanks for a great stay.
Tips:
make sure u visit - Dunvegan castle and gardens and the beach that is off piste that Angie recommends, volcanic sand. Also Neist point, the birds of prey experience was good, Fair pools were fun for the kids.
Would Recommend: Yes
21st August 2020:

we had a fabulous time at the tide b&b first class well situated for exploring surrounding attractions .Angie was a fantastic host nothing was to much trouble.Breakfast was first class . I would definitely stay here again and would highly recommend totally first class
Tips:
a short walk to restaurants and depending where you want to go a short drive
Would Recommend: Yes
18th August 2020:

You can't get better than this b&b in all over Scotland.
Would Recommend: Yes
16th August 2020:

Absolutely fabulous B&B. Angie is an amazing host, really friendly, helpful and full of helpful advice and suggestions. The Tide is immaculate and in an incredible location. I really can't rate it highly enough.
Tips:
We did a Skye day minibus tour, which picked us up and dropped us off at The Tide. A brilliant way to see all the main attractions on the island.
Would Recommend: Yes
16th August 2020:

We absolutely loved our stay at the Tides. Everything was just spot on. So welcoming, clean, fantastic views and very comfortable with a little lounge as well as your room. Angie was an outstanding host and we will definitely recommend and hope to be back in the not too distant future:))
Tips:
We went over to Raasay on the ferry, which is quick and pretty frequent and then came back in the afternoon to play 9 holes at the Isle of Skye golf club ( pretty challenging!) We then had dinner at the three chimneys where the food and service were excellent but after reading so much about it, we were a bit disappointed that there were no canapés or amuse bouches etc. especially on reflection of the price. Anyway we found out that there were other excellent dining places to try next time!
Would Recommend: Yes
10th August 2020:

location, views, facilities and front of house (Angie) were all outstanding. We would not hesitate to stay here again - and I'm sure we will in the future. Angie is also a 'mine of information' on local walks, points of interest, restaurants and in general 'all things Skye'. Her Husband cooks 5 star breakfasts from the finest loacl ingedients. He is 'Heart of house'
Tips:
Fine dining all within a taxi ride are Loch Bay, Three Chimneys and the must try Edinbane Lodge. (sure to be Skye's next michelin star). The island is stunning and there are too many things to mention - just ask Angie.
Would Recommend: Yes
9th August 2020:

Beautiful location, warm welcome, lovely place. Highly recommend
Would Recommend: Yes
6th August 2020:

We had a fantastic stay and would recommend to family and friends
Would Recommend: Yes
5th August 2020:

Absolutely fantastic stay, with brilliant hosts. The Tide was beautifully furnished, exceptionally clean and Angie went out of her way to make our stay and time in Skye as enjoyable as possible. Breakfast was phenomenal and we felt incredibly safe and well looked after throughout our stay. Excellent welcome, beautiful location and incredibly comfortable, spacious and modern rooms. Would recommend to anyone as Angie certainly went the extra mile for us.
Tips:
- old school house and Edinbane inn for food - coral bay beach and fairy pools
Would Recommend: Yes
5th August 2020:

Owners very friendly and helpful with flexibility on checking in as well as suggestions for places to eat out.
Tips:
Very scenic location within walking distance of Dunvegan Castle and village.
Would Recommend: Yes
4th August 2020:

Excellent service from a very friendly owner. Rooms spotless, and evidence of additional measures related to covid clear. The views are stunning and the breakfast delicious. Angie was very thoughtful and helpful, would highly recommend.
Tips:
Neist point and the fairy pools are a must see attraction.
Would Recommend: Yes
3rd August 2020:

Despite the current situation and all the extra Covid secure things that they had to put in place to open Angie and the "Invisible" chef provided first class accommodation and breakfasts. We stayed for 5 nights and it was clear it wasn't normal when we arrived as Angie explained clearly the procedures that were in place to keep them, us and the other guests safe. It was also clear how much extra work was involved for them behind the scenes and we felt completely at home and safe all of the time. Thank you Angie and the "Invisible" chef for a wonderful stay.
Would Recommend: Yes
3rd August 2020:

Really great stay at The Tide! Beautiful location, lovely accommodation, and a great host. One of us is vegan and got an amazing vegan highland breakfast complete with veggie sausages and haggis! We only stayed for a night but wish it could have been longer :)
Would Recommend: Yes
1st August 2020:

A wonderful place to stay with gorgeous views. Our bedroom was a great size and the bathroom with it's power shower wakes you up in the mornings and ready to go on your adventures. Angie the host is so friendly and helpful and makes you feel like you are truly welcome. The breakfast could not be faulted,, definitely a 10/10 for tastiness. If you want a relaxing, friendly, beautiful place to stay on Skye, look no further.
Tips:
There are lots of fantastic things to see and enjoy locally to the B&B. For eating there's The Old School House, the Dunvegan Hotel and a couple of cafes. Dunvegan Castle is just along the road which is full of the history and stories of Skye and has beautiful gardens and travel on from the castle, along a one-track twisty road and you'll reach the coral beaches - Not to be missed! and visit Uig but stop at the top of the hill for the views and find the Fairy Glen if you can - the fairies will let you find it if they want you to visit!
Would Recommend: Yes
30th July 2020:

Lovely stay in a unique and beautiful setting. Extremely comfortable and friendly.
Tips:
Quality food at The Old School House, and Skye's oldest bakery nearby.
Would Recommend: Yes
26th July 2020:

The Tide B&B was the best guest house we have ever stayed in - clean and extremely comfortable with a large room and even bigger bed. Angela made us very welcome and had done everything possible to adapt her routine to cope with the Covid virus. We had staggered breakfasts so we could maintain social distance from other guests and the common areas were constantly cleaned. Despite the unfamiliarity of it all - Angela made it seem routine and there was no sign of awkwardness which would have detracted from our stay. We were served breakfast and had a good choice of menu including lovely fresh fruit salad and Smoked Salmon as well as the usual full Scottish Breakfast option. Don't hesitate - you will love it - we did.
Tips:
Dunvegan is a long drive from the Skye Bridge (at least 50 minutes) so remember to factor that in when arriving. The drive is spectacular though. Neist Point Lighthouse is worth a sunset visit. The Pictish stone on the hill above Dunvegan is part of a lovely 'Two Churches' walk. Coral beach is attractive but not worth the hassle and possible aggression at the very small car park closest to it as its turning place is usually occupied and reversing back for half a mile along a single track road full of camper vans is a challenge. The sunsets are lovely and the decking view from the B&B is fabulous. Restaurants are doing carry out only service at the moment. July 2020
Would Recommend: Yes
24th July 2020:

Fantastic B&B. Really helpful. Nothing too much trouble.
Tips:
Lovely walks. No other tips as Skye just opening up.
Would Recommend: Yes
21st July 2020:

Would Recommend: Yes
20th July 2020:

We had a lovely break in "The Tide " Rooms were modern , warm and very clean . The food was delicious and Angie was so welcoming we didn't feel as if we were in a bed and breakfast . We would definitely recommend to family and friends .
Tips:
We loved Portree and also a visit to the Fairy Pools
Would Recommend: Yes
3rd September 2019:

I have travelled extensively on this beautiful planet. The Tides is one of the most beautiful places ever. Angie is the best. Truly wonderful in every way. I hope to return.
Would Recommend: Yes
30th August 2019:

Would Recommend: Yes
29th August 2019:

Angie was an amazing hostess. She was always very pleasant, had recommendations for alternative things to do when the weather turned and she shared her knowledge and love for the island. We would definitely stay at the tides again.
Would Recommend: Yes
21st August 2019:

Its extraordinary, quiet location and the modern-furnitured rooms are worth a visit. Youcan't miss the traditional breakfast with fresh products: Angie is a great cook and a very nice and helpful owner. You can talk to her at any time in case of need.
Tips:
The Old School Restaurant, 10min-walk from The Tide: great typical cousine and value-for-money.
Would Recommend: Yes
7th August 2019:

Extremely friendly and welcoming. Excellent modern and comfortable facilities including a separate lounge and breakfast area with beautiful views. Outdoor seating area.
Tips:
Restaurant facilities in Dunvegan are limited, however The Schoolhouse restaurant in Dunvegan is excellent and it is a good idea to book directly in advance when booking the B&B. Dunvegan Castle is the main attraction apart from the amazing scenery and also the relative peace and quiet compared to some other parts of the island.
Would Recommend: Yes
6th August 2019:

Best place we stayed at in all of Scotland! It was beautiful!
Would Recommend: Yes
30th July 2019:

Would Recommend: Yes
21st July 2019:

Would Recommend: Yes
19th July 2019:

Very pleasant host paying close attention to details. The owner gave us good recommendations on where to travel and where to eat including booking dinners. Location is superb, near Dunvegan castle, Coral beach and Neist point lighthouse. Very quiet and pastoral scenery. Highly recommended. Breakfast was excellent.
Would Recommend: Yes
18th July 2019:

Wonderful place, wonderful welcome, would stay again.
Would Recommend: Yes
18th July 2019:

We arrived and were blown away by its settings it is just is a beautiful place with with beautiful views , what are ever changing with the tide and weather . We received a very warm welcome from Angie , who explained everything and places to eat . The room was very nice and very clean with very modern decor and furniture. . Breakfast was plenty of choice and just spot on . Can't fault this place , it's just brilliant . We will be back .
Tips:
We ate at the old school . Food was lovely . It's only 10 minute walk from the b&b . There is a chippy nearby but shuts early . Would recommend the coral beach about 3 mile away that's a nice place to visit .
Would Recommend: Yes
15th July 2019:

Would Recommend: Yes
13th July 2019:

Would Recommend: Yes
11th July 2019:

Beautiful location, spotless in our room and common areas. Comfortable bed, fabulous view, great shower and toiletries provided. Angie was amazing couldn't have done anymore very friendly and helpful without being in your face... She let me borrow a pair of shoes and even put my birthday champagne in the fridge to cool for later.. Would recommend and plan to go back
Tips:
Old school restaurant is 10 mins walk away, food nd staff are great. Three Chimneys taxi ride away and defo worth a visit, view to Lewis and Harris is stunning.. We dined in both and loved them...
Would Recommend: Yes
11th July 2019:

Could not fault a thing! Gorgeous location with a view of the loch, immaculate and large room, tasteful decor, really comfy bed and a lovely breakfast to set us up for the day. The only downside was that we couldn't stay longer! The morning we left we got engaged at Coral Beach so the Tide and the Isle of Skye will always have a special place in our hearts! Thank you so much for being part of the best weekend ever!
Would Recommend: Yes
9th July 2019:

We had an absolutely lovely stay at The Tide for a few nights and cannot recommend it highly enough. Travel websites will tell you to look for accommodations in Portree, but The Tide's location in Dunvegan is perfect for a quieter trip and so close to all the hiking, scenic views, and tours you could wish for. Angie is so welcoming and even made reservations for us at The Schoolhouse (a must for all visitors!). We loved how luxurious the bedroom and bathroom were, the delicious breakfasts served in a dining room with a breathtaking view, and having a relaxing base to return to after adventures. Highly recommend to all visitors on the Isle of Skye!
Tips:
Make dinner reservations, as it is a small island and places to eat do fill up quickly. The Quiraing is a challenging but breathtaking hike.
Would Recommend: Yes
9th July 2019:

We loved the location and the view from our room , breakfast was superb. Angie is a great host she was in communication with us prior to our arrival and forwarded information re direction to the Tide and the restaurants in the area and advised us for early booking as it's a popular spot and difficult to find a place on the day which we found very useful. Modern and spacious bathroom. We throughly enjoyed our stay
Tips:
We had dinner at The Old School Restaurant which is reasonably priced and very tasty.
Would Recommend: Yes
8th July 2019:

Would Recommend: Yes
6th July 2019:

Would Recommend: Yes
4th July 2019:

Tips:
The old school restaurant was really great (and it is the nearest, 10 min by walk)
Would Recommend: Yes
2nd July 2019:

Skye is such a beautiful location and this was just the perfect accommodation to match. Spotless and tastefully decorated, the Tide has every detail covered to make for a comfortable stay - and friendly, helpful hosts too.
Tips:
You wont get the best from Skye by rushing around trying to fit everything in from the guidebooks. Take your time, take a deep breath and relax. Get out into these wonderful and dramatic landscapes, and spend some time just sitting by the shore and peacefully watching the waves go by!
Would Recommend: Yes
1st July 2019:

the b & b is in a charming location, facing the sea where you can spot seals and many sea birds. the room where we stayed is comfortable, the bathroom new and with a large and comfortable shower. all very clean. the kindness of the host and his attention to guests are exceptional. for breakfast there is a wide choice, everything is cooked at the moment, the food is of excellent quality. a place where I would really go back
Would Recommend: Yes
30th June 2019:

Excellent breakfasts and beautiful views!
Would Recommend: Yes
29th June 2019:

The most amazing serviceminded place I have tried, and absolutely top notch rooms and breakfast.
Would Recommend: Yes
27th June 2019:

First class B&B. Very attentive and helpful host
Tips:
Very good location. Plenty to do and places to visit
Would Recommend: Yes
24th June 2019:

Perfect location, warm welcome and hospitation
Tips:
The Restaurant old school is highly recommended.
Would Recommend: Yes
24th June 2019:

amazing view, super friendly staff, well-equipped room, wonderful breakfast EVERYTHING PERFECT
Tips:
The Old School - restaurant (amazing food, fair prices)
Would Recommend: Yes
21st June 2019:

Everything was perfect!
Would Recommend: Yes
16th June 2019:

Sehr schöne Unterkunft. Sehr freundliche, sympathische und aufmerksame Gastgeberin. Tolle Lage und sehr schöne Zimmer. Schade, dass wir nur eine Nacht dort waren.
Would Recommend: Yes
.