Off the Hill B&B
1 Duisdale Beag Isleornsay
Tel: 01471 833305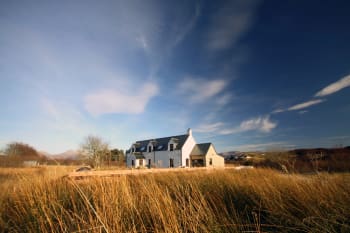 Off the Hill B&B is a privately run bed and breakfast situated in the South of the Isle of Skye. It offers 3 king double bedrooms with either ensuite or private bathroom, all have great views of the countryside, mountains and across to the Knotdart Peninsular. Breakfast is served in the dining room which also takes in these views - breakfast can be either a full Scottish cooked breakfast along side fruit, cereal, toast with tea and coffee. The B&B is within walking distance of the local pub and more amenities can be found in Broadford about 7 miles away. The B&B rooms all have TVs, hair dryer, toiletries, book & maps and tea & coffee (and sometimes fresh baking), room fan and hot water bottles. Dry facilities are available, as well as laundry and packed lunches at an extra charge. Off the Hill B&B is in a magical and rural location offering guests a quiet restful stay and a chance to experience real island life away form the hustle and bustle. Book your stay on Skye
Availability
There are no rooms available at Off the Hill B&B
for these dates.
Please try other dates or select a
different property
.
rooms
Facilities
Breakfast Room
Drying Facilities
Early Breakfast By Arrangement
Internet Access
Laundry And Dry Clean (Charge)
Packed Lunch By Arrangement
Policies
Check In: Between 16:00 and 20:00
Check Out: Between 9:00 and 10:00
Wi-fi: Wireless internet is available and is free of charge.
Smoking: There is no smoking permitted anywhere within the property.
Parking: Parking for all guests is available on site and is free of charge.


Children: All guests must be 18 or over, no children are allowed.
Pets: Pets are not allowed.
Groups: No stag and hen groups.
Average
4.9
out of 5
44 reviews
100% recommend
Reviews
22nd June 2022:

Everything about the b&b was perfect from fresh fruit salad every morning and the cooked breakfast. The rooms very clean towels changed just ask. Elaine's knowledge about the island is immense If you need somewhere to go away from the tourist area she knows them all.
Tips:
Quite a few restaurants in the area but you must book or you could be turned away every restaurant seemed to be short staffed.
Would Recommend: Yes
31st May 2022:

Wonderful place to stay with superb spacious bedroom and shower.A fridge on the landing contained cold drinks and fresh milk.Elaine was very helpful in every way and did everything to make our stay very comfortable and enjoyable.
Tips:
The Sleat peninsular extremely beautiful and much quieter than the west and north side of Skye.The walk to the amazing white sandy cove at Point of Sleat is not to be missed.The north east coast is very spectacular to look out for the Outer Hebrides.Do choose carefully where you decide to eat as the Pubs,hotels and restuarants do not usually take bookings and it is a case of "first come first served"
Would Recommend: Yes
22nd May 2022:

Off the Hill B&B was the best place to stay during our two week scotland trip! We would come back anytime and would also like to stay longer. We experienced a great hospitality, an excellent breakfast and felt very comfortable. The room and bathroom were very lovely. And last but not least: the owner is an excellent photographer; we liked their photos very much. Thank you very much for everything!
Would Recommend: Yes
7th May 2022:

Lovely B & B in a great location away from the hustle and bustle of the busy tourists. Lovely breakfast, friendly hosts( dog & human), amazing bed and nice and quite. Will definitely be back.
Would Recommend: Yes
20th April 2022:

Off the Hill is a high Quality and Wonderful place to stay. Great Host Friendly and Welcoming We would Highly recommend this accommodation.
Tips:
Would Recommend: Yes
13th April 2022:

Would Recommend: Yes
8th April 2022:

The B&B is in a great location with a nice drive to it. Inside was spotless,with a great bed and amazing breakfast. Hostess was brilliant. Would stay here again in a heartbeat.
Would Recommend: Yes
31st March 2022:

We were made very welcome in this lovely b&b by Elaine and Maisie the Yorkshire Terrier. There are lots of personal touches, a very comfortable room and great breakfast choice.
Tips:
We took the pleasant 15 minute walk down to the Am Praban pub (attached to the Hotel Eilean Iarmain) by the coast which has lovely views, a cosy bar and good food. We had the fish and chips which we'd recommend but the mussels also looked great.
Would Recommend: Yes
10th November 2021:

Really enjoyed my stay, the accommodation is first rate, very clean and comfortable. Elaine is a great host.
Tips:
The Ord Loop is on the doorstep and is a great drive with amazing scenery, you won't find it in many guide books. Great for walking and photography.
Would Recommend: Yes
3rd November 2021:

Beautiful room and excellent facilities with attention to detail and thoughtful extra touches. A welcoming place to return to.
Tips:
No shortage of scenic drives, coastal and hill walks nearby, with places to eat - a local hotel and a community shop and cafe - within a short distance; a nearby distillery and a variety of craft outlets and other places to eat not far away. Numerous historic sites to visit as well. Well situated in Sleat area south of Broadford and between the Skye Bridge and the Armadale to Mallaig ferry.
Would Recommend: Yes
25th October 2021:

Thank you, Elaine, for making our stay so nice. Loved your breakfast and your friendly chat. Our stay was short but sweet. We will definitely be back!
Would Recommend: Yes
24th October 2021:

lovely place to stay host was lovely good breakfast lovely place to stay lovely host, good breakfast.
Tips:
local restaurant was a good half hour walk couldn't get in because we hadn't booked just arrived , nothing to do in near surroundings but took a tour round lovely scenery if your on a motorbike brilliant rides.
Would Recommend: Yes
17th October 2021:

A wonderful stay and excellant host. very helpful in advance and couldn't have been better
Would Recommend: Yes
29th September 2021:

"Off the Hill" B&B is excellent location for exploring the surrounding area of Sleat. The place gas spacious rooms all en-suite. The breakfast is first class and There is also the service of a really Nice pact lunch of which most contents are home made and fresh.
Tips:
5 minutes walk from the B&B is a hotel which does excellent barmeals for non ressidents.
Would Recommend: Yes
18th September 2021:

Very good standard of facilities. Good breakfast Good communication
Would Recommend: Yes
6th September 2021:

Elaine is the ideal host, she is kind and accommodating. The house is finely located in a charming place. The room is really comfy and pleasant. I strongly recommend the full Scottish breakfast. Maisy will also be a nice company and will welcome you home.
Tips:
You can be in a minute at the really nice bar Am Prabam. You can also enjoy a walk along the sea and see the lighthouse of Ornsay island.
Would Recommend: Yes
5th September 2021:

Excellent facilities,and welcome .Spotless clean and tidy . Hope to return soon and to realising with Maisie (and of course Elaine!)Isle Of near hotel ,and in Broadford The Claymore ,Cafe Sis . Visit Ord ,Elgol,Armadale ext .Over the bridge ,Plockton .
Would Recommend: Yes
31st August 2021:

Could not fault it in any way.
Tips:
Because Scotland is so busy it is difficult at times to find somewhere to eat, also staff for such places are depleted by Covid and Brexit so a little persistence, patience and understanding are required.
Would Recommend: Yes
25th August 2021:

The breakfast, fresh fruit and a full English, was one of the best I've had on holiday. Really helpful recommendations for the local area. A nice pub 10 min walk. A lovely room with spectacular views in every direction. Perfect host who was friendly and helpful, and a great photographer!
Tips:
Watch the sunset at the beach. Do some walks off the beaten track. Eat at Kinloch Lodge. Skip Armadale Castle if you're short on time! Take insect repellent!
Would Recommend: Yes
15th August 2021:

Elaine was a fantastic host; super friendly on arrival and during our stay but also contacted us prior to our visit to check dietary requirements. I was really pleased to see a range of vegan options at breakfast (soya milk, soya yoghurt and dairy free spread) alongside homemade jam and marmalade! Our room was spotless and very comfortable, especially the mattress! There were lots of little 'nice touches' - fresh milk and cold drinks in the mini fridge in the upstairs hallway, fruit bars with the complimentary tea and coffee in our room and more. We loved our stay at Off The Hill and would definitely come back here again. Thanks so much Elaine and Maisie (the dog!) for a fantastic stay!
Would Recommend: Yes
11th August 2021:

We had a brilliant time with Elaine and Maisie at Off the Hill. The accommodation was spotless, our host was lovely, and breakfast was great, catering for our dietary requirements. Location was good for exploring - particularly the South of the Island, which we fell in love with. We would stay again in a heartbeat! Thank you for a wonderful week.
Would Recommend: Yes
1st August 2021:

Elaine was a fantastic hostess. The B&B was excellent. It was extremely clean and full of lovely touches. Elaine had thought of everything to make our stay as comfortable as possible. Her breakfasts were wonderful. We will definitely return in the future and we would highly recommend Off the Hill to others.
Tips:
Fairy Pools Kilt Rock Dinosaur footprints - Staffin Beach The Old Man of Storr
Would Recommend: Yes
29th July 2021:

I thoroughly enjoyed my stay and would recommend to family and friends. I actually want to book to stay again. Elaine has everything right for a B&B including the bed and room being fantastically comfy and clean and the breakfast was delicious. Breakfast is my favourite meal to go out for so I know a good one when I get it. Masie, the Westie, adds a lovely homely feel to the house. Thank you Elaine, after a hard year this stay totally reset me.
Tips:
I was between 4 and 5 for the location, it depends where you want to be. For me, I loved the encouragement to explore South Skye like the Camasunary walk and Talisker. Elaine sends and supplies a huge range of recommendations which was really useful.
Would Recommend: Yes
25th July 2021:

Elaine is very welcoming person. Her B&B is absolutely spotless with breathtaking views around. Beautiful breakfast every day. I spent 2 night and definitely we will back next year.
Tips:
All information can be find from huge number of maps and books provided by Elaine.
Would Recommend: Yes
21st July 2021:

Would Recommend: Yes
9th July 2021:

Delighted with our stay at Off the Hill. Lovely room and breakfast and Elaine made us feel very welcome.
Tips:
Armadale Castle, near by, is worth a visit.
Would Recommend: Yes
8th July 2021:

Absolutely gorgeous B&B,the bedroom was spacious and airy, the bed so so comfortable,tea and coffee facilities in the room and a fridge on the landing with soft drinks etc. The en suite was immaculate and had lovely touches. The breakfast was delicious. We were made to feel so welcome and at ease as soon as we arrived. If we return to Skye we would 100% stay here again.
Would Recommend: Yes
7th July 2021:

I cannot praise Elaine and her B&B highly enough. Everything from the room, to the breakfasts, to her friendliness and helpfulness were superlative.
Would Recommend: Yes
28th June 2021:

We had a very enjoyable stay at Off the Hill B&B. The room was very comfortable and clean with great facilities. Breakfast was so tasty. Great location for exploring the south side of the island. Elaine was so helpful and welcoming. Maisie the Westie was so lovely too!
Tips:
Great base for exploring the south side of the island. We enjoyed the nearby Camasunary walk and drive to Elgol. Also very handy that the Hotel Eilean is only a few mins walk down the road from the B&B - a scenic location to enjoy the tasty food and drinks from the cosy hotel bar.
Would Recommend: Yes
17th June 2021:

Lovely B and B, Elaine is a wonderful host. The rooms are immaculately clean . There are nice touches like a fridge for guests with complimentary drinks, fresh milk to make a tea or coffee, biscuits and fudge left in your room. Breakfast was excellent, a good choice including fresh croissants one day , and muffins on our last day. I would stay here again without question.
Tips:
Cafe Sia , and the Herbridean inn serve nice meals. Armadale castle cafe , the Stables is excellent Bog myrtle cafe at Struan worth a visit. Dunvegan castle a dissappointment. Not worth the cost or drive If you want to visit a distillery book well ahead, at least a month for Talisker
Would Recommend: Yes
15th June 2021:

Wonderful BnB, I would highly recommend anyone to stay at Off the Hill. Spotlessly clean plus a really comfortable bed. Elaine made us so welcome and was a font of helpful information. She was especially understanding of any dietary needs and went to great lengths to accommodate such requirements. Would absolutely stay at Off the Hill again.
Would Recommend: Yes
11th June 2021:

A wonderful place to stay, Off the Hill is a truly great place, excellent room very large with sofa and large bed. Cleanliness was second to none with a warm welcome from our host. Breakfast was top class. Please consider doing simple evening meals as local restaurant expensive and not much choice!
Would Recommend: Yes
10th June 2021:

Tips:
Good food in Pub 10 minutes away. Handy location for Armadale ferry
Would Recommend: Yes
7th June 2021:

The stay couldn't have been more comfortable. The room was spacious, cosy and clean. The location is very idyllic and quiet. Elaine and Maissie were a pleasure to be around. Breakfast was great. Best B&B we have been to in our Scottish trip!
Would Recommend: Yes
3rd June 2021:

An amazing stay at this fantastic B&B. Attention to detail was 100%. The room was bright and plenty of room and storage. Lovely homely touches of tea& coffee provided plus fresh milk in the fridge on the landing. The bathroom was well fitted with good ventilation in both bathroom and bedroom. The area is excellent for access to Skye via the bridge or the ferry to or from Mallaig - Armadale. We managed to see the beautiful Skye in wonderful weather so feel very lucky. We would definitely recommend "Off the hill B&B" for a warm welcome and comfortable stay in Skye from Elaine & Maise. Thank you very much Val & Geoff
Tips:
Excellent access in the location for exploring Skye. Beautiful pub set within a short walk from "Off the hill B&B"
Would Recommend: Yes
26th May 2021:

Elaine is a friendly and extremely knowledgeable host. She provided us with many helpful suggestions to places and restaurants to visit on Skye. A substantial choice of breakfast is offered. The accommodation is excellent and is situated in a great position to explore Skye.
Would Recommend: Yes
24th May 2021:

Nicely located B&B if you want a break. I've had a super clean and modern room with everything I could wish for, including complimentary water/tea/coffee and little sweets. Great sunsets to see from your room. Elaine and her dog Maisie are top hosts who make you feel welcomed from the first second. Elaine did absolutely everything to make my stay as comfortable as possible. Great breakfast and also a lovely packed lunch if you're going into the wild during the day.
Tips:
The nearby whisky distillery is a nice place to visit. Otherwise I'd highly recommend to explore the nature on Skye which is just stunning.
Would Recommend: Yes
15th May 2021:

The best B&B I have ever used. Ever, Immacu;ate, friendly and with every added extra and comfort you could wish for.
Would Recommend: Yes
13th May 2021:

Comfortable spacious room with quality bed linen and furnishings. Nice extra touches to welcome you. Tasty breakfasts. Fresh milk for teas and coffees in your room.
Tips:
Plenty of places to visit and options for eating out within walking distance or a short drive. Wonderful views and walks nearby.
Would Recommend: Yes
30th October 2020:

Can't think of any poorer things to mention. Very clean and comfortable. Would like to go back, even if Covid restrictions were still in force. Lovely meals provided. All in all, very enjoyable and relaxing.
Tips:
"Off the Hill" B&B benefits from being a little out of the way of the normal tourist areas. However the road is good and Broadford is around 10 minutes away.
Would Recommend: Yes
17th October 2020:

Excellent B&B. Comfy bed, thoughtful touches like fridge, extra sockets by beds. Yummy breakfasts. Friendly owner and dog!
Would Recommend: Yes
29th September 2020:

Off The Hill B&B is a very welcoming and homely place to stay. Elaine was very helpful and friendly, we requested an early morning breakfast because of the ferry which was no problem for her. The B&B was spotlessly clean and the covid measures that were put in place are very reassuring. The breakfasts were excellent, using quality ingredients and home made items. We will definitely return when we visit Skye again.
Tips:
Am Praban bar is within walking distance. It is in a beautiful setting and serves good quality food.
Would Recommend: Yes
14th September 2020:

We loved our stay at Off the Hill. Elaine was a fantastic host, really helpful and full of great tips for what to see and do during our trip. Breakfast was excellent. Room was really lovely and comfortable. Would love to visit again one day!
Would Recommend: Yes
26th August 2020:

Spent an amazing week here. Top-class B&B!!!
Would Recommend: Yes
.