Glendaruel
Viewfield Road
Tel: 07789325571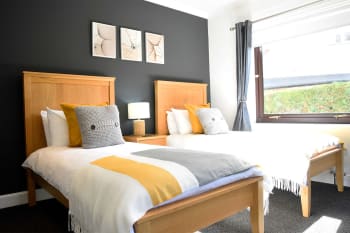 Glendaruel is a bright, modern and comfortable bed & breakfast located just a mile from Portree town centre. To the front the B & B offers lovely views out towards Portree Bay, Ben Tianavaig and on a clear day the pinnacle of the The Old Man of Storr can be seen!! There are 4 spacious en-suite rooms comprising of two twin bedded rooms, comfortable double and luxurious king size room. Breakfast is served in the bright and airy dining room.
Availability
There are no rooms available at Glendaruel
for these dates.
Please try other dates or select a
different property
.
rooms
Facilities
Breakfast Room
Children Welcome
Policies
Check In: Between 14:00 and 21:30
Check Out: Between 0:00 and 10:00
Wi-fi: Wireless internet is available and is free of charge.
Smoking: There is no smoking permitted anywhere within the property.
Parking: Parking for all guests is available on site and is free of charge.


Children: Children of all ages are welcome.
Pets: Pets are not allowed.
Groups: All groups are accepted.
Average
4.8
out of 5
34 reviews
100% recommend
Reviews
16th October 2021:

Warm and friendly atmosphere, excellent facilities. Rooms were very spacious, modern and tastefully decorated. Great having large showers in En-suites. Great choice of breakfast food with full breakfast cooked to perfection. Nothing to much trouble with owner and staff very helpful making stay relaxing. We will definitely stay again
Tips:
Old Man of Storr worth a visit, Fairy Pools were great. All scenery in general amazing to see and changes as weather changes
Would Recommend: Yes
15th October 2021:

Would Recommend: Yes
8th October 2021:

Would Recommend: Yes
4th October 2021:

Lovely BnB . Easy check in. Very clean. Comfy beds.Delicious breakfast. Great view of the bay . Two bedside cabinets and lights would be preferable to only one. More shelf space in bathroom would also be preferable.
Tips:
Fantastic boat trip from Portree harbour on Stardust 2. Amazing views of three Sea Eagles, one flying around the boat!
Would Recommend: Yes
29th September 2021:

Would Recommend: Yes
26th September 2021:

Had a great overnight stay with friendly, helpful and knowledgeable staff. Will definitely use your accommodation again.
Would Recommend: Yes
25th September 2021:

Situated within walking distance from Portree. We had a lovely welcome from Laura on our arrival. We had a very restful stay in a room with excellent facilities. Laura gave us excellent advice on places to visit whatever the weather. We had excellent breakfasts with a good range of options. I would highly recommend it for anyone travelling to Skye and we will definitely stay there again when we visit Skye.
Tips:
Portree has a number of excellent places to eat but I suggest booking places early on arrival or prior to arrival as they all get very busy.
Would Recommend: Yes
23rd September 2021:

Very clean and modern The host was extremely friendly and helpful I was a bit disappointed at the extra cost for breakfast as it is advertised as bed and breakfast which you would expect this to be included. I have never stayed at a B+B before which doesn't include breakfast as standard. The breakfast itself was very nicely cooked.
Tips:
We struggled to find places to eat which were not already booked up so worth pre booking a week or so in advance It's a bit of a trek down to Portree and back if you're not particularly fit A good base to travel around the isle
Would Recommend: Yes
19th September 2021:

My husband and I throughly enjoyed our stay at Glendaruel BnB. The staff were very friendly and helpful. The room was very clean and comfortable. The Scottish breakfast was delicious and excellent value for money. The BnB was only a 15 minute walk / 5min drive into Portree so was a great base for our trip. I would highly recommend staying here if visiting Portree.
Would Recommend: Yes
19th September 2021:

Well appointed spacious bedrooms with great en suite facilities. Breakfast was a little too late for our schedule so can't comment on that.
Tips:
Great location we used it as a base for a Cuillin day and it worked very well.
Would Recommend: Yes
14th September 2021:

Lovely guest house , immaculate, great location. Lorna , Iain & team are so friendly , welcoming & helpful with great knowledge of Skye. Excellent choice & standard of breakfast. We will be back & would recommend anyone to stay here.
Tips:
I would recommend the following restaurants: Cuchullin Dulse & Brose Sea Breeze
Would Recommend: Yes
14th September 2021:

Loved our stay, friendly staff, very efficient, clean and comfortable. Would recommend.
Would Recommend: Yes
11th September 2021:

Clean, great facilities, staff were friendly and knowledgeable of the local area. Would 100% recommend.
Tips:
Book in restaurants in advance or you will not get in. Table service only even in pubs still even though restrictions are no longer in place. Only 1 or 2 pubs didn't have this
Would Recommend: Yes
10th September 2021:

Room very clean comfortable and spacious Perfect location with short walk into Portree Town Centre Excellent range of choice for breakfast with cooked breakfast served hot when you are ready. Owner very welcoming, friendly and helpful as are the staff Would definitely stay there again
Tips:
The island is very busy with tourists so try to book restaurants and pubs before you arrive on the island as we found that very few establishments are able to accommodate walk-ins
Would Recommend: Yes
30th August 2021:

We had a fantastic experience in this B&B, the staff was extremely nice and helpful, the room very clean and bright, the breakfast very good. I highly recomment it.
Would Recommend: Yes
29th August 2021:

A lovely b&b true to its description on website. Communication beforehand and during stay is very good. Lorna replies promptly to messages and is always keen on sharing tips to guests. Lorna and her team offer indeed a warm but professional service. Breakfast was generous. Our rooms were clean and comfortable. Unfortunately we did not have a view while our children were lucky enough to get one over the bay. I would highly recommend the place.
Tips:
B&B is located in Portree where there are plenty of options for dining. For lunch, we bought a picnic from the local co-op before exploring the island. There is a visitor centre too in Portree with very helpful advisors.
Would Recommend: Yes
23rd August 2021:

was great, very clean. good location, easy parking
Would Recommend: Yes
17th August 2021:

Would Recommend: Yes
9th August 2021:

Clean rooms and good bathrooms. Breakfast is nice and the daughters served us politely. The location is close to the restaurants and shops. The owner answered my questions quickly by email. Great cozy B&B
Would Recommend: Yes
7th August 2021:

Lovely staff, great communication, spotless room, great location. Can't fault the place at all. Will recommend it to anyone visiting Skye
Would Recommend: Yes
30th July 2021:

Lovely stay, hosts friendly and helpful
Tips:
Fairy pools Old man of Storr Neist Point lighthouse
Would Recommend: Yes
30th July 2021:

Would Recommend: Yes
30th July 2021:

Beautiful modern room with everything we needed. A nice touch to have information of recommended restaurants, etc. and providing the biscuits, tea and coffee. Parking on site was definitely useful. Really lovely stay and would 100% recommend. One small thing is the noise near the entrance. I'm not sure if it's the doors or floorboards creaking whenever someone enters or exits, but it's quite loud (appreciate we probably heard it most as our room was next to the entrance). Not a problem in the day, but when early in the morning or late at night it did make it a little more difficult to sleep.
Tips:
Pre-book dinner at the local restaurants! We made the mistake of just turning up and as it was very busy there were no available tables. Book in advance as well as tables we're already fully booked when we tried booking the day before or the day of. We did a boat trip from Elgol, which was brilliant (Misty Isle boat trips). Uig was beautiful too and had a lovely pottery shop and local beers to buy from the brewing company, and the food at the Uig hotel was delicious.
Would Recommend: Yes
28th July 2021:

Would Recommend: Yes
6th July 2021:

Superb room and facilities and great base for exploring the Isle of Skye. 15 minute walk into Portree and perfect base for us
Tips:
Portree Hotel Bar and grill highly recommended as is the Lower Seadeck Fish restuarant down in the harbour
Would Recommend: Yes
2nd July 2021:

Nice clean and well set out room and bathroom. Great breakfast and all staff very friendly and accommodating. Perfect location - easy walk in to town and nice view of the water.
Would Recommend: Yes
18th June 2021:

Plenty of info before arrival. Very welcoming reception, really comfortable accommodation and friendly helpful owners and staff. The week in Skye was pretty wet and wild but Glendaruel was an oasis.
Tips:
Research and book restaurants etc online in advance.
Would Recommend: Yes
18th June 2021:

Would Recommend: Yes
17th June 2021:

Our only complaint is the position of the tv in our room, it's impossible to see from the bed.
Would Recommend: Yes
13th June 2021:

Would Recommend: Yes
12th June 2021:

If the duvet is slightly bigger, that's much better for us. Anyway, quite enjoyed our stay.
Would Recommend: Yes
11th June 2021:

Lovely place to stay just a short east walk to the harbour. Very clean and the breakfast was great Lorna the host was extremely friendly
Would Recommend: Yes
5th June 2021:

Tips:
Absolutely to avoid the cinese restaurant in Portree
Would Recommend: Yes
27th May 2021:

Would Recommend: Yes
.