Lachie's House
7 Digg Staffin
Tel: 01470562718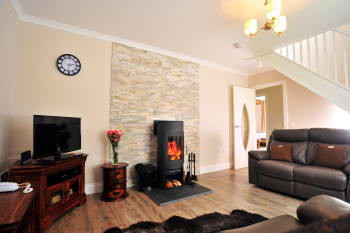 Situated on the North East coast of Skye are Gairloch View's 2 self catering cottages nestling below the famous Quiraing Mountain with spectacular sea & mountain. With sunrise, sunset and regular sightings of the Northern lights to enjoy. Kenmore & Anmara are 2 two bedroom cottages with one double room and one twin room. There is also a fully equipped kitchen with washing machine & dishwasher and a comfortable lounge with low window to sit and relax and enjoy the views. Kenmore has a shower-room and Anmara has a bathroom with an over-bath electric shower, storage basin units and shaver points on the illuminated mirrors. All starter basic groceries are provided in the cottage as well as starter continental breakfast gropceries for your first morning. *If you require a stay of less than 3 nights please contact us direct by email mairino3@aol.com or by telephone 01470562718.
Availability
There are no rooms available at Lachie's House
for these dates.
Please try other dates or select a
different property
.
cottages

Max:
Luxury 3 bedroom 3 bathroom House, 2 en-suite bedrooms with King-size bed, an... more >
Luxury 3 bedroom 3 bathroom House, 2 en-suite bedrooms with King-size bed, and one Twin room with 2 single beds. Bookable for 2-6 people.Room Facilities:
free wi-fi
BBQ Fire Pit
picnic tables
patio area
2 mini supermarkets nearby
2 mins walk to see the sunrise
fossil beach nearby
Quiraing Mountain view
Laundrette nearby
Starter Continental breakfast groceries for your first morning
Bath Tub
Central Heating
Cooker
Dining Area
Dishwasher
Electric Shaver Point
Ensuite Bath/Shower Room In Unit
Hairdryer
Kitchen
LCD/Plasma Television
Linen & Towels Supplied
Living Room
Microwave
Private Car Space
Satellite Television Channels
Tea/Coffee
Washing Machine
Coastal Location
Coffee Maker
Complimentary Toiletries
DVD Player
Fridge/Freezer
Ironing Facilities
Bath/Shower
Log Fire
Radio
Television
Crockery & Utensils Supplied
Digital Television Channels
Patio
Shower Room
Facilities
Coffee Machine
2 Mini Supermarkets nearby
Laundrette in Staffin Stores Supermarket
Golf Course (40 mins)
Fossil Beach nearby
Picnic Tables
Full Sky TV Package
2 Cafe's/Restaurant nearby
Electric Blankets
Free starter continental breakfast groceries
Bar (nearby)
Café / Restaurant (nearby)
Garden For Residents' Use
Hiking
Shop (nearby)
Wi-Fi
BBQ Facilities
Fishing
Golf Course (nearby)
Horse Riding
Policies
Check In: Between 16:00 and 21:00
Check Out: Between 7:00 and 10:00
Wi-fi: Wireless internet is available and is free of charge.
Smoking: There is no smoking permitted anywhere within the property.
Parking: Parking for all guests is available on site and is free of charge.


Children: Children of all ages are welcome.
Pets: Pets are not allowed.
Groups: All groups are accepted.
Average
4.9
out of 5
68 reviews
100% recommend
Reviews
10th October 2021:

Lachies is your home from home but with the added extra of silence, peacefulness and the most jaw dropping views. It provides for all your needs whether you cook or do not. We have stayed here 3 times now and it never dissapoints. The hosts provide a little something extra on your arrival. Always milk and bread. That is always handy. Would highly recommend this cosy warm cottage in one of the most beautiful places in the world.
Tips:
Try and do some walks weather permitting you will see the most amazing things. The fish and chips right down on the pier in Portree are worth having as is the ice cream. There are lots of shops providing beautiful tuings you will joy find elswhere. The gin is good and made on the Island.
Would Recommend: Yes
17th September 2021:

Would Recommend: Yes
29th August 2021:

A lovely well equipped house in a good location.
Would Recommend: Yes
25th September 2020:

Second time we've stayed in Lachies House and absolutely loved it. The croft is wonderfully comfortable and in a super spot to see all the highlights of Skye. Would highly recommend!
Would Recommend: Yes
14th September 2020:

A wonderful week; Mairi was very welcoming and generous. An extremely comfortable house with plenty of room to relax.
Tips:
1. The boat trip from Portree was excepional: we saw sea eagles, seals and basking sharks. 2. The drive round the coast to Uig is stunning, as is the walk to the northernmost point of the island at Duntulm Castle. 3. We treated ourselves to a meal at the Three Chimneys in Colbost: it's expensive but worth saving up for, but book well in advance! 4. A visit to the Sleat peninsular was much enjoyed. 5. There is so much to see and enjoy: we wish we had had more time to walk in the Quiraing behind the house and will certainly make that a priority when we return.
Would Recommend: Yes
8th August 2020:

Great stay and lovely host. House was cleaned to a high standard. Nice views of the local scenery Kitchen has all the necessary supplies for food preparation.
Tips:
Great for exploring the northern part of the island.
Would Recommend: Yes
4th October 2019:

Everything was provided for us prior to our stay with food etc left for us for our breakfasts, the house was very clean and tidy with all cooking and cleaning items provided. The owners were very helpful and contacted us to tell us about the Aurora Borealis and even told us where to go for the best view even though they were in Glasgow at the time! Fantastic service from the first contact till we left
Tips:
The owners left out a map highlighting the 'hotspots' of Skye with printed off copies of how to get there, where to park and the length of time each hike should roughly take, there was also restaurant menu's and again these had been noted on the sheets left by the owners explaining where they are and how to get there, an excellent touch that made the trip so much more enjoyable
Would Recommend: Yes
24th September 2019:

Lachie's House is a wonderful cottage on a wonderful island. I can't say enough about our experience of both cottage and island. We are traveling couples who have seen many parts of the world together. This part of the world is right up there for us as absolutely special. Lachie's House was our perfect respite. In every way it suited our needs. It was hard to leave....that's how we felt!
Tips:
Your host will give you every possible idea for a beautiful experience on the Isle of Skye. No detail was left out. Being two dedicated cooks, we found everything we needed in the kitchen and at the CoOp in Portree. Be prepared to sit by a fire in the lounge with a glass of wine or a cup of tea whilst being entertained by a flock of sheep across the way.
Would Recommend: Yes
13th September 2019:

Excellent!
Tips:
The perfect location to visit Skye
Would Recommend: Yes
30th August 2019:

Would Recommend: Yes
5th July 2019:

Very smooth process, lovely location and very helpful host.
Tips:
Lachie's House is a gem in the Isle of Skie. Our family stayed there for 2 nights and we had the most comfortable time. The location is ideal if you are ok to live a bit far from the hustle and bustle, its in the middle of a farm with great views of the mountain and greenery all around, you can walk from the back door and have lovely views of the sea. The house itself is very well maintained and beautiful two storied villa, with all amenities and facilities provided. The hosts Marie and her husband are very very helpful and gives very nice tips for touring the island. We checked in very late around 1 am, but everything was arranged. We will surely come back to Lachie's House next time we visit Isle of Skie.
Would Recommend: Yes
1st July 2019:

Lachie's House is in gorgeous Staffin in Trotternish, about 30mins from Portree on its remote, gorgeous coast road. The luxury self catering cottage is heaven to return to after a hard day of sight seeing, hiking and climbing. Definitely recommended for families. Great bonding. Fresh air. Gorgeous rocks, cliffs, castles, mountains, lochs and even caves to be explored! Not to mention the delicious food. The cottage supplies a welcome stash of breakfast items to start you off. We were in heaven for a week and it feels strange and difficult to be back in the big city.
Tips:
Be prepared for Midges although we didn't get bothered by any a single time there (luck!) and IMHO, the best places to visit; 1.Hiking in the Old Man of Storr, Quairaing, In Pinn (guide advisable) 2. Swimming in the Fairy pools and visiting the Fairy Glen and Dunvegan Castle. 3. Talisker Brewery and Oyster Shed 4. Skye Skyns Tannery. 5. Coasteering with Skye Adventures 6. So many good restaurants, but we visited The Canary in Portree for scones & tea, Cuillins Hill Hotel for posh but delicious & reasonable lunch, Sligachan Hotel restaurant for lunch, Columba 1400 for dinner (really worth going), the Fish & Chippy by the water at the Port. And the Skye Ice Cream shop looked tempting but we were cheating badly on our keto diet so avoided it. Oh, and the Taste of India (a Bangladeshi interpretation) in Portree was an experience in itself and the food was not the most "Indian" we have had, but delicious nonetheless.
Would Recommend: Yes
9th June 2019:

Lachie's house had absolutely everything we needed for a great visit to Skye. With all the generous little extras, we felt welcome & very comfortable. On our visit, the weather was unkind, so arriving to a warm home was wonderful. This home is perfect for adult groups or families & although on the far end of Skye in Staffin, a picturesque spot.
Tips:
Arriving late we found everywhere booked out, but as luck has it, the Tongadale hotel, Portree, could accomodate us & a generous meal was enjoyed. If you're adventurous, walk to the fairy pools. The Talisker Distillery is worth a visit.
Would Recommend: Yes
3rd June 2019:

Would Recommend: Yes
2nd May 2019:

Cosy house with modern, clean, state-of-the-art facilities at an amazing location. Would definitely go again. Very highly recommended!
Tips:
The guide in the house is pretty complete.
Would Recommend: Yes
30th April 2019:

Lovely house, lovely landlords, lovely island
Would Recommend: Yes
20th September 2018:

Welcome goodies were great, host lovely, very comfortable, everything you would want to cook with, a kitchen delight really.
Tips:
A little out of the way, but beautiful setting. With no dryer, washing and drying is a problem.
Would Recommend: Yes
Owner Response:
Thank you Bea for your review of Lachie's House. In reply to 'Tips for other travellers' Lachie's House is not advertised as being in the centre of a 'Hub' but is situated in Staffin, one of the most beautiful areas of Skye with fantastic views of the famous Quiraing Mountain and is an ideal base for touring the rest of the Isle of Skye. We have a hotel, 2 food shops, restaurants,craft shops a lovely tea room, beach, complete with dinosaur footprints, famous landmarks etc etc all less than 5 mins drive away from the House. We don't provide a tumble dryer in Lachie's House as it is not a necessity as there are alternatives available, there is a washing line and clothes pegs for drying washing outside, a clothes airier for drying washing inside and as per the information sent to all guests before arrival we have a fantastic laundry at Staffin Stores also less than 5 mins drive from Lachie's House where you can dry a large load of washing very quickly for a very reasonable price while you enjoy a coffee or a trip to Staffin Beach to look for the dinosaur footprints, you don't have to sit and watch your washing dry you just come back when it's finished.
15th August 2018:

Would Recommend: Yes
24th July 2018:

Very nice, clean, modern and convenient house. Fantastic surroundings and landscapes. Very friendly staff. We had a wonderful stay there.
Would Recommend: Yes
4th July 2018:

Would Recommend: Yes
24th June 2018:

Beautiful croft cottage in a wonderful location. Every little detail that was put into the house made it feel like a home away from home but even better! I was pleasantly surprised to find a large bath tub in the house. This was appreciated along with the laundry facilities, music docking station, wood stove (with wood and fire starter provided) and beautiful, well-equipt kitchen. Mairi and her husband are lovely people, so welcoming and down to earth with heaps of helpful info about the Isle of Skye. Couldn't have asked for better accommodation in this truly special place.
Tips:
Single Track makes great coffee (about 7 minutes away). Edinbane Inn had awesome live traditional folk music (about an hour away). There is also a lovely weaving studio which serves light lunches called the Ellishadder Gallery (about 7 minutes away).
Would Recommend: Yes
22nd June 2018:

Absolutely fantastic stay at Lachie's House. Perfect location to get away from it all. Very close to all the "must see" sights in Skye. The house was wonderful, clean, comfortable and spacious. Great views of the Quiraing. Mairi was a wonderful host and her recommendations were spot on. Family could not have asked for a better stay.
Tips:
The Quiraing, Old Man of Storr, Brother's Point, Duntlum Castle, Fairy Glen all close by. The Ferry Inn restaurant in Uig was fantastic!
Would Recommend: Yes
2nd June 2018:

The house is located in one of the most beautiful parts of Skye with dramatic hikes and vistas very close. The house itself is very comfortable with nice modern kitchen and bathrooms. Mairi is amazing, incredibly welcoming and helpful. She even took my laundry off the line and folded it! We would definitely go back, hopefully for an extended stay.
Would Recommend: Yes
28th April 2018:

Would Recommend: Yes
16th April 2018:

A lovely cozy house with everything we could possibly need. My family loved it!
Tips:
Two shops, locally, and some eating places not so far away. Lots of beautiful places to visit!
Would Recommend: Yes
30th September 2017:

Lachie's House exceeded all expectations. Mairi was very kind and helpful and made sure we had all we needed, including a well provisioned kitchen with all breakfast basics.
Tips:
Talk to Mairi
Would Recommend: Yes
26th September 2017:

The cottage was picture perfect! Clean, modern, and comfortable. Mairi was delightful and spent time to recommend walks, restaurants and amenities in the area. Her maps were spot on. We will always remember our time in this magical place on Skye, with the spectacular views.
Tips:
Dunvagen castle, The Oyster shed and Talisker distillery make for a fabulous day. All walks near the north west end are spectacular. The museum provides great insight into daily life on the island in years past.
Would Recommend: Yes
5th September 2017:

Would Recommend: Yes
1st September 2017:

Lachie's house is fantastic. We had the most amazing time staying here. The house is finished to such a high standard. The location is beautiful and close to many of the 'must see' sights in Skye. The hosts left us milk, bread, juice, breakfast items, soaps and shampoos which was such a nice touch. I have already recommended this accommodation to numerous people on my return home. We had such a memorable trip and can't wait to come back to Lachie's house one day in the future.
Tips:
The faerie glen is amazing. Definitely worth a visit. Visit the lighthouse in Dunvagen on a clear day. Portree has lots of nice shops.
Would Recommend: Yes
28th August 2017:

We enjoyed meeting Maira. She keeps the house in perfect shape and gave us good recommendations. We appreciated hearing the house's story.
Tips:
This house is well situated to explore the northern area of Skye, and we explored a good deal of the island from there.
Would Recommend: Yes
18th August 2017:

Tips:
Enjoy!
Would Recommend: Yes
11th August 2017:

Would Recommend: Yes
24th July 2017:

We had a wonderful stay at Lachie's House. The accommodation was fantastic, all finished to a high standard and had everything we needed. The location was great - remote - but that's what we were looking for on Skye. Mairi was very helpful and welcoming and a mine of local information. We had a fantastic week and would thoroughly recommend it.
Would Recommend: Yes
13th July 2017:

Lachie's House ist ein wirklich wunderschönes Ferienhaus mit einer wunderbaren, sehr hilfsbereiten Vermieterin. Sehr empfehlenswert.
Would Recommend: Yes
9th July 2017:

Great place and super great householders
Would Recommend: Yes
4th July 2017:

Would Recommend: Yes
4th June 2017:

Tips:
Lachie's house is really near to Quiring. The landscape is so amazing, to bring something to eat and drink is a good idea.
Would Recommend: Yes
29th May 2017:

Absolutely beautiful place in a stunning location. Clean, and homely with all the mod cons. All round really special and peaceful place.
Would Recommend: Yes
11th May 2017:

It was a very nice place to be.The house was excelent.
Would Recommend: Yes
19th April 2017:

Back again! We've had the pleasure of staying at Lachie's House two years in a row. We brought my parents with us this year because we just had to share the experience with them. We had 6 people in our party and the house was a perfect fit. Plenty of space for us and with three bedrooms and three washrooms we all had privacy and getting ready in the mornings and everyone needing showers/baths in the evenings was never a problem. The kitchen is fully stocked and all the appliances still look brand new. The house is extremely clean and has been very well maintained over the last two years. I can't recommend Lachie's House enough! The location is fantastic as well. Very close to lots of beautiful walks like hiking to the Old Man of Storr, and the Quiraing. I hope that we will be able to return again to Lachie's House! Thank you Mairi for another magical visit to Skye!!
Would Recommend: Yes
17th April 2017:

My wife, 8 year old daughter and I had a really lovely stay at Lachie's House and received a very warm welcome from Mairi. The house was incredibly comfortable and well equipped in every way and we really appreciated Mairi adding so many useful food and kitchen extras not normally included. We'll be coming again and highly recommend Lachie's view.
Tips:
So much and Mairi supplies a lot of useful print outs of walks and local information. Wet days - Dunvegan, Aros, Talisker Dry days - Quirang, Fairy Pools, Elgol & Loch Coruisk, Fairy Glen, Neist Point.
Would Recommend: Yes
11th April 2017:

Would Recommend: Yes
30th October 2016:

Advice from Mairi on places to visit. Was very helpful.
Tips:
Restaurants: Scorrybreac in Portree was first class. Oyster Shed was good value. Also Skye pies were very good
Would Recommend: Yes
25th October 2016:

Lachie's house facilities are all above standard with excellent condition.Despite it far from the town center like Portree,This house will be one of the best for traveling base in Isle of Skye. Thanks so much to Mairi for her kind hospitality. We will return back to stay in Lachie's house again. Strongly recommend.
Tips:
Prepare to buy your groceries from Co-op in Portree before arrive to the house.
Would Recommend: Yes
17th October 2016:

We were absolutely delighted with our stay at Lachie's House, everything was warm and comfortable and scrupulously clean - such a welcoming destination after a long journey! Mairi was fantastic, even popping over to let us know that we would be able to see the Northern Lights from Staffin Beach. I wouldn't hesitate to recommend the cottage to anyone visiting Skye.
Would Recommend: Yes
12th October 2016:

We had a great time at your house! I can recommend this fully to anyone who enjoys peace and quiet days on the most beautiful Isle of Skye. I can't wait to come back! Thank you very much!
Would Recommend: Yes
8th October 2016:

Wonderful stay there!
Would Recommend: Yes
6th October 2016:

lovely, well-equipped newly innovated house, outstanding location and incredible view from the backyard! recommended for those who want to stay in authentic Skye nature between mountains and sea. Sunrise is must to see!
Would Recommend: Yes
19th September 2016:

We were amazed at the extraordinary location of the house as well as the views of Quairang. The house was very comfortable and clean.
Tips:
We enjoyed the pie place just to the south.
Would Recommend: Yes
12th September 2016:

Would Recommend: Yes
25th August 2016:

It has been like spending 2 days in paradise. Everything has been perfect. If there is something I have clear now is that I want to come back to Skye, and it definitely wish to stay at Lachie's House.
Would Recommend: Yes
20th July 2016:

Would Recommend: Yes
14th July 2016:

Would Recommend: Yes
5th July 2016:

Probably the best Place to Stay on Skye! Lachie's House was so lovely arranged und very modern designed. The Location not far from Portree is buityfull with a lot of Nature Highlights. Everytime again.
Would Recommend: Yes
25th May 2016:

One of the best locations on Skye. The front faces a lush green mountain slope with sparse houses, and the back faces an open green backyard that ends on the shore. Beautifully decorated house.
Tips:
If you have a car, then this place is close to Old Man of Storr, Quiraing, and Kilt Rock. There is a convenience store and a good restaurant (1400 Columba) close by.
Would Recommend: Yes
23rd May 2016:

Excellent accomodation with lots of little home from home touches. Very warm and comfortable with breath taking views all around. Easy to find and nice places to eat with really no need to travel back to Portree if you are happy to use the wee shop in Staffin
Tips:
Lots to see and do. The folk museum, The Quiraing, Dunvegan Castle, Staffin Bay, The Coral Beach, The Fairy Pools, Talisker. The list is endless and none disappointing. The fact that you have to travel to see these things is not an issue. There's lots of crafts and galleries everywhere to in Teresa you.
Would Recommend: Yes
14th April 2016:

Very friendly people. They welcomed us and were incredibly kind. The house is really beautiful and cleaned. It is beautifully decorated with attention to details and equipped with everything.
Tips:
The beauty of the landscape is priceless. We were even able to see the aurora borealis!
Would Recommend: Yes
7th April 2016:

Tips:
Don't go to the floddygarry hotel. Unless you like steak and fish. And have a platinum credit card for a lamb chop.
Would Recommend: Yes
30th March 2016:

We thoroughly enjoyed our visit to Skye and Lachie's House was a great hub for our family. The house is absolutely beautiful with a gorgeous view from the picture window in the sitting room. A perfect spot in front of the fire with a cup of coffee. Such a beauty to wake up to each morning! We were close to so many places we wanted to explore and Mairi had loads of helpful maps and info to help us choose our activities. There is a small grocery just down the road with a restaurant just beside it for a sit down meal also there's a great take-away called MacKenzie's that's is also very close. If you want to cook, Lachie's House has everything you'd need with double ovens, a five burner stove, microwave and all the utensils and pots/pans/mixing bowls etc. We hope to be able to return to Lachie's House for another holiday in Skye!
Would Recommend: Yes
30th September 2015:

Just a wonderful place to stay!
Would Recommend: Yes
28th September 2015:

Brilliant
Tips:
Get groceries before heading to Skye as not a lot around to buy but plenty of places to eat out.
Would Recommend: Yes
21st September 2015:

Outstanding accommodation with a room kitchen diner and a very warm & comfortable living room with a log fire and a stunning view of the mountains.
Tips:
Enjoy the sunset and then check the Aurora weather before you go outside again to see the northern lights. :-)
Would Recommend: Yes
7th September 2015:

Lovely, cosy house. Absolutely recommend it to visit to anybody !
Would Recommend: Yes
16th August 2015:

The house was a delight. It had every thing we needed and was in a great location on Skye
Would Recommend: Yes
31st July 2015:

A very comfortable well-appointed house in a peaceful spot amidst incredible scenery.
Tips:
The information provided at the house was very useful.
Would Recommend: Yes
20th July 2015:

Exceptional accommodation. Lachie's House is extremely clean and very comfortable. We were provided with groceries for breakfast as well as all necessary toiletries and cleaning supplies. We travelled with our 2 young children and felt "at home". Mairi is also a very helpful host and was at our disposable during our stay. We highly recommend Lachie's House.
Would Recommend: Yes
17th July 2015:

Would Recommend: Yes
16th June 2015:

Very helpful and friendly and a great location for exploring the north of the island. The house is beautifully presented.
Would Recommend: Yes
.