The Hide
5 Drumfearn Isleornsay Sleat
Tel: 01471820171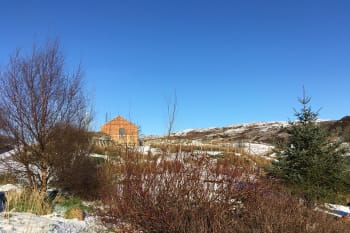 The Hide is a chalet suitable for three people situated on its own grounds with panoramic views looking over croftland to Ben Sgritheal to the east and sweeping round to the jagged Cuillin Ridge to the west. The accommodation comprises of open plan living/kitchen area, shower room, 1 room with king size bed and a 2nd room with a single bed. The heating is mainly by electric panel heaters and a small wood burner.
Availability
There are no rooms available at The Hide
for these dates.
Please try other dates or select a
different property
.
chalets

Max:
The Hide is has one bedroom with king size bed and one bedroom with a single... more >
The Hide is has one bedroom with king size bed and one bedroom with a single bed, living room/kitchen area and shower/toilet It has open views across croftland to Ben sgrithal in the East to The Cuillin in the westRoom Facilities:
Free Parking
Dishwasher
Free WIFI
Linen & Towels Supplied
Log Fire
Microwave
Private Car Space
Shower Room
Television
Ironing Facilities
Living Room
Patio
Tea/Coffee
Facilities
Garden For Residents' Use
Wi-Fi
Policies
Check In: Between 16:00 and 21:00
Check Out: Between 8:00 and 11:00
Wi-fi: Wireless internet is available and is free of charge.
Smoking: There is no smoking permitted anywhere within the property.
Parking: Parking for all guests is available on site and is free of charge.


Children: All guests must be 18 or over, no children are allowed.
Pets: Pets are not allowed.
Groups: All groups are accepted.
Average
4.9
out of 5
12 reviews
100% recommend
Reviews
25th September 2022:

Very comfortable stay at The Hide - lovely setting and very cosy. Thanks very much for a lovely stay.
Tips:
Not far at all from Broadford - local Co-op, restaurants and really good fish and chips!!
Would Recommend: Yes
12th September 2022:

Would Recommend: Yes
13th August 2022:

We had an excellent time at the Hide. The cottage was very clean, and had anything you need. The place is really quiet and the view from both windows in the living room was fantastic. We loved our stay there
Tips:
Keep in mind that the cottage is in the South part if the island and it takes time to go to the north. But the landscape is so nice that travelling through the island is a pleasure. Coop in Broadway is not very big but it's sufficient.
Would Recommend: Yes
27th May 2022:

The accommodation was great for our three days in Skye. It had everything we needed. Our host Moira had left milk in the fridge for us as well as biscuits and there was plenty of teabags coffee and hot chocolate. Including decaff organic and green tea and more. There was an iron and iron board if needed. Plenty of fresh towels. all the cleaning stuff like washing up liquid dishwasher tablets and kitchen towel. Very well equipped. No need to worry about charging your devices tablets phones or anything. There was double sockets everywhere and most of them had two USB sockets. Broadford was just a short drive away with a really decent sized Co-op with a petrol station for any food and groceries you might require. The owner Moira was warm and welcoming.
Tips:
If you visit Skye you just have to visit and do the walk up to the Old Man Of Storr. And make sure you walk up past the Storr to get to the viewpoint of the left of it were you can see the pinnacles and the loch and all the amazing scenery if the background. Best views ever. And for the Storr walk take some midge repellent. If you visit Portree get a bite to eat from Cafe Arriba on the corner of the main street. It has great food coffee and hot chocolate.
Would Recommend: Yes
8th October 2021:

We loved our stay at The Hide- it was the perfect place to explore Skye. The beds were extremely comfy and the place had all the facilities we could want. We were pleasantly surprised to find some fresh eggs left for us, along with fresh milk, and lots of different tea supplies too. Would highly recommend!
Tips:
There is a large coop nearby with plenty of choice for food, and lots of nice restaurants nearby and further afield in North Skye
Would Recommend: Yes
27th September 2020:

The Hide is a fantastic place to stay, it's a home from home. Moira is very friendly and helpful. It is in a beautiful location.
Would Recommend: Yes
24th September 2020:

Fantastic cozy place to stay with amazing views.
Tips:
Broadford, the nearest town has everything you need.
Would Recommend: Yes
24th August 2020:

Lovely few days in the Hide . Moira was there to welcome us and left some of her delicious eggs - thank you . Just what we needed , peace and quiet in very comfortable surroundings - would definitely like to visit again.
Would Recommend: Yes
10th September 2019:

Private and beautiful scenery
Would Recommend: Yes
30th July 2019:

Lovely clean comfy accommodation in a super quiet location
Would Recommend: Yes
23rd July 2019:

A friend and I had a lovely stay at The Hide. It was in a wonderful setting with beautiful countryside views, yet only a few minutes drive to shops and restaurants. We had a lovely two days exploring Skye from this comfortable, clean and well-appointed accommodation.
Would Recommend: Yes
29th May 2019:

We had a lovely time at The Hide. The location was perfect for exploring the island and the place has everything you need for an enjoyable visit. Moira was very friendly and helpful, would recommend staying here to anyone and would certainly come again.
Would Recommend: Yes
.