Lampay Chalets
Lampay Claigan
Tel: 07917825592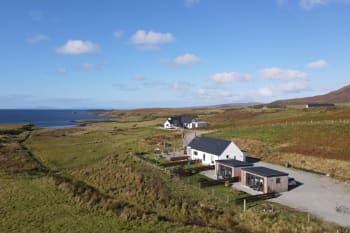 A rural setting with amazing views on our working croft. We have over 80 North Country Cheviot sheep,chickens, ducks, pigs and 2 boxer dogs, Murphy and Skye. We are a 25 minute walk to Coral Beach. The Dunvegan Castle and the village of Dunvegan is 4 miles away. We have outstanding views of Macleods Table's, Loch Dunvegan, The Minch and The Outer Hebrides. Glorious sunsets and sunrises can be seen all from your chalet and its own fenced off garden area. There is plenty of birdlife, sealife and wildlife to be seen on our croft and the surrounding areas. Come and stay with us, join in with the croft, help gather the sheep, watch shearing and dosing, stay at lambing time and help, make your stay on the Isle of Skye memorable. We look forward to meeting you.
Facilities
working croft
Travel cot
High chair booster seat
Drying Facilities
Garden For Residents' Use
Laundry And Dry Clean (Charge)
Internet Access
Children Welcome
Policies
Check In: Between 16:00 and 23:00
Check Out: Between 7:00 and 10:00
Wi-fi: Wireless internet is available and is free of charge.
Smoking: There is no smoking permitted anywhere within the property.
Parking: Parking for all guests is available on site and is free of charge.


Children: Children of all ages are welcome.
Pets: Pets are allowed and can stay free of charge.
Groups: Groups are accepted up to a maximum of 2 people. No stag and hen groups.
Average
5.0
out of 5
32 reviews
100% recommend
Reviews
15th October 2021:

These chalets are amazing and views to die for. Hosts are great would highly recommend staying here.
Tips:
The old school house and old inn carbost we're great for food, we did the fairy pools, fairy glens and the old man of storr, you are also close to coral beach that you could walk to all are great to see but fairy glen was our favourite by far.
Would Recommend: Yes
Owner Response:
Thank you for your review
13th October 2021:

5*s all round! We booked a stay at Lampay Chalets as a last minute weekend away, and our only gripe is that we wish we could have stayed longer! The location of the Chalets is perfect - you literally are in the middle of nowhere, surrounded by countryside, beaches and water. Karen and John have thought of everything when it comes to the Chalets - from tea/coffee making facilities, air-beds for the children, fresh laid eggs, home baking, cutlery/crockery, condiments and so much more! The Chalets are spotless! Without doubt the cleanest we have stayed in - ever! And dog-friendly, with enclosed gardens (with an adjoining gate should your party take over both chalets!) Nothing is too much trouble, and Karen and John are available on-site should you need anything - but you are free to come and go as you please. We are already planning a return!
Tips:
Coral Beach a short walk/drive away.
Would Recommend: Yes
Owner Response:
Thank you for your lovely review
13th October 2021:

Would Recommend: Yes
27th September 2021:

Excellent chalet, very well appointed, exceptionally clean and everything is a very high standard and cannot be faulted. Provision of all cleaning products + tea / coffee etc is very helpful and appreciated, as were the lovely welcome gifts.
Tips:
Seafood at The Dunvegan was amazing
Would Recommend: Yes
Owner Response:
Thank you for your review ☺
13th September 2021:

Lovely clean chalet set in a beautiful location over looking the loch. Hosts very always around to accommodate if required and very friendly . Ideal for a short stay and very relaxing . Would definitely return and recommend to family and friends.
Tips:
We ate out every night but had to book in advance as every where fully booked. Food at the Dunvegan hotel was great and service spot on would highly recommend .
Would Recommend: Yes
13th September 2021:

I love the location, the cosiness of the chalet and the fact you've thought of everything. It's such a perfect place to relax or as a base to the sights of Skye.
Would Recommend: Yes
10th September 2021:

You made us feel very welcome and the lettle touches like eggs and home baking were over and above what we expected and we enjoyed them Thank you
Tips:
Very good base for exploring the Island.
Would Recommend: Yes
2nd September 2021:

We had another wonderful stay at Lampey. It was so good to catch up with Karen and John again and to meet the 2 cute additions to the menagerie.....Hilda and Dotty. Hopefully there will be even more animals next time! Lampay is a fantastic place to stay. We love all the special wee touches like the free range eggs and beautiful home baking. Looking forward to our return!
Tips:
Personally we have been lucky to have stunning weather during our 2 stays this year and have loved just sitting out enjoying the fabulous view and spending time with the animals. It is such a relaxing place to just be! Our favourite place to eat is The Old School. We have eaten there on numerous occasions and have always had beautiful food served by wonderful staff.
Would Recommend: Yes
14th August 2021:

The location is fabulous. Quiet with views. The walk to coral beach. The village is a 5 minute drive . The hosts are great . This is a great place to stay .
Would Recommend: Yes
31st July 2021:

Would Recommend: Yes
23rd July 2021:

Can't thank Karen and John enough for making our stay in Skye really special. The Chalet is lovely with everything you need, stunning views and wildlife right on your doorstep that's really humbling to see. The kids enjoyed the 'Croft n Creel' and were lucky enough to see a lobster a velvet crab and a Ray's Bass (hope that's right) and a seal even popped his head up to for a nosey! We also saw a family of deer right outside our door. Wow! Location wise was easy to navigate around the Isle from where we were to take in lots of sights. Thank you guys so much, we will be back. 🦞🦀🦌🦭
Would Recommend: Yes
11th July 2021:

We loved it so much and will be back for sure. What a lovely wee place with views to die for. The chalet was immaculate and ideal with our own little enclosed garden but the use of enclosed fields fo let the dog run free too. The host was really nice and friendly and we were very lucky with our chalet neighbours too! Ideal for us and the dog!
Tips:
We got takeaway 5 mins along the road at a place called mistys and it was nice. Also ideal location for coral beach and dunvegan castle but great as a base to chill no matter where you go.
Would Recommend: Yes
7th July 2021:

Lovely to meet you. Thank you for being so welcoming. Really lovely place to stay and you have made the chalets ideal for a relaxing holiday x
Tips:
Neist lighthouse, Coral beach and Portree were all well worth visiting. We only had 3 days, so no more time for visits.
Would Recommend: Yes
2nd July 2021:

Would Recommend: Yes
2nd July 2021:

We absolutely loved our stay with you and are thoroughly looking forward to returning in August. Perfect spot for two people. Never a dull moment with the sheep and their lambs!
Tips:
Thoroughly recommend The Old School restaurant for a beautiful meal We did not rush about visiting all the local beauty preferring to stay in the glorious sunshine at Lampay and enjoy all on offer there!
Would Recommend: Yes
1st July 2021:

Karen & John are fabulous hosts & Lampay Chalets are so lovely, perfectly spaced out & immaculate as a family we had a fantastic one night stay which wasn't enough. We were very lucky as the weather was as fantastic :) xxx
Would Recommend: Yes
20th June 2021:

Stunning location right at the edge of the earth. I'd recommend this to anyone coming to Skye! The chalet was in perfect condition and had everything we needed. We were also provided with freshly caught fish from the owners on our 2nd day, it was incredible! Morning coffee in the private garden was so lovely and the owner Karen was really friendly and welcoming & made us feel at home. It all felt really special. Will definitely be going back!!
Would Recommend: Yes
20th June 2021:

Beautiful clean and well appointed chalets. Stunning location. Wonderful host.
Would Recommend: Yes
1st June 2021:

A wonderful stay, with wonderful views and fabulous hosts. Nothing was too much trouble and they were very generous with their time and information. They are very receptive to feedback to ensure your and future guests stay is perfect.
Tips:
You'll meet the croft's chickens, buy their eggs, they are delicious. They're is limited hanging space in the chalets, so take care when folding your trip's clothes 😊 but plenty of space for your luggage. Get up early and walk along to the coral breach before everyone else arrives. Take time to be mindful and listen to the birdsong.
Would Recommend: Yes
13th May 2021:

Would Recommend: Yes
8th May 2021:

Karen & John are the perfect hosts, welcoming, helpful and lovely and the chalets are superb and offer a fantastic view of the coast and sunsets. We thoroughly enjoyed our week and the first thing we did when leaving was plan our visit back next year.
Tips:
We did a lot of walking during our stay, the chalets were equipped with books for walkers and OS maps. Talisker Bay, MacLeod's Maidens, The Fairy Pools, The Old Man of Storr, The Quiraing were all worth going to see. A trip to Raasay via the ferry at Sconser was also a good day. The Isle of Skye Brewery based in Uig was nice to visit and the beer is good. There is a fair sized Co-Op in Portree for grocery which is about a 20-30 minute drive from the Chalet.
Would Recommend: Yes
6th May 2021:

A compact little gem surrounded by outstanding beauty. Accommodating, genuinely caring & thoughtful owners. The most dog friendly property on Skye.
Tips:
Explore with your eyes open!
Would Recommend: Yes
2nd May 2021:

John and Karen were brilliant hosts, happy to do anything for you. Accommodation is fantastic and the views are incredible. We will be back soon.
Tips:
The Fairy Glen, Uig. The Galley seafood cafe, Earlish. The Old School Restaurant, Dunvegan. Neist Point Lighthouse. Scottish Highland Coo View Point on the A87, Hector's Highland Coos.
Would Recommend: Yes
14th December 2020:

Lovely chalets, very clean and the view is spectacular.
Would Recommend: Yes
Owner Response:
Thank you very much for your review
3rd November 2020:

A really comfortable cabin in a superb location with stunning views. John and Karen were wonderful hosts and were very informative about area before and during our stay. They even left us some delicious free range eggs for breakfast. Would highly recommend Lampay Chalets for anyone looking for a secluded break in the most dramatic of locations.
Would Recommend: Yes
25th October 2020:

Amazing location with great hospitality.the biews are spectacular and you get a lovely morning bisit from the chickens The chalets are immaculate and a comfy king size bed awaits.
Tips:
The misty in dunvegan is great for food. I would say go to coral beach on foot as the car park can be busy.
Would Recommend: Yes
2nd October 2020:

Idyllic peaceful location . Fenced garden area great for the dog. Friendly host. Spotlessly clean and cosy.
Tips:
Book a table well in advance at The Three Chimneys, its a must. Visit the Coral Beach and Janns cake shop in Dunvegan.
Would Recommend: Yes
26th September 2020:

Perfect location , stunning views Chalet comfy , clean and has everything you need Hosts friendly , helpful We had a wonderful stay here with our 2 dogs Walks , trips , boat trips , chilling We will return
Tips:
You can walk to coral beach from the chalet it stunning Your 5 mins from shops and restaurants in the car Easy to get around from here I was happy to sit and look at the water from the chalet And take in all the surroundings
Would Recommend: Yes
26th September 2020:

Return visit to Lampay Chalets because we enjoyed our visit so much last time. Karen and John were super hosts, very welcoming friendly and kind. Murphy and Skye the boxers are also lovely and the hens will pay a visit from time to time also. Accommodation was spotlessly clean well equipped and very comfortable and the views stunning. The fact we had such good weather for our week at the chalet just made the whole experience superb. Would thoroughly recommend Lampay Chalets and hope to return again We will deffinately
Tips:
Dunvegan Bakery worth a visit for bread and cakes. Really like their apple turnover and prices are very reasonable. Dunvegan Hotel is nice for coffee and meals Old School house is also nice but limited menu. We also had a takeaway meal from the Harlosh Takeaway which was very tasty
Would Recommend: Yes
14th September 2020:

Would Recommend: Yes
31st August 2020:

Karen and John were amazing hosts and made us feel very welcome! Nothing was too much hassle. We would love to return again one day.
Tips:
Coral beach is about a 45 min walk from the chalet and would be nice on a summers day or at night to watch the sunset. The misty had lovely takeaway pizzas and the waffles were to die for (as recommended by Karen).
Would Recommend: Yes
9th March 2020:

Thank you for an absolutely wonderful stay. You made our trip extra special and wished we could stay longer. Very clean and tidy chalet with an absolutely incredible view. Thanks again.
Would Recommend: Yes
Owner Response:
Hi Thank you for your very kind review. We would love to have you back anytime.
.