Hazelbank Self Catering
Hazelbank, 16 Lochbay, Waternish,
Tel: 01470592712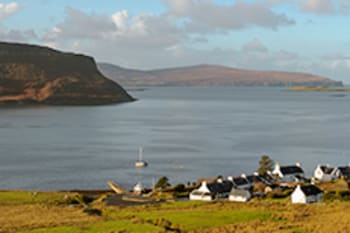 Self contained, one bedroomed apartment on the beautiful Waternish peninsula in the north West of the Isle of Skye. Open plan living room, dining area and kitchen with stunning views across Lochbay to the Western Isles. Within walking distance of the village of Stein. The Stein Inn is open all year round for food and drink. during the season there is also a top class restaurant in the village. Approximately 30 minutes drive from the main town of Portree and 10 minutes from the nearest shops and garage.
Availability
There are no rooms available at Hazelbank Self Catering
for these dates.
Please try other dates or select a
different property
.
units
Max:
En suite
Room Facilities:
ALL Rooms Non-Smoking
Broadband/High Speed Internet Access
Cooker
Dining Area
Ensuite Bath/Shower Room In Unit
Fridge
Hair Dryer In Room
Heating Throughout Property
I-Pod docking station
Internet via TV
Ironing Facilities
Kitchen
Linen & Towels Supplied
Living Room
Microwave
Mist-free Mirror
Satellite Television Channels
Sea/Loch View
Tumble Dryer
Washing Machine
WI-FI Internet Access
Alarm Clock
Bathrobes
Dishwasher
Freezer
LCD/Plasma Television
Facilities
Garden For Residents' Use
Internet Access
Policies
Check In: Between 15:00 and 22:00
Check Out: Between 8:00 and 10:00
Wi-fi: Wireless internet is available and is free of charge.
Smoking: There is no smoking permitted anywhere within the property.
Parking: Parking for all guests is available on site and is free of charge.


Children: All guests must be 18 or over, no children are allowed.
Pets: Pets are allowed at a charge of £10.00 per stay.
Groups: Groups are accepted up to a maximum of 2 people. Stag and hen groups are allowed.
Average
5.0
out of 5
57 reviews
100% recommend
Reviews
20th June 2023:

Just Fabulous
Tips:
Don't just travel to the highlights but get to know the litteken jewel you can find around every corner.
Would Recommend: Yes
28th May 2023:

We thoroughly enjoyed our week and wish we could have stayed longer. The apartment was extremely clean and very well equipped - everything you could possibly need. Loved the welcome pack of local produce- especially the eggs. Norah and Roger are lovely genuine people who are very friendly and not forgetting Pumba! Thankyou xxx
Tips:
The whole island is amazing - stunning views at every turn! I particularly enjoyed Shilisdair Natural Dye company and Skye Weavers.
Would Recommend: Yes
30th April 2023:

We thoroughly enjoyed our stay at Hazelbank. The accommodation was very clean and comfortable, and it had amazing views looking out across Waternish and the sea. Perfect for watching the sunset on clearer nights! Roger and Norah were very friendly and accommodating. I would recommend Hazelbank to anyone wanting a relaxing place to stay on Skye.
Tips:
We booked a meal (well in advance) for the Lochbay Restaurant in Stein, and it was well worth the wait and the cost. Beautiful seafood and a real dining experience! The old bakery in Dunvegan also does amazing bread, traybakes (we would recommend the lemon slices and the brownies) as well as apple turnovers. If you stop in Portree then we would recommend a trip to Relish for a burger or toasties. Look out for the Codfather fish and chip van too! In terms of places to visit, we really enjoyed walking to Neist Point, the coral beaches outside of Dunvegan, MacLeods Maidens over at Orbost, and the Quiraing. For a quieter walk with less people, it's worth taking a walk up to Waternish Point starting from Trumpan, which is a very short drive from Hazelbank.
Would Recommend: Yes
20th November 2022:

Hazelbank is the best equipped holiday cottage I've ever stayed at, in a great location with stunning night skys.
Tips:
The walk to the coral beaches was the highlight of oour (too short) stay.
Would Recommend: Yes
30th May 2022:

The accommodation is excellent furnished and there were additional goodies to help the guests to feel comfortable.
Tips:
Skye is worth to be visiting. In the accomodation the guests find a folder with many helpful tipps
Would Recommend: Yes
9th May 2022:

Very welcoming, lovely welcome pack. Non intrusive yet available if there is a problem
Tips:
If you want a lovely view and lovely apartment this is the place. Stein is a good traditional pub and you will find beauty in every corner of the island
Would Recommend: Yes
1st May 2022:

The best self catering we have stayed in. Very comfortable with fantastic views.
Tips:
Enjoyed the Old Schoolhouse, Edinabane Inn and the Oyster Shed. Coral Beach is lovely.
Would Recommend: Yes
11th March 2022:

Another great short break at Hazelbank with welcoming hosts Norah and Roger. Accommodation is warm and cosy with everything that you need, views and location fabulous and we had sun! We will certainly return.
Would Recommend: Yes
22nd December 2021:

Wonderfully located, compact, well proportioned and spotless accommodation. Really enjoyed our short break and thank you for taking the time to source the vegan items for the welcome pack.
Would Recommend: Yes
9th November 2021:

Thanks to Norah and Roger I had a great relaxing stay as I did when I visited last time.
Would Recommend: Yes
26th October 2021:

Hazelbank is a really great place to holiday. The accommodation is so stylish, clean, comfortable and has amazing views over the Waternish peninsula. Roger and Norah are fantastic hosts who very obviously care that their guests are happy and have what they need. Their is a beautiful feeling of calm and tranquility in and around the property and we wouldn't hesitate to return or recommend it to our friends and family.
Tips:
We ate in the Edinbane Inn which was very good with a lively atmosphere. The honesty boxes along the Geary peninsula were a real treat, plus there are spectacular coastal views all around Waternish. We visited a lot of the tourist attractions and visiting in late October we didn't find anywhere too busy. Skye is quite spectacular in it's beauty but we definitely found Waternish a great location to base ourselves.
Would Recommend: Yes
8th September 2021:

This was our second visit to Hazelbank. The view is outstanding, one of the best on the island. Norah and Roger have thought of every detail to make the stay comfortable, including a wonderful welcome pack.
Tips:
Loch Bay Restaurant a must, but book well in advance. Three Chimmneys (advanced booking)and Edinbane are musts for a visit. The list of walks are endless, even for a second visit still so much to see and do.
Would Recommend: Yes
23rd August 2021:

Norah and Roger's cottage was fantastic. From the amazing view, to the welcome basket and helpful local recommendations they made our stay relaxing and enjoyable.
Tips:
The Edinbane Inn for dinner, the Yurt for coffee and soup and the pub and gallery in Stein for shopping and drinks. Also recommend walking down to the waternish peninsula.
Would Recommend: Yes
18th August 2021:

Second stay at Hazelbank. Couldn't have asked for more - a wonderful home from home on the magnificent Isle of Skye - Thankyou !!!
Would Recommend: Yes
26th July 2021:

Hazelbank must have one of the most beautiful views in Skye. The accommodation is tastefully furnished and well equipped, with lots of little extras. Nothing is too much trouble for the hosts but they also respect your privacy. Lovely people. We had a perfect time and would highly recommend Hazelbank.
Tips:
Explore the little minor roads!
Would Recommend: Yes
31st May 2021:

What a view! and a lovely apartment to match. Can recommend to anyone looking for a modern facility in amongst timeless scenery and history. Also the extra touches and care and goodies organised by the hosts made it especially welcoming. Thank you Oh did I mention the view! and with a sunset so memorable
Tips:
Bakery a delight and fish and chips in Dunvegan excellent Restaurant eating very much at the high end of cost as is the beer! Garage petrol though very reasonable and the Dunvegan stores has all you need and more
Would Recommend: Yes
14th May 2021:

Accommodation surpassed all expectations and the hospitality great - without being intrusive!
Tips:
All weather dependent - but this is Scotland! Neist Point, Waterstein head from Trumpan Church, the Coral Beaches at Claigan - didn't do - but Mc Cleods Tables! All fairly 'easy'walks. Check out Endblane Pottery but also local pottery on way to Neist point. Stein Inn v expensive but views worth it ( almost!)
Would Recommend: Yes
8th November 2020:

Another great stay at Hazelbank. Great facilities, amazing view, a place where you can truly relax and get away. A great location to see all the Skye has to offer. Spotlessly clean and well appointed.
Tips:
The Bay and Stein Inn are a 10 minute walk. Three Chimneys is about a 20 min drive. Dunvegan castle, 5 min drive. Neist point light, within 30 mins.
Would Recommend: Yes
23rd March 2020:

Beautiful place, fantastic location and views, first class communication.
Would Recommend: Yes
13th March 2020:

Nora and Roger are very helpful. Very thoughtful touch of food items on arrival. They supply everything in the apartment you could possibly need for a great self catering holiday.
Tips:
Two lovely eating places we visited within walking distance of Hazelbank, The Lochbay seafood restaurant and the local pub the Stein which also offers food. Great location for exploring the island. Lots of lovely walks. Dunvegan a short drive away.
Would Recommend: Yes
12th January 2020:

Would Recommend: Yes
18th October 2019:

Great place to stay.
Would Recommend: Yes
26th September 2019:

Would Recommend: Yes
18th July 2019:

Situated overlooking little minch fantastic views weather permitting. Advertised as apartment but more like a cottage, very clean and tastefully furnished. Would highly recommend.
Would Recommend: Yes
9th July 2019:

We have just spent a week at Hazelbank. Our stay was one of our best holiday experiences in a long time. The place is completely renovated with every possible facility and comfort you may wish for and the atmosphere in the house is very pleasant too. The location is blissfully away from the tourist circuit and the total peace and quiet is nectar for the soul. The view from the house is amazing and just looking at it can keep you occupied for a long time. This is a very wonderful place and we would like to go back. We can only give Hazelbank our very best recommendation. Anne and Bjørn, Gilleleje, Denmark
Tips:
Endless walks where you are alone with the wonderful nature.
Would Recommend: Yes
8th June 2019:

Helpful and friendly couple. Enjoyed the really lovely location and view from lounge and bedroom.
Would Recommend: Yes
27th May 2019:

Excellent location, fantastic accomodation. Roger and Norah-Lynne made feel welcome and the GF package was entirely unexpected but greatly appreciated. We will plan to stay again if we are ever on Skye again. Thank you very much.
Would Recommend: Yes
20th May 2019:

Wonderful accommodation and location. We were made very welcome and had everything we needed during our stay. We enjoyed our holiday very much. Thank you.
Would Recommend: Yes
11th May 2019:

Excellent accommodation
Tips:
Day trip to St Kilda. Worth while
Would Recommend: Yes
10th April 2019:

The house is perfect - spotlessly clean, attractively furnished and kitted out with everything we could need. The view is stunning.
Tips:
Waternish proved an excellent location. Although remote, the Stein Inn and Lochbay Restaurant are within walking distance of the house. It's well located for driving to different points on the island including Trotternish, Duirinish and the Cuillins.
Would Recommend: Yes
23rd March 2019:

Would Recommend: Yes
26th October 2018:

Would Recommend: Yes
14th October 2018:

Beautiful scenery enroute to the apartment. I was expecting to see great sunset but was pleasantly surprised by the beautiful sunrise view! (Just pop out of the apartment and look eastward.) Cosy, homey, has everything you need, especially for cooking! Was, again, pleasantly surprised to find a handheld blender, along with many different kitchen utensils for cooking, and the welcome pack prepared by the couple. The eggs were so fresh! Bed was comfy and we love sitting on the sofa starring out at the sea, whether it's a rainy or sunny day. Thank you for the lovely stay, Roger and Norah! Only wish there was a full length mirror in the house and a drying room for wet coats and shoes. Nonetheless, it was a wonderful stay at Hazelbank. :)
Tips:
The Dunvegan bakery recommended was reallllllly good. The black box by the road in Edinbane was selling nice fresh eggs!
Would Recommend: Yes
31st May 2018:

Amazing. We have a dog and are doing a lot of UK holidays. This is now, without a doubt, the best place we have EVER stayed. Owner very helpful. Lovely welcome pack. The apartment had everything you could need and more - including a bread maker. Bed comfortable, towels soft, everywhere very clean. Honestly I can not rate this accommodation high enough. I have done a lot of traveling to a lot of places in the world and the view is up there in my top 5. Yes it really is that good.
Tips:
If you have a dog the forest walk is amazing. Ask the owner for directions. A drink in the local pub at sunset is a must.
Would Recommend: Yes
Owner Response:
Many thanks for your lovely review. It was a pleasure to have you here.
8th May 2018:

an idyllic stay with weather to match. The fitting out of the appartment was fantastic and we were truly comfortable. A good base for Skye with good eating fairly nearby.
Tips:
Eat At Loch Bay. Pub a bit ordinary and service poor.
Would Recommend: Yes
7th May 2018:

A lovely, clean and well equipped apartment which is of the highest standard. The hosts, Norah- Lynne and Roger are very friendly, and they have a very high standard of cleanliness. This was our second visit and we weren't disappointed, as everything was just as special. The setting for this apartment is so wonderful as it overlooks Loch Bay. The view from the sitting room window is captivating.
Tips:
The Coral Beach is worth a visit. The drive there is on a single track road but once you get parked it is about a half hours walk to the beach. Very pretty when you get there. The potter, Sarah Wiggins, has some beautiful pieces. She has a studio at Milovaig but best ring her for directions. Examples of her work can be seen in the craft shop at Dunvegan. Best book for a meal out at The Old School House, which is very popular with the locals. Lovely food!
Would Recommend: Yes
27th March 2018:

Lovely location, beautiful island, very comfortable cottage. We had a great time.
Tips:
We loved Old Man of Storr, Neist Point, Quaraing, Elgol and had a lovely meal at the Old School House.
Would Recommend: Yes
16th February 2018:

Had a wonderful stay! Hazelbank had everything we needed! The extra touches like the croissants and crowdie were much appreciated along with the breakfast ingredients! Lovely village with stunning views! Being able to take Isla (our dog) was great too!
Would Recommend: Yes
10th December 2017:

I had a very relaxing and enjoyable stay here. The location is perfect if you wish to get away from it all and chill out as was my reason for my stay. Norah and Roger are always ready to help and advise on your needs.
Tips:
There is a pub and a restaurant in walking distance. Of course if walking is what you want there are plenty of walks to enjoy.
Would Recommend: Yes
25th November 2017:

Brilliant to find the basics like dishwasher tablets etc are provided. Welcome pack was lovely and very welcome. Great view. Great host. Can't recommend highly enough.
Tips:
Lochbay Restuarant is a must!!!
Would Recommend: Yes
5th September 2017:

Thanks to Roger and Norah for a friendly and welcoming arrival and for being so helpful. The setting of the property is stunning.
Tips:
The north of Skye is amazing, scenery,dark skies,wildlife etc etc Edinbane Inn Sunday afternoons 3-5pm live traditional music, lovely pub Fresh fish man delivers Wednesday Oyster Shack near Talisker Distillary is a must for fresh oysters and seafood Saw dolphins from Trumpan and sea and golden eagles from the property
Would Recommend: Yes
28th June 2017:

Hazelbank was very comfortable, well equipped cozy and clean. The view from the property is fantastic.
Tips:
The Stein Inn is worth a visit but do not allow dogs in the bar between 6 pm and 9 30 pm in the evening.
Would Recommend: Yes
8th June 2017:

Roger & Nora¬Lynn were friendly,helpful and gave us plenty of information about Skye. They had kindly left some basic groceries which were very welcome.
Tips:
The Stein Inn was very friendly & provided good basic fare. The Edinbane Inn in the village of Edinbane had a more elaborate menu with great food & service. We enjoyed a visit to Dunvegan Castle, The Skye Museum of Island life as well as exploring Coral beaches.
Would Recommend: Yes
29th May 2017:

A very clean and comfortable accommodation with great views over the loch. Local pub very good.
Would Recommend: Yes
14th April 2017:

We really enjoyed our 3 night stay at Hazelbank. Beautiful location with spectacular views.
Tips:
Lochbay restaurant followed by a whisky at the Stein Inn is a must.
Would Recommend: Yes
23rd February 2017:

Would Recommend: Yes
29th October 2016:

Such a well equipped appartment in a perfect location, close to Stein with a great pub and superb restaurant. Thanks again for all your help and the welcome pack.
Would Recommend: Yes
19th October 2016:

Very comfortable, home from home, everything you need for a relaxing holiday, plus a gorgeous view
Would Recommend: Yes
22nd September 2016:

Cracking place to stay, really ideal for a couple. Thoughtful items provided upon arrival like bacon, eggs and rolls. View is phenomenal and on a good day you can sit by the large window for hours.
Tips:
Book loch bay restaurant before you go, amazing food! Definitely visit some local art galleries on your tour of Skye.
Would Recommend: Yes
Owner Response:
Many thanks for your review, it was a pleasure to have you here. Look forward to welcoming you back in the future. Roger and Norah-Lynne
18th September 2016:

What a wonderful place you have developed. Every last thing has been thought of. Your welcome is generous without being overpowering - great bacon and eggs! If you can keep Skye's ability to age material things at bay, you will enjoy many years of success.
Tips:
The Stein Inn is worth a visit as you spend time on the dock-side on the road below the cottage. The Skye Skins factory signposted right on the way down to the pier is always an interesting trip. Nearby Dunvegan has its Castle - and dungeon! - and on from there there are the seals and the Coral Beach. Traveling on to the NW tip of Skye you can visit Varcasaig Beach - smooth soft black sand - and Neist Point lighthouse, although the parking can be limited it's such a great trip.
Would Recommend: Yes
Owner Response:
Many thanks for your kind review. It was a pleasure to welcome you.
8th September 2016:

Would Recommend: Yes
Owner Response:
Many thanks for your review.
21st July 2016:

A well appointed holiday let in a location to die for. All the facilities are top notch and it is the little extras that mean so much - breakfast welcome pack, towelling robes, hosts with a massive knowledge of the area, and down to the spotting scope in the picture window to view the eagles that just happen to glide by.
Tips:
Talisker distillery - your host Roger is a guide. A boat trip with Gordon (Divers Eye) from the jetty at Stein will educate you on the local wildlife and history of the area. Lochbay Restaurant run by Michelin starred Michael Smith is a must do....and it's walking distance!
Would Recommend: Yes
27th June 2016:

A lovely place to stay. The apartment is equipped to a very high standard. There was a lovely welcome when I arrived and nothing was too much trouble.
Tips:
Diver's Eye boat trips, which run from the local jetty, are great; we saw loads of seabirds including puffins, also golden eagles and porpoises.
Would Recommend: Yes
1st June 2016:

Brilliant apartment and location, nicely furnished and equipped, with fantastic views.
Tips:
Stein Inn and Loch Bay Restaurant you can see from the window. Coral Beaches is beautiful on a sunny day. The Quiraing is for more ardent walkers but great views. If you look for long enough you can see White-tailed Eagles flying over the bay and occasionally Golden Eagles over the ridge, all from the apartment!
Would Recommend: Yes
16th May 2016:

Wonderful location with stunning views. The apartment is beautifully decorated, clean and comfortable. Roger and Nora were welcoming and the little breakfast extras were a real treat. They were also helpful with offering tips re things to do on the island. Thank you both!
Tips:
Both Loch Bay Restaurant and the Stein Inn are within easy walking distance. Recommend booking the former in advance during the busy season to avoid disappointment and check opening days.
Would Recommend: Yes
24th April 2016:

We had a wonderful stay at hazelbank. The self catering accommodation provided more than we expected. There were full cooking facilities and even a bread maker with flour provided (and a fresh loaf on arrival). The location was spectacular with the most wonderful sunsets. An added bonus was being just a short walk away from Skye's oldest inn. The bedding was extremely comfortable, and appreciated after a long day's walk. Everything in the accommodation tastefully decorated and kept immaculately. There were so many small details such as the telescope, os maps, torch in case walking back in the dark and even a resident fluffy cat which made it such a memorable trip. We would love to stay in hazelbank again and would highly recommend it. It's just such a beautiful place and we hope they'll have space for us next time.
Would Recommend: Yes
22nd April 2016:

Wonderful place to stay. The apartment is lovely and well appointed. The views are breath taking.
Tips:
The Stein Inn is a lovely place for a meal. The staff are friendly and helpful. Don't miss the Coral Beach, The Dinosaur Beach and all the single tracks which lead to fantastic scenery
Would Recommend: Yes
.