Donmar Cottage
Donmar 43 Bernisdale
Tel: 00491729899568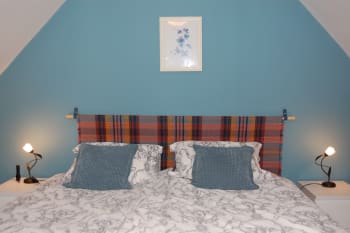 A cosy self catering cottage which provides space for 6 guests. Located in the crofting township of Bernisdale, approximately 7 miles from Portree. Enjoy wonderful views from the spacious kitchen or relax in the homely living room which has a wood burning stove. There are 3 bedrooms, each have a large double bed. There is a large garden with sitting-out area and garden furniture. A perfect base to explore the Isle of Skye.
Availability
There are no rooms available at Donmar Cottage
for these dates.
Please try other dates or select a
different property
.
cottages
Max:
Donmar is an old cottage with several extensions and a lot of character. Plea... more >
Donmar is an old cottage with several extensions and a lot of character. Please be aware of steps and uneven flooring.Room Facilities:
stair gate
Bath/Shower
Central Heating
Ceramic Hob
Coffee Maker
Complimentary Toiletries
Cooker
Crockery & Utensils Supplied
Dining Area
Dishwasher
Electric Shaver Point
Ensuite Bath/Shower Room In Unit
Freezer
Fridge
Hairdryer
Ironing Facilities
Kitchen
LCD/Plasma Television
Linen & Towels Supplied
Living Room
Log Fire
Microwave
Private Car Space
Sea/Loch View
Tumble Dryer
Washing Machine
Facilities
Garden For Residents' Use
Golf Course (nearby)
Wi-Fi
Policies
Check In: Between 15:00 and 20:00
Check Out: Between 9:30 and 10:00
Wi-fi: Wireless internet is available and is free of charge.
Smoking: There is no smoking permitted anywhere within the property.
Parking: Parking for all guests is available on site and is free of charge.


Children: Children of all ages are welcome.
Pets: Pets are not allowed.
Groups: Groups are accepted up to a maximum of 6 people. No stag and hen groups.
Average
4.7
out of 5
29 reviews
100% recommend
Reviews
14th September 2023:

Would Recommend: Yes
7th September 2023:

Would Recommend: Yes
5th August 2023:

Would Recommend: Yes
31st July 2023:

Would Recommend: Yes
7th July 2023:

Lovely cottage with spectacular views and easy access to Portree. Very comfortable beds and a well appointed kitchen. Would absolutely love to stay here again... Dale Johnson
Tips:
Always make a reservation if eating in Portree. The restaurants book up early and the village is small.
Would Recommend: Yes
20th June 2023:

Would Recommend: Yes
16th May 2023:

Spacious and well appointed accommodation. All rooms en-suite and excellent sized rooms.
Tips:
Well located and easy to reach all parts of the island. We particularly enjoyed Dunvegan Castle and the nearby Coral Beach.
Would Recommend: Yes
11th October 2022:

The place is lovely, it has gorgeous views of Skye and we found it to be in a good location. We would love to come back, definitely recommend to other people. The only bad part is the fact that the wifi is terrible around the house, I know they mention having extenders but they do not work so if you're planning on working or have to connect to the internet I would recommend going to a cafe. Luckily we only needed it for one day for work purposes, cause really is terrible. But the location of the property and how nice it is completely beautiful and 100% recommended.
Would Recommend: Yes
2nd August 2022:

Would Recommend: Yes
28th July 2022:

The host was very helpful. 😊 Every window looking out from the cottage is a picture of Skye. We had an enjoyable stay. Thank you.
Would Recommend: Yes
17th July 2022:

Just back from our fifth time staying at Donmar. Great place to stay, has everything you need and the hosts are fantastic.
Would Recommend: Yes
1st June 2022:

A little point could be improved : replace the 2 slices toaster by a 4 slices toaster
Tips:
Perfect if you have a car,because no shop, no restaurant close to this cottage. A lot of foot-hikings at only a few kilometers of the cottage.
Would Recommend: Yes
27th April 2022:

Almost everything was amazing! The shower downstairs is not so good as the one upstairs. The garden is beautiful! It would be nice 👌 f there was a posibility for eating outside. Check out time is quit early
Would Recommend: Yes
4th April 2022:

The house is wonderful, clean and really well equiped. Perfect for a group of 6 people.
Would Recommend: Yes
29th March 2022:

Very comfortable cottage; a real bonus to have ensuite facilities with each of the spacious three bedrooms. We had a great family holiday for 6 adults and 2 toddlers and the cottage didn't feel cramped at all. Close enough to Portree for provisions but well placed to explore the island.
Would Recommend: Yes
19th February 2022:

Hi I had a lovely stay it is a beautiful house. I would just recommend bigger towels and possible leave salt and pepper to aid cooking. It was difficult to see the TV due to the size. However everything else was brilliant and those were minor details.
Tips:
I would definitely recommend this cottage. It was lovely and brilliant views.
Would Recommend: Yes
8th November 2021:

The house rooms are very big with on suites. Back garden has amazing scenery to enjoy. Lovely kitchen with dining and big seating room has a tv with DVD player. We really enjoyed our stay.
Tips:
We went there for a photography trip and all the Skye attractions are easily accessible from the location.
Would Recommend: Yes
13th October 2021:

clean and servicable
Tips:
Would Recommend: Yes
6th October 2021:

Such a nice cottage surrounded by scenic countryside, we appreciated how clean and spacious it is, also the quick reply from Sarah.
Tips:
The cottage is so nice we just wanted to stay in when weather's a bit crappy outside. Its location is just 13min drive from Portree where there are lots of restaurant options.
Would Recommend: Yes
28th September 2021:

Really enjoyed our stay and liked the house and it's location. House was generally very clean and well prepared but I'm afraid we did come across a pair of boxer shorts that were down the gap between furniture in the bedroom downstairs. We found all the kitchen facilities were good. The garden and the area were good and the dogs enjoyed there holiday as well.
Tips:
As a dog friendly house it would be good to have more info on places that were safe and acceptable to walk the dogs either on a lead or off it.
Would Recommend: Yes
23rd September 2021:

We had a really enjoyable stay at the cottage. The house is very well equipped and spacious. There are fabulous views from the kitchen table. The utility room is very handy - nice to have a tumble dryer after a very wet walk one day. Luckily the sun shone the rest of the time we were there. The location is very central - close enough to Portree and ideal to see all the regular tourist sites around Skye. Such a good base to explore and go further afield as well. The facilities are fantastic and we had everything we needed for our three day stay. Place was immaculately clean. Bed was very comfortable. I really cannot fault anything and would definitely stay again when visiting Skye.
Would Recommend: Yes
27th August 2021:

Would Recommend: Yes
19th August 2021:

Superb location (not too far from Portree, Coop supermarket, etc). Nice neighbour (next door - Barn Cottage). Great view, excellent facilities, would definetely recommend to all my friends! We would definetely stay there again when we are back at Isle of Skye.
Would Recommend: Yes
30th July 2021:

Cottage is superbly situated to explore the north of Skye. It is easy to reach Portree, Dunvegan and Uig as well as many walks. The cottage was very clean, tidy and comfortable - the beds were really comfy! Bedrooms are all a good size. It was grwat to have a shower room for each of the three bedrooms and also to have the utility room with washing machine and tumble dryer. There were views of the Cuillin ridge from the kitchen, porch and garden as well as lovely scenery behind the cottage. The road is very quiet - you can catch the bus if you need to and there is a post box just down the road. The garden is large and gave our daughter a great space to run around. Plenty of parking space.
Would Recommend: Yes
20th June 2021:

We thought the cottage was spacious and our dogs really enjoyed the garden. The views were very good Wifi was excellent We were somewhat surprised though upon arrival to find the 2 upstairs bedrooms and En-suites had been locked. The owner apparently thought because we were just a couple that we wouldn't need them. The housekeeper kindly drive over to unlock one of them as we need 2 rooms and bathrooms for personal reasons. We felt that we paid for the whole house and that shutting off 2 rooms without consulting us was wrong
Tips:
Uig Hotel has lovely views and food The Inn at Carbost has exceptional views if you sit outside The scenery all over Skye is amazing but the drive across the Quaraings is a must
Would Recommend: Yes
11th June 2021:

Great location makes easy to explore this beautiful Island. Every bedroom have a massive bed and is en-suite which was a unexpected bonus. Big and well equipped kitchen witch breath taking views was a place where we spend the most of our time. The welcoming packet of homemade cakes were nice touch and we ate them after along day of walking. We will definitely recommend this place to our friends and will book again in the future.
Tips:
There is not enough a space here to write about thinks to see . One most important is : don't be afraid of the rain. Just go and explore. Isle of Skye is even more magical when is raining.
Would Recommend: Yes
8th June 2021:

Brilliant accommodation , super location , close to Portree and very tranquil as well. Very well equipped , clean and friendly. I will recommend and we will be back definitely:)) Thanks , Angelika
Would Recommend: Yes
10th May 2021:

We received more than we asked for. The standard of the cottage is excellent. Very nice neighbours. Peaceful and quiet. It was rewarding to come back to the cottage after exhausting days full of hill walking.
Tips:
Don't miss Neist Point, Rudha nam Brathairean, Quiraing and Fairy Pools. You need muddy shoes and all-weather clothes.
Would Recommend: Yes
4th May 2021:

The boiler wasn't working when we got there so we emailed Sarah and her husband, Joe, came straight over and fixed it. So, no problem and a great service.
Would Recommend: Yes
.