Skye Loft Apartment
33 Kilmuir Road
Tel: 07956102226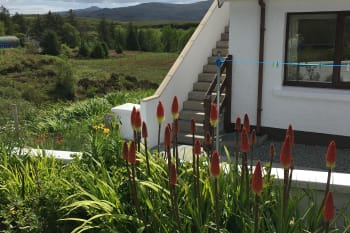 This lovely loft apartment offers a romantic retreat for a couple. You enter the bright open plan kitchen and living area from a stone staircase, The velux windows have great views across Loch Dunvegan and to MacLeods Tables. There is an en-suite shower room off the double bedroom. The property is situated in an elevated position, surrounded by fields but within a short walk of the facilities of Dunvegan. Our welcome pack focuses on locally sourced food. We also offer little touches to make your holiday extra-special, such as locally handmade soap, walking poles and maps and a BBQ area. There is a separate laundry on site available to guests for a small additional charge. The friendly owners, Mike and Jennie, live next door and are often available to answer any questions. Please note that due to the construction of the property the shower unit has restricted height.
Availability
There are no rooms available at Skye Loft Apartment
for these dates.
Please try other dates or select a
different property
.
units
Max:
En suite
A loft (first floor) cosy apartment for a couple or single person. Lovely vie... more >
A loft (first floor) cosy apartment for a couple or single person. Lovely views from velux windows to Dunvegan Loch and MacLeods Tables. Has open plan kitchen/ dining/ living area and a double bedroom with en-suite shower room.Room Facilities:
Please note that the shower is restricted height and width due to construction.
Facilities
Bike Storage
Outside Seating Area
Internet Access
Laundry And Dry Clean (Charge)
Policies
Check In: Between 16:00 and 23:00
Check Out: Between 7:00 and 10:00
Wi-fi: Wireless internet is available and is free of charge.
Smoking: There is no smoking permitted anywhere within the property.
Parking: Parking for all guests is available on site and is free of charge.


Children: All guests must be 18 or over, no children are allowed.
Pets: Pets are not allowed.
Groups: Groups are accepted up to a maximum of 2 people. No stag and hen groups.
Average
5.0
out of 5
14 reviews
100% recommend
Reviews
26th October 2019:

excellent facility great location for touring Skye
Would Recommend: Yes
Owner Response:
Thank you for this 5-star review. It was a pleasure to host you.
20th October 2019:

5* for everything can't fault anything. Appartment was soo cosy and well thought out. There was everything you needed within the appartment. Jennie was soo welcoming on arrival and throughout the stay! Will definitely be back in the future! Thanks again!
Would Recommend: Yes
Owner Response:
We are so delighted that you loved it and do hope you will return. Thank you so much.
11th October 2019:

The location was amazing, the view from the loft window out of this world. There was a beautiful welcome hamper with fresh bread, homemade jam, eggs ,milk, butter and oats for porridge with the recipe and history- all a bit light hearted. The rooms were immaculate, furniture and bedding of fantastic quality anything one might need provided and more- looooved the hot water bottle,the walking guide books and the native bird book ! Hiking trails around are amazing , Dunvegan castle a dream and my only regret is that I did not stay longer.
Tips:
I came here to go hiking and explore Dunvegan Castle and it's grounds and I enjoyed every minute here.
Would Recommend: Yes
Owner Response:
Thank you so very much for your lovely review and for staying.
24th September 2019:

I really enjoyed the stay.
Would Recommend: Yes
Owner Response:
We are so pleased you enjoyed your stay. Thank you for taking the time to give us a review.
13th September 2019:

Very comfortable and relaxing. The Loft has everything you could need.
Would Recommend: Yes
Owner Response:
Thank you so much for your lovely review - so pleased to have had you back again. Kindest regards.
25th August 2019:

I can't believe how lucky I was, to have found this little gem of a place called the Skye loft apartment in Dunvegan, on the Isle of Skye. I can honestly say with out a doubt this was the cleanest and one of the most comfortable apartments I have ever stayed at, and I have stayed at quite a few. On arrival we where greeted by our very helpful, friendly and welcoming host, Jenny. She took us up to the apartment and showed us around, we where also greeted with a lovely food parcel. The apartment was very well equip for self catering. There was lots of info leaflets and books of places to visit, to shop and to eat. The shops are within walking distance of the apartment, as are the places to eat. The bedroom and bed was very comfortable, with ample space to hang clothes in the waldrobe provided, the apartment offered an en-suit with a shower, w.c and sink. The living area was very cosy and comfortable, the kitchen was very well equip, I was able, if needed to do any washing for a nominal fee, there was even a washing line to hang my washing. Each room had velux windows that had stunning views looking out to the mountains and the surounding area. I was very impresses with the overall quality, spec and attention to detail of this apartment, the little touches such as the black out blinds in the bedroom and bathroom, which made such a difference, the plush carpet and very bouncy underlay, the boot tray, amongst other things. This loft apartment has been very cleverly thought out. I would definatly recommened this apartment and when I return to skye I will be booking to stay at the loft apartment again.
Would Recommend: Yes
Owner Response:
Wow - thank you for taking so much time to write such a detailed and amazing review. We would be so happy to host you again - just let us know whenever you want to return.
1st August 2019:

Fantastic welcoming and kindness
Tips:
Old school restaurant , old bakery, restaurant at the patrol station, the little restaurant and cake maker organic on the road, shop of alpaca craft, Castle Gardens, the standing sone up to the hill, the coral beaches....
Would Recommend: Yes
Owner Response:
We were delighted to host you and so pleased that you loved the apartment and so many things to do locally.
11th July 2019:

Everything was just great. We loved the warm welcome, the lovely food pack with homemade and local goods and the clean apartment with just the right space to feel cozy. Kitchen equipment was absolutely great. Parking facilities were perfect.
Tips:
Café Lephin, fairy glen, quiraing, Talisker distillery, Portree
Would Recommend: Yes
Owner Response:
We are so glad you liked the welcome pack and facilities. It sounds like you managed to get around and see lots of lovely places on Skye.
28th June 2019:

Excellent unit but not for people over 6foot
Would Recommend: Yes
Owner Response:
Thank you so much for your 5-star review . We are so glad you loved the apartment and we agree that the height restriction due to its loft construction is not perfect for the tallest people and do mention this in our booking for this reason. Kindest regards.
26th June 2019:

Great place to stay during our time in Skye, excellent location for visiting Skye especially you can walk to the village, where there are some restaurants and shop. Thoughtful welcome hamper as well and the local guides and maps very useful too.
Would Recommend: Yes
Owner Response:
Thank you so much for taking the time to leave us a 5-star review. It means such a lot that you liked our little hamper and the guides and maps.
21st May 2019:

Lovely little flat- was exactly what we needed for a short stay. Only thing was I wouldn't recommend for anyone tall, we were ok but if you were tall might involve some ducking and head banging.
Tips:
Don't use Google maps- it's in Dunvegan itself, not at the back like google maps takes you. Book taxis in advance and they will always accommodate you. If there is something you really want to see , go early as the roads get busy and congested with the single lanes in places.
Would Recommend: Yes
Owner Response:
Thank you so much for your lovely review. Your tips for other travellers are so helpful too so much appreciated - we agree that the cosy nature of the loft and its construction means that those who are very tall may want to know that the shower has a restricted height and width and the property has sloping ceilings.
13th May 2019:

Would Recommend: Yes
1st May 2019:

I was in Skye for work and the Loft Apartment was very comfortable and relaxing. It had everything I needed. I've booked to return again in a few months, both for work and to tag on a holiday with my partner.
Would Recommend: Yes
Owner Response:
We are so pleased to be welcoming you back again. Thank you for leaving us a full-marks review.
12th April 2019:

There was a welcome meal for us. The host Mike and Jennie were wonderful. They ensured that we were comfortable and had all the required stuff. Apartment had few games which was a nice thing. We were not able to reach on the given day due to a road accident. As a good gesture the host extended our stay by a day
Tips:
Nice central place to stay. You can go to different places from here rather than staying in portree which is expensive and far from good scenic places
Would Recommend: Yes
Owner Response:
Thank you so much for such a lovely review. We were delighted to have been able to be flexible after an unfortunate journey and that our welcome pack was enjoyable. We do hope your journey home was so much better.
.