Spindrift
Spindrift Balmeanach
Tel: 07786326035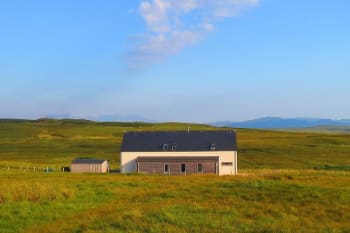 Availability
There are no rooms available at Spindrift
for these dates.
Please try other dates or select a
different property
.
Facilities
Internet Access
Log Fire
Lounge
Policies
Check In: Between 17:00 and 20:00
Check Out: Between 9:30 and 10:00
Wi-fi: Wireless internet is available and is free of charge.
Smoking: There is no smoking permitted anywhere within the property.
Parking: Parking for all guests is available on site and is free of charge.


Children: All guests must be 18 or over, no children are allowed.
Pets: Pets are not allowed.
Groups: All groups are accepted.
Average
4.9
out of 5
75 reviews
100% recommend
Reviews
1st September 2021:

Friendly service it felt like home in a magical location
Tips:
A beautiful location to relax with great views
Would Recommend: Yes
20th August 2021:

Fantastic place to stay and Alan is a great friendly and warming host. Lovely breakfast and loads of welcoming touches. Definitely recommended and will be staying again!
Would Recommend: Yes
1st August 2021:

Excellent accommodation. Very friendly host. We would definitely return.
Tips:
A good central base to explore the Isle of Skye from.
Would Recommend: Yes
16th July 2021:

This was a return visit to Spindrift. Allan the host is just so helpful friendly and welcoming nothing was too much trouble. We hope to return soon.
Tips:
Had fabulous meal in loch Bay and Edinbane Lodge both just fabulous. Went to Neist Point lighthouse and fairy pools both fabulous go early.
Would Recommend: Yes
11th July 2021:

Alan was very welcoming in his exceptional B&B accommodation and had very good advice where to eat and visit. A very peaceful location and stay.
Tips:
Highlights include the Coral Beaches, Neist Point and the Misty Bottle.
Would Recommend: Yes
29th June 2021:

Had a fantastic stay at Alan's place, can't recommend it highly enough.
Would Recommend: Yes
26th May 2021:

Fantastic place and a great host
Tips:
Speak to the host, Alan, as he's got loads of great local tips and recommendations
Would Recommend: Yes
23rd May 2021:

Lovely situation, excellent accommodation, very friendly helpful host. Looking forward to a return visit sometime.
Tips:
The Old School Restaurant in Dunvegan has a very good menu. Dunvegan Castle Gardens well worth a visit
Would Recommend: Yes
12th October 2020:

Had a fantastic 4 night stay at Spindrift. Alan is a wonderful host and makes a mean scrambled eggs and smoked salmon with curry infused tomato sauce
Tips:
Do not miss a visit to the Oyster Shed for lobster and chips and oysters of course
Would Recommend: Yes
12th October 2020:

Alan was a great help as soon as I arrived. He can't do enough for you. The B&B is his home and the labour he's put it to get it how it is just now is incredible. The room is spotlessly clean and the attention to detail just fab. I felt instantly at home and comfortable. Loved the decor and the bed was so comfortable. Good selection of tea/coffee with biscuits and water with sweets. The bathroom was beautiful, again spotlessly clean and so spacious. The towel selection! There is a sliding door if you want to close the room off which I didn't realise at the time. Breakfast was great. I was the only guest staying and yet Alan put on a massive spread of cereals, pastries, fruit, bread and had asked if there was anything I liked/disliked which was good as I can't eat eggs! I'd book to stay at Spindrift again in a heartbeat.
Would Recommend: Yes
5th October 2020:

Alan is a superb host and makes you feel at home from the first time you meet him. The house is immaculate and the interior design is exceptional. Would never stay anywhere else on Skye, now that we have found this hidden gem.
Would Recommend: Yes
25th September 2020:

A perfect stay. Very friendly and well informed host concerning the area, where to go, park etc. Very comfortable room with all amenities. Huge breakfast with great choice....not always continental (cooked)! Certainly would recommend and return to if ever on Skye.
Would Recommend: Yes
24th September 2020:

Superb accommodation. Excellent hospitality all round. Our second visit, and would love to return!
Would Recommend: Yes
13th September 2020:

Would Recommend: Yes
9th September 2020:

It's a gem in the Isle of Skye! Very high standards B&B. So warm, nice, kind, informative owner. Very clean room and shower. So tasty and plenty of choices breakfast. We been so spoiled .Thank you so much.
Tips:
Definitely must stay! You will feel home atmosphere.
Would Recommend: Yes
28th August 2020:

Immaculate. The entire property is furnished and maintained to a very high standard. We liked the facilities in the bedroom and would have liked to have made more of the living room, open views etc if we had stayed longer. The bnb was in an ideal location for us, close to key sights, roads and being just down the road from a charging point for our car. Whilst still being off the beaten track too. The only downside was that the walls were pretty thin so we were conscious not to make too much noise for people staying in the house but other than that we would love to return when we next visit Skye.
Would Recommend: Yes
27th August 2020:

Room excellently furnished Host very welcoming & extremely helpful regarding places to eat & sights to see
Tips:
excellent food at Three Chimneys & The Old School restaurant
Would Recommend: Yes
26th August 2020:

I have to say we thoroughly enjoyed our brief stay at Spindrift. Alan was the perfect host and as his guests we could not have expected more. Without hesitation we would both recommend Spindrift as a place to stay on The Isle of Skye!
Would Recommend: Yes
26th August 2020:

We had a wonderful stay at Spindrift B&B. The location was great, the room was perfect, breakfast very good and the B&B offers an amazing space to relax in the morning and evenings. The host Alan was incredibly welcoming and answered all our questions with tips to make the most of our trip.
Tips:
- If you like fine food, check in advance the restaurants The Three Chimneys, The Foligarry hôtel and Scorrybreac. The are supposed to be great but need to book quite a long time in advance - Book all your restaurants in advance anyway. Places close early and are quickly fully booked. - Don't limit yourself to the main attraction points. Download the app ViewRanger to access maps and alternative walks nearby. We had a great one near the fairy pools - Long Hike from Sligachan hotel to lake Coruisk is amazing spot to pitch a tent. There are boat excursions to that same late but it's quite overpriced for what it offers. - the south peninsula of the island seems to have a hot microclimate
Would Recommend: Yes
24th August 2020:

Friendly host
Tips:
Old School Dunvegan - Book well ahead
Would Recommend: Yes
20th August 2020:

Really friendly welcoming, Allan was more than just a host. He gave us many useful tips about places worth visiting. The house is the cosiest place you can think of :)
Tips:
Most of the restaurants on the island close as early as 8:30 and it's recommended to book a table. We've found a really nice take-away pizza spot in Portree, called 'Pizza in the Skye', in the Howdens parking lot. Try and expand your list further than the typical tourist attractions. Midges are everywhere :) Quiraing is the best experience you can get, followed by the Neist Point lighthouse.
Would Recommend: Yes
16th August 2020:

Lovely large room and Allan made us feel very welcome. Delicious breakfast and nice chats.
Would Recommend: Yes
3rd August 2020:

Excellent stay and great hospitality. Thanks so much for having us!
Tips:
View from the wind farm is very cool
Would Recommend: Yes
20th July 2020:

Would Recommend: Yes
13th July 2020:

Beautiful surroundings for people who value peace and quiet.Clean, nice rooms and tasty breakfasts.Friendly and helpful owner.I would recommend. Everything is a plus.
Tips:
Nearby is a restaurant, gas station and a small shop.
Would Recommend: Yes
21st February 2020:

Would Recommend: Yes
29th September 2019:

Would Recommend: Yes
29th September 2019:

Alex is an amazing host. My wife and I had a great time hiking in the area. Everything in the house was perfect. The room is spacious, bathroom super. Bed ver comfortable. Everything is made with great materials. Great views from the first floor. We also enjoy breakfast. Overall s significantly better experience than any other place we stayed in Skye.
Would Recommend: Yes
23rd September 2019:

The host was very friendly and open, he invited us even for a glass of whisky. The view is amazing, the room and bathroom was of a 5 star hotel level. The breakfast was very extensive. Had booked unfortunately only for 1 night, the next time I will book for 3 nights at least.
Tips:
good place to stay for exploring the Island of Skye. Is a short trip to see all the highlights of the Island. And please take the ferry to Fort William and not the bridge. Much more fun.
Would Recommend: Yes
19th September 2019:

Great hospitality, very comfortable and tastefully done.
Tips:
Coral Beach was a lovely walk. The Museum of Highland life was also a great insight of how people lived, not that long ago too!
Would Recommend: Yes
11th September 2019:

L'île de Skye est vraiment à voir, elle est restée authentique et sauvage. Spindrift correspond à toutes les attentes : lieu cocooning où il fait bon se reposer après des escapades nature.
Tips:
Nous sommes allés dans le petit restaurant de la station essence, restaurant conseillé par notre hôte et nous n'avons pas été déçus. Cependant, attention, sur l'île, il n'y a pas beaucoup de restaurants, aussi, il est préférable soit de réserver, soit d'y aller de bonne heure.
Would Recommend: Yes
9th September 2019:

Very frendly and helpful host. Beautiful and extrem clean room and bath
Would Recommend: Yes
29th August 2019:

Would Recommend: Yes
26th August 2019:

A very new house with nice and bright interior and a friendly host. We've got the room with the terrace with a very nice view (only some chairs were missing...)
Tips:
Try to contact the owner before you travel and ask him to decribe, where the B&B is located. Otherwise it will be a small challenge to find the rigth way (we've got the help from nice ladies of the Fis&Chips-shop some miles in front)
Would Recommend: Yes
21st August 2019:

Brillant host who makes you feel like à friend staying at his home
Would Recommend: Yes
14th August 2019:

Would Recommend: Yes
13th August 2019:

Gorgeous room with fabulous views and modern, stylish decor. Loved the attention to detail with really lovely toiletries, slippers and jar of sweeties. The continental breakfast was very welcome too after so many heavy Scottish breakfasts earlier in our trip. Could have done with a few more TV channels, but then we didn't come to Skye to watch telly! Great restaurant and pub recommendations from the owner who even booked for us.
Tips:
Visit the Old Man of Storr, Kilt Rock, the Cuillin Hills, Dunvegan Castle and Gardens, Uig and north for views of the Outer Hebrides, The Old Inn for great pub grub and beer. The Three Chimneys has excellent (expensive) food. Go to Skye in the quieter months - there were far too many coach parties and camper vans. The single track roads can be hairy. Bring midge repellant. Avoid Portree.
Would Recommend: Yes
11th August 2019:

Well equipped and renovated house in the middle of Skye countryside. Very clean and spacious en-suite room. Good continental breakfast. Very kind host.
Tips:
Old School restaurant in Dunvegan
Would Recommend: Yes
7th August 2019:

Would Recommend: Yes
6th August 2019:

Would Recommend: Yes
5th August 2019:

The owner was a really lovely guy who went the extra mile to make sure we were comfortable and catered for.
Would Recommend: Yes
4th August 2019:

Excellent hospitality. Allen is a terrific host. We would recommend staying here anytime.
Tips:
If you want to eat in town, make a reservation.
Would Recommend: Yes
3rd August 2019:

It's a modern bed&breakfast. Alan is nice. It's was pleasant to stay there one night but a little expensive for us.
Tips:
Dunvegan is near by car
Would Recommend: Yes
29th July 2019:

We had a wonderful stay at Spindrift and were very impressed by the beautiful facility and the great welcome and hospitality which we received. We will definitely be recommending Spindrift to friends and family and we hope to be back there ourselves soon!
Tips:
Spindrift is close to Dunvegan Castle and a short drive from Edinbane village where we had a great meal at the Edinbane Inn.
Would Recommend: Yes
27th July 2019:

I would highly recommend this B and B. Accommodation is of an excellent standard so modern and immaculate. Alan the owner is so friendly and relaxed, really nice guy Overall it was a lovely experience in a lovely part of Scotland.
Tips:
Went to 3 chimney restaurant. Tried to get accommodation there nothing available. So glad as I much preferred Spindrift.
Would Recommend: Yes
23rd July 2019:

IT was a very nice stay we have enjoyed the environment and we will certainly recommend this B&B. The owner was very friendly and we liked it to talk with him about several topics. When we woke up in the morning we had a beautiful view on two deer in the meadow near our room.
Tips:
Trip to the lighthouse at Neist point. Mountains of Cuillins. Dunvegan Castle. Pub in Sligachan. Talisker Brewery.
Would Recommend: Yes
11th July 2019:

This place is absolutely great! We stayed there two nights and it felt more like staying at a hotel. There was put so much thought and love in the whole house and especially the rooms with its interior and all the thoughtful details. Alan is a great host and has great tips for whatever you are up to. The breakfast is great too as there is a lot to choose from. We were super happy and would recommend it to everyone who is staying at Skye. It has a great location, quite in the middle of the island so you can drive everywhere in a not too long time. It is also very quiet and the view is amazing. So nothing bad to say at all.
Would Recommend: Yes
2nd July 2019:

Very modern upside down house like something out of the Grand Design tv programme with great views and quiet location . Great if you want to dine at the Three Chimneys Restaurant as only 15 minutes drive away. The host Alan was very welcoming and informative.
Would Recommend: Yes
2nd July 2019:

Spindrift is a lovely charming house full of details, silent and cozy with astonishing views. Our room was really comfortable, wide and bright. Bathroom was modern with all amenities. No doubt. It is worth choosing Spindrift.
Tips:
Location is perfect to explore the north: Neist Point Lighthouse, Coral Beach, Fairy Pools, Dunvegan gardens and lots of challenging walks and hikes. Alan was happy to help us with great advice on where to go, what to do and good restaurants.
Would Recommend: Yes
30th June 2019:

Allen keeps the place immaculate. All of our furniture seemed newly bought and modern. The bathroom and bedroom that was ours had plenty of space with a wonderful window/view. Allen is the nicest guy on the planet, super accommodating, gives you your space but will love to chat with you if you'll let him. Best stay of the 5 places we went on our trip to Scotland.
Tips:
Allen will recommend restaurants and tell you how far they are. Of course we recommend you visit Storr and Kilt rock, as anyone would. Portree is a nice stop but it's limited and during peak hours, you'll find a long wait. The Talisker distillery is not far and a must for any booze travelor.
Would Recommend: Yes
25th June 2019:

Lovely peaceful location. Comfy bed and nice shower. You can also use the living room area and there is a varied selection of books. Simple cold breakfast but more than enough choice cereals, yoghurts, toast, bagels, etc. Would recommend that the bit about phoning ahead for arrival is put on the web site with the directions. I checked the web site and found nothing, not realising the instructions were in the original booking email from nearly 6 months earlier. Apart from this a good stay - thanks.
Tips:
You need a car but if you want to go out in the evening there are local taxis available. For coffee and cakes, or a few lovely homemade chocolates for later, try Jann's cakes in Dunvegan. Not sure what is near for evening meals but I would highly recommend booking in season.
Would Recommend: Yes
21st June 2019:

Would Recommend: Yes
20th June 2019:

Absolutely wonderful!
Tips:
Just ask the host and you will receive all the information you need for your stay.
Would Recommend: Yes
18th June 2019:

excellent
Tips:
Alan is a very friendly host with much knowledge about the local area and whole Island. He always had good ideas what to do and see.
Would Recommend: Yes
15th June 2019:

we loved the location, the place is amazing great rooms and facilities and lovely decor and Alan a great host, we wish we had booked to stay longer
Tips:
Would Recommend: Yes
15th June 2019:

Really nice place, and everything was extremely clean and tidy. The host was furthermore super friendly and welcoming, and had some great suggestions for things to see and do, as well as very specific directions for walking routes. Thanks for hosting us!
Would Recommend: Yes
12th June 2019:

A really nice and cosy place in the middle of nowhere. Alan knows all the good hiking spots and the best coffee.
Would Recommend: Yes
11th June 2019:

Would Recommend: Yes
5th June 2019:

Its an amazing place to stay! The house and the guestrooms are so comfy! The interior is modern and everything is really clean! The bed is comfortable, the room big and the bathroom is a dream! The best part is absolutly your host! He is friendly, caring and will give you the best tips for the isle of sky! Thank you very much for those few amazing days on the island!
Would Recommend: Yes
3rd June 2019:

We stayed at Spindrift on the final night of a 10 day tour of the Outer Hebrides and Skye. The property is lovely and Alan was very welcoming and friendly.  Was great to chat to him and get advice on the area. Will definately be recommending to friends and family. Thanks again Alan.
Tips:
Great location for the Three Chimneys
Would Recommend: Yes
3rd June 2019:

This is a modern, pristine spot with Alan, a personable, outgoing host. It's a good location for hiking. The "continental breakfast" provided many choices and was a welcome change from the typical "full" Scottish fare.
Would Recommend: Yes
31st May 2019:

Would Recommend: Yes
27th May 2019:

Really good b&b: great architecture, great space, great breakfast and really great host! Recommended!good relaxing place
Would Recommend: Yes
26th May 2019:

Would Recommend: Yes
22nd May 2019:

Would Recommend: Yes
16th May 2019:

Thoroughly recommended. Great, peaceful location, excellent facilities and welcome, genuine and friendly welcome (a rare experience in Scottish B&Bs)
Tips:
Bistro School House in Dunvegan was great.
Would Recommend: Yes
16th May 2019:

Lovely accomodations. Friendly, knowledgeable proprietor. Close to many of the most scenic places in Skye.
Tips:
Basic continental breakfast provided. Need to travel to other places for lunch and dinner. Not a hardship for us as we were out sight seeing and found great places to eat on our days out. Alan, owner of Spindrift was helpful in suggesting places to eat.
Would Recommend: Yes
9th May 2019:

Lovely location on a no through road, peaceful and quiet. Great local walks, deer, eagles, rabbits and otter to be seen in the forest, glen and lough. Ask Alan. Superb!
Tips:
A number of places nearby to eat in the evenings, Dunvegan and Edinbane but best to book a table as usually busy.
Would Recommend: Yes
9th May 2019:

Very friendly, stylish, beautifully appointed accommodation, in superb location.
Tips:
Pre-book your evening meal. Eating places scarce....we used The Old School House, Dunvegan.
Would Recommend: Yes
8th May 2019:

Beautiful place and location. Not on the public road, but with access to nearby forest with deer golden eagle and fish eagles. Stunning views. Just brilliant.
Tips:
Make sure you think about evening meals. Nearest place would be four miles away and make a reservation.
Would Recommend: Yes
6th May 2019:

Fabulous host made us feel very welcome, immaculatly clean b and b lovely freshly decor and the rooms have modern facilities in a beautiful rural location. Host has great knowledge of the area and just ask.
Tips:
Stein Inn waternish good for food. Book early as places can fill up quickly. Cafe in Portree also good. Howdens shop Portree and reasonably priced
Would Recommend: Yes
3rd May 2019:

Tips:
Ask Alan. He can advise you.
Would Recommend: Yes
26th April 2019:

Beautiful, sparkling clean and cosy The host is absolutely great There should be a sixth star to best rate this place!
Would Recommend: Yes
22nd April 2019:

Would Recommend: Yes
10th April 2019:

Would Recommend: Yes
.