Loch Eyre Cottage
Eyre Road Portree
Tel: 01470532601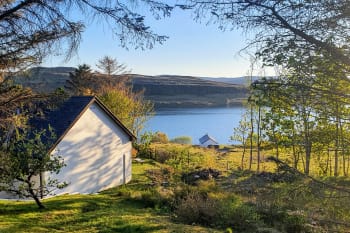 Loch Eyre Cottage is a 2 bedroom detached cottage overlooking Loch Eyre, set in large rustic gardens with a small stream running through it. There is a king size bed in one bedroom and two single beds in the other bedroom. There is a cosy lounge overlooking the loch with satellite flat screen TV. The kitchen has a microwave, full size cooker, dishwasher and washing machine. The bathroom has a full size bath with shower. The cottage is situated between Portree and Uig (approximately 11 minute drive to both), making it an ideal location for exploring the Isle of Skye. There are buses around 3 times per day which pass at the bottom of the street, which go to Portree or Uig, allowing you to connect easily for your ongoing journey. (check schedule as it is subject to change). There is free Wi-Fi throughout.
Availability
There are no rooms available at Loch Eyre Cottage
for these dates.
Please try other dates or select a
different property
.
cottages

Max:
2 bedroom detached cottage more >
2 bedroom detached cottageRoom Facilities:
Bath/Shower
Central Heating
Ceramic Hob
Coastal Location
Complimentary Toiletries
Cooker
Crockery & Utensils Supplied
Digital Television Channels
Dishwasher
Fridge/Freezer
Hairdryer
Ironing Facilities
Kitchen
LCD/Plasma Television
Linen & Towels Supplied
Microwave
Private Car Space
Sea/Loch View
Washing Machine
Policies
Check In: Between 15:00 and 22:00
Check Out: Between 7:00 and 10:00
Wi-fi: Wireless internet is available and is free of charge.
Smoking: There is no smoking permitted anywhere within the property.
Parking: Parking for all guests is available on site and is free of charge.


Children: Children of all ages are welcome.
Pets: Pets are not allowed.
Groups: All groups are accepted.
Average
4.9
out of 5
33 reviews
100% recommend
Reviews
17th March 2020:

We absolutely loved staying at Loch Eyre Cottage! It was by far the best place we stayed at during our drive around Scotland. The views were stunning and the cottage itself was clean and comfortable. We would highly recommend!
Tips:
We loved the dinner we had at The Galley Cafe and Takeaway in Uig. It was very small and cute and the food was great!
Would Recommend: Yes
2nd March 2020:

Spectacular. Extraordinary. Luxurious. I will come back.
Would Recommend: Yes
10th November 2019:

Perfect stay. Thx. We'll come back!
Would Recommend: Yes
27th October 2019:

Stayed in this lovely cottage for one night on our way home to Lewis we would have liked to stay longer as it would have been a great base for us. We would stay there again.
Would Recommend: Yes
24th October 2019:

We had a wonderful stay.. everything was great!
Would Recommend: Yes
3rd October 2019:

Would Recommend: Yes
19th September 2019:

Would Recommend: Yes
26th August 2019:

Would Recommend: Yes
1st August 2019:

The accommodation is highly finished and the location is terrific. The view from the cottage in itself is already a reason re-visit. For a family of (2 adults and 2 teens) this a perfect lication.
Tips:
The island itself has many items to visit, but most beutiful is obviously the scenery.
Would Recommend: Yes
25th July 2019:

We miss some personal contact. The check in and check out was too unpersonal.
Would Recommend: Yes
22nd July 2019:

Perfect and very quiet cottage, everything you need. Close to all the beautiful things to see in Skye. We had a fantastic stay!
Tips:
Everything in Skye is beautiful. Our favourite was the most northern point of the island; Rubha hunish (the lookout). A 90 min. walk back and forth, but well worth the walk!
Would Recommend: Yes
4th July 2019:

Lovely and clean cottage with great views.
Tips:
Location is great as it's only 15 min drive to Portree or 15 min drive to Uig harbour for the ferry.
Would Recommend: Yes
1st July 2019:

Very neat cottage with modern and chic interior with all necessities.
Would Recommend: Yes
9th June 2019:

The cottage was very nice, perfect for our family.
Tips:
The GPS directions take you to the main house—when approaching the property for the first time, it is not apparent that you have to go past the front property to get to the cottage. A small sign telling visitors to continue up the road for the cottage would have been helpful.
Would Recommend: Yes
23rd May 2019:

Great property, clean and quite close to portree. Beautiful view of Loch Eyre. Picture perfect.
Would Recommend: Yes
16th May 2019:

Would Recommend: Yes
4th May 2019:

Fine place to stay
Tips:
Brought food with us, just stayed one night driving around Scotland
Would Recommend: Yes
28th April 2019:

Would Recommend: Yes
3rd April 2019:

Whilst we enjoy privacy it would have been nice to be greeted and a quick overview of our accommodation would have enhanced our stay.
Would Recommend: Yes
23rd March 2019:

Amazing stay in a beautiful location. I loved enjoying my morning coffee and evening wine in front of the living window. Kitchen was very well appointed and we appreciated the basic foods (tea, jam, milk, cereals) being available for us. Our family of 4 had plenty of room without feeling crowded. Loved the helpful tips and recommendations. This was a PERFECT stay and we cannot wait to return!!
Would Recommend: Yes
26th October 2018:

Lovely home away from home. Beautiful views, comfortable beds, great kitchen, perfect location.
Would Recommend: Yes
25th October 2018:

It's really nice & welcome place to stay!Have a fantastic view from the room!Staff is very helpful!
Would Recommend: Yes
24th October 2018:

Would Recommend: Yes
16th October 2018:

Beautiful location, clean , recently refurbished, delightful owners, all the latest kitchen appliances, working wifi and more. We had a wonderful stay there and look forward to returning. Just a short taxi drive or car ride from Portree.
Would Recommend: Yes
25th September 2018:

Utterly charming, cosy and comfy. Only disappointment was having to leave at end of our holiday.
Would Recommend: Yes
16th September 2018:

Yes, yes, yes! Easy to find, convenient, bright and cheery with every possible "necessity," and the very best host and hostess. Sue and Duncan went way beyond the expected norm, even as far as turning the car around for those of us impaired drivers from across the pond. Cannot recommend more highly.
Tips:
Only walked Inverness briefly, but nearby Cullodon Battlefield is one of best and most thorough visitor experiences ever. Clava Cairns well worth a neolithic visit. And then there is Macbeth land...
Would Recommend: Yes
22nd August 2018:

This cottage is absolutely lovely in a beautiful and peaceful location just outside Portree on Isle of Skye. My daughter and I were overwhelmed with the facilities (bathroom is amazing) and amenities. We had everything we needed and will stay there again when we go back to Skye.
Tips:
Great location for exploring both north peninsulas of Skye and easy drive to southern points of interest as well. Portree has lovely restaurants and relatively easy parking access for Scotland!
Would Recommend: Yes
23rd July 2018:

Lovely view, very calm and clean. A perfect little cottage that offers you everything you might need (washing machine, dish washer etc). Well situated on the Isle of Skye. Portree is just around the corner and a good spot to buy groceries. We can definitely recommend staying here and would certainly do this again ourselves.
Tips:
Definitely explore the northern part of the Isle, it's worth a drive.
Would Recommend: Yes
17th July 2018:

Very good place to stay. Ocean view, 2miniutes from ferry
Would Recommend: Yes
8th July 2018:

The cottage was spacious and comfortable. Extremely clean and welcoming. Everything has been thought out from the towels, soft sheets and the convenience of a dishwasher. I look forward to booking again. Well worth the money.
Would Recommend: Yes
20th June 2018:

What an absolutely beautiful cottage, newly renovated with all the modern appliances you could need however set in the hills of Skye We thoroughly enjoyed our stay and simply did not want to leave. The view from the sofa over the Loch and hills was incredible
Tips:
Great property for a couple or a family with two young children Definitely visit Old Man of Storr however don't stop at the main rock face, keep going and there are amazing views of the sea and beyond from the top
Would Recommend: Yes
2nd June 2018:

Would Recommend: Yes
19th May 2018:

Lovely cottage overlooking the water. Newly renovated with lovely interiors and great kitchen. Plenty of space for 4 people and wonderful host and neighbours. Loved it, wish we could have stayed longer ☺️
Would Recommend: Yes
.