Glamaig Place
8 Glamaig Place
Tel: 07793989842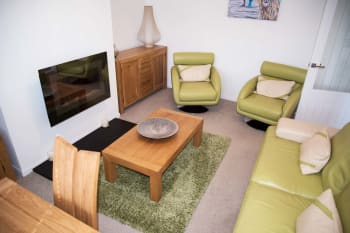 Glamaig Place Self Catering offers the perfect base for exploring the stunning Island of Skye. The property features a super king size double bedroom, a twin bedded room and living area. A kitchen with all the amenities you could require is also included in the property. From our base in Portree on the Isle of Skye we offer the perfect location for exploring one of the world's top tourist destinations.
Facilities
Kitchen
Shower Room
Private Parking
Internet Access
Lounge
Television Lounge
Policies
Check In: Between 16:00 and 22:00
Check Out: Between 7:00 and 10:00
Wi-fi: Wireless internet is available and is free of charge.
Smoking: There is no smoking permitted anywhere within the property.
Parking: Parking for all guests is available on site and is free of charge.


Children: Children aged 3 or over are welcome.
Pets: Pets are not allowed.
Groups: Groups are accepted up to a maximum of 4 people. No stag and hen groups.
Average
5.0
out of 5
18 reviews
100% recommend
Reviews
31st October 2019:

Great stay, clean, modern and comfortable house. Just a suggestion to add a clothes hanger at the toilet door. Thank you!
Would Recommend: Yes
26th August 2019:

Would Recommend: Yes
22nd August 2019:

The location, facilities and cleanliness is excellent. The host is very pleasant and helpful. We had a happy stay and would like to stay again for the next time.
Would Recommend: Yes
21st August 2019:

Would Recommend: Yes
30th June 2019:

Was very clean and comfortable. Good location. Apartment was supplied with everything needed.
Tips:
Local restaurants were plentiful and the service and food were good. Local grocery was available.
Would Recommend: Yes
14th June 2019:

I had with me my wife who has Parkinson's and two ot my family who have Down's syndrome. All three of the have mobility problems. The house and particularly the bathroom was excellent for them. It was spotlessly clean and very well equipped making for a very good three days could not have been better. We will return
Tips:
Qgood restaurants on the quayside
Would Recommend: Yes
12th June 2019:

The host was extremely friendly and helpful. Met us on check-in and showed us how everything worked. Also advised us of places to visit during our stay. The home itself was ultra-modern, spotlessly clean and tastefully designed and equipped with all facilities required. We cooked everyday. The pictures do not fully reveal how wonderful the space is.
Tips:
The Isle of Skye is spectacular and a treasure. We spent 3 nights with 2 full days touring. We saw the northern part on one day and the southern part on another. It was barely sufficient and I would've liked another day ideally. It rained a lot of the time we were there. There are gaps of sunshine and dry weather in between so make the most of those times.
Would Recommend: Yes
22nd May 2019:

Great experience! Perfect house and friendly owner,thank you for help.
Tips:
Not in the most central part of the city, but walking can reach what you need
Would Recommend: Yes
13th May 2019:

Excellent location. Warm clean and very comfortable. Thoroughly enjoyed stay. Will be back soon
Would Recommend: Yes
10th May 2019:

We can highly recommend Glamaig Place. The house was absolutely spotless and had nice touches added to welcome us. Murdo was a terrific host and was available if we needed anything. Very good value.
Would Recommend: Yes
27th September 2018:

A lovely place to stay, comfy beds, quiet location, 3 minutes walk to centre of Portree. great kitchen, well furnished. Will come back again
Would Recommend: Yes
16th September 2018:

Tips:
The house was perfectly located in Portree, making it a great base to explore the Isle of Skye. The accommodation was spacious and very clean, kitchen was well equipped and bedding of great quality. Would definitely recommend and book again.
Would Recommend: Yes
14th September 2018:

Would Recommend: Yes
12th September 2018:

We had a really nice stay in that lovely house. Near the city center we could go on foot in just few minutes. The inside was brand new and really well decorated. We were feeling like home. Spacious kitchen with all the necessities. Big bathroom with Italian shower. The owner is very nice and gave us many tips to make our stay in Portree unforgettable.
Tips:
The Granary restaurant
Would Recommend: Yes
3rd September 2018:

everything was new, clean in orden Murdo was really interested in my necessity i love the place
Would Recommend: Yes
16th August 2018:

Our 2-night stay at Glamaig Place was wonderful. The host was very welcoming and he was helpful with recommendations regarding things to see and do while on the Isle of Skye, as well as recommending local restaurants (we had an excellent dinner at the Cuillen Hills Hotel). In addition, the house was nicely decorated, very clean, and comfortable. The location was perfect as a launching point to explore the Isle of Skye. Overall, we had an excellent stay and will be coming back in the future.
Would Recommend: Yes
8th August 2018:

Would Recommend: Yes
29th June 2018:

Would Recommend: Yes
.