The Cottage
The Cottage, Lower Ollach, Braes
Tel: 01478 650 305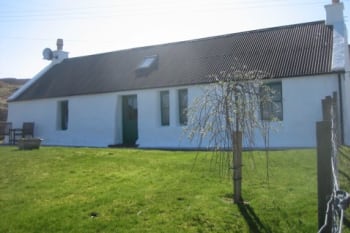 Ian & Dena MacDonald welcome you to our website and are proud to present to you our beautifully renovated late 18th century highland cottage which sleeps 2, is tastefully decorated and equipped for self-catering. It has one double bedroom, shower-room/toilet, kitchen and lounge with a super log-burner, well stocked library, WiFi, Sky TV, DVD, video and radio. Background heating is from electric storage radiators and the kitchen has a cooker, washer/dryer, fridge and microwave. All electricity, heating, fuel, linen, and towels are included in the price.
Availability
There are no rooms available at The Cottage
for these dates.
Please try other dates or select a
different property
.
cottages

Max:
Facilities
Disabled Access
Fishing
Golf Course (nearby)
Hiking
Terrace
Policies
Check In: Between 16:00 and 21:00
Check Out: Between 7:00 and 10:00
Wi-fi: Wireless internet is available and is free of charge.
Smoking: There is no smoking permitted anywhere within the property.
Parking: Parking for all guests is available on site and is free of charge.


Children: Children of all ages are welcome.
Pets: Pets are not allowed.
Groups: Groups are accepted up to a maximum of 2 people. No stag and hen groups.
Average
5.0
out of 5
12 reviews
100% recommend
Reviews
18th October 2019:

Location of cottage is perfect, just off the beaten track and less than 10 minutes from Portree. Stunning views across the Loch to Raasay. Fully equipped with everything you need, including a huge stock of books and games. Owners on hand to provide advice if needed. Very helpful and friendly.
Tips:
As cottage is in a central location it is perfect for touring the island. We decided to explore the North east coast. Took a stroll out to the nearby peninsula and on way back dropped down to the shore where we saw seals. On a walk up Ben Tianavaig we saw withe tailed sea eagles and Dolphins. Headed up to finals tomb and carried on to the Quiraing, amazing. Went hunting for fossils to Bearreraig Bay and Valtos, stunning locations. Excellent weather. Make sure you visit the Harbour chip shop.
Would Recommend: Yes
Owner Response:
Thank you for your super review. Hope to see you again soon. Ian and Dena
2nd October 2019:

My partner and I stayed here for a week at the end of September 2019. Ian and Dena were very welcoming when we arrived and called me on the day to check everything was alright (we had a 12 hour drive). They attended to us immediately and gave us a quick tour of the cottage which had everything we needed, and very kindly left us some milk and a breakfast tray so we didn't go hungry or without tea on our first morning after a late arrival the evening before. They left us be throughout the week and Ian gave us a note recommending the best things he recommended to do on Skye, which we took note of and did most of. They were all fantastic and i'd recommend others to heed his advice. We had a fantastic week and a lovely stay. I cannot recommend this break away enough! Thanks again to Ian and Dena for giving us such a fantastic base to start our adventures in Skye!
Tips:
Firstly, listen to Ian's advice as he is the expert! We really enjoyed 'The Oyster Shed' in Carbost for fresh seafood and a plate of chips as well as some foody souveniers for friends and family - very fresh and very reasonable prices for fresh caught oysters, scallops and lobster. They also sell fresh seafood if you fancy cooking it yourself (we got some mussels and steamed them in white wine and cream with garlic - fantastic and very fresh - kitchen well equipped at the cottage). Climb the 'Old Man of Storr' - a short but steep climb, definitely worth the views from the top. The Fairy Pools - beautiful series of waterfalls, drive slightly past the car park and you can park for free just outside a farm gate, park above it and it's a hell of a walk back up! The Fairy Glen - beautiful natural rock formation surrounded by rock swirl formations created (I think by tourists? I don't think the locals are particularly happy about them from our reading) but again, a lovely site. Portree - Just have a look round - some lovely pubs to enjoy and some great food from both pub restaurants and chippys if the weather holds out to sit in the harbour and enjoy. The Island Life Museum - A bit of a drive from the cottage but only £3 entry for adults - gives great insight into life on Skye over the last couple of centuries - Crofting etc. and a lovely gift shop. If the weather doesn't hold out for you, there are plenty of jigsaws in the cottage and board games which we also took advantage of. Enjoy!
Would Recommend: Yes
Owner Response:
Thank you very much Ed and Claire. You were lovely guests. Come back soon. Ian and Dena
28th August 2019:

Ian & Dena were perfect hosts,disceet,but friendly and always helpful.Location of cottage peaceful & beautiful, a real gem of a hide-away,but within easy reach of all the main attractions.
Tips:
Portree had all the facilities you could hope for -good eating places from little cafes to high class restaurants and an excellent COOP for all your shopping. Further away The Talisker distillery is a must and Edinbane pottery well worth a visit as is Dunvegan Castle and the Crofter museum near the Flora Macdonald monument is so well documented that the £3 entry fee is rediculous
Would Recommend: Yes
5th August 2019:

great hosts for this beautiful cottage.
Tips:
Wherever you go on Skye it is beautiful a photographers paradise. July howerver is very busy as is August. The cottagd had a great view and was really comortable with everything you coukd possibly need.
Would Recommend: Yes
5th June 2019:

Many thanks for the warm welcome. We loved the cottage, comfortable, spacious, homely, and great views out to sea. Cooking facilities were good.
Tips:
There are restaurants in Portree, although we mainly cooked in and enjoyed the view. It is a good center to explore most of the island. It is a very quiet and relaxing place to stop
Would Recommend: Yes
Owner Response:
Lovely guests. We very much enjoyed having you stay in our cottage. Haste ye back!
15th May 2019:

We really enjoyed our time at the cottage with views over farmland to the loch. It's a very peaceful setting. The cottage was well fitted out so we had everything we needed. Our hosts were friendly and helpful. Ian really knows Skye so ask for tips on what to see.
Tips:
We used the cottage as a base for local walks as well as driving to some of the major attractions like the Old Man of Storr, the Fairy Pools and the loop around the north of the island. We bought fresh local seafood at the end of the pier in Portree.
Would Recommend: Yes
Owner Response:
Glad you enjoyed your stay in our cottage. It is great to meet people from all over the world. Dena and I hope you will be back some day!
25th September 2018:

Fantastic cottage, with every amenity you need, views from cottage are amazing, as are the walks, and plenty of information and maps to hand. This Cottage was just what we needed, quiet area, not too far from Portree and excellent for getting round both North and South of the Island. I thoroughly recommend it, you will definitely want to return.
Tips:
Lots of local restaurants in Portree if you didn't want to cook. Two excellent Indian restaurants, fish and chips, lots of seafood. There were tours you could book on for sightseeing, but we preferred to go it alone. Boat trips from the Harbour for seal watching and hopefully see some sea eagles. Lovely walks. You will not be bored.
Would Recommend: Yes
Owner Response:
Very glad you enjoyed your holiday. When guests leave super reviews like this one it gives us a boost! We live in a beautiful part of the world. We are so pleased when others appreciate our island. Haste ye back!
12th September 2018:

Would Recommend: Yes
Owner Response:
Many thanks for your review. Haste ye back!
2nd August 2018:

We thoroughly enjoyed our stay at the cottage - the facilities were excellent and we would definitely recommend it to others
Would Recommend: Yes
Owner Response:
Thank you both very much.
26th June 2018:

Had a wonderful week in this beautiful cottage. Very comfortable and well equipped. Ian and Dena were very welcoming and friendly. Was warned to look out for potholes on way there but luckily road team were there while I was there and were filling in the potholes
Tips:
I managed to drive past cottage when looking for it. Head for Braes and about 5 miles in you will see sign Ollach. 20 or so yards on left are Ian and Jean`s bungalow and The Cottage with gravel drive between them
Would Recommend: Yes
Owner Response:
Thank you kindly. Glad you enjoyed your stay.
18th June 2018:

Ian and dena are very hospitable and lots little extras like homemade jam mmmmmm x helen mclaren and as a said to yous a be back for sure thank you x
Would Recommend: Yes
Owner Response:
Very kind Helen. Thank you.
11th August 2017:

Fantastic stay! Fine position, quiet place, some walks just in 5-10 min driving, not more than an hour to main Isle of Skye attractions. Very friendly owners. Completely equipped apartment, apropos - interesting books (Ian is the author of 4 of them concerning the Isle history and attractions). Once more - fantastic!!! Thank you a lot, Ian and Dena!
Tips:
1. To have enough time to spent at Isle of Skye 2. if you are planning t use a ferry -book ahead to avoid a long waiting. 3. take into account that phone connection in a lot of places at Skye is poor (our case Wi-Fi in the apartment worked slowly but better than Vodafone internet service)
Would Recommend: Yes
Owner Response:
Thank you for an excellent review.
.