Eubhal House
Eubhal 29 Borve
Tel: 01470532346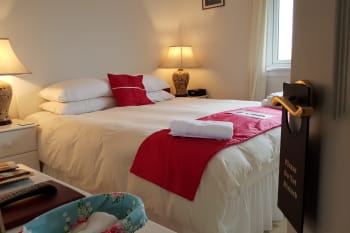 Eubhal House is your home from home when touring North Skye. Set in rural Borve with spectacular scenery it is only 5 minutes drive from Portree, the islands capitol,with its shops, bars and restaurants. We offer two recently renovated Super King Size and King Size en suite rooms all with 32 inch smart TVs, coffee machines and iPhone speaker docks. Our traditional Scottish breakfast includes home made potato scones,bread and jam and is served in our cosy conservatory with all round views of scenery and wild life. Deer are often seen grazing on the croft next door. Your hosts will offer you dedicated advise on how to get the most out of your stay on Skye. They look forward to welcoming you.
Availability
There are no rooms available at Eubhal House
for these dates.
Please try other dates or select a
different property
.
rooms
Max:
En suite
Super King size double ensuite room with mountain views over the Cuilins and... more >
Super King size double ensuite room with mountain views over the Cuilins and Ben Tianavaig. Modern cosy furnishings with Tassimo coffee machine, iphone dock and internet flat screen TV. Use of conservatory with spectacular views.Room Facilities:
Mountain View
Tassimo coffee machine
google chrome
Suer King size bed
Air conditioned
Alarm Clock
ALL bedrooms Non Smoking
Broadband/High Speed Internet Access
Central Heating
Coffee Maker
Complimentary Toiletries
Daily Housekeeping
Designer Toiletries
Duvet
DVD Library
En Suite
Flat Screen TV
Hair Dryer In Room
Heated Towel Rails
Heating Throughout Property
I-Pod docking station
Iron and Ironing Board on request
King Size Bed
Linen & Towels Supplied
Make Up Mirror
Shoe Shine
Soundproofed Windows
Tea/Coffee
TV In Room
WC EnSuite
Wifi Free
Facilities
Breakfast Room
Conservatory
Early Breakfast By Arrangement
Garden For Residents' Use
Internet Access
Log Fire
Lounge
Policies
Check In: Between 16:00 and 19:00
Check Out: Between 10:00 and 11:00
Wi-fi: Wireless internet is available and is free of charge.
Smoking: There is no smoking permitted anywhere within the property.
Parking: Parking for all guests is available on site and is free of charge.


Children: Children aged 8 or over are welcome.
Pets: Pets are not allowed.
Groups: Groups are accepted up to a maximum of 4 people. No stag and hen groups.
Average
4.8
out of 5
23 reviews
100% recommend
Reviews
26th September 2019:

Recommend a cab to arrive for first time visit, especially if arriving at night. Wonderful accommodations, food, and great hosts. Very enjoyable countryside atmosphere and ability to get away from "busy" action of a city, yet in quite close proximity if desired.
Would Recommend: Yes
8th September 2019:

Nice piace and wonderful staff
Would Recommend: Yes
25th May 2019:

A lovely and cozy home with stunning views. The room was so beautiful and such a comfy bed, by far the best sleep on our whole trip! Ann is a great host and a lovely person. We appreciated the thoughtful touches(Tea on arrival, prosecco...). And the breakfast was delicious. We highly recommend and would love to come back very soon
Would Recommend: Yes
21st April 2018:

I can't say enough about my stay at your home! I loved my stay at Eubhal House. Traveling solo, you really made me feel welcome and almost like I had a family to come home to (it can get a bit lonely traveling alone). I appreciate the accommodations you were able to make for breakfast and want you to know the potato scones are delicious - the best I had during my stay in Scotland (I tried some others)! The local advice on sightseeing was also very much appreciated as there are so many things to do in see in the area, it is helpful to have local tips. The room was everything one could ask for - warm shower and amazing bed. Again, it was the best in Scotland in my opinion! To top it all off with a glass of lemonade and evenings in the conservatory = perfection. Thank you so much for the enjoyable experience!
Tips:
I really enjoyed the Quiraing hike. While it is a more popular hike, the views are incredible. I also enjoyed visiting the Dunvegan castle and coral beach. Although I didn't go, I'd recommend seeing live Scottish/Irish bands.
Would Recommend: Yes
Owner Response:
Well thank you so much it was a pleasure to have you
6th April 2018:

Would Recommend: Yes
Owner Response:
Thank you. You were lovely guests
11th October 2017:

Would Recommend: Yes
14th September 2017:

Dougie was a fantastic host, he went over and above what was expected. He sent me a list of things to do in the area before we arrived, he gave us maps to use while we were there, he set up restaurant reservations for us and he told us where to see live music. My wife also had dietary restrictions that he was more than welcome to work around. Because of the length of our stay, they gave us a bottle of wine as a welcome gift. All and all, the stay couldn't have been better and I highly recommend it to anyone.
Would Recommend: Yes
9th September 2017:

Would Recommend: Yes
13th August 2017:

This was by far the best bed and breakfast of our trip! Anne and Dougie welcomed us warmly with friendliness and lots of tips for our trip! Dougie even had a pdf file with insider tips for touring the isle of skye! The house has an amazing view and the room was huge and the king sized bed so comfortable. It was very clean. Also the breakfast was delicious (definitely try the potato scone : it was homemade and the best we had in scotland!). We also had an unexpected problem (flat tire) and Dougie helped us through it all (even made a reservation for a change of tire the next day in the morning before we were even awake) which made this incident really easy to resolve! We can't thank them enough! Best bed and breakfast on the isle of skye! Snatch it before someone else does! :)
Would Recommend: Yes
Owner Response:
You are so kind. Thank you. It was lovely having you to stay.
2nd July 2017:

This is a delightful place to stay with two lovely people as hosts. Quiet. The breakfasts are verra tasty. I may even try the blood pudding on my next stay!
Would Recommend: Yes
4th May 2017:

Wonderful stay, you are feeling at home. Dougie and Anne are so lovely and friendly. Nice room. Everything you need was in. Although it's bit outside of Portree, It's absolutely worth going there, wonderful and quite place. Deers included:-).
Tips:
Dougie give as lots of suggestions for a tour. Thank you so much!
Would Recommend: Yes
9th September 2016:

Would Recommend: Yes
6th September 2016:

Quiet, remove location away from the bustle of touristy Portree however only about 5 minutes from restaurants etc. Our host, Dougie is extremely helpful & recommended many sites & routes for us to travel. He is most passionate about his island & we thank him so much for making our stay so enjoyable.
Would Recommend: Yes
Owner Response:
Thank you for your kind review. I am delighted you enjoyed your stay and tour of skye.
30th August 2016:

Dougie and Anne were remarkable hosts. Dougie offered wonderful rendition of the rich history of Skye and was always willing to help us with an itinerary or directions. Breakfast was lovely and offered a complete Scottish meal. The house is beautifully situated near Portree yet outside of that town's bustle. Dougie gave excellent directions to find the place. Rooms were clean and the sitting area spacious. Excellent recommendations were given for local restaurants also. Wish we would have gotten to hear Dougie play guitar even though Jim says that he is "not very good." Nevertheless I have since heard otherwise!
Tips:
The Number One restaurant in Portree was lovely. Take Dougie's advice on everything in the area and you can't go wrong.
Would Recommend: Yes
Owner Response:
It was a pleasure to host you guys. Thank you for the beautiful photographs. As for Jim 'Jambo'Tweedie-he is tone deaf!!!!
26th August 2016:

Super stay, very friendly and helpful. I would recommend this B&B to family and friends. Can't wait to come back
Would Recommend: Yes
23rd August 2016:

Very friendly, welcoming and informative hosts! We loved the room. And we love Smokey the cat. I tend to be shy about being in B&B hosts' living space, but Dougie and Ann made us feel at home. Helpful connections with local offerings, and some interesting stories. Thank you!
Tips:
If you enjoy walking and it's a fine day, don't miss the walks to the Coral Beach and Old Man of Storr. We saw sea eagles and dolphins on one of the short boat excursions that leave from Portree! Dougie has great tips for many other ways to enjoy the area.
Would Recommend: Yes
19th August 2016:

Great B&B
Would Recommend: Yes
2nd August 2016:

Lovely room and great breakfast. A friendly and helpful host.
Tips:
Make sure you reserve a table if you want to eat at a reasonable time in Portree.
Would Recommend: Yes
28th July 2016:

Spotless room and friendly welcome made our stay enjoyable. A hearty filling breakfast set us up for the day when we left.
Would Recommend: Yes
Owner Response:
You were suerb guests. A pleasure to host. I am glad you enjoyed your stay. Thanks very much
28th July 2016:

Practical attention to quality details such as nice toiletries, bottle of water, home made bread, quality sheets and towels, handy power points. iPhone dock, tea/ coffee maker. Wonderful hosts. Dougie has a wealth of local knowledge which he is happy to share.
Tips:
Close to road turn off for Dunvegan. A lovely conservatory to enjoy a Scottish breakfast.
Would Recommend: Yes
Owner Response:
I am so grateful for your review and I am delighted that you enjoyed your stay here. It was a pleasure to have you
27th June 2016:

Nice, helpful and welcoming owners. Very comfortable room. Nice view over the valley. Good breakfast. A bit remote from other main amenities though.
Tips:
Knowing we would not be staying close to Portree and not willing to drive to a restaurant nearby, we bought some food and had dinner in the B&B. Owners were kind to let us use the breakfast lounge.
Would Recommend: Yes
Owner Response:
Thank you for your review. We are 5 to 7 minutes drive from Portree which is not bad for the advantages of peace quiet and a beautiful view. Hope you enjoyed the rest of your holiday.
2nd June 2016:

Location is perfectly fine if you have your own transport but otherwise might be difficult. The views however are stunning! One tip would be that you might want to mention that there is a cat in the house....I know someone who has a sever allergy to cats and often sets off major asthma attacks so they would not have been ankle to stay with you.....not a criticism by the way, just some advice! Fantastic host and breakfast was excellent.
Would Recommend: Yes
30th May 2016:

Dougie and Anne are superb hosts although it is a little bit out of the way from Portree. They did everything they could to accommodate our needs. Thank you.
Would Recommend: Yes
.