Taigh Ailean Hotel
Portnalong
Tel: 01478640271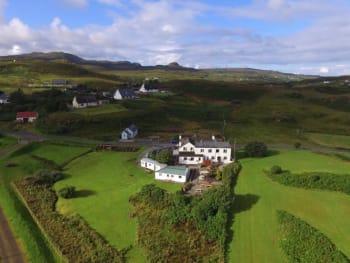 Small, friendly hotel with views of Loch Harport and the Cuillin. We specialise in offering a warm welcome and a home from home experience. If you want to escape the *obvious* places to stay on Skye then we are just right for you. Within driving distance of the most famous sites but with the local knowledge to guide you to lesser known gems of the island we can make your visit unforgettable. Our bar has a great selection of malt whiskys and Scottish gins as well as the full range of Isle Of Skye beer. Why not try our own beer: Gillian, made exclusively for us by Isle Of Skye Brewery. We have an excellent reputation for the food we serve - just check out our Trip Advisor reviews.
Availability
There are no rooms available at Taigh Ailean Hotel
for these dates.
Please try other dates or select a
different property
.
rooms
Facilities
Dogs Welcome
Bar Available
Beer Garden
Breakfast Room
Café / Restaurant (on site)
Children Welcome
Early Breakfast By Arrangement
Full Alcohol Drinks Licence
Garden For Residents' Use
Internet Access
Log Fire
Lounge
Packed Lunch By Arrangement
Restaurant
Television Lounge
Policies
Check In: Between 16:00 and 22:00
Check Out: Between 8:00 and 10:30
Wi-fi: Wireless internet is available and is free of charge.
Smoking: There is no smoking permitted anywhere within the property.
Parking: Parking for all guests is available on site and is free of charge.


Children: Children of all ages are welcome.
Pets: Pets are allowed and can stay free of charge.
Groups: All groups are accepted.
Average
5.0
out of 5
22 reviews
100% recommend
Reviews
19th May 2019:

Very nice place to stay and the bar and food served in it make it even better
Tips:
Bar food in the evening is excellent
Would Recommend: Yes
19th May 2019:

Good and friendly place with excellent breakfast and a good restaurant / bar. Maybe the matress a bit hard (buy mostly the same around scotland )
Tips:
Explore Isle of Skye ! Fairy Pools, Cuillin, Neist point...
Would Recommend: Yes
18th May 2019:

Very helpful and polite staff, EXCELLENT meals, nice breakfast. Bar and restaurant frequented also by locals, nice to see them enjoying themselves. Guidebooks with walks provided in the room - very useful. Beautiful selection of books you can borrow to read. Look no further - this is great place.
Tips:
Close to Carbost - Talisker distillery and very nice coffee in a small booth across the street.
Would Recommend: Yes
12th May 2019:

Our stay at the Taigh-Ailean was the highlight of our tour of the Highlands of Scotland. The staff were incredibly kind and attentive. The rooms were very well presented and afforded us 2 good nights sleep. The breakfast in the morning was delicious, so much so it has changed my view on black pudding - which I now love! Equally the evening meals were very tasty and wholesome. If you are looking for a well priced B&B, in a stunningly beautiful location (to the west of the island) then this is the place for you! Scott, Richard & Phil
Tips:
Talisker Distillery The Fairy Pools The Cuillin
Would Recommend: Yes
9th May 2019:

Cannot recommend highly enough! Great service, lovely personal touches. Food and drink options were excellent. Room was lovely. Would love to visit again
Would Recommend: Yes
7th May 2019:

This will go down as one of our best places to stay in Scotland. Any time we go to Skye, we will stay at Taigh Ailean. Katie and Johnny were the best hosts, the location was perfect, the food was outstanding, and they are just all around great people. We thoroughly enjoyed the week we stayed, and look forward to going back.
Tips:
The restaurant at the Taigh Ailean is fantastic. It is also centrally located to explore the entire Isle of Skye.
Would Recommend: Yes
2nd May 2019:

Would Recommend: Yes
28th April 2019:

Small dog friendly hotel set in a peaceful and scenic location along a quiet road. Staff very accommodating. Restaurant and bar both excellent with a wide range of choice.
Tips:
Many popular attractions within a short drive such as the Talisker distillery and the Fairy Pools as are quieter areas like Glen Brittle.
Would Recommend: Yes
26th April 2019:

Amazing service. Loved every minute.
Tips:
Don't miss Talisker tour!
Would Recommend: Yes
23rd April 2019:

Extremely friendly and helpful staff, fabulous location and delicious food.
Tips:
Visit Talisker Bay. Beautiful!
Would Recommend: Yes
25th March 2019:

Would Recommend: Yes
20th February 2019:

Just returned from a 2 night stay in the Chalet King Size Room. Amazing views from our room. Room had everything that we needed supplied and more. Never expected bathrobes and slippers! Katie and Johnny and their staff were very welcoming and nothing was too much trouble. Breakfast was freshly cooked for us each morning and included haggis! Nice touch. Ate our evening meals in the hotel and food was fresh, well cooked and well presented. Will definitely be coming back again.
Would Recommend: Yes
20th February 2019:

We spent three nights at Tighe Ailean while visiting family on Skye. The food was excellent and nothing was too much trouble for the very helpful staff. The owners could not have been more willing to make our stay an enjoyable one.
Would Recommend: Yes
6th November 2018:

Would Recommend: Yes
31st October 2018:

Very friendly hosts / staff, especially wonderful, warm-hearted Katie, the owner. Everybody was dog friendly which made our stay easy and especially pleasant. Excellent food, both in the restaurant and at breakfast. - We'll be back even though you are far away. Thank you. Martin Ruth with Breagha
Tips:
Everything on Skye, but be sure not to miss the Neist Point Lighthouse.
Would Recommend: Yes
21st October 2018:

see above
Would Recommend: Yes
16th October 2018:

Taigh Ailean Hotel is a real good place to stay! The room and badroom was large and you have everything that you need. The staff was really friendly and helpful. The breakfast and dinner was also very good. We would certainly go back and we would also recommend this place!!
Tips:
You have nice walks around the hotel and so just look around. Katie have also enough information.
Would Recommend: Yes
15th October 2018:

company and service was fantastic.
Tips:
other than take warm cloths , i wouldnt reccommend anything at this has it all :)
Would Recommend: Yes
15th October 2018:

Simply fantastic, in the middle of nowhere but with all that you need: relaxing, great views, good food and excellent service
Would Recommend: Yes
3rd October 2018:

Absolutely lovely place to stay I would recommend it to everyone, very comfortable room, lovely view and warm and cosy. Really enjoyed the food, steak and ale pie was my favourite. Made to feel very welcome and the open fire in the lounge is a lovely touch. Shame it rained all the time we were on Skye but we made the most of it.
Would Recommend: Yes
27th September 2018:

Katie is a most welcoming hostess who made us feel at home as soon as we arrived. The hotel is remote but not isolated and Munro's bar / restaurant (part of the hotel) is fantastic for a well earned meal and a drink after a days exploring, a lot of guests from other near by b&b / hostels also use the bar. Our chalet room was clean, warm and comfy - we would stay again if we revisit Skye. P.S. Nearly forgot to mention the bar / restaurant staff - they were so friendly and chatty whilst being so professional in a busy working environment - well done!
Tips:
The restaurant/bar was busy on both nights of our stay so get in early or be prepared to wait for a table. The food is exceptional and the portions large! Unless you are an experienced walker a car is a must to get to Skye's amazings sights, but we did notice a bus stop about 50 meters from the hotel. We stopped for two nights eating at the hotel and loving the vibrant atmosphere in the busy bar on both nights.
Would Recommend: Yes
8th September 2018:

So nice people in a friendly place. Bar and restaurant inside with excellent food and drink! 7 stars to breakfast from our son! Pool table is another plus!
Tips:
So nice people in a friendly place. Bar and restaurant inside with excellent food and drink! 7 stars to breakfast from our son! Pool table is another plus!
Would Recommend: Yes
.